Thermal, Calif.—Feb. 11
When Ashlee Bond left the ring after her jump-off round with Chela LS in the $100,000 Longines FEI World Cup Jumping Thermal qualifier, she knew she'd left the door open. After nine months out of the tack due to pregnancy, she was still knocking the rust off.
But as she watched the three riders that followed, things started to fall her way. Australian rider Lane Clarke beat her time with Balu U, but tipped two rails, and Karl Cook followed suit with 8 faults on Tembla. That left just young rider Audrey Coulter and Alex to knock her off the top spot. But when the pair swam through the Longines World Cup oxer, Bond knew she'd taken home the top prize.
"I'm not really there yet to lay it down in a jump-off, so I pretty much just had to go clear and decently fast," said Bond. "I didn't think I was going to win today. It worked out. It happens sometimes where you're lucky, but it was just kind of building. I'm building and just getting my feet wet again."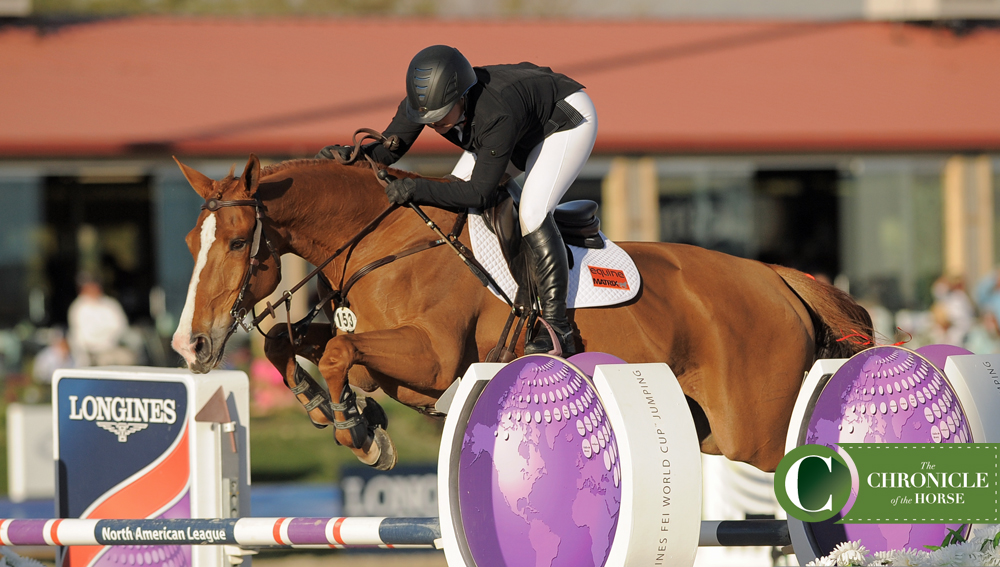 Ashlee Bond and Chela LS were first in the ring and ended up with the top prize. Photo by Kimberly Loushin.
First in the ring, Bond went clear over the fences in the first round and ended with a single time penalty. But after the first few rides, course designer Marina Azevedo adjusted the time. The result was four clears and then three riders with a single time fault, including winner of Thursday's welcome, Canadian young rider Ali Ramsey and Hermelien VD Hoogheove.
Bond gave birth to her daughter Scottie four months ago and was back in the tack two weeks later. Her mare Chela is also back in the ring after an extended break due a staph infection in her hocks that took 1 1/2 years to clear up.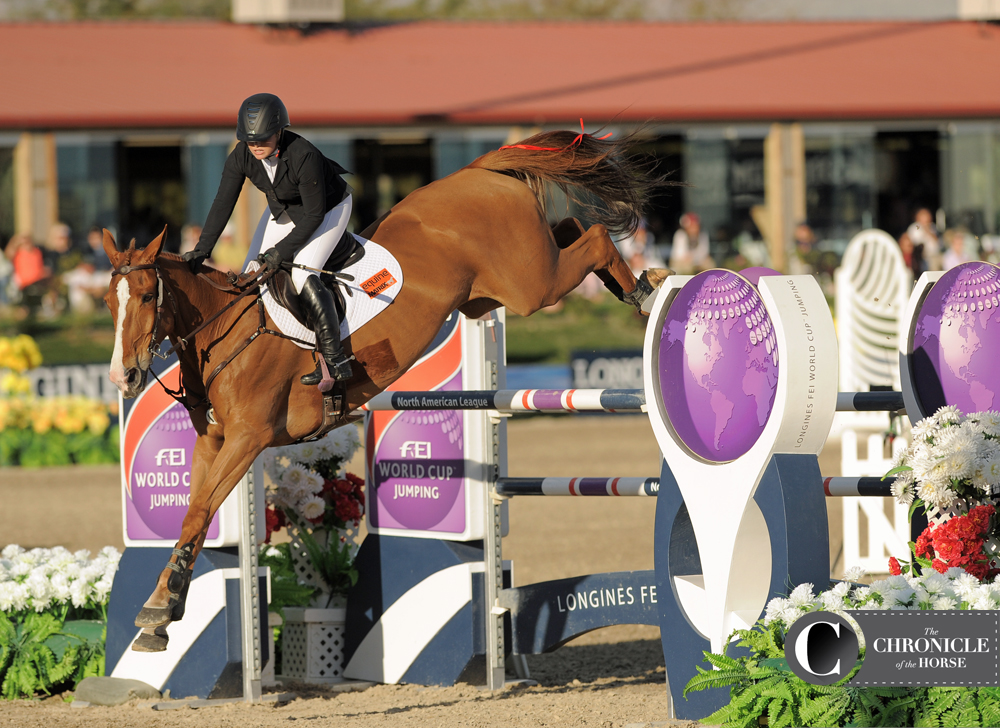 Chela LS and Ashlee Bond. Photo by Kimberly Loushin.
"Winning the [AIG $1 Million Grand Prix] here in 2014, I cried because I'd just gotten her and Simon [Nizri her former rider], who I got her from, was pretty much the only person who believed she could do that," said Bond. "When I tried her I felt that. My dad obviously, myself and Simon, really truly believed that this horse had potential, so for her to do that then was so rewarding and validated all of our belief."
"She got a staph infection in both hocks right after Thunderbird [Canada] in 2015, so she's been out for a long time. I didn't know if she would come back. She almost died twice and I never thought she'd be sound again," continued Bond. "Not only was it saving her life, but then for her to even be able to do this, she, knock on wood, feels amazing. To come here and have her jump her heart out and be happy and just having a blast out there. I can't really put into words that feeling. It's pretty special."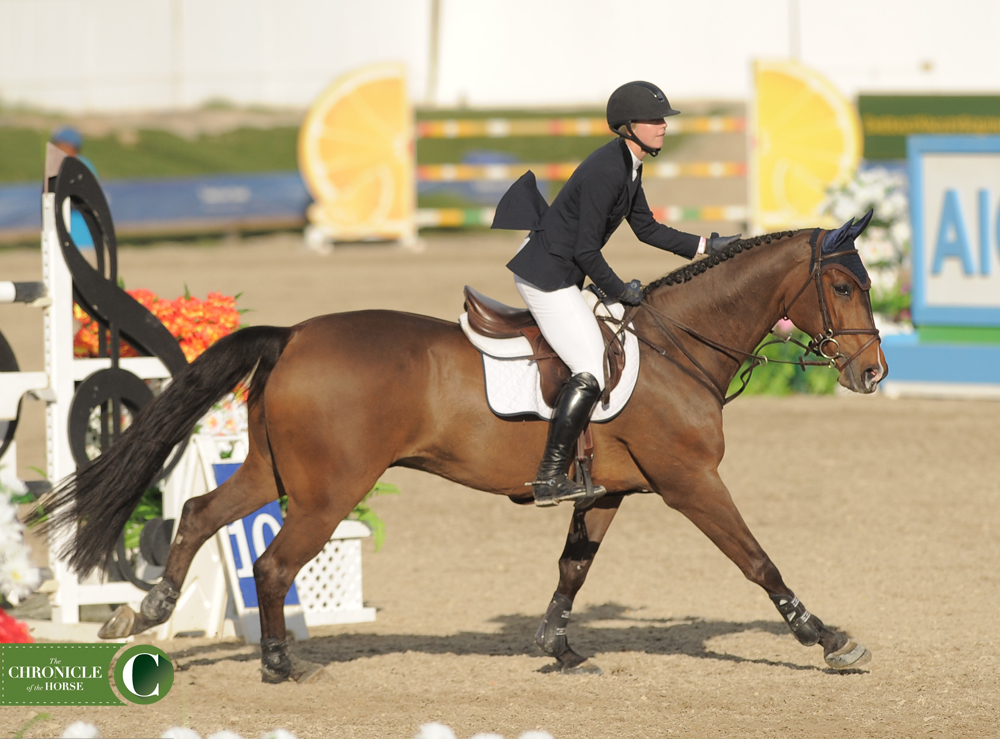 Audrey Coulter and Alex. Photo by Kimberly Loushin.
Audrey Coulter has spent the winter on the east coast the past couple of years, but she traveled back to her home state this week to contest the World Cup qualifier with Alex because it fit better in her schedule for the gelding than the one the previous weekend in Wellington, Fla.
"My horse Alex is amazing. He's so dependable. He's one you can bring anywhere. He always goes in the ring and tries his hardest. He really tried for me and he was so good," she said.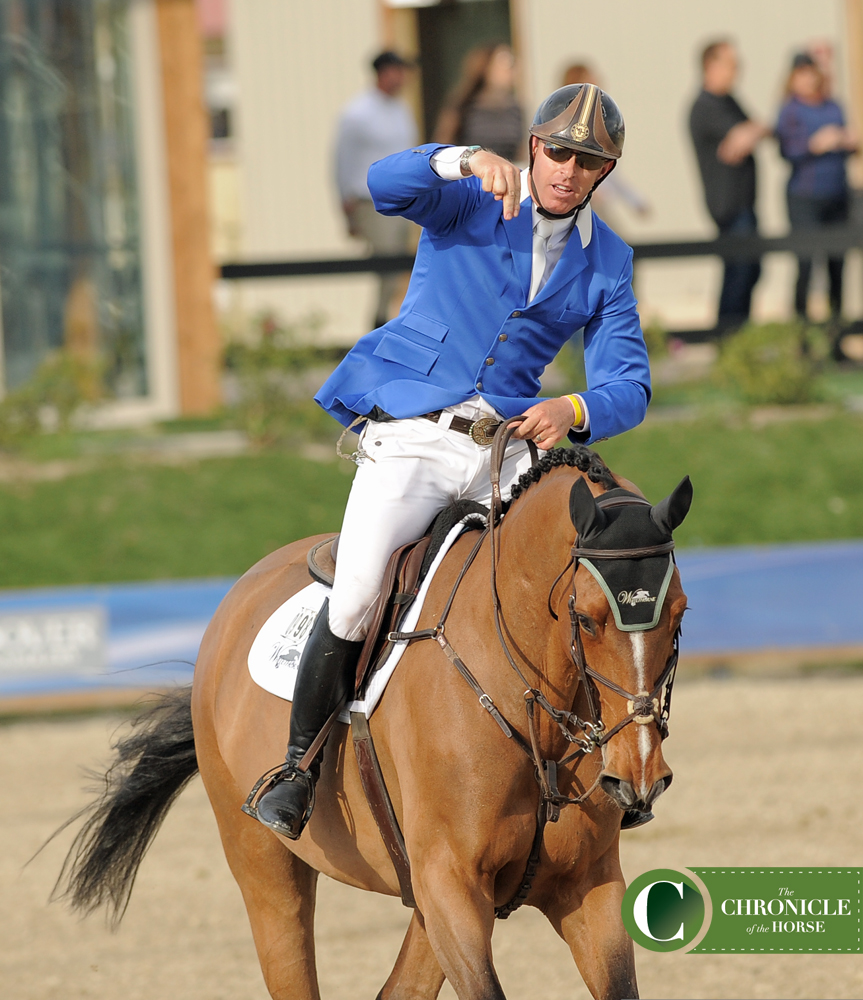 Lane Clarke and Balu U. Photo by Kimberly Loushin.
Third-place finisher Lane Clake has big plans for his 12-year-old Holsteiner Balu U. The gelding has a year of grand prix under his, belt, so Clarke has started focusing on teaching Balu to be more competitive in the jump-offs.
"He's got some big things in the future, so I'm really trying to work on his jump-off pace," said Clarke. "I've only recently started going quick with him. I've only done a couple 1.60-meter with him. I'm working on trying to leave out strides and trying to worry about making it feel like a real jump-off and not worry too much about the result. I'm really happy with him. He was double clean on Thursday and was second and then was clean and a couple down which was my fault, but he was great anyway and I was really happy with this result."
See more photos of the World Cup qualifier.
See full show results here.

Want more from HITS Coachella? Read about John French's hunter derby victory and young rider Ali Ramsay who won with a special mare and pick up a copy of the Feb. 27 issue of the Chronicle.