If you've hung out at any major horse show recently, chances are good you've seen Small Affair and his rider Augusta Iwasaki at the junior hunter ring, all decked out in tricolor ribbons.
The 15-year-old bay Selle Français gelding has earned championships in the large junior hunters at the Winter Equestrian Festival (Florida), the Washington International Horse Show (District of Columbia), the Pennsylvania National Horse Show, Capital Challenge (Maryland), the Middleburg Classic (Virginia) and the Del Mar National (California)—and that's just within the past six months!
Small Affair has also been ridden to impressive results by professional John French, including claiming the WCHR Professional Challenge and WCHR Hunter of the Year, plus numerous championships in the 3'6" performance hunters and even a few USHJA International Hunter Derbies. Prior to that, he competed with juniors Victoria Colvin, Samantha Sommers and Olivia Esse, and amateur-owner Lyn Pedersen.
It's for those reasons that the Chronicle named Small Affair their 2017 Show Hunter Horse of the Year—you can read more about him and how he and Iwasaki developed their partnership in the Feb. 12 American Horses In Sport issue of the magazine.
Small Affair has been part of Makoto Farms since he was 5, when Liz Reilly picked him out to be an open division horse. At that time, Augusta was only 4. So she had to wait a long time for her chance to ride him. However, if the pair's championship record is any indication, it is a match that was worth waiting for.
We caught up with Small Affair at his home in Calabasas, California, to see what he's really like when he's not busy adding to his ribbon collection.
•  While Small Affair is an adorably perfect hunter who keeps his ears pricked forward on course, he's more likely to be found with his ears pinned back at home. "He is crabby," said Iwasaki. "He hates the ponies in the barn. He hates everyone actually, but he REALLY hates the ponies."
•  His crankiness sometimes shows in the under saddle classes where he'll pin his ears at horses who come too close. "We have to plot our strategy very carefully," said Reilly.
Iwasaki agreed, adding, "It's easier now because I'm used to it, but in the beginning it was kind of hard."
•  One thing that makes Small Affair less cranky? A treat. He likes most treats, especially hard peppermints. Just don't try to give him soft, puffy mints. "He'll spit those out," said Iwasaki.
•  Small Affair has a soft spot for Augusta's dad, Chris Iwasaki. "Somehow my dad always magically has a treat for him when he comes out of the ring," explained Augusta.
•  He might have a different job if he wasn't a champion hunter, but it would probably not be as a trail horse. "He would be a terrible trail horse," said Augusta. "At the Middleburg Classic, we were walking around and came across a tiny little creek. As soon as he saw it he just spun around and bolted the opposite direction."
•  Water in the ring isn't OK, either. Open water jumps are a hard pass for "Poker," even if he's not being asked to jump it. "If there's even one in the ring, he will not go near it," said Augusta.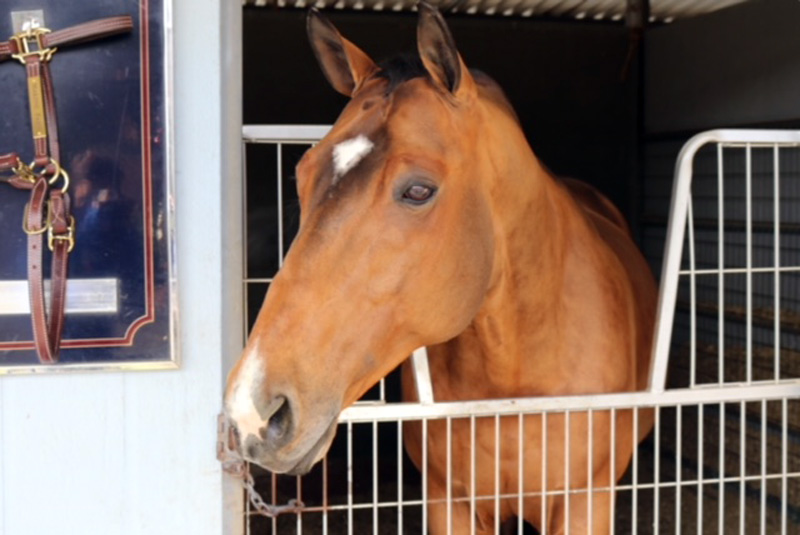 •  He's a natural guy. When it comes to the fences on course, he prefers plain wood, greenery and natural-looking obstacles. He does not like jumper-style fences made up of painted poles or anything artificial.
•  Poker is a good traveler. He enjoys flying and usually goes in a box stall. But did we mention he doesn't like ponies?
"Once he traveled over with a pony named Penelope, and they came out, and both of them had bite marks all over their faces," recalled Augusta.
•  Poker is a lovely horse to ride—as soon as he's warmed up. Sometimes he comes out of the stall and doesn't really want to work at first. "Once he's doing it, he's fine about it, and then he's really super nice to ride," said Reilly. "He has all the buttons and will do all the tricks. But the first five minutes he's like, 'Ugh!' "
•  There's evidence to suggest that Poker's crabby nature may just be an act. Sometimes, for just a second, he seems happy to see Augusta when she arrives at the barn. "Sometimes he wants to be nice, but then he's like, 'Oh wait, I'm not nice,' " said Augusta with a laugh. "But I would like to think that deep down he really likes me."