SEPTEMBER 18, 2017
(Subscribers can read the full magazine online.)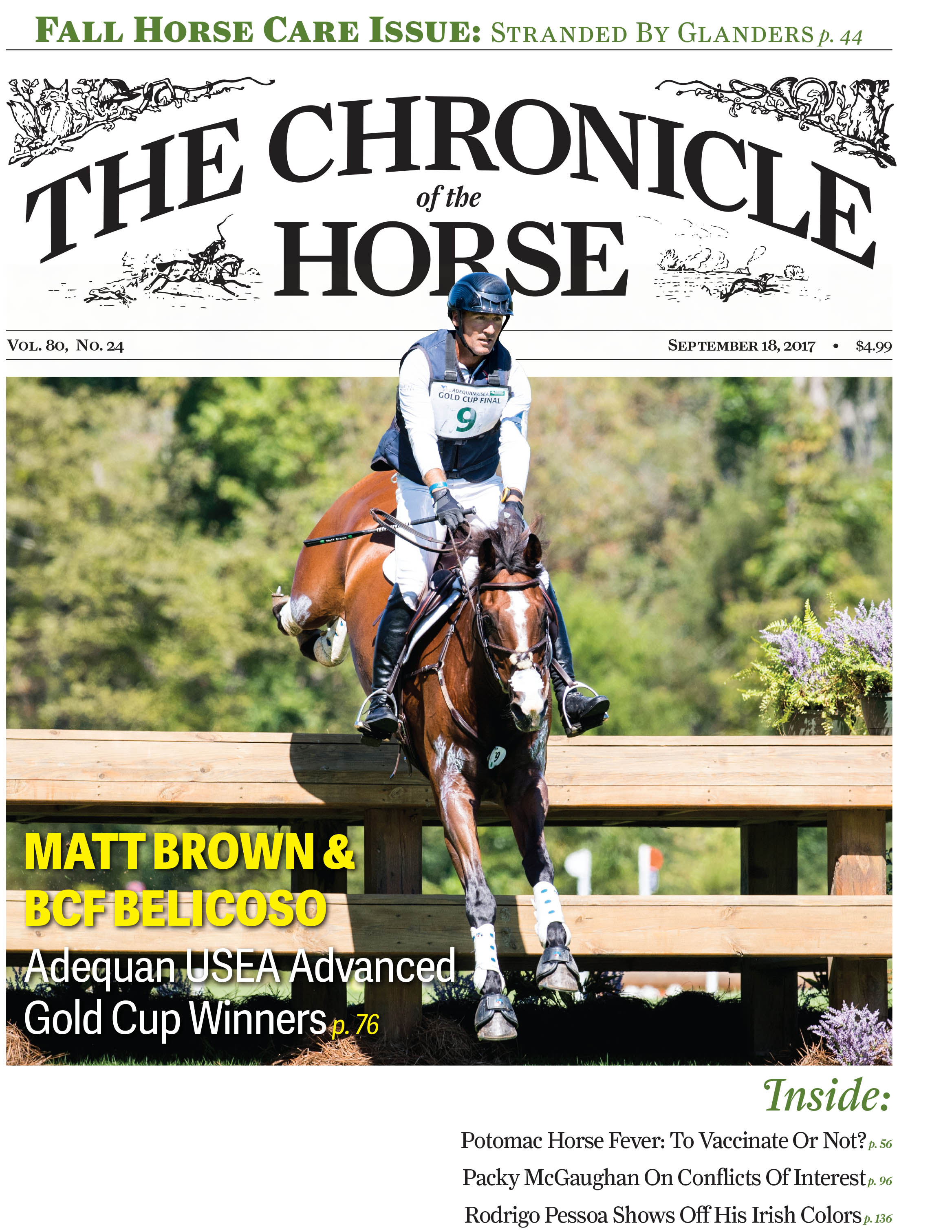 INSIDE: 
FALL HORSE CARE ISSUE
* Glanders Testing Is A Slowly Evolving Process
After an international dressage horse turned up with a false positive for this contagious disease, the USDA testing protocol came under fire.
* Fact Or Fiction: Should I Stand Up In My Stirrups When My Horse Urinates?
You're waiting at the in-gate for your turn to jump at a horse show, but the class is running late. You've been on for a while, and then your horse starts to stretch out to relieve himself.
* Is My Potomac Horse Fever Vaccine Really Working?
Michelle Mahoney thought she'd taken all the necessary precautions. One of her jumpers, Leilani, received regular vaccinations according to her veterinarian's recommendations, and yet last year the Oldenburg mare developed Potomac Horse Fever.
* Too Far, Too Fast: Addressing Horse Welfare Concerns In Endurance
"The essential paradox of our sport: Endurance is spoiled by the ones who make it live, economically speaking." Those are the sobering words of four-star endurance judge François Kerboul.
* The Natural Talents Of Donald Howard
During almost 70 years in the steeplechasing business, he's played a pivotal role for some of the sport's most famous horses.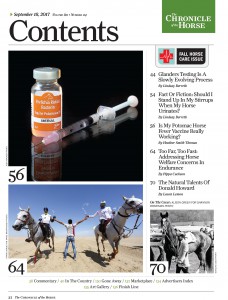 EVENTING
* Brown Earns A Big Payday At The USEA American Eventing Championships
Matt Brown packed up his horses and his life in California and moved to the East Coast nearly three years ago to better his riding among top professionals, but establishing a fruitful new business has proven tough.
* Townend Re-Enters The Spotlight With Burghley CCI**** Win
In 2009, young British rider Oliver Townend dominated the international eventing scene. That year, at 26, he won both the Land Rover Burghley CCI**** and the Mitsubishi Motors Badminton CCI**** in England, and he seemed destined for a long career full of success in the sport. Then Townend stopped winning.
* Covert Rights Is Better Than Ever For Richland Park Win
For the first time since withdrawing from the Rolex Kentucky CCI**** 1 ½ years ago, Colleen Rutledge believes that Covert Rights is finally performing at 100 percent. (read more)
* Between Rounds with Packy McGaughan: The Need For Good Governance In Horse Sports
The last time I felt this uneasy about the future of equestrian sport was immediately after the tragedy of 9-11. At the time, it appeared the world would move in a direction that might extinguish equestrian sport. How would we justify running our little equestrian entertainments with people flying planes into buildings and pledging to wipe us off the earth for our devotion to things like liberty and freedom?
HORSE SHOWS
* Bluman Scores A Big Hampton Classic Win For His New Nation
Three FEI victories were just the right start to his new competitive career riding under the Israeli flag.
* Ireland Turns Its Luck Around At European Championships
The Irish team hadn't stood on a championship podium since 2001, and they failed to even qualify a team for the 2016 Olympic Games (Brazil). But this year's program, led by Rodrigo Pessoa, brought Ireland back to the top of the podium.
DRESSAGE
* Frankie Fights To The Top In Markel/USEF Developing Horse Prix St. Georges Championship
When Anna Stovall halted for the final time in her second test with Frankie at the Markel/USEF Young And Developing Horse Dressage National Championships, the small crowd erupted with such force that many of the young horses in the adjacent warm-up ring galloped off with their riders.
YOUNG ENTRY
* Linder Leaves Mongolian Ponies Behind For AGCO/USEF Junior Dressage National Championship Win
When Isabel Linder was growing up in Shanghai, learning dressage wasn't an option. "The only horses they had there were Mongolian ponies, and that's what I rode until I moved back at 13," said Linder, who moved to China when she was 5 with her family.
SPORT HORSE BREEDING
* Prospect Hill Scores Repeat Sallie B. Wheeler/USEF Hunter Breeding National Championship
There was only one date marked on the calendar for Prospect Hill's show season: Aug. 26, when the East Coast portion of the Sallie B. Wheeler/USEF Hunter Breeding National Championship would be held during the Virginia Young Horse Festival in Lexington.
Plus: Commentary, In The Country, Gone Away, Art Gallery, Finish Line, results, photos and much, much more.
September/October Untacked
(Subscribers can read the full magazine online.)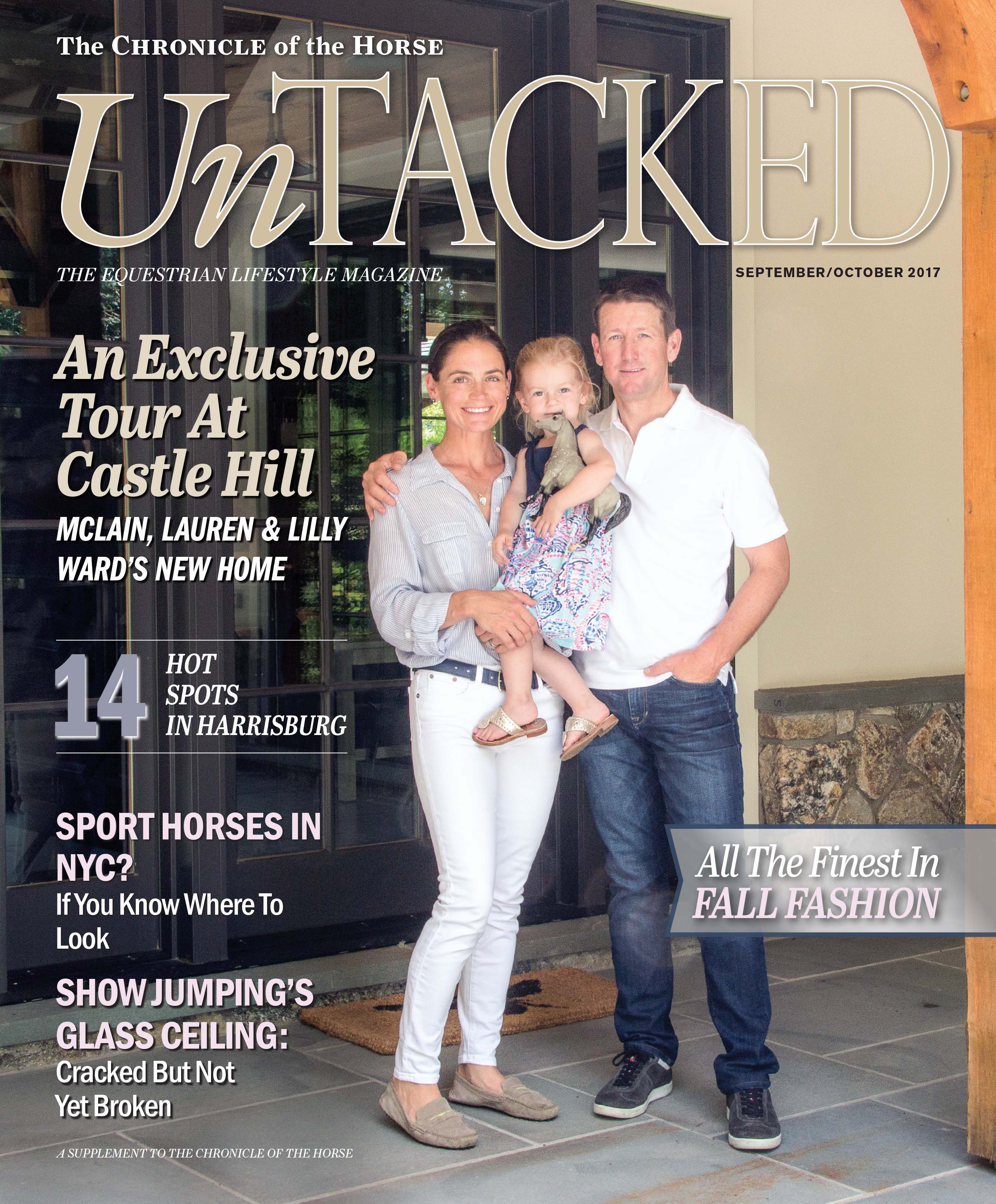 INSIDE:
At Home With McLain, Lauren And Lilly Ward
Castle Hill Farm in Brewster, N.Y., has been Olympic show jumper McLain Ward's home since he was a boy, and the recent completion of the house he designed with wife Lauren continues a tradition of celebrating history and family.
The Horses That Live Between The Skyscrapers
A lifelong New Yorker reflects on the many ways horses have wound themselves into her life, despite the most unlikely of backdrops.
Normandy: Scenes Worth Seeing On Horseback
A riding trip through northern France's natural wonders and historical sites, including Omaha Beach and Mont-Saint-Michel Bay, converts even a novice horseman into an equine enthusiast.
Ladies Of The Ring
Women have changed the world of show jumping, but at the highest levels men still dominate the rankings and medal placings. Is it a coincidence or a trend?  
A Modern-Day Doctor Dolittle
Rural veterinarian, eventer and notoriously nice guy Daryl Layfield-Insley thrives on a high-speed lifestyle.
City Guide: Harrisburg
While this Rust Belt town of around 50,000 doesn't have the flash of Philadelphia 100 miles to its east, there's lots of love for the city and its surrounding farmland everywhere you go. Explore the place that plays host to the Pennsylvania National Horse Show every year.
Clothes Horse: Raise A Glass To Rougey Fall Fashion
Autumn's arrival always ushers classic earth tones back into our wardrobes, but this year they'll be punctuated with pops of cranberry and chianti.
Plus: Editor's Letter, Around The Arena, Editor's Picks, Tech Spotlight, Charity Spotlight, Best Of Web & Print, Life Between The Ears, Test Lab and Parting Ways!