April 23 & 30, 2018
(Subscribers can read the full magazine online.)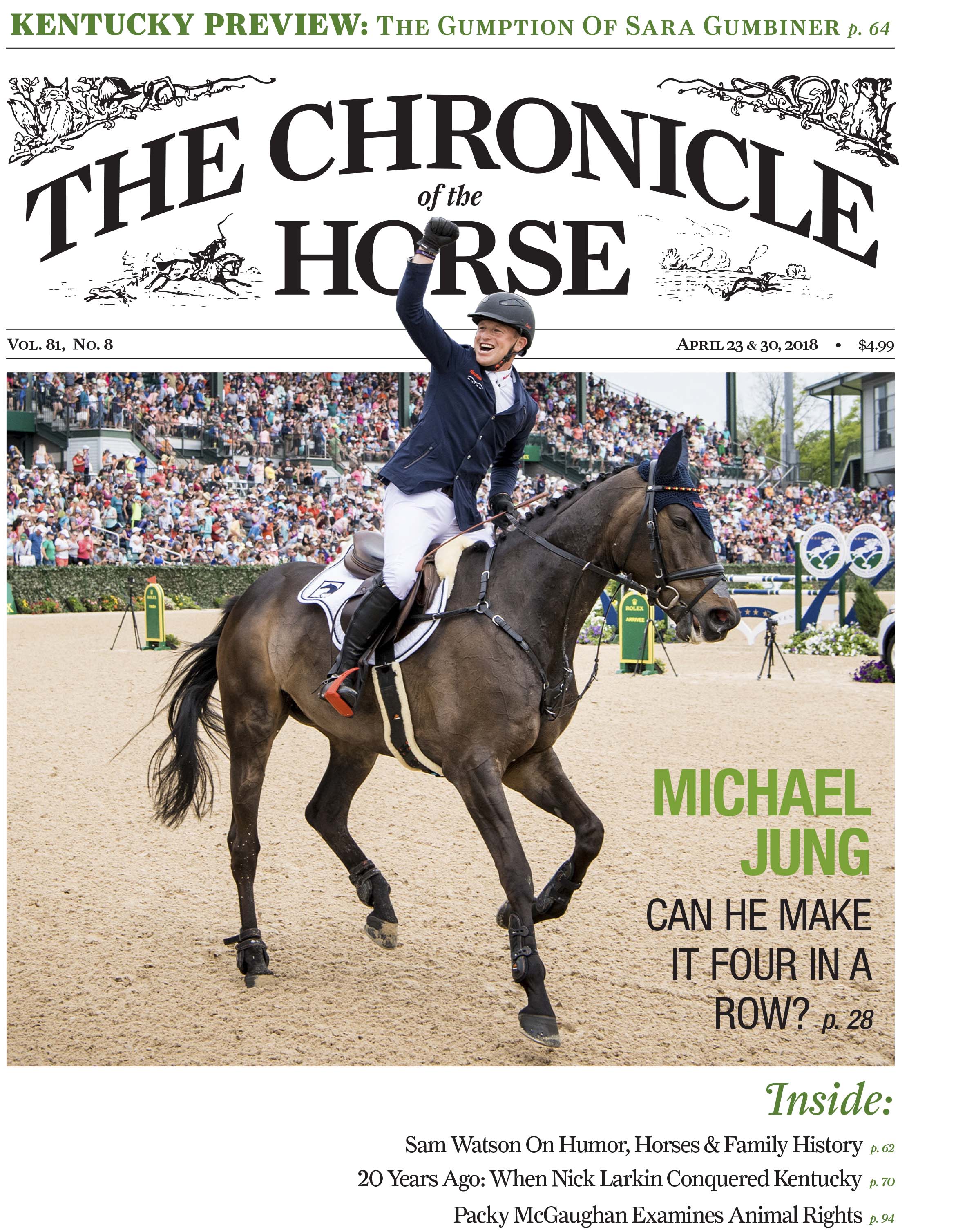 INSIDE: 
KENTUCKY PREVIEW
* Are We Looking At A Fourth Year In A Row For "The Terminator"?
Just as he has every year since the four-star's debut in 1998, two-time Kentucky winner James C. Wofford evaluates the field.
* Free Rein With: Sam Watson
Though many know Sam Watson as the man behind the numbers at EquiRatings, he's an accomplished rider in his own right.
* Sara Gumbiner Brings Plenty Of Gumption To Kentucky
For Sara Gumbiner, the road to the Land Rover Kentucky CCI**** is paved with naughty ponies.
* Horse Of A Lifetime: Red
The story of Red's triumph in the 1998 Rolex Kentucky CCI**** with Nick Larkin reads like a modern-day "National Velvet." It's the story of a young man who likes to take on challenges that seem impossible to most people and who had a horse with an extraordinary temperament and extraordinary talent.
EVENTING
* Z Steps Into The Spotlight At The Fork CIC***
Phillip Dutton's priority on quality over quantity is reaping big rewards.
* Fletcher Works His Way To Chattahoochee Hills Win
In 2013 Jacob Fletcher had taken a semester off from his studies at the University of Arkansas with plans to compete at the Volvo Bromont CCI*** in Quebec on The Prof. But everything quickly derailed.
* Between Rounds with Packy McGaughan: Animal Rights: Where The Rubber Meets The Road
While much of what these organizations have done to curb animal cruelty benefits animals around the world, a look at their stated goals indicates that we cannot let these groups set policy for how we interact with animals for much longer. And if they are allowed to go forward unopposed, their agenda represents an existential threat to horse sports.
DRESSAGE
* Salvino Hits His Stride At Wellington Nations Cup
Adrienne Lyle's top Grand Prix horse is shaping up to be a real contender for the World Equestrian Games.
HORSE SHOWS
* California Comes Back To The United States To Win Big
On Thursday of the Longines Global Champions Tour of Miami Beach, Edwina Tops-Alexander didn't know if she'd even have a mount for the week's grand prix.
* Royce Gives Engle The Best Birthday Present Ever
The $500,000 Rolex CSI***** Grand Prix fell on March 31, Engle's 60th birthday, and she'd had some unexpected challenges this season that made the victory that much more meaningful.
* A Lucky Smile Unlocked Pletcher's Potential
Aphorisms abound regarding what a smile tells, and in Peter Pletcher's case, it dictated his life's path. Without the perfect alignment of his pearly whites, he might never have become a horseman at all.
March/April 2018 Untacked
(Subscribers can read the full magazine online.)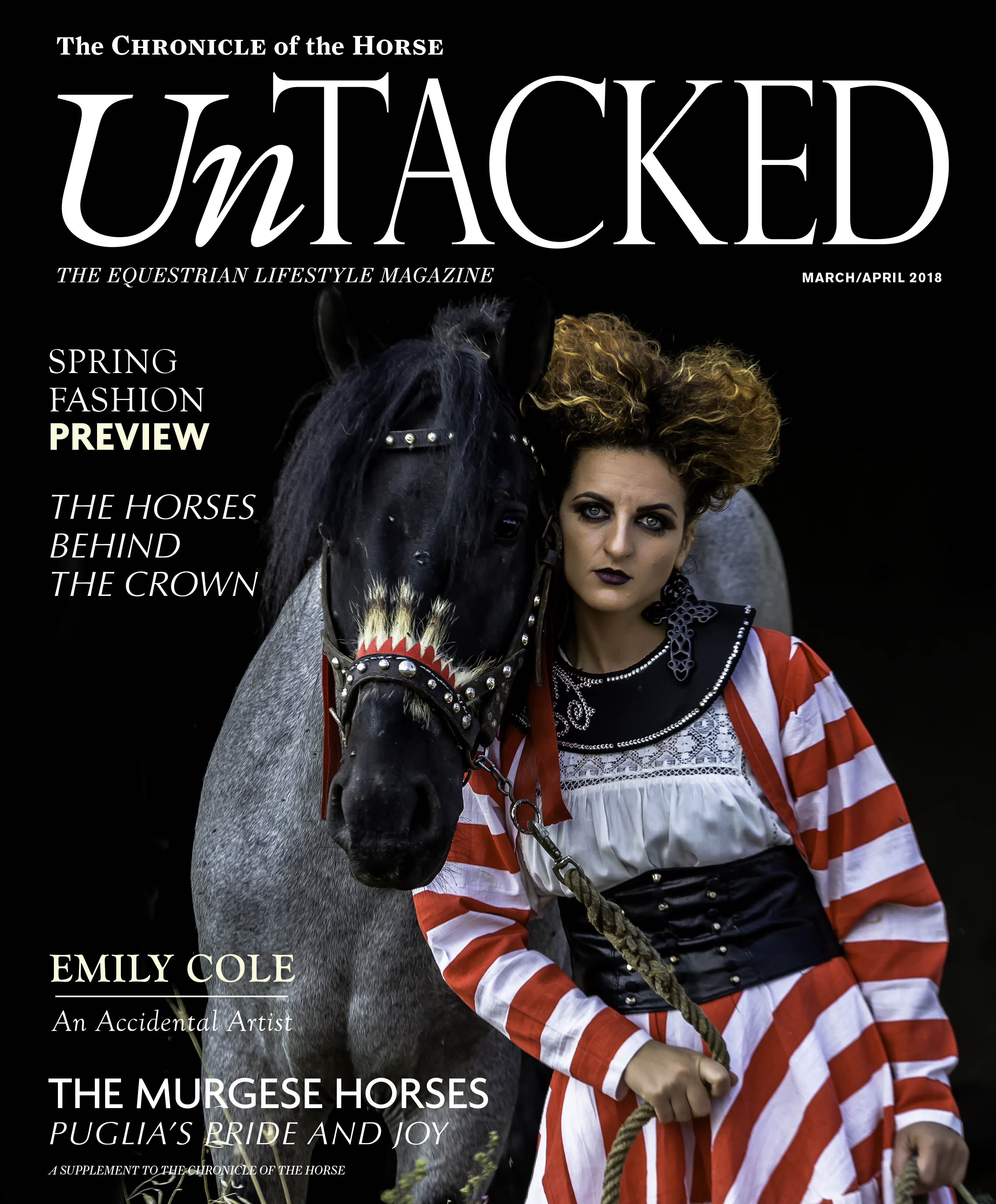 INSIDE:
Magnificent Murgese
The little-known Italian breed still thrives in Puglia despite – or perhaps thanks to – the region's harsh conditions.
Cavalia: Where Horses Take Center Stage
No riding skills? No problem. How a man who knew nothing about horses created the greatest equine show on earth.
All The Queen's Horses
There's no such thing as too many horses for avid equestrian Queen Elizabeth II, and she's received more than 26 as royal gifts over the years.
The Clothes Horse: The Standouts For Spring
Warmer weather is just around the corner, and so are the new apparel lines from your favorite equestrian fashion brands. Check out these products hitting websites and tack shops near you this season. 
Emily Cole: Capturing The Fun And Frustration Of Life With Horses
The equestrian and almost-architect found her way into the professional art world thanks to a bit of Nick Skelton-inspired kismet.
Son Menut: Simple Delights And Cerulean Seas
The author's Mallorcan horseback vacation proves a perfect blend of riding and relaxation.
Plus: Editor's Letter, Around The Arena, Book Reviews, City Guide: Conyers, Editor's Picks, Feed Room, Charity Spotlight, Test Lab and Parting Ways! There's even more inside the March/April issue of Untacked, at the intersection of equestrian life and style.