July 2 – 16, 2018
(Subscribers can read the full magazine online.)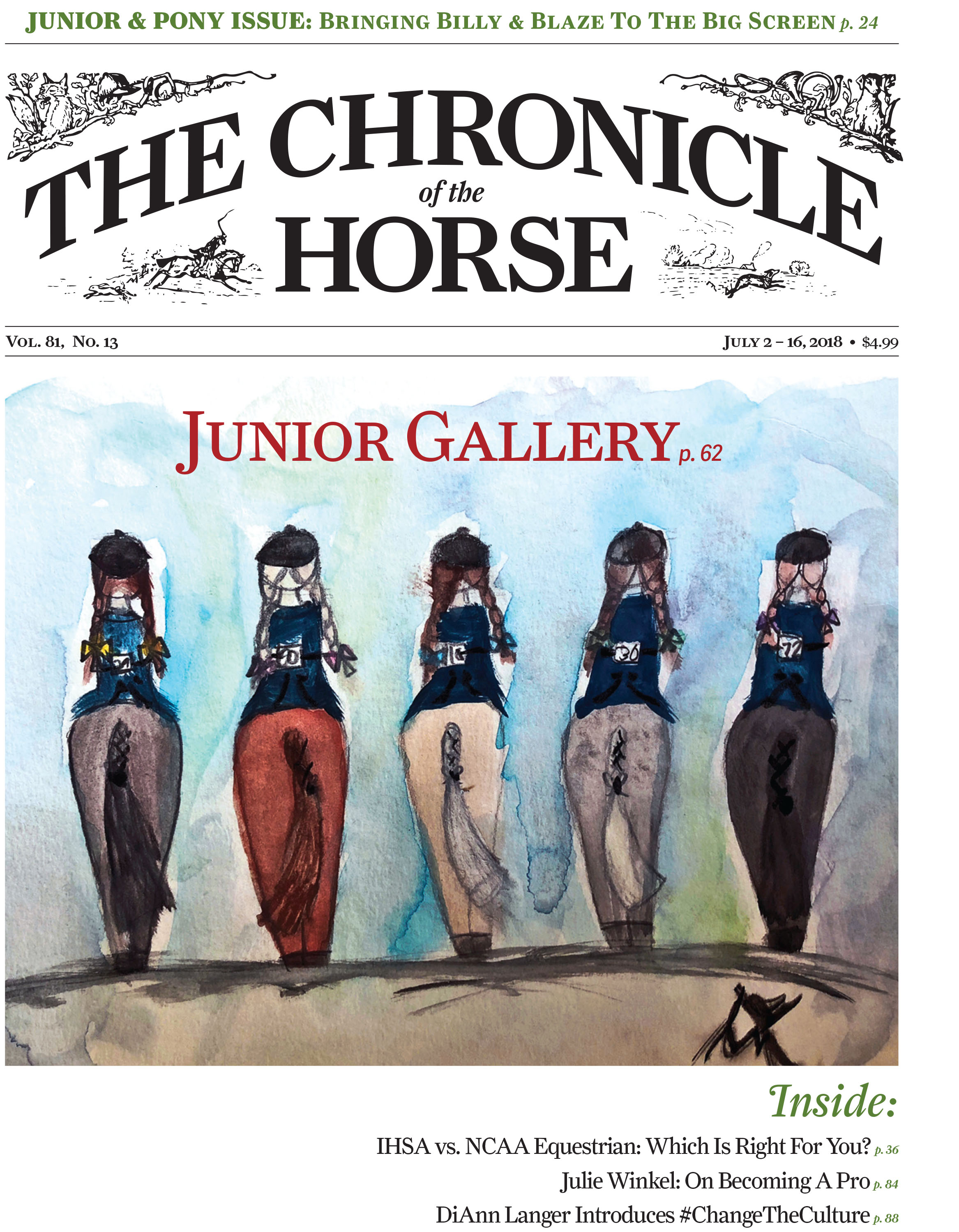 INSIDE: 
JUNIOR & PONY ISSUE
* Bringing Billy & Blaze To The Silver Screen
The beloved classic is coming to life in a new way, highlighting the simple lessons a pony can teach a child.
* The Changing Landscape Of Collegiate Riding
We examined the past, present and future relationship between collegiate riding's biggest players in light of a new IHSA rule.
* Building The Dressage Base One Child At A Time
Dressage riders in the United States tend to have one thing in common: They didn't grow up riding dressage. While the classical discipline maintains a few strongholds in select coastal cities around the United States, at the grassroots level, most American kids still learn to walk, trot and canter at a local western or hunter/jumper barn. For top professionals, that's worrisome.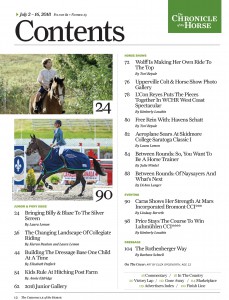 * Kids Rule At Hitching Post Farm
Drive in on a summer day, and you'll see children happily occupied in every conceivable horse-related chore: mucking stalls, scrubbing water buckets, cleaning tack, grooming horses, bathing horses, setting up and flagging jumps for an upcoming horse trial, schooling horses, having lessons, watching other kids.
* 2018 Junior Gallery
HORSE SHOWS
* Wolff Is Making Her Own Ride To The Top
Back-to-back wins at Devon and Upperville with longtime partner Casall reward her perseverance.
* Upperville Colt & Horse Show Photo Gallery
* L'Con Reyes Puts The Pieces Together In WCHR West Coast Spectacular
From the moment L'Con Reyes arrived at Durango Farms, trainer David Bustillos could see the potential. But although the young gelding had plenty of talent, he spent a little too much time misdirecting his ability.
* Free Rein With: Havens Schatt
If you want to learn a thing or two about finding success with multiple horses, you might want to take a page out of Havens Schatt's book. She's piloted top horses like Bacardi and Aristocrat, and now, with her win in the $30,000 USHJA International Hunter Derby at Country Heir I, she's taking CH Farm LLC's gelding Mostly Sunny to the top.
* Aeroplane Soars At Skidmore College Saratoga Classic I
As a 9-year-old experiencing her first up-down lesson, Amy Momrow's heart raced – but not in the typical horse-crazed girl sort of way.
* Between Rounds with Julie Winkel: So, You Want To Be A Horse Trainer
The author offers some advice gleaned from her own trials and tribulations.
* Between Rounds with DiAnn Langer: Of Naysayers And What's Next
Our columnist shares some reactions to her #MeToo article and makes a plea for a new movement.
EVENTING
* Caras Shows Her Strength At Mars Incorporated Bromont CCI***
Throughout her tenure with Fernhill Fortitude, Jenny Caras has seen a relatively positive upward trajectory, bringing him from beginner novice to consistent competitive results at the three-star level and making her first overseas trip to the Bramham CCI*** Under-25 (England) division in 2016. But in 2017 she hit a rough patch with "Forty."
* Price Stays The Course To Win Luhmühlen CCI****
For many new mothers, having a child means it's time to re-evaluate their goals, but Jonelle Price never stopped to question what her life was going to look like post-pregnancy.
DRESSAGE
* The Rothenberger Way
Move over Isabell Werth. German dressage has a new champion, and he's just 23. On the weekend of June 8-10 in Balve, Germany, Sönke Rothenberger and Cosmo 59 won all three Grand Prix tests, relegating Werth and her 2018 FEI World Cup champion Weihegold to second in the Grand Prix and the Special.
July/August 2018 Untacked
(Subscribers can read the full magazine online.)
INSIDE:
The Trials And Triumphs Of Old Salem Farm
It's seen top trainers, movie stars, world-class competition – and near financial ruin. Now Old Salem Farm rebuilds again, with Olympic show jumper Lucy Davis as its new in-house trainer.
Irish Lessons In Courage
Armed with riding boots and a passport, the author tackles a week of cross-country riding education – and her own fears – at Crossogue Equestrian in Tipperary.
A Wing And A Prayer
Nestled beneath the imposing Bovey Castle in Devon, England, Philippa and Martin Whitley's unique falconry businesses are creating second chances for off-the-track Thoroughbreds.
Take Your Tailgate To The Next Level
At the Virginia Gold Cup steeplechase, spectators demonstrate how to do it in style – and you can learn from their successes.
No Sleep Until Montana
The "Naked Foxhunter" harks forward with a cross-country journey covering 10,000 miles in 31 days. 
Life Between The Ears
Take a look at Morocco, Argentina, Australia and San Jose, California.
The Clothes Horse: Take A Chill Pill
Mitigating the melting effects of summer has never been easier, thanks to techy fabrics, insane insulation and plentiful venting. Protect yourself from harmful rays and heatstroke with these hot-weather helpers.
Plus: Editor's Letter, Around The Arena, Book Reviews, City Guide: The Hamptons, Editor's Picks, Charity Spotlight and Parting Ways! There's even more inside the July/August issue of Untacked, at the intersection of equestrian life and style.