September 3 – 17
(Subscribers can read the full magazine online.)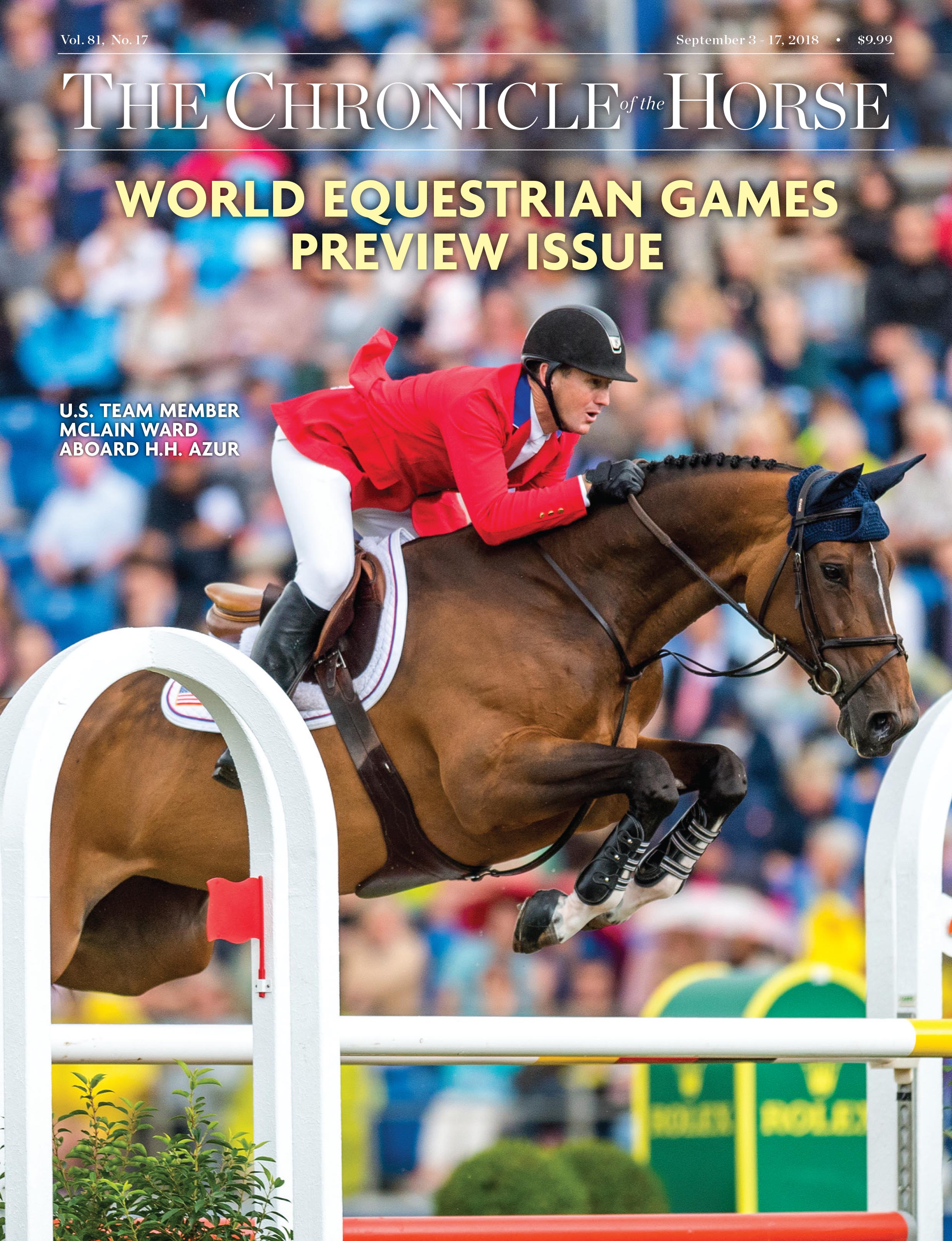 INSIDE: 
WORLD EQUESTRIAN GAMES PREVIEW ISSUE
* The Tireless Mark Todd
As he approaches his sixth World Equestrian Games, the double Olympic medalist talks about what it means to be the world's most successful event rider.
* A Taste Of Tryon
The Tryon International Equestrian Center, host of the 2018 World Equestrian Games, is this year's equestrian hotspot, but the area in the foothills of the Blue Ridge Mountains is also steeped in equestrian history.
* Michel Assouline Has A Vision For U.S. Para-Dressage
He's worked tirelessly to help create a dominant British para team, and now he's bringing that energy and drive to the USA.
Show Jumping:
* German Show Jumpers Look Strong, But There Could Be Surprises In Tryon
Former individual gold medalist and current Irish Chef d'Equipe Rodrigo Pessoa weighs in on who to watch at the FEI World Equestrian Games.
* The 2018 FEI World Equestrian Games Show Jumping Teams
Eventing:
* Several Teams Look Strong, But Cross-Country Will Have Its Influence
The first eventing championship under the new scoring system will mean that every second counts over Mark Phillips' course, says Clayton Fredericks.
* The 2018 FEI World Equestrian Games Eventing Teams
Dressage:
* Germany Has The Edge, But Don't Count The U.S. Team Out
"We can say the USA undoubtedly now has a very strong chance to rival the Germans for the team gold," says Carl Hester.
* The 2018 FEI World Equestrian Games Dressage Teams
Para-Dressage:
* Team USA Is Seeking Paralympic Qualification Against Undefeated Great Britain
Hope Hand talks about the new coach and a fresh face alongside the three veteran riders that may mark a new dawn for the U.S. squad.
* The 2018 FEI World Equestrian Games Para-Dressage Teams
Driving:
* The Dutch Driving Team Is Stronger Than Ever
"What we're going to see at this year's FEI World Equestrian Games is quality – not quantity. Due to the cost of traveling to Tryon, North Carolina, only the competitors who feel they can perform well at the WEG will go," says Boyd Exell.
* The 2018 FEI World Equestrian Games Driving Teams
Endurance:
* Riders From The United Arab Emirates And Spain Are The Favorites To Win Endurance
But the U.S. team is building for the future and will aim for a strong completion, says Valerie Kanavy.
* The 2018 FEI World Equestrian Games Endurance Teams
Reining:
* Team USA Will Be Gunning For Gold
But team Chef d'Equipe Jeff Petska explains why it's getting tougher than ever to maintain that perfect record.
* The 2018 FEI World Equestrian Games Reining Teams
Vaulting:
* The Likely Winners Are Coming From Abroad, But U.S. Vaulters Could Spoil A European Medal Sweep
Alicen Divita explains how U.S. veterans Mary McCormick and Elizabeth Osborn have stepped out of retirement and are looking for a podium finish in Tryon.
* The 2018 FEI World Equestrian Games Vaulting Teams
HORSE SHOWS
* Colvin Remains Calm And Carries On To Win Platinum Performance
USHJA International Hunter Derby Championship
Take a rider as talented as Tori Colvin and put her on a horse as gifted as Private Practice? That's a tough act to beat.
* Griffith's Juggling Act Pays Off In Platinum Performance USHJA Green Hunter Incentive Championship
As Patricia Griffith stood at the in-gate for the USEF Pony Finals, she felt a twinge of guilt. Her green incentive horses were at home while she was in Kentucky, and part of her thought she needed to be preparing her own mounts for the impending championship.
* Surf's Up Takes The Spotlight At Menlo Charity
What was supposed to be a warm-up round paid off with a major victory for a schoolmaster mount and professional Demi Stiegler.
YOUNG ENTRY
* Patience And A Little Levity Pay Off For Downey At USEF Pony Finals
After three years with no ribbons, she scored big.
* Hardin And The Little Thoroughbred Who Could Conquer USEF Pony Jumper National Championships
Neither pony nor rider had a typical upbringing in the sport, but it set them apart on top of the podium.
DRESSAGE
* Brougham Is Bringing Her Finest To Saugerties And Beyond
When Julie Brougham went to Europe on a horse-shopping trip 10 years ago, a cute chestnut that was simply hanging out caught her eye.
September/October 2018 Untacked
(Subscribers can read the full magazine online.)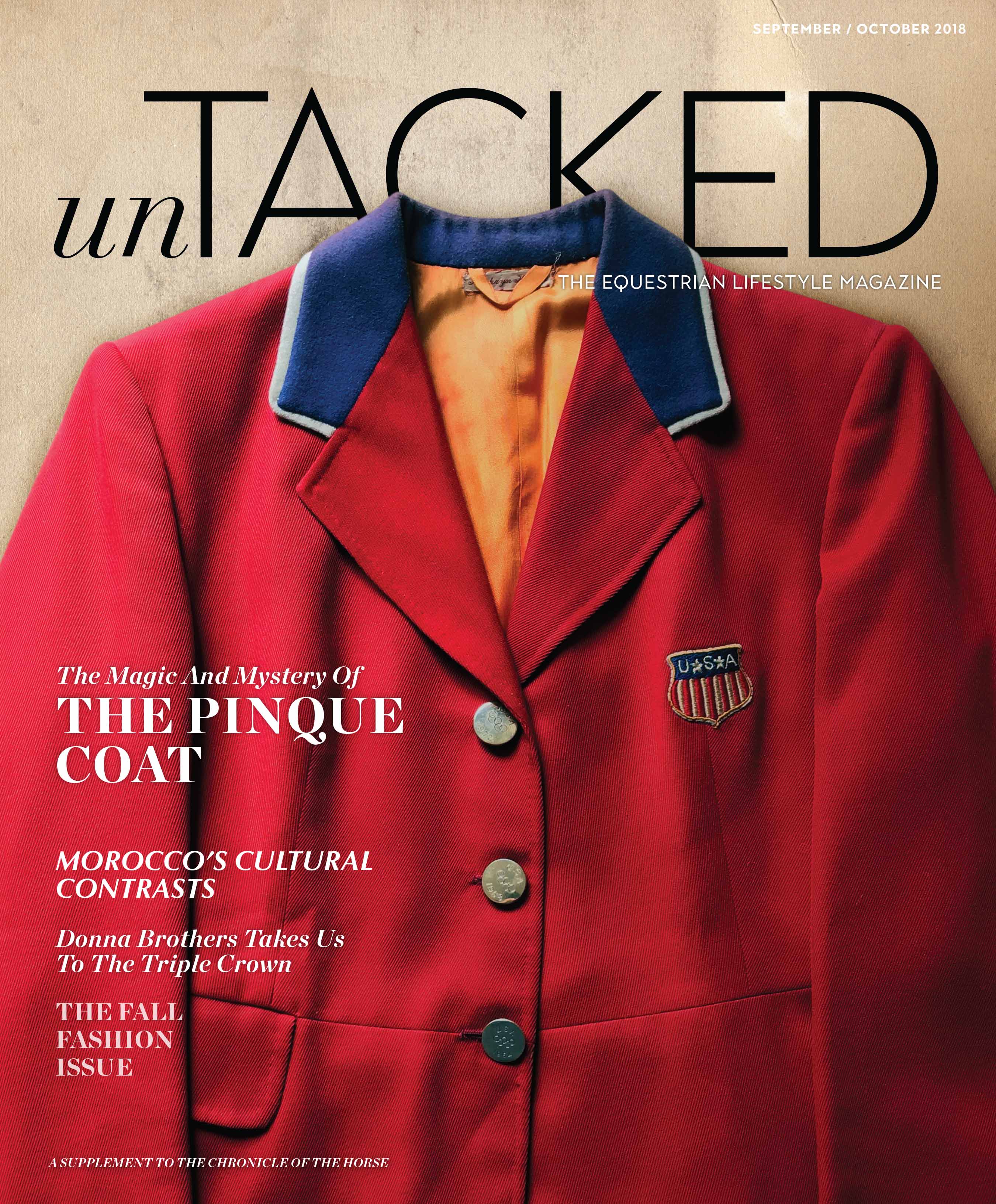 INSIDE:
The Legend And Lore Of The Team Jacket
Earning your pinque coat is a symbol of success for show jumpers and eventers in the United States, and it has a fascinating, mysterious past.
Morocco On My Mind
The African country is known for its ancient and beloved breed, the Barb, but it's also home to millions of hardworking equines, and there's often a stark contrast between how the two groups live. 
The Clothes Horse: Layer Up As The Leaves Fall
The temps are on the decline, and the autumn-winter apparel lines are here! Check out what's new in techy base layers, fleece-lined breeches, fluffy coats and sturdy footwear from your favorite brands. 
Steeplechasing's Trio Of Trailblazers
Hall of Fame trainer Janet Elliot and the only two female riders to earn National Steeplechase Association leading jockey titles, Blythe Miller Davies and Danielle Hodsdon, have paved the way for more women to enter the traditionally male-dominated sport.
Seeing The Triple Crown With Donna Barton Brothers
The NBC Sports broadcaster and commentator observed champion Justify through one of the most enviable possible positions: while seated trackside on a "pony" at all three races.  
Anastasia Shields: Always Serving Others 
She learns the lessons horses have taught her also apply in some of the world's worst crises.
Plus: Editor's Letter, Around The Arena, City Guide: Petaluma, California, Editor's Picks, Charity Spotlight and Parting Ways! There's even more inside the September/October issue of Untacked, at the intersection of equestrian life and style.