January 15 & 22, 2018
(Subscribers can read the full magazine online.)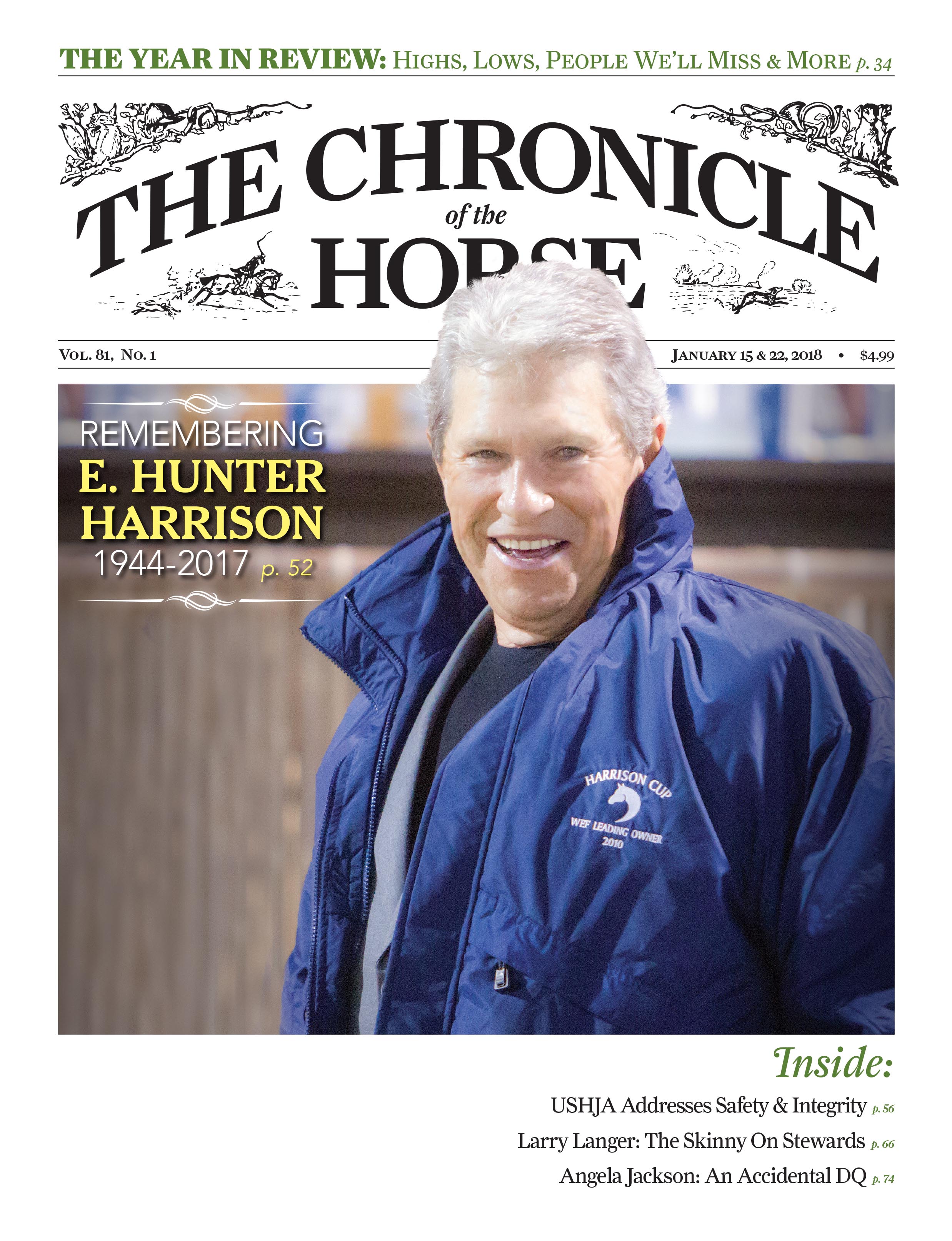 INSIDE: 
YEAR IN REVIEW ISSUE
* Highlights And Lowlights
From World Cup wins to natural disasters.
* People (And Horses) Who Inspired Us
Lisa Roskens, Robert Ridland, Private Life and more.
* We'll Miss…
Lives lost and horses who retired in 2017.
* Remember This?
Memorable quotes from 2017 Chronicles.
* The Year In Photos
Top equestrian photographers share their favorite images of 2017 and the stories behind them.
* A Tribute To E. Hunter Harrison
As with so many fathers, Ewing Hunter Harrison's introduction to the equine industry came through his daughter Cayce Harrison Judge's horse fever. But rarely has a father transformed his daughter's love into his own personal passion quite like Harrison.
* Safety Takes Center Stage At USHJA Annual Meeting
While equine safety has been a recurring theme at previous U.S. Hunter Jumper Association Annual Meetings, this time around the dialogue expanded. In meeting after meeting members voiced the same thought: We want our horses to be safe and healthy, but we need to prioritize human life as well.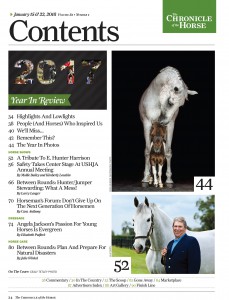 * Between Rounds with Larry Langer: Hunter/Jumper Stewarding: What A Mess!
Asking about the role of a U.S. Equestrian Federation steward at a hunter/jumper horse show is a little like asking what constitutes good footing. If you ask 10 people, you will get 11 different responses.
* Horseman's Forum with Cara Anthony: Don't Give Up On The Next Generation Of Horsemen
Over the last year, there's been a lot of concern about who will be responsible for the continuation of the American Show Jumping System. Having just sold my fifth grand prix project to one of the "rising stars" mentioned in these discussions, I began to wonder who will produce these young horses for the next up-and-comers who just want to go straight to the big ring.
* Angela Jackson's Passion For Young Horses Is Evergreen
This German-born dressage trainer finds her niche educating young stock in the United States.
* Between Rounds with Julie Winkel: Plan And Prepare For Natural Disasters
During the horrific fires that ripped through California this past fall and winter, many people lost their lives, as did horses and other animals. These devastating events can teach us some valuable lessons, because sadly it's not if but when they will happen again.
January/February 2018 Untacked
(Subscribers can read the full magazine online.)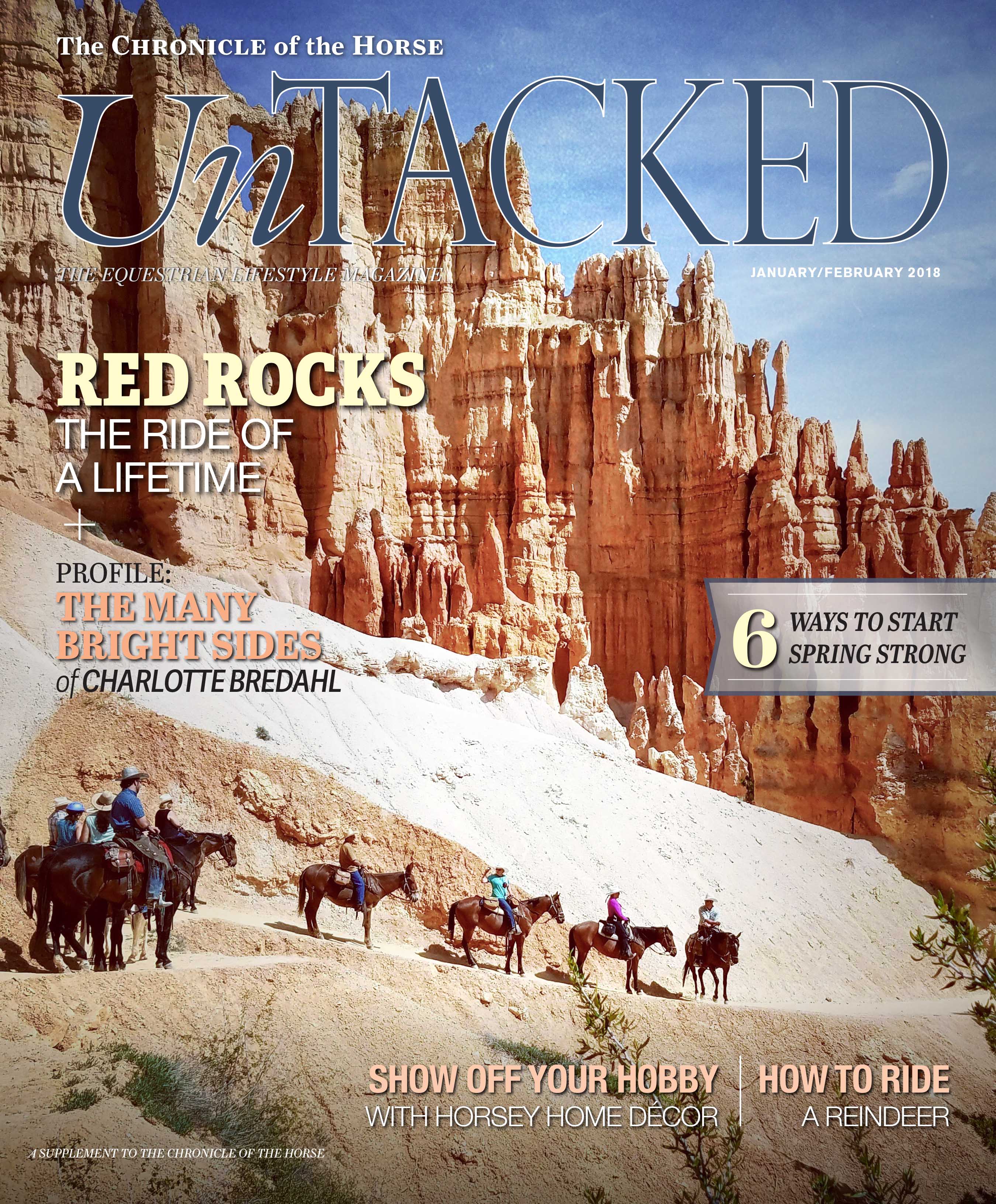 INSIDE:
The Still-Wild West
The popular Red Rock Ride in Utah and Arizona takes participants through three national parks, showing off stunning natural landmarks with a side of historical context.
Tenacity Overcomes Tragedy At The Tevis Cup
Winning the most prestigious 100-mile U.S. endurance race is meaningful under any circumstance. But Tennessee Lane's first victory aboard Auli Farwa, previously owned by the late Kevin Myers, also provided closure.
The Rider's Non-Riding Guide To Winter Improvement
Can you emerge from the coldest months better than when they started? With these six tips, we're betting you can.
Saving The Trakehner
The popular sport horse breed almost disappeared when World War II ravaged Europe, and the horses were forced on a trek through both hell and high water.
The Happiest Horsewoman
Whether winning a team bronze medal in dressage at the 1992 Olympic Games, acting as USEF assistant youth coach, judging top competitions or raising her foster children, Charlotte Bredahl meets each challenge with grace and gusto.
Clothes Horse: Horses Are What Make Your House A Home
If the hay and hair you track in daily don't give you away as an equestrian, these home décor items are sure to do the trick.
City Guide: Ocala
Explore the home of sun, sand and tons of shows.
Plus: Editor's Letter, Around The Arena, Editor's Picks, Tech Spotlight, Charity Spotlight, Best Of Web & Print, Life Between The Ears, Test Lab and Parting Ways! There's even more inside the January/February issue of Untacked, at the intersection of equestrian life and style.