November 13 & 20, 2017
(Subscribers can read the full magazine online.)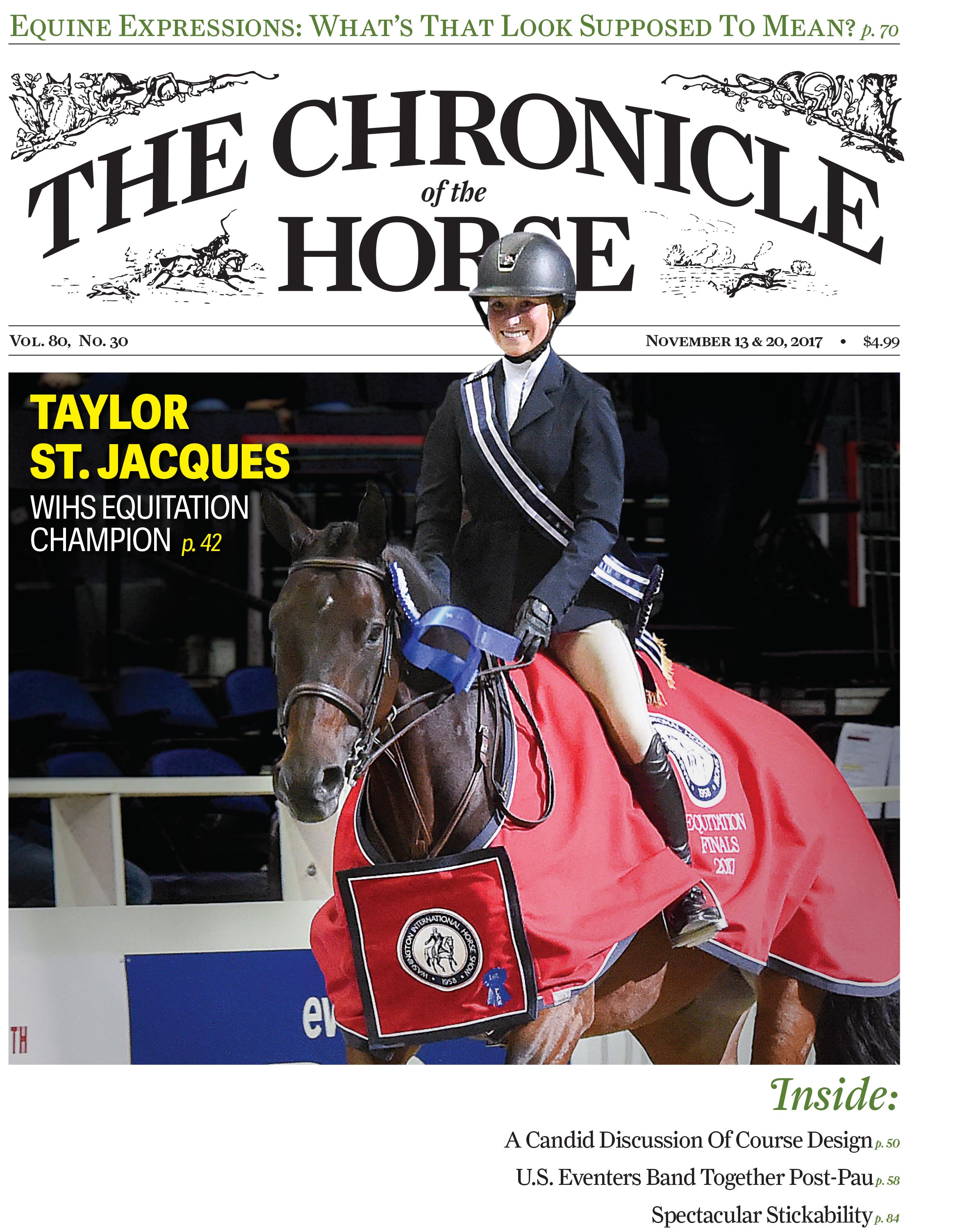 INSIDE: 
* Dsarie Shows What She's Made Of In Washington
It's not every day McLain Ward calls a jump-off round "phenomenal," but that was his compliment to Beat Mändli after the Swiss rider sped to a win in the $130,000 Longines FEI Washington World Cup qualifier for the President's Cup.
* Gogul Gets First International Hunter Derby Win At WEC Invitational
In his 25-year riding career, Jeff Gogul has known feast and famine.
* St. Jacques Rides Her Win Streak To Washington
Heading into the Washington International Horse Show, Taylor St. Jacques was feeling a little nervous. She'd decided to bring her own horse, Di Samorano, electing to give Charisma, her winning mount from the Dover Saddlery/USEF Hunter Seat Medal Final (Pa.), a well-deserved break.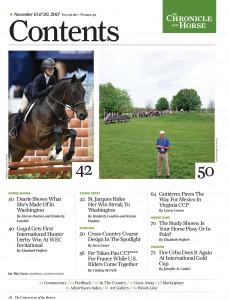 * Cross-Country Course Design In The Spotlight
Michael Etherington-Smith, course designer for Luhmühlen, Germany, Derek di Grazia (Rolex Kentucky) and Eric Winter (the Mitsubishi Motors Badminton Horse Trials, England) fielded our questions on all things course design, from adjustability to accountability and much more.
* Fer Takes Pau CCI**** For France, While U.S. Riders Come Together
Since 2008, the Pau CCI**** has seen three French winners, and on Oct. 25-29 the home country got another win as Gwendolen Fer took victory on Romantic Love.
* Gutiérrez Paves The Way For Mexico In Virginia CCI*
With his first U.S. one-star victory under his belt, this veteran Mexican eventer is focused on giving back and improving the sport at home.
* The Study Shows: Is Your Horse Pissy Or In Pain?
Science says equine facial expressions matter more than we think.
* Doc Cebu Does It Again At International Gold Cup
The horse that wouldn't sell has more than earned his keep for Charlie Fenwick.
November/December Untacked
(Subscribers can read the full magazine online.)
INSIDE:
The Ever-Evolving Dr. Audrey Evans
An internationally renowned pediatric oncologist, philanthropist and owner of top dressage and eventing horses demonstrates what it means to pursue excellence in all its forms. 
The Wisdom Of New Zealand's Wild Horses
The North Island's Kaimanawas, some of which are rounded up and sold every other year, are growing in popularity thanks to the efforts of volunteers-showing the world their talents for competition and teaching those who'll listen.
An Inside Glimpse: William Fox-Pitt's Wood Lane Stables
The Olympian has carved out a place for himself in the annals of eventing-but to do so, he had to create a home base that would give his horses everything they needed to thrive. Tucked away in southwest England is his slice of sport horse heaven. 
Take Your Time (And Enjoy The Wine) In Temecula
The Temecula Valley, in the heart of Southern California's wine country, draws eventers for the Galway Downs International Horse Trials every spring and fall, and the venue hosts plenty of other events, including hunter/jumper and dressage shows, the rest of the year. Whether you're looking to spend some quality time with the family, pamper yourself at a spa, relax at a gorgeous winery, or find an exceptional meal, there are plenty of options.
The Unabashedly Modern Murray Zimiles
In his new series of paintings, the artist tackles the traditional sport of foxhunting, radically reimagining the subject matter.
A Closer Look At: The Steeplechase Fund
The National Steeplechase Association's aid organization provides a safety net for the sport's most vulnerable.
The Clothes Horse: Horsey Holiday Must-Haves
The season of giving is just around the corner, so prepare for the turn with our Holiday Gift Guide.
Plus: Editor's Letter, Feed Room, Around The Arena, Editor's Picks, Best Of Web & Print, Life Between The Ears and Parting Ways! There's even more inside the November/December issue of Untacked, at the intersection of equestrian life and style.