May 29, 2017
(Subscribers can read the full magazine online.)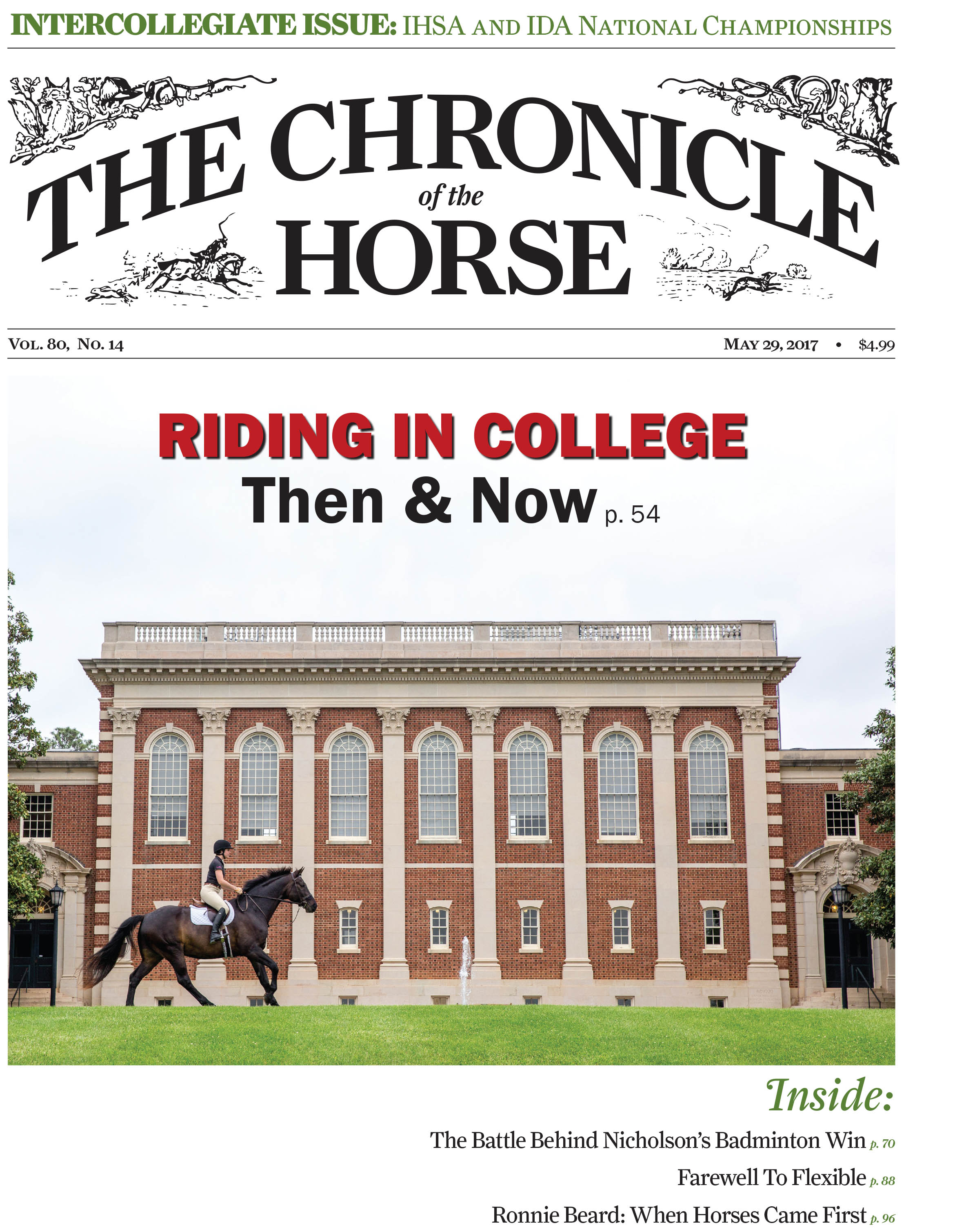 INSIDE: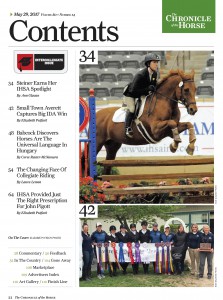 INTERCOLLEGIATE ISSUE
* Steiner Earns Her IHSA Spotlight
Before arriving at this year's Intercollegiate Horse Shows Association National Championship, Katherine Steiner had never competed at nationals. The Centenary University student had spent 3 years grooming for her friends at nationals and taking care of the horses Centenary brought to the show.
* Small Town Averett Captures Big IDA Win
Unlike many of the universities at the national championships, Averett isn't exactly known for its equestrian program. A small liberal arts school located in Danville, Va., on the Virginia-North Carolina border with a total undergraduate enrollment of around 1,000, the entire equestrian department usually keeps only 40 or so riders.
* Babcock Discovers Horses Are The Universal Language In Hungary
A love of horses overcame communication barriers for this IHSA rider.
* The Changing Face Of Collegiate Riding
Before the establishment of the Intercollegiate Horse Shows Association, schools like Sweet Briar, Hollins, Centenary and Skidmore found different ways to offer their students an equine fix.
* IHSA Provided Just The Right Prescription For John Pigott
The 2003 Cacchione Cup winner turned top equine surgeon has been influenced by his collegiate riding career.
* At Last Nicholson Adds A Badminton Trophy To His Collection
Truth is so often stranger than fiction, and the Mitsubishi Motors Badminton CCI**** was no exception this year. New Zealand's Andrew Nicholson has striven to win for 33 years, and he finally did so with his longtime partner Nereo – after coming back from a traumatic injury that would have caused anyone else to hang up their boots.
* Dorr Steps Onto CCI** Stage At Jersey Fresh
There is nothing flashy or flamboyant about young rider Cornelia Dorr. The slightly built 19-year-old's quotes are soft spoken, her rides followed by small smiles and pats, not fist pumps.
* Bond Prevails At Del Mar National
In the days leading up to the $100,000 Grand Prix of Del Mar, Ashlee Bond found herself doing a lot of experimenting. Her top mount Chela LS had developed a growth on the back of her chin, and while her veterinarian cleared the mare to compete, her tried and true bit – a pelham – was making the mare uncomfortable.
* Flexible Retires
On the evening of May 6, just before the $100,000 Grand Prix of Del Mar (Calif.), the great jumper Flexible appeared for his official retirement ceremony.
* FVF Sailor Man Cruises To Aiken Charity Grand Prix Win
Maryann Charles wasn't even planning to ride FVF Sailor Man in the second week of the Aiken Charity Horse Show, let alone win the feature class.
* Between Rounds with Ronnie Beard: Hunters: Where Have We Been And Where Are We Going?
As a longtime trainer, I have been involved with the hunters for more than 50 years, and I have watched it change drastically over the last five decades. I recently did a comparison on the growth of the hunters from back in the day to the hunters of today: the good and the bad.
* 50 Years Ago: Three Years, Three Virginia Gold Cup Wins For Leeds Don
As the horses lined up for the 92nd running of the Virginia Gold Cup, where Ebanour would earn Irv Naylor his fifth win and retire the trophy for only the eighth time in the race's history, the day also marked an anniversary. Exactly 50 years before, Leeds Don had become the first horse to retire the Gold Challenge trophy.
* Scorpiancer Dusts Off The Past At Iroquois
With a 16-length victory, Bruton Street-US owners enjoyed the benefit of believing in their quirky Thoroughbred through his difficult early career.
Plus: Commentary, In The Country, Gone Away, Art Gallery, Finish Line, results, photos and much, much more.
May/June Untacked
(Subscribers can read the full magazine online.)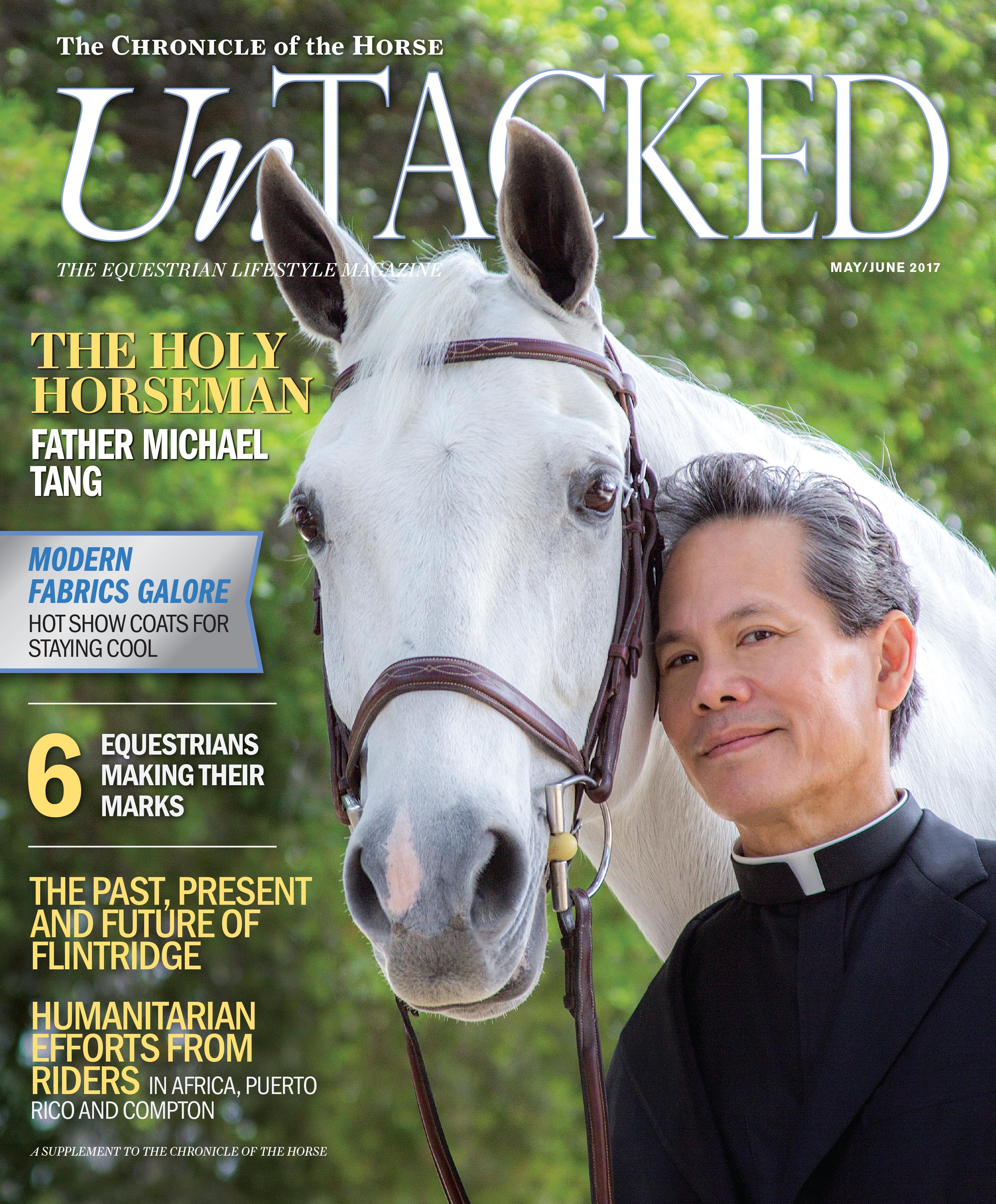 INSIDE:
The Intertwined Passions Of Father Michael Tang
Despite necessitating a painful transition from one type of priesthood to another, horses have always factored into his life alongside his faith and artistic endeavors.
Southern California's Equestrian Gem
Whether spawning the careers of riders like Anne Kursinski, Robert Ridland and Susie Hutchison or creating a family-friendly atmosphere, the Flintridge Riding Club has nurtured a love of horses for nearly 100 years.
The Horse World's Young And Unsung Influencers
They find solutions, give back to the sport, and work tirelessly behind the scenes to make an impact that has nothing to do with winning ribbons.
Humanitarian And Horsewoman Holly White
A long distance from her roots in rural New York, White continues pursuing her equine passion in Senegal while bettering the world via her day job at the United Nations Population Fund.
Ride Away From It All In Alberta's Rocky Mountains
With the help of long days in the saddle, campfire singalongs and a few mimosas, the Wild Deuce Women's Retreat gives its participants a brief respite from the rest of the world and a chance to form lasting friendships.
Voyage To Vieques
A five-year equine immunocontraceptive vaccine program is drawing top riders to help solve an overpopulation problem in Puerto Rico.
The Clothes Horse: Amazing Technifabric Dreamcoats
Summer's just around the corner, the show ring is your stage, and these jackets – in a dizzying array of modern materials, cuts and colors – are definitely worthy of standing ovations.
Plus: Editor's Letter, Around The Arena, Editor's Picks, Tech Spotlight, Clothes Horse, Test Lab, Charity Spotlight, Best Of Web & Print, Life Between The Ears and Parting Ways! There's even more inside the March/April issue of Untacked, at the intersection of equestrian life and style.