February 12 & 19, 2018
(Subscribers can read the full magazine online.)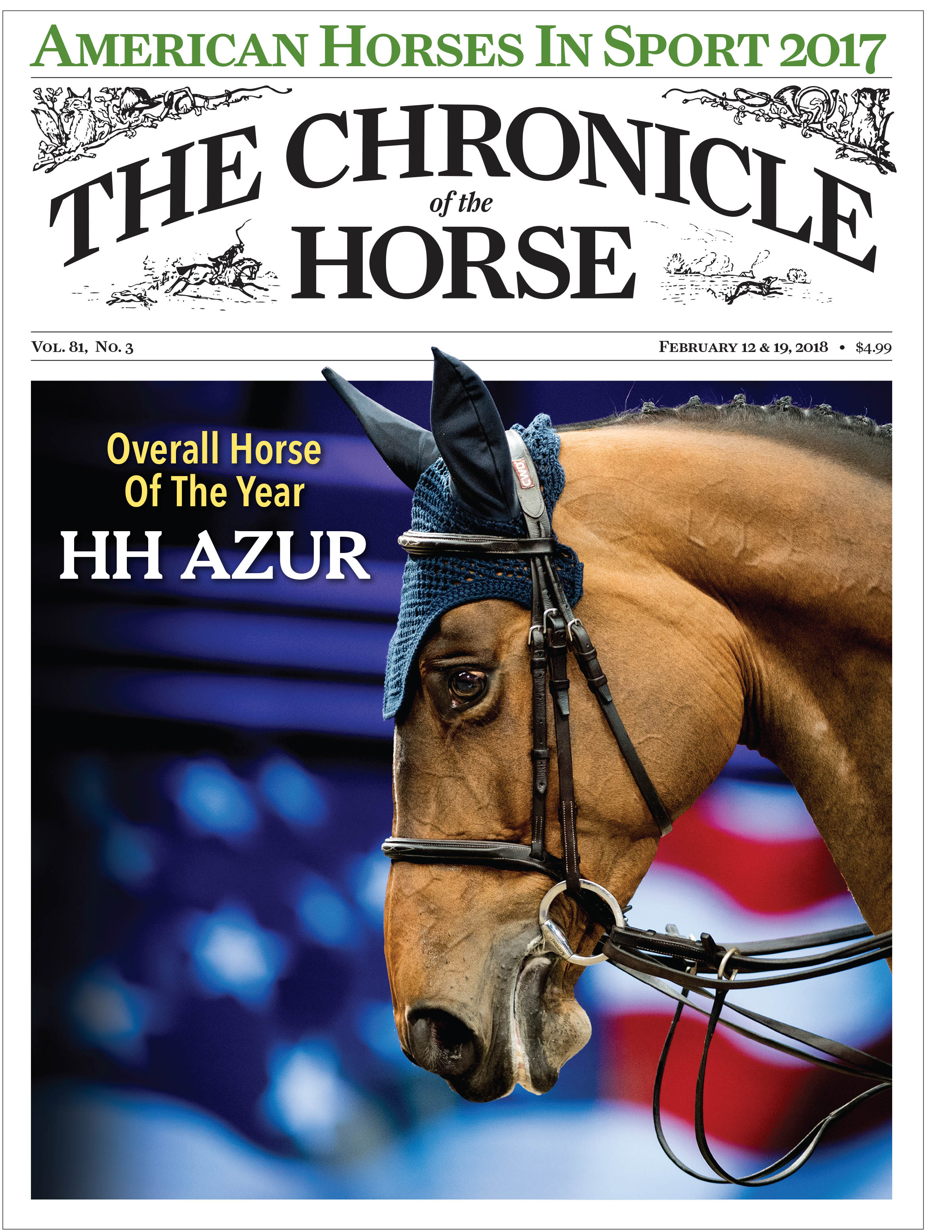 INSIDE: 
* Overall And Show Jumping Horse Of The Year: HH Azur
There's something more than the raw materials that makes the great horses hard to forget, and anyone who's seen McLain Ward's HH Azur in action knows she's got it.
* Overall And Show Jumping Horseman Of The Year: Kent Farrington
The Rolex Grand Prix of Geneva marked the end of Farrington's best year to date. The 38-year-old Chicago native topped the Longines World Rankings in May of 2017 and currently holds the longest streak since Scott Brash dominated the list between May 2015 and February 2016.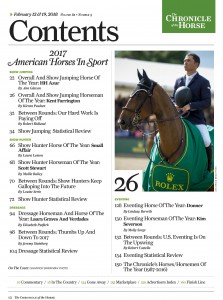 * Between Rounds with Robert Ridland: Our Hard Work Is Paying Off
When we set out for the year, we had two main goals in mind: championships and Nations Cups. That's what we do, and that's what we focus on.
* Show Jumping Statistical Review
* Show Hunter Horse Of The Year: Small Affair
The first time Augusta Iwasaki met Small Affair, introductions quickly went south.
* Show Hunter Horseman Of The Year: Scott Stewart
If you look down the Rivers Edge aisle you'll see no fewer than 12 mounts who each earned at least one championship at indoors or Devon this year with Scott Stewart aboard, not to mention others who dominated their divisions with their owners thanks to Stewart's coaching.
* Between Rounds with Louise Serio: Show Hunters Keep Galloping Into The Future
The top two riders at this year's USHJA International Hunter Derby Championship in Lexington, Kentucky – Tori Colvin and Geoffrey Hesslink – are both young professionals, which gives me so much hope for the future of the sport. We need to have the young adults out there aspiring to become top hunter riders.
* Show Hunter Statistical Review 
* Dressage Horse And Horseman Of The Year: Verdades And Laura Graves
Journalists in the equine press and mainstream media alike have characterized Laura Graves' rise from relative obscurity to the No. 1 ranked dressage rider in the United States over the last four years as a Cinderella story.
* Between Rounds with Jeremy Steinberg: Thumbs Up And Down To 2017
I had the pleasure of having George Morris come by one of my clinics this fall. He said he reads what I write in the Chronicle and appreciates that I "never hold my punches." Our encounter reignited a spark in my mind about holding true to a belief system, owning mistakes, showing up prepared for anything you do, and not only riding and sticking to basics, but also teaching them.
* Dressage Statistical Review
* Eventing Horse Of The Year: Donner
Lynn Symansky's four-star partner Donner may be allergic to his own sweat, have an aversion to hacks through the woods, and possess a mean spook and bolt if he's had too much time off, but for all his eccentricities, he's become a formidable partner and one the U.S. Eventing Team can count on.
* Eventing Horseman Of The Year: Kim Severson
It's quite possible that the best thing to happen to Kim Severson in 2017 was retiring on the Rolex Kentucky CCI**** cross-country.
* Between Rounds with Robert Costello: U.S. Eventing Is On The Upswing
Another year has flown by in the World of Eventing. The adage, "Time flies while you're having fun" isn't exactly how I'd characterize 2017. There's no glossing over the fact that it was a very challenging year indeed for the U.S. Eventing High Performance Program.
January/February 2018 Untacked
(Subscribers can read the full magazine online.)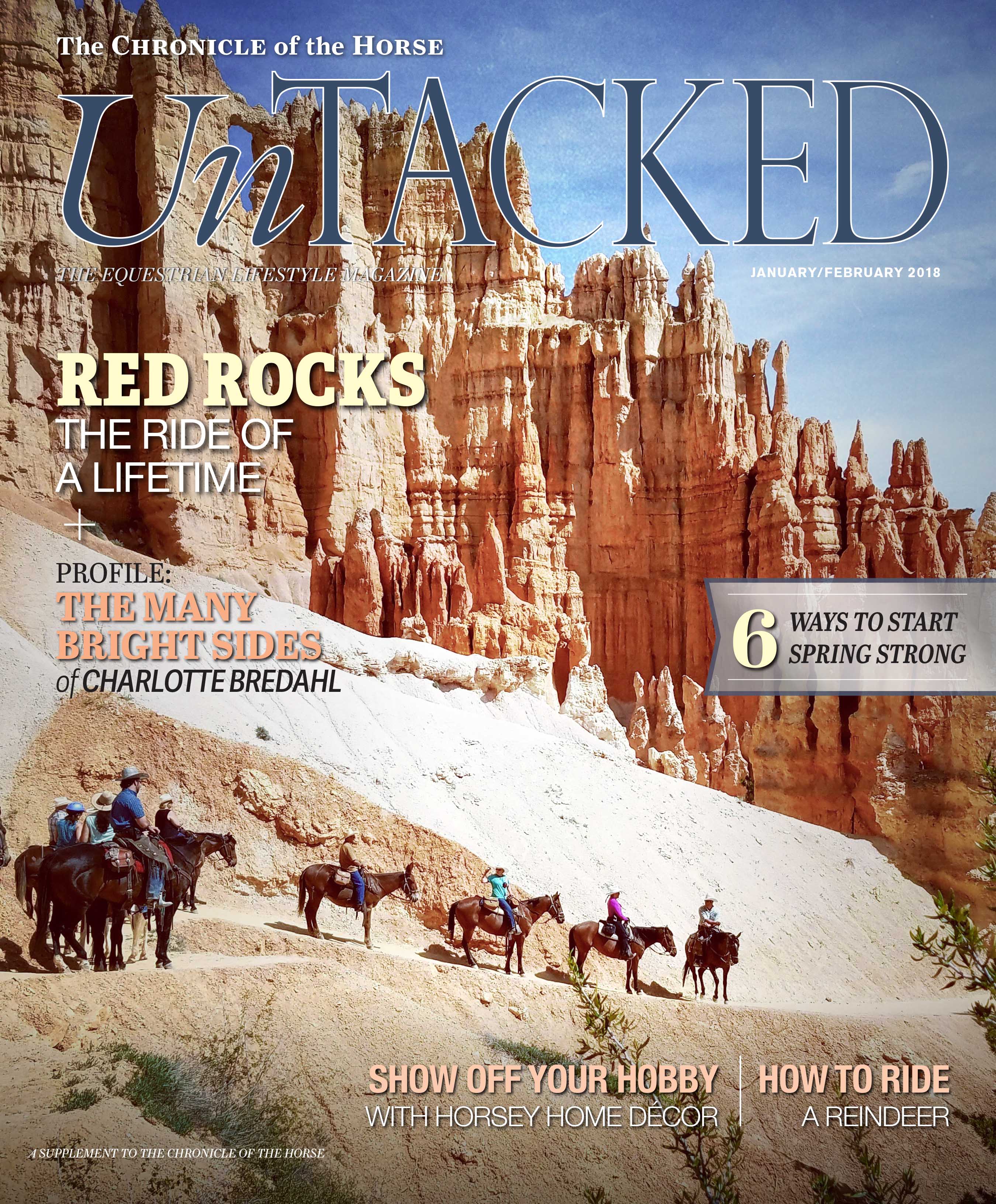 INSIDE:
The Still-Wild West
The popular Red Rock Ride in Utah and Arizona takes participants through three national parks, showing off stunning natural landmarks with a side of historical context.
Tenacity Overcomes Tragedy At The Tevis Cup
Winning the most prestigious 100-mile U.S. endurance race is meaningful under any circumstance. But Tennessee Lane's first victory aboard Auli Farwa, previously owned by the late Kevin Myers, also provided closure.
The Rider's Non-Riding Guide To Winter Improvement
Can you emerge from the coldest months better than when they started? With these six tips, we're betting you can.
Saving The Trakehner
The popular sport horse breed almost disappeared when World War II ravaged Europe, and the horses were forced on a trek through both hell and high water.
The Happiest Horsewoman
Whether winning a team bronze medal in dressage at the 1992 Olympic Games, acting as USEF assistant youth coach, judging top competitions or raising her foster children, Charlotte Bredahl meets each challenge with grace and gusto.
Clothes Horse: Horses Are What Make Your House A Home
If the hay and hair you track in daily don't give you away as an equestrian, these home décor items are sure to do the trick.
City Guide: Ocala
Explore the home of sun, sand and tons of shows.
Plus: Editor's Letter, Around The Arena, Editor's Picks, Tech Spotlight, Charity Spotlight, Best Of Web & Print, Life Between The Ears, Test Lab and Parting Ways! There's even more inside the January/February issue of Untacked, at the intersection of equestrian life and style.