June 18 & 25, 2018
(Subscribers can read the full magazine online.)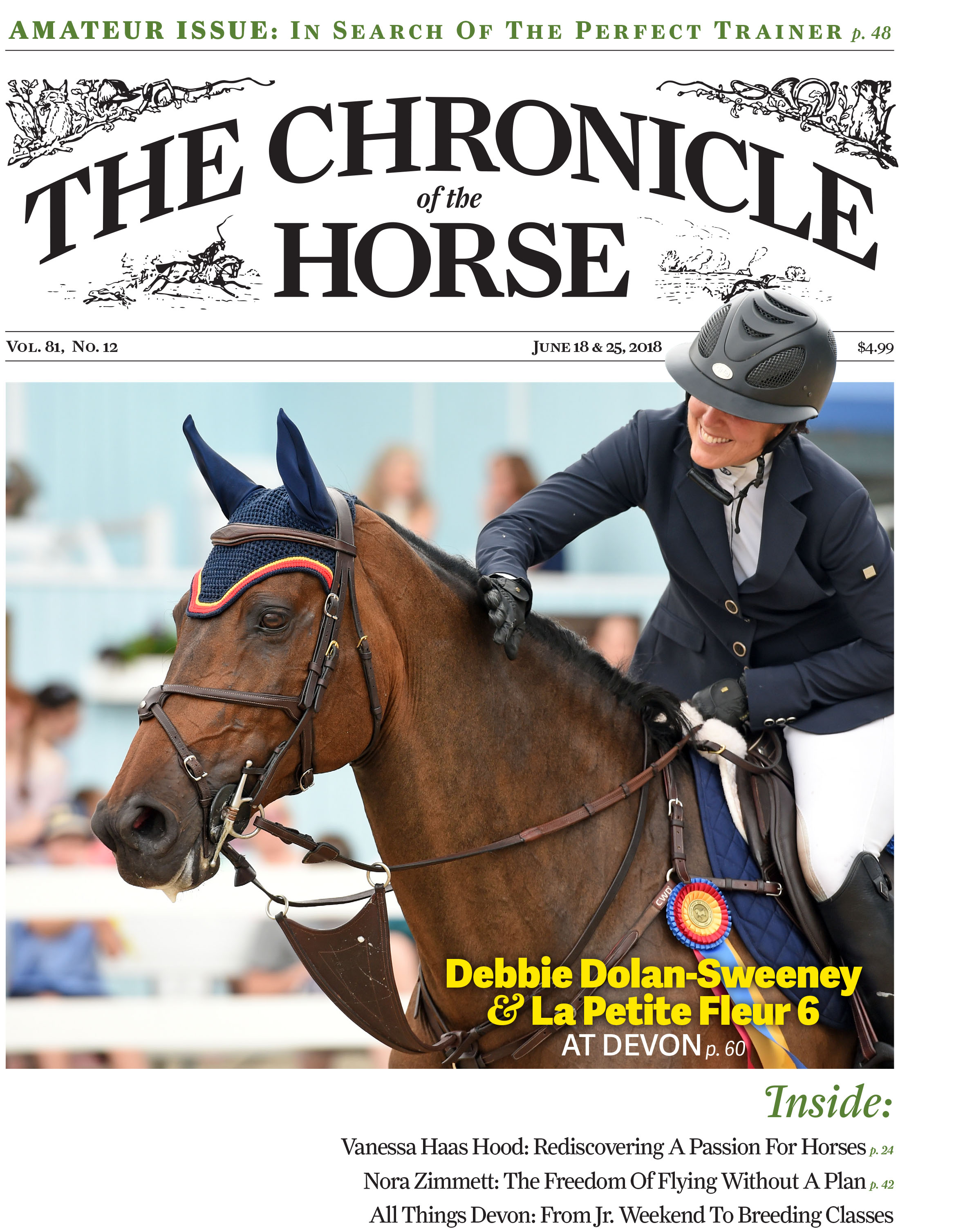 INSIDE: 
AMATEUR ISSUE
* Vanessa Haas Hood Is Enjoying An Unexpected Riding Renaissance
Vanessa Haas Hood thought she was finished with riding. She'd spent the first 20 years of her life immersed in horses, but then more than a decade went by during which she didn't even sit in a saddle.
* Horse Of A Lifetime: Exakt
Patty Mayer never passed up an opportunity to follow her unlikely dressage horse around the world.
* Just Because You Can Dodge Bullets Doesn't Mean You Can Jump A Straight Line
Nora Zimmett rekindles her love of riding by dialing back the intensity.
* Free Rein With: Becky Gochman
The World Champion Hunter Rider Amateur-Owner Rider of the Year in 2014 and 2017, Gochman has owned and ridden top horses like Empire, Catch Me, Sambalino and Last Call. Recently she's started showing in the adult jumpers.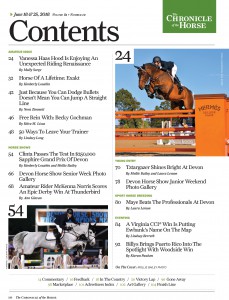 * 50 Ways To Leave Your Trainer
I've seen too many of my peers stuck in bad training situations because they don't objectively assess the job their trainer is doing. And I've been there myself, trapped by my own trainer-as-God mentality, feeling they are above reproach and not to be questioned.
HORSE SHOWS
* Clinta Passes The Test In $250,000 Sapphire Grand Prix Of Devon
When a new horse arrives at McLain Ward's farm in Brewster, New York, one of the first things Ward does is make a list of goals. Often a horse meets a few, but then Ward has to reevaluate. Clinta might be the exception.
* Amateur Rider McKenna Norris Scores An Epic Derby Win At Thunderbird
Arabians, Quarter Horses, dressage, this young rider has done it all, and now she's making her mark in the hunter/jumper world.
YOUNG ENTRY
* Tztargazer Shines Bright At Devon
Chloe White showed up in Devon, Pennsylvania, just hoping for a ribbon or two, but she absolutely dominated the division. She clinched the large junior hunter, 16-17, championship with a winning handy round on a mark of 91.
SPORT HORSE BREEDING
* Maye Beats The Professionals At Devon
After learning the ropes from his parents, the 17-year-old achieved his goal of winning the prestigious Best Young Pony title.
EVENTING
* A Virginia CCI* Win Is Putting Ewbank's Name On The Map
Edward Ewbank made his first trip to the United States from Auckland, New Zealand, when he was 8 years old, and it changed his life forever.
* Billys Brings Puerto Rico Into The Spotlight With Woodside Win
Lauren Billys was safe in her home state of California when Hurricane Maria devastated Puerto Rico in 2017, but the ripples of hardship touched her family.
May/June 2018 Untacked
(Subscribers can read the full magazine online.)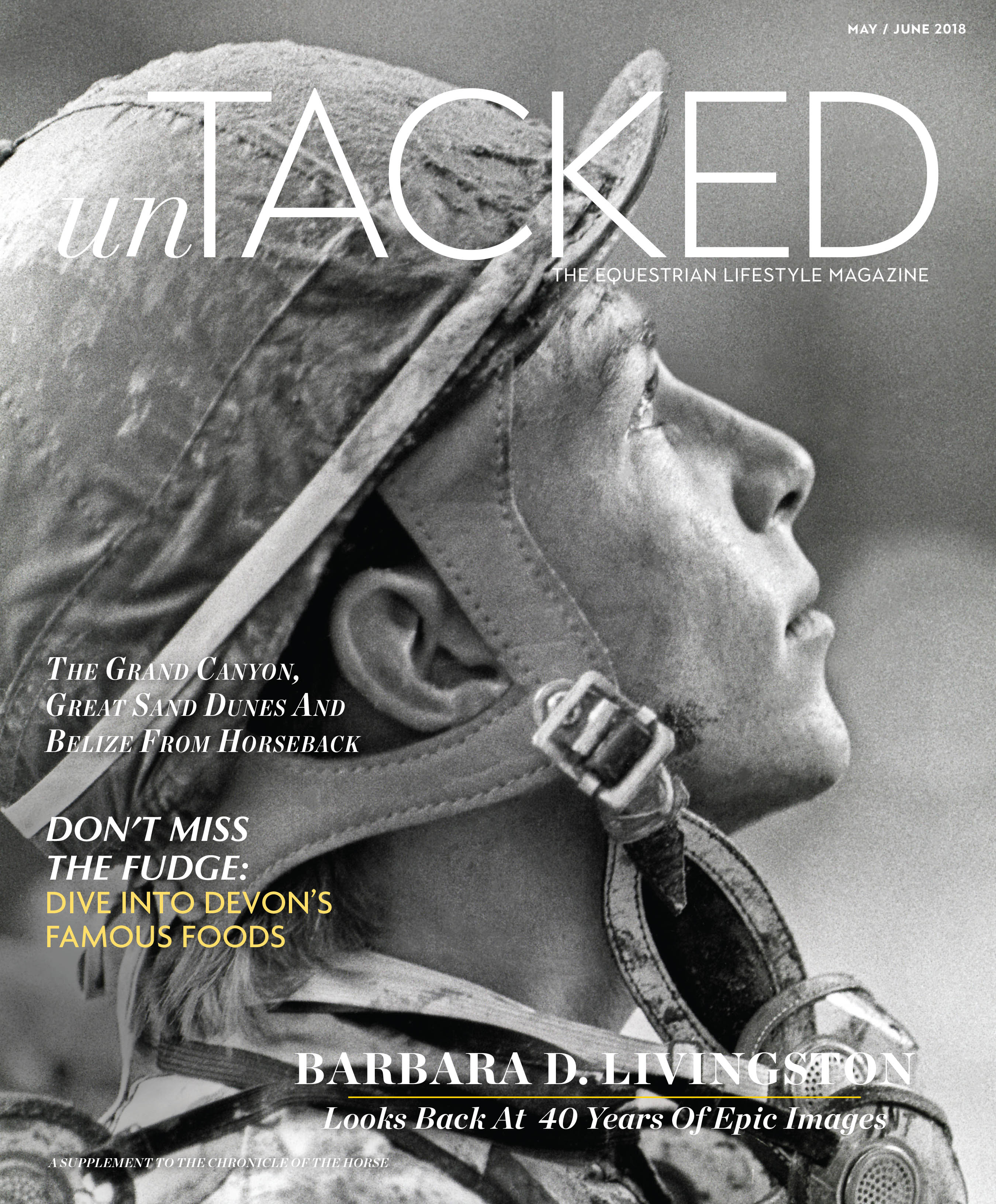 INSIDE:
Barbara D. Livingston: The Thoroughbred's Top Fan
What began in childhood as an inexplicable infatuation with horses evolved into a vocation – and an obsession – for the five-time Eclipse Award-winning photographer.
Off The Beaten Path In Belize
Horses prove the perfect form of transportation for exploring some of the lesser-known features in this small but spectacular country.
In The Hoofprints Of History
Since his retirement 17 years ago, Major General Sir Evelyn John Webb-Carter has hardly been resting on his laurels. Instead, the Brooke chairman has found a novel way to combine his love of horses with his military roots. He walks readers through some of his most memorable treks.
A White Sands Adventure
In southern New Mexico, riders can trek across an otherworldly landscape of gypsum dunes. 
Saddling Up For More Than A Paycheck
The Pack Horse Library Project of Eastern Kentucky blunted the ravages of Great Depression poverty and spread a love of reading to rural areas.
Diving Into Devon's Delicacies
The show's culinary traditions date back more than a century, and horsemen across the country look forward to eating their way across the showgrounds each spring.
Plus: Editor's Letter, Around The Arena, Life Between The Ears, The Clothes Horse, Book Reviews, City Guide: Parker, Colorado, Editor's Picks, Charity Spotlight, Test Lab and Parting Ways! There's even more inside the May/June issue of Untacked, at the intersection of equestrian life and style.