November 5 & 12
(Subscribers can read the full magazine online.)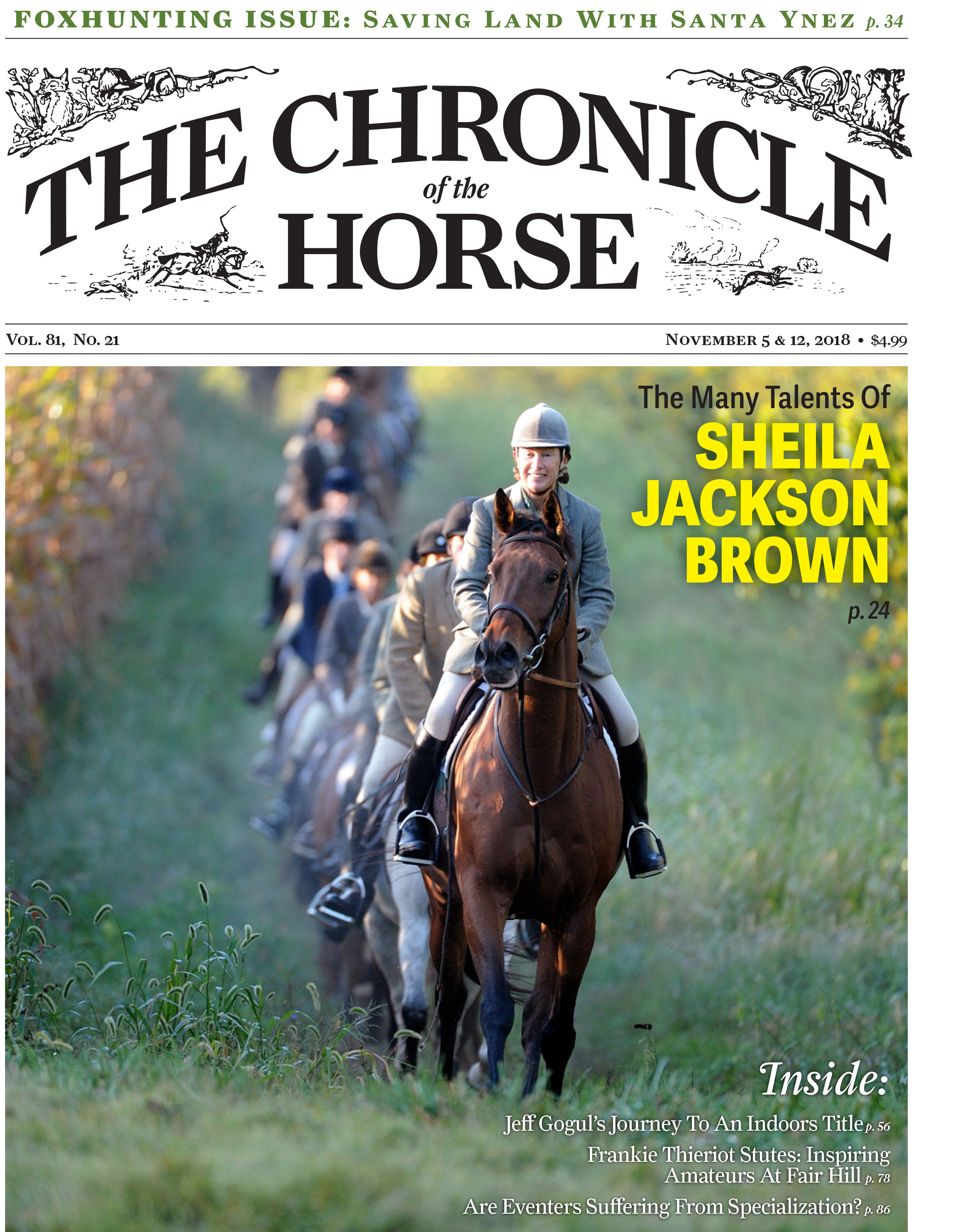 FOXHUNTING ISSUE
* The Unstoppable Sheila Jackson Brown
As a second generation female MFH at Green Spring Valley Hounds, Brown lives the life she always dreamed while keeping the hunt's traditions alive.
* On A Mission To Preserve
With about 13,500 acres of California ranchland protected, the Santa Ynez Valley Hounds earned the MFHA's 2018 Hunting Habitat Conservation Award.
* The Wadsworth Family And "Riding To Hounds In America"
The tale of how a small brown booklet became the rulebook of hunting etiquette.
* Horse Of A Lifetime: Romeo
How the diminutive Thoroughbred became Edie Smart's top hunt horse.
HORSE SHOWS
* Gogul's Great Journey Leads To His First Pennsylvania National Tricolor
Jeff Gogul has gone from riding outside in freezing Ohio winters and patching his own breeches to winning the leading hunter rider title at Harrisburg.
* Rubens LS La Silla Illuminates The Night In Tryon
The Mexican-bred stallion is the easiest horse you could ever ride, claims Conor Swail.
* Hoffman Gets A Taste Of The Next Level At Del Mar
Zazou Hoffman hopes the opportunity aboard Samson II is just the start of big things to come.
YOUNG ENTRY
* Moggre Makes His Dover Saddlery/USEF Medal Final Dream Come True
When judge Geoff Teall was asked what put Brian Moggre on top in the Dover Saddlery/USEF Hunter Seat Medal Final, he was unequivocal in his answer. "He did," said Teall.
EVENTING
* Stutes Focuses On What Counts For Fair Hill CCI*** Win
As the mother of two boys under the age of 4 and the owner of two businesses, amateur rider Frankie Thieriot Stutes doesn't have a lot of downtime.
* Between Rounds With Packy McGaughan: Is American Eventing Lost In The Wilderness?
Our columnist examines the systems making other countries successful and reflects on how hyperspecialization has hurt the U.S. program.
DRESSAGE
* Hellman Has High Hopes After GAIG/USDF Region 1 Championship Win
This adult amateur has pursued dressage from coast to coast.
* Hemmingway Writes A Win At GAIG/USDF Region 2 Championships
Kelli Mardell is using her multi-disciplinary background to help train her stallion.
* Twiggs Takes Two Wins At GAIG/USDF Region 3 Championships
The adult amateur pulled in impressive scores on her young star.
* Gilliland Reaches Her Goal With GAIG/USDF Region 5 Win
Two years ago Missy Gilliland won a training level championship at the U.S. Dressage Finals and vowed that the next time she returned it would be at Grand Prix.
* Earley Earns Her First GAIG/USDF Region 9 Championship
Despite only taking up riding six years ago, this adult amateur is rising through the ranks and loving every step of the way.
*November/December 2018 Untacked
(Subscribers can read the full magazine online.)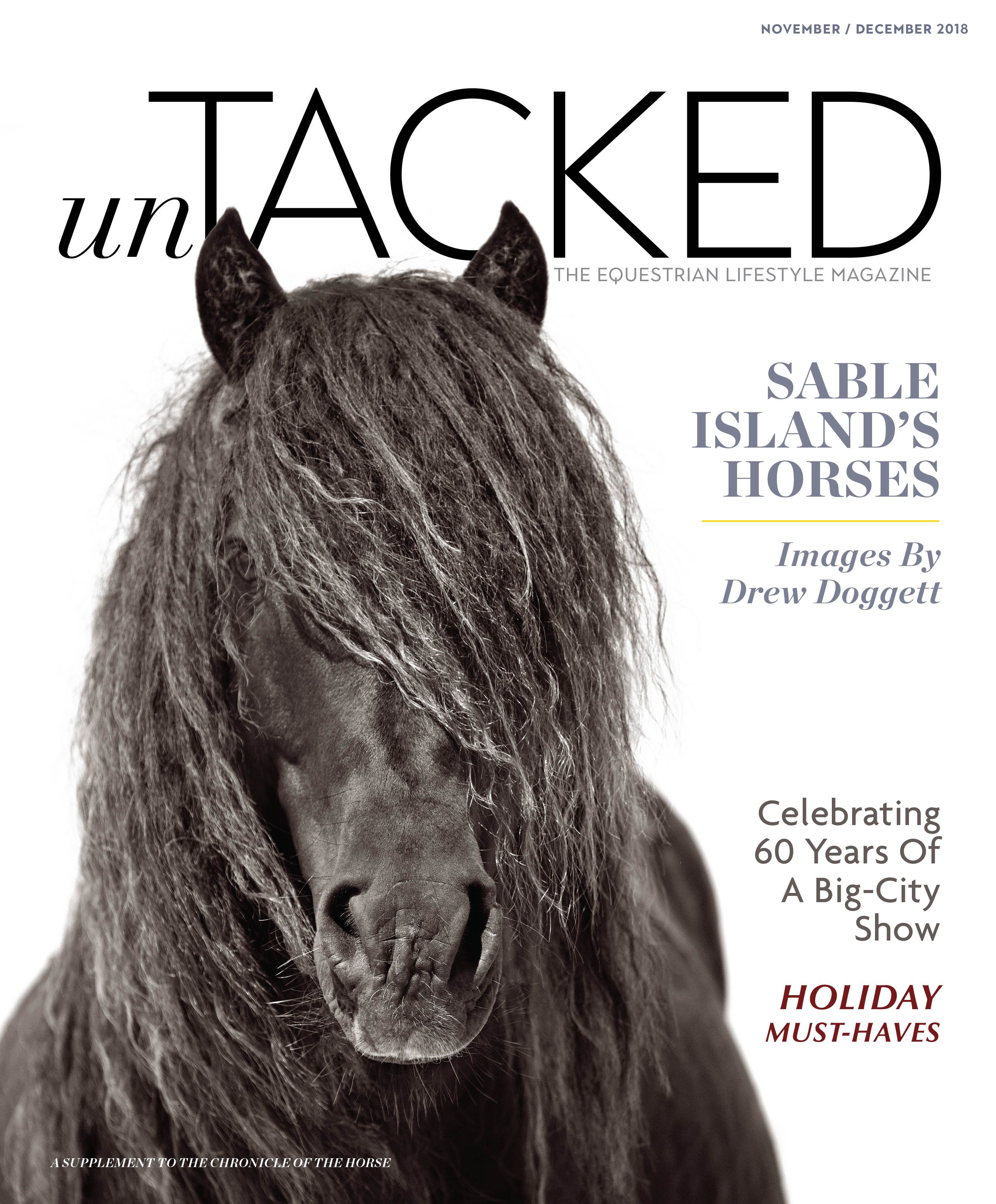 INSIDE:
The Horses Of Sable Island
Photographer Drew Doggett captures the windswept and wild residents of the small Atlantic island.
A Show Fit For A Nation's Capital
Over the course of 60 years, the Washington International Horse Show has transformed from a financially untenable event bound for cancellation into one of the most prestigious competitions in America.
Frozen In Time
The Mexican caballeros of Real de Catorce still rely on horses to make a living, but their jobs are now taking visitors on tours of the ghost town and its surrounding hillsides rather than mining silver.
Holiday Gifts For Him, Her, Horse & Home
From simple to splurge, we have a little something to suggest for every equestrian and equine in your life.
City Guide: Toronto
Enjoy a taste of the Canadian city that hosts equestrians for 10 days every November.
Tech Spotlight: Hylofit
The horse and human heart rate tracking system is bringing data-driven training to the equestrian sports arena.
Plus: Editor's Letter, Around The Arena, Editor's Picks, Charity Spotlight, Life Between The Ears and Parting Ways! There's even more inside the November/December issue of Untacked, at the intersection of equestrian life and style.
Enjoy!