January 14 & 21
(Subscribers can read the full magazine online.)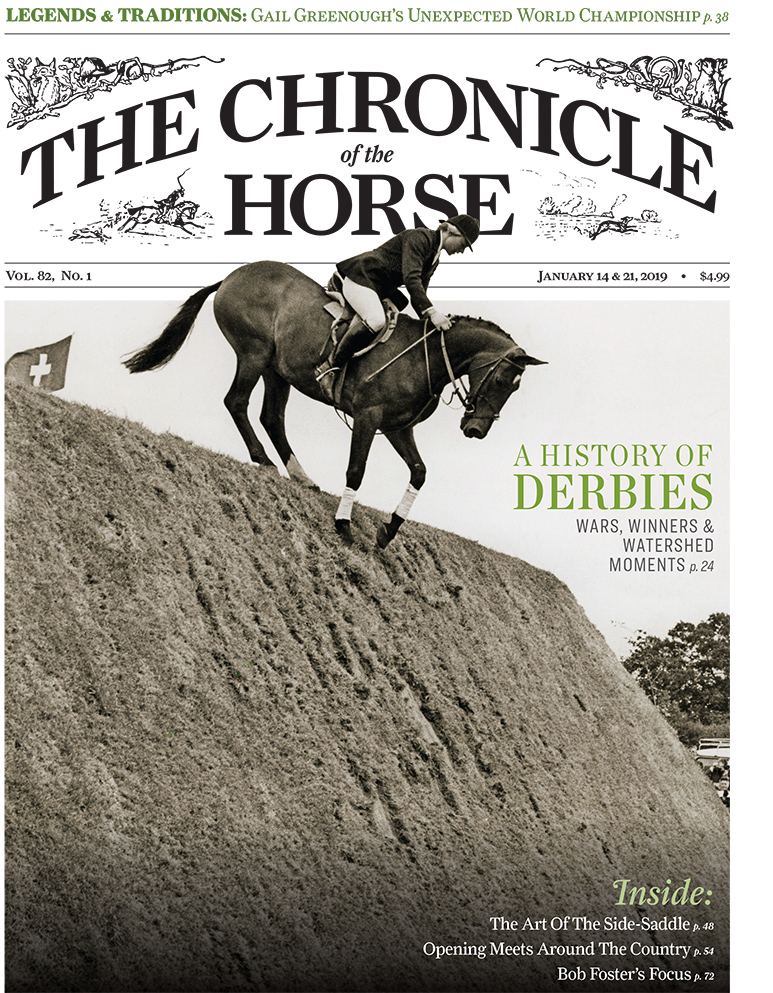 LEGENDS & TRADITIONS ISSUE
* Deconstructing The Derby
Throughout the evolution of show jumping, competitors have struggled to earn the honor of clearing the hardest courses in the world at Hamburg and Hickstead.
* The History Of The Jumping Derby In Photos
* Living Legend: Gail Greenough
She broke through the male-dominated tier of sport to prove a woman's place is atop the podium at the World Show Jumping Championships.
* Beauty And Strength In The Side-Saddle
An exhibit at the National Sporting Library and Museum shows that even when women were expected to be the picture of refinement and femininity, they also maintained a connection to the horse.
HUNTING
* 2018 Opening Meets Photo Gallery
HORSE SHOWS
* USHJA Annual Meeting Highlights Horsemanship, Safety And New Ideas
Bringing horse showing into the 21st century while honoring tradition was a hot topic in Tampa.
* Bob Foster Was The Self-Taught Savant Of Horse Show Photography
But that's only one of the many skills this Renaissance man has mastered in his 79 years.
HORSE CARE
* Weston Davis Was Made For Equine Surgery
You could be forgiven for thinking that the veterinarian attending your horse has brought a bodyguard along for the ride when Dr. Weston Davis gets out of the car.
January/February 2019 Untacked
(Subscribers can read the full magazine online.)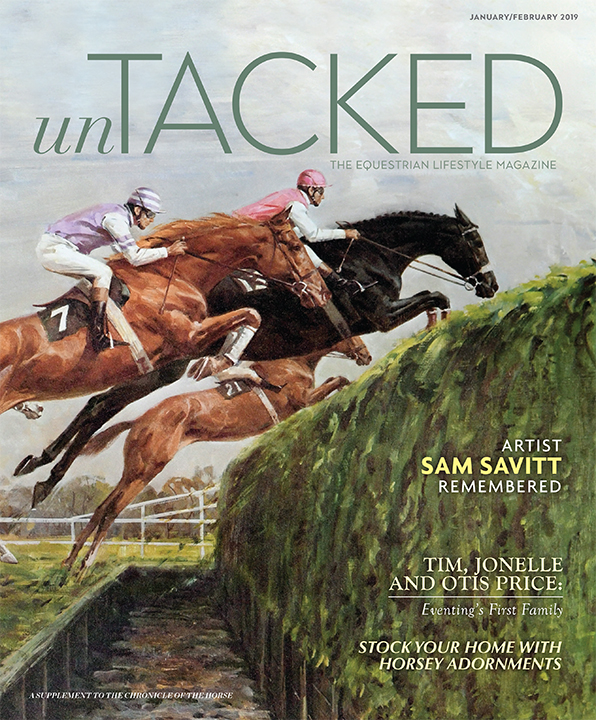 INSIDE:
Sam Savitt Sketched His Dream Life
His son, Roger Savitt, tells the story of a man who always knew he wanted to draw horses.
The Prices Are Living In Their Perfect Present
New Zealand eventers Tim and Jonelle Price enjoyed their best season yet in 2018, but they're still firmly focused on the future, especially as they tackle life with young son, Otis, in tow.
Hints Of The Horsey Life
Home décor trends will come and go, but subtle equestrian style will always be a classic.
The Buffalo Soldiers: Little-Known Horsemen Of History
Newly freed slaves joined cavalry regiments after the Civil War, charting their futures in the American West on horseback.
Living Their Passion
Watching the fabulous new documentary "Life In The Doghouse" about Ron Danta and Danny Robertshaw will make you want to be a better person.
Riding The Divide
A five-day horseback trek takes travelers through southwest Montana's natural splendor.
Plus: Editor's Letter, Around The Arena, Feed Room, Editor's Picks, Charity Spotlight, Life Between The Ears, Tech Spotlight and Parting Ways! There's even more inside the January/February issue of Untacked, at the intersection of equestrian life and style.