August 6 & 13
(Subscribers can read the full magazine online.)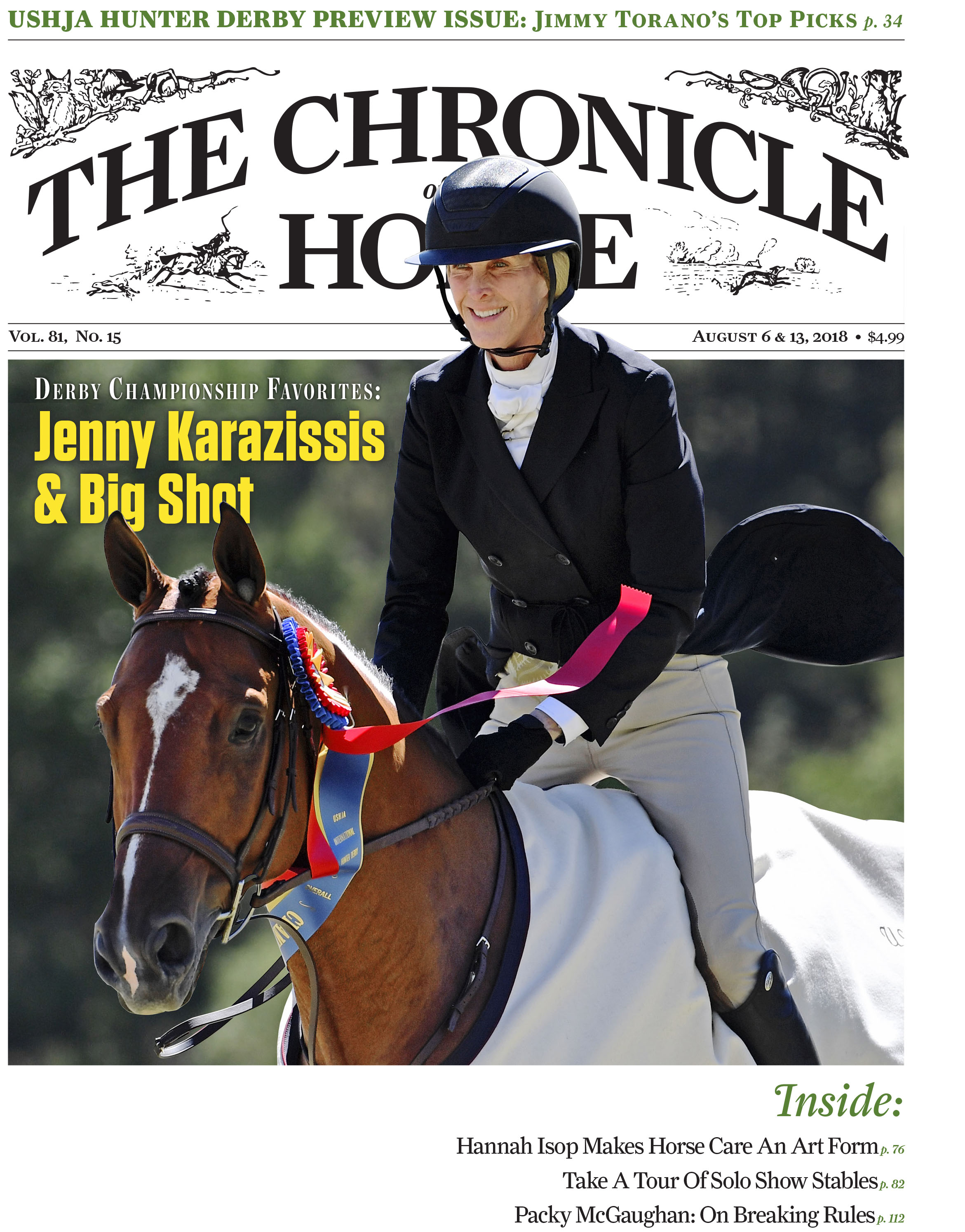 INSIDE: 
USHJA DERBY CHAMPIONSHIP PREVIEW ISSUE
* Consistency And Experience Will Pay Off In Kentucky
Three-time USHJA International Hunter Derby Championship judge Jimmy Torano weighs in on who could shine at this year's event.
* 2018 USHJA International Hunter Derby Championship Roster
Find out more about the horses and riders who will be competing at this year's derby championship.
* Hannah Isop Believes In Art In The Barn
If you happened to be awake at the horse show before the sun rose, you'd notice something different about the way trainer Hannah Isop operates.
* Behind Barn Doors: Solo Show Stables
Harold Chopping's home base is tucked back off a popular road just outside Southern Pines, North Carolina, marked by a small sign and a gravel drive. From the moment you go through the automatic gates you're struck by the sense that the farm is set up not only for horses, but also for dogs.
HORSE SHOWS
* Ehning Dominates At Aachen
Marcus Ehning scored a big win aboard Pret A Tout as he's preparing for the FEI World Equestrian Games.
* Finsness Makes The Most Of Her Hobby At Great Lakes
Liza Finsness had to make an important choice in college: Should she follow her love of horses to a career as a professional rider or pursue her passion for medicine and put her biology degree from the University of Georgia to use?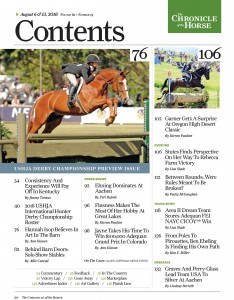 * Jayne Takes His Time To Win $100,000 Adequan Grand Prix In Colorado
Amice Z did not get lost on his way to the top of the sport in the show jumping ring; he just wandered a bit more than most.
* Garner Gets A Surprise At Oregon High Desert Classic
Lindsey Garner had only a handful of rides on Beau Zephyr before contesting the derby, but they led the class from start to finish, improving on "Biscuit's" second-placed finish from 2016.
EVENTING
* Stutes Finds Perspective On Her Way To Rebecca Farm Victory
Frankie Thieriot Stutes doesn't have the traditional life of a successful upper-level rider, but that doesn't seem to matter. She's accumulated an excellent record at the FEI levels with Chatwin, and during The Event At Rebecca Farm she earned her biggest win yet in the CCI***.
* Between Rounds with Packy McGaughan: Were Rules Meant To Be Broken?
Our columnist examines the ethics of following the rules, bending the rules and outright breaking the rules – and how the line between these can be hard to define.
YOUNG ENTRY
* Area II Dream Team Scores Adequan FEI NAYC CICOY** Win
If you saw the list of horses for Area II's CICOY** team at the Adequan FEI North American Youth Championships circulating, you might have thought they compromised a senior championship team.
* From Poles To Pirouettes, Ben Ebeling Is Finding His Own Path
Olympic dressage rider Jan Ebeling still remembers when his son Ben Ebeling expressed a serious interest in dressage. "He got very inquisitive, asking me, 'How do you do those pirouettes?' " says Jan.
DRESSAGE
* Graves And Perry-Glass Lead Team USA To Silver At Aachen
At this year's Aachen CDIO Nations Cup, it looked like Werth and Graves would be battling it out once again, but horses are unpredictable, and Graves' teammate Kasey Perry-Glass proved that the World No. 1 and No. 2 had better watch their backs if they want to remain on top.
July/August 2018 Untacked
(Subscribers can read the full magazine online.)
INSIDE:
The Trials And Triumphs Of Old Salem Farm
It's seen top trainers, movie stars, world-class competition – and near financial ruin. Now Old Salem Farm rebuilds again, with Olympic show jumper Lucy Davis as its new in-house trainer.
Irish Lessons In Courage
Armed with riding boots and a passport, the author tackles a week of cross-country riding education – and her own fears – at Crossogue Equestrian in Tipperary.
A Wing And A Prayer
Nestled beneath the imposing Bovey Castle in Devon, England, Philippa and Martin Whitley's unique falconry businesses are creating second chances for off-the-track Thoroughbreds.
Take Your Tailgate To The Next Level
At the Virginia Gold Cup steeplechase, spectators demonstrate how to do it in style – and you can learn from their successes.
No Sleep Until Montana
The "Naked Foxhunter" harks forward with a cross-country journey covering 10,000 miles in 31 days. 
Life Between The Ears
Take a look at Morocco, Argentina, Australia and San Jose, California.
The Clothes Horse: Take A Chill Pill
Mitigating the melting effects of summer has never been easier, thanks to techy fabrics, insane insulation and plentiful venting. Protect yourself from harmful rays and heatstroke with these hot-weather helpers.
Plus: Editor's Letter, Around The Arena, Book Reviews, City Guide: The Hamptons, Editor's Picks, Charity Spotlight and Parting Ways! There's even more inside the July/August issue of Untacked, at the intersection of equestrian life and style.