JULY 10 & 17, 2017
(Subscribers can read the full magazine online.)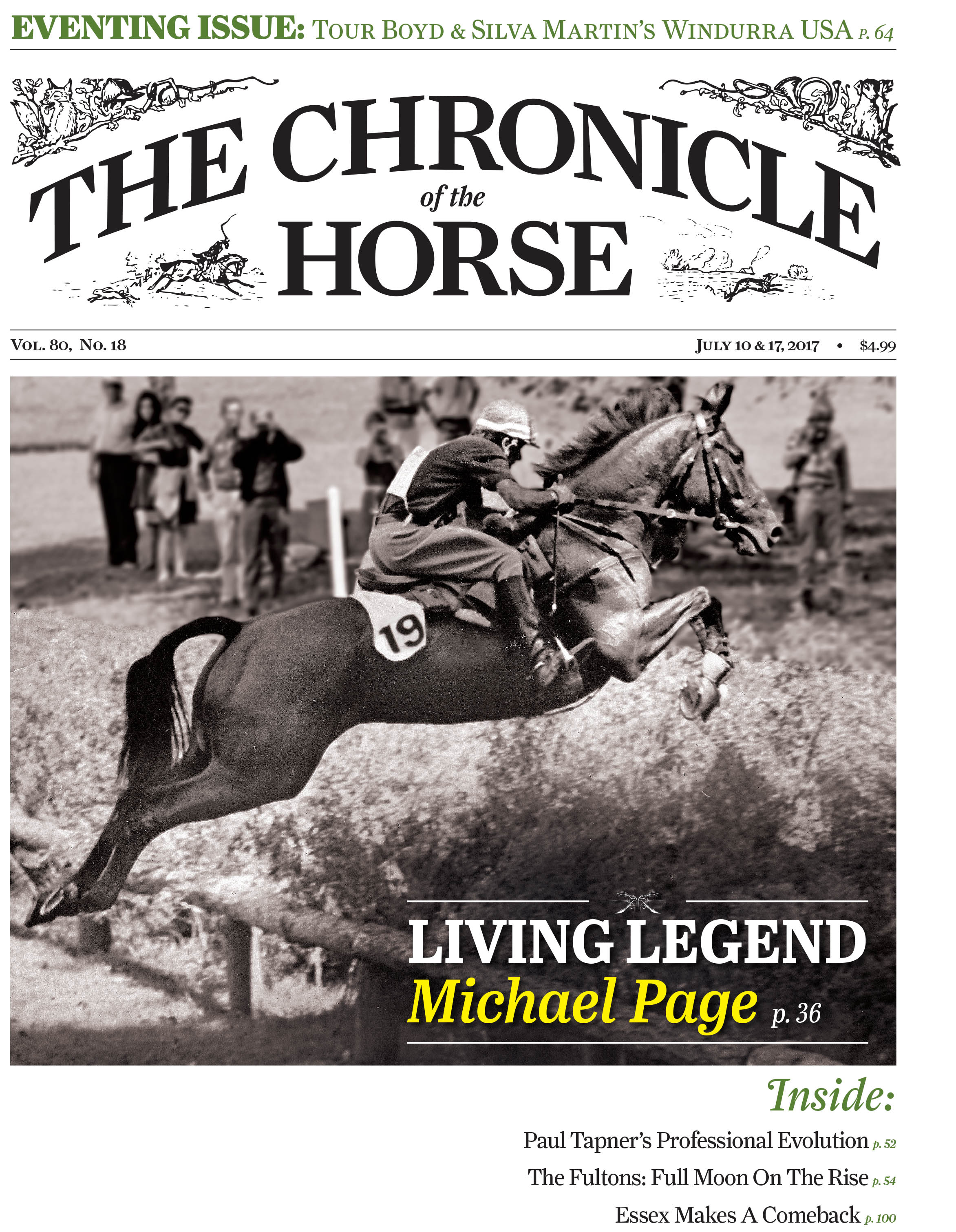 INSIDE: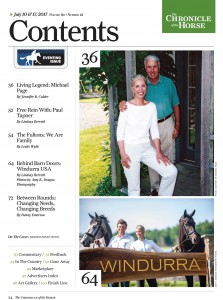 The Eventing Issue
* Living Legend: Michael Page
Although he wasn't personally motivated by competition, his championship medals and international connections ushered in a new respect for U.S. eventing.
* Free Rein With: Paul Tapner
There never seems to be a dull moment for Australian eventer Paul Tapner. Known affectionately as "Taperz" on the British eventing circuit where he's been based since 1999, Tapner has been multi-tasking since his early eventing days.
* The Fultons: We Are Family
A rock-solid support system – including parents Stephen and Karen and the community they've built around Full Moon Farm in Maryland – has been the key to success for young eventers Woodge and Grace.
* Behind Barn Doors: Windurra USA
Set on more than 75 acres of bucolic Chester County, Pa., hunt country, Boyd and Silva Martin's Windurra USA has completely transformed since the couple bought it in 2011.
* Between Rounds with Denny Emerson: Changing Needs, Changing Breeds
In December of 1982, while I was riding with Walter Christensen at Stall Tasdorf, near Neumünster, Germany, I had two insights into the way horse breeds change, sometimes for the better and sometimes to the detriment of a breed.
* Team USA Bounces Back For Nations Cup Win At Rotterdam CDIO
After a runner-up finish last year, Team USA headed into the Nations Cup CDIO***** in Rotterdam, the Netherlands, hungry for a win – so hungry that even the first-round elimination of one of their teammates couldn't hold them back. 
* Akuna Mattata Continues Family Tradition In $50,000 HITS Grand Prix
Nicole Shahinian-Simpson rode Akuna Mattata's dam to some of the greatest wins of her career, and the mare's legacy lives on in her offspring.
* Duck Duck Goose Plays For The Win At Early Summer
With several clucks and a bit of luck, Nicole Bourgeois and "Goose" took their second consecutive $10,000 USHJA International Hunter Derby victory.
Plus: Commentary, In The Country, Gone Away, Art Gallery, Finish Line, results, photos and much, much more.
July/August Untacked
(Subscribers can read the full magazine online.)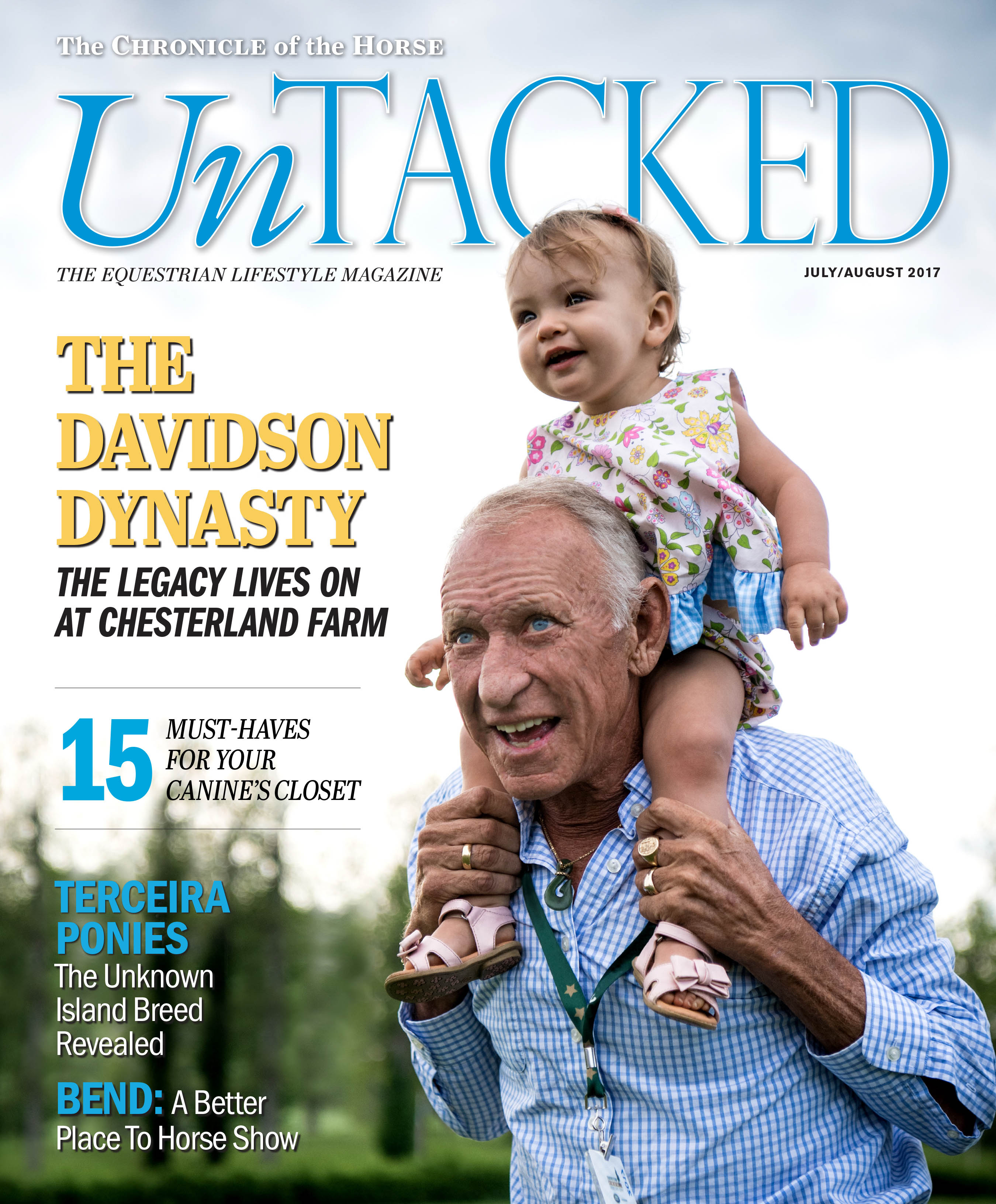 INSIDE:
Legend And Legacy: Bruce & Buck Davidson
The name Davidson is synonymous with eventing in the United States, and the father/son duo are now adding another dimension to their symbiotic relationship as Buck returns home to Chesterland Farm with a young family of his own.
Pónei Da Terceira
On a small island in the middle of the Atlantic Ocean, a breed of pony descended from Portuguese ancestors lives in paradise.
The Salt River Horses Are Still Wild And Free
The story of a threatened herd of feral horses in Arizona's Tonto National Forest inspires a trip to find and photograph them.
Suzanne Stettinius: Everything, All Of The Time
This Olympic pentathlete, equestrian speed demon, new mother and all-around superhuman has always been a champion multitasker, propelled by passion.
Tom Bass Broke Barriers In The Horse Show World And Beyond
Though he was born a slave, the Saddlebred trainer climbed to the highest ranks of the competition world in the early 20th century thanks to his horsemanship skills.
A Closer Look At: GallopNYC
The Big Apple-based nonprofit provides therapeutic horsemanship experiences for students at facilities across the city.
No More Nails
Farrier and innovator Charly Forstner thinks his Megasus Horserunners can take hoof care out of the Iron Age and into the 21st century.
Plus: Editor's Letter, Around The Arena, Clothes Horse, City Guide: Bend, Ore., Editor's Picks, Test Lab, Book Reviews, Best Of Web & Print, Life Between The Ears and Parting Ways! There's even more inside the July/August issue of Untacked, at the intersection of equestrian life and style.