December 10 & 17
(Subscribers can read the full magazine online.)
STALLION ISSUE
* There's A New Test In Town
The North American Sport Stallion Test gives breeders a more efficient road to approval.
* A Hidden Killer Lurks Inside Many Top Sport Horses
A little-known genetic disorder, warmblood fragile foal syndrome is shaking up the breeding world.
* Free Rein With: Karen Reid
Her desire to compete fell to the wayside, but now for more than 30 years, Reid has operated her Holsteiner breeding operation Fox Fire Farm.
* Dragonfire Sport Horses Has Evolved To Top-Level Eventing
From Morgans to eventing, this family business seeks to breed the best modern sport horse.
HORSE SHOWS
* Nassar Keeps Aiming Higher After Las Vegas
With back-to-back World Cup-qualifying wins, the Egyptian rider is planning to step it up a notch in 2019.
DRESSAGE
* Elgart Rides Spaniard From Foal To U.S. Dressage Finals Winner
A newsletter from High Point Hanoverians, a breeding operation in Chestertown, Maryland, popped up in Mindy Elgart's inbox with a small picture of a plain bay foal named Spaniard.
* Between Rounds with Jeremy Steinberg: A Few Key Components Of Training
Our columnist reflects on his mentor's use of the walk, of long and low, and of the contentment that consistency and patience can create in horses.
YOUNG ENTRY
* Driscoll Charts Her Own Course For EAP Win
Cathleen Driscoll thought she'd never ride in the Lindsay Maxwell Charitable Fund/USHJA Emerging Athletes Program National Training Session. But when the U.S. Hunter Jumper Association officials increased the age limit for program participants from 21 to 25 for 2018, Driscoll made her last chance to compete a winning one.
* Iwasaki's A Triple Threat In Las Vegas
Even as this junior rider continues to add to her collection of tricolors, she hasn't lost perspective on what matters most.
EVENTING
* Coleman Caps Off The Season With Ocala Jockey Club CCI*** Win
Since relocating from her hometown of New Orleans to England in 2012, Katherine Coleman has been working to develop a team of upper-level horses, and this year was one of her best ever.
*November/December 2018 Untacked
(Subscribers can read the full magazine online.)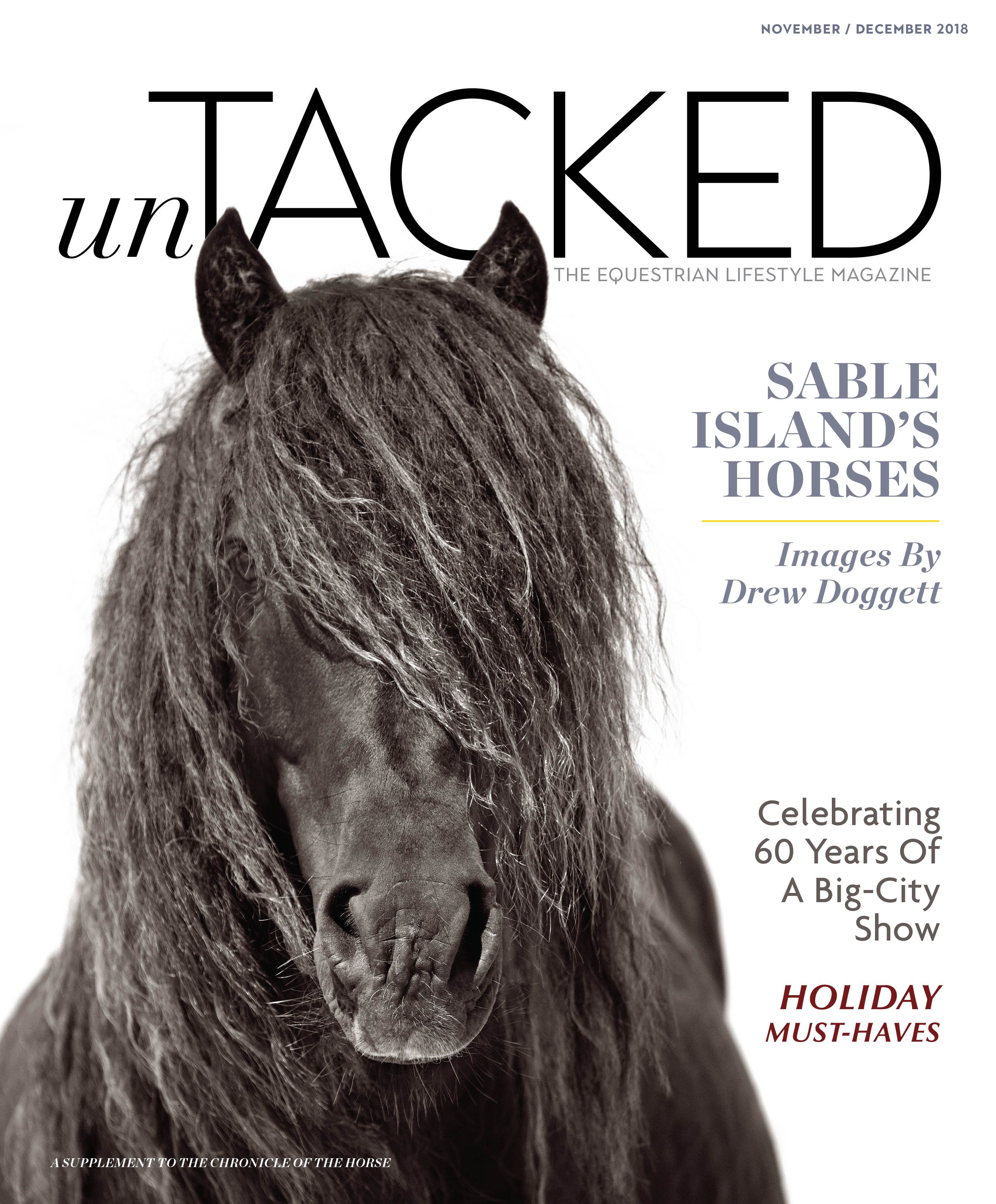 INSIDE:
The Horses Of Sable Island
Photographer Drew Doggett captures the windswept and wild residents of the small Atlantic island.
A Show Fit For A Nation's Capital
Over the course of 60 years, the Washington International Horse Show has transformed from a financially untenable event bound for cancellation into one of the most prestigious competitions in America.
Frozen In Time
The Mexican caballeros of Real de Catorce still rely on horses to make a living, but their jobs are now taking visitors on tours of the ghost town and its surrounding hillsides rather than mining silver.
Holiday Gifts For Him, Her, Horse & Home
From simple to splurge, we have a little something to suggest for every equestrian and equine in your life.
City Guide: Toronto
Enjoy a taste of the Canadian city that hosts equestrians for 10 days every November.
Tech Spotlight: Hylofit
The horse and human heart rate tracking system is bringing data-driven training to the equestrian sports arena.
Plus: Editor's Letter, Around The Arena, Editor's Picks, Charity Spotlight, Life Between The Ears and Parting Ways! There's even more inside the November/December issue of Untacked, at the intersection of equestrian life and style.
Enjoy!