March 12 & March 19, 2018
(Subscribers can read the full magazine online.)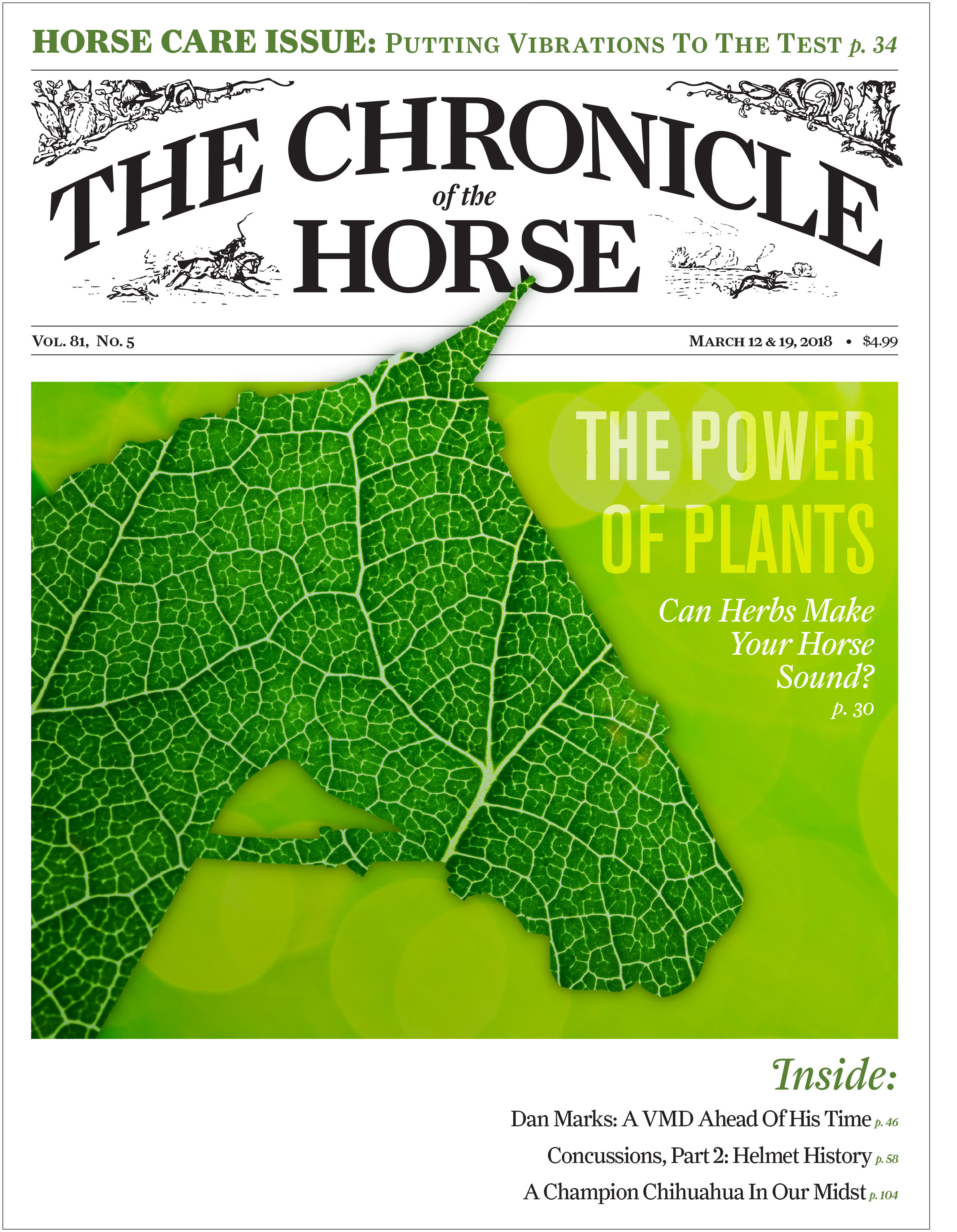 INSIDE: 
* Turning To Plants For Pain
When bute won't do in the long term, are herbal remedies the solution for hurting horses?
* Is Vibration Therapy A Cure-All For Horses?
From colic to lameness to bad feet, proponents of vibrating floors say this treatment can improve what ails your horse, but does science back up their claims?
* The Study Shows: From The Horse's Mouth – A New Way To Help Lameness
Regenerative therapies such as stem cell treatment and platelet-rich plasma have become increasingly mainstream in the veterinary community, and now there's a promising new technology to add to the arsenal against osteoarthritis and tendon and ligament damage. But you'll never guess where it comes from.
* The Mark Of Dan Marks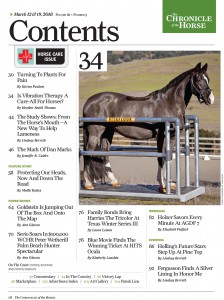 Although his riding career took him from the Spanish Riding School to the Maryland Hunt Cup, he's made the biggest impression in equine veterinary medicine.
FEATURE STORY
* Protecting Our Heads, Now And Down The Road
In Part 2 of our series about brain injuries, we look at the role of helmets in horse sport.
HORSE SHOWS
* Goldstein Is Jumping Out Of The Box And Onto The Map
There are no two ways about it – Danielle Goldstein is simply not like many of the riders she competes against at the top level of show jumping. For starters, she's among a small group of international riders who represent Israel.
* Serio Soars In $100,000 WCHR Peter Wetherill Palm Beach Hunter Spectacular
She'd planned to start stepping back from showing, but if Louise Serio's performance in the Spectacular is any indication, she won't be slowing down anytime soon.
* Family Bonds Bring Harries The Tricolor At Texas Winter Series III
With her mother's mare Shakira, Jessica Harries earned her first USHJA International Hunter Derby win.
* Blue Movie Finds The Winning Ticket At HITS Ocala
Sometimes when you're looking at a foal, it's hard to picture what it will become. Yet when Rowan Willis first laid eyes on a young Blue Movie he knew she was something special.
DRESSAGE
* Holzer Savors Every Minute At AGDF 7
During Week 7 of the Adequan Global Dressage Festival, Holzer found plenty of moments to savor aboard Diane Fellows' 11-year-old Hanoverian Havanna 145. The pair has less than a year's worth of experience at CDI Grand Prix level, but that didn't stop them from taking top honors.
EVENTING
* Holling's Future Stars Step Up At Pine Top
It's been a little more than a year since Jonathan Holling galloped around an advanced cross-country course and longer since he had a competitive string at the top levels, but he hasn't lost sight of his goal of riding on a U.S. team again – and he certainly hasn't been idle.
* Fergusson Finds A Silver Lining In Honor Me
For Lisa Marie Fergusson, her top partner Honor Me holds a special place in her heart, and not just because he's taken her around the Rolex Kentucky CCI**** twice.
March/April 2018 Untacked
(Subscribers can read the full magazine online.)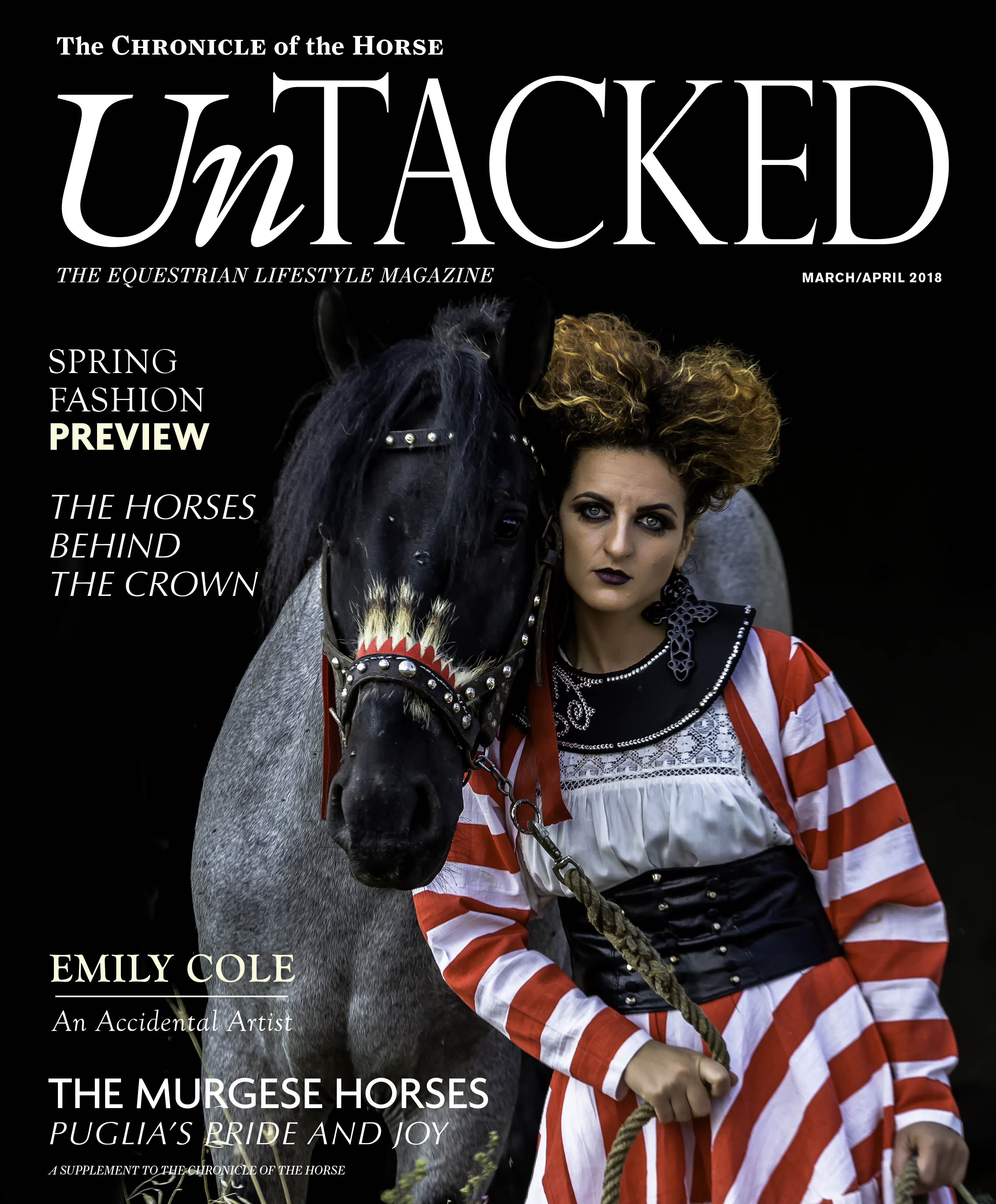 INSIDE:
Magnificent Murgese
The little-known Italian breed still thrives in Puglia despite – or perhaps thanks to – the region's harsh conditions.
Cavalia: Where Horses Take Center Stage
No riding skills? No problem. How a man who knew nothing about horses created the greatest equine show on earth.
All The Queen's Horses
There's no such thing as too many horses for avid equestrian Queen Elizabeth II, and she's received more than 26 as royal gifts over the years.
The Clothes Horse: The Standouts For Spring
Warmer weather is just around the corner, and so are the new apparel lines from your favorite equestrian fashion brands. Check out these products hitting websites and tack shops near you this season. 
Emily Cole: Capturing The Fun And Frustration Of Life With Horses
The equestrian and almost-architect found her way into the professional art world thanks to a bit of Nick Skelton-inspired kismet.
Son Menut: Simple Delights And Cerulean Seas
The author's Mallorcan horseback vacation proves a perfect blend of riding and relaxation.
Plus: Editor's Letter, Around The Arena, Book Reviews, City Guide: Conyers, Editor's Picks, Feed Room, Charity Spotlight, Test Lab and Parting Ways! There's even more inside the March/April issue of Untacked, at the intersection of equestrian life and style.