Boyd Martin's rising star On Cue is like a backup singer who refuses to stay in the shadows: At the Land Rover Kentucky Three-Day Event this spring—her first five-star—she entered with less fanfare than her more experienced stablemates but came out as the highest-placed American horse, winning the U.S. Equestrian CCI5*-L National Championship.
In the run-up to the Tokyo Olympic Games, she was third of Martin's three horses, but after he withdrew his first horse, "Cue" ended up flying to Aachen, Germany, as Martin's traveling reserve, backing up his Olympic partner Tsetserleg.
And last week, she again worked her way up from fourth after cross-country to win the $60,000 Adequan USEA Advanced Final at the Kentucky Horse Park.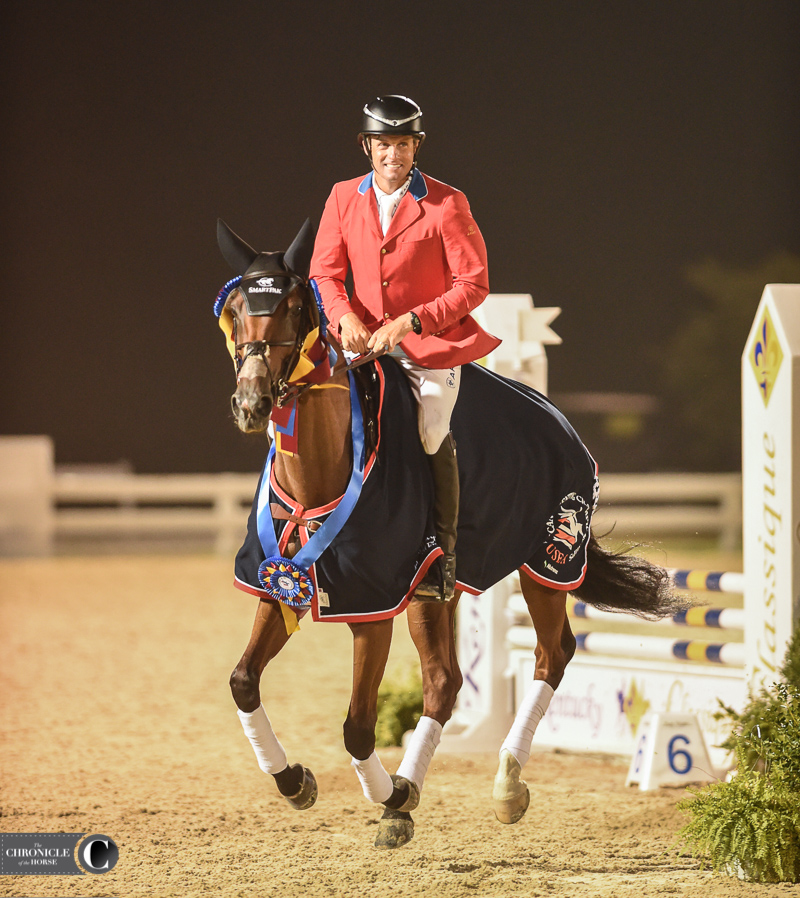 The 15-year-old Selle Francais mare (by Cabri d'Elle—On High, Primitive Rising) is owned in partnership with Christine, Thomas and Tommie Turner, who also own Tsetserleg TSF.
Martin and his barn manager Stephanie Simpson took us behind the barn door to learn a bit more about this talented mare:
• "Cue" isn't mare-ish and is very workmanlike—after you get her caught in the field.
"She doesn't like to get caught from the field; her favorite thing is to run away from you, so she's always either Boyd's first or last horse to ride—either straight out of the stall or when I bring her in from turnout, so I don't have to catch her twice," Simpson said. "She's like the popular girl in high school: She's pretty, and she's good at whatever she does. If she was a celebrity, she'd be Regina George from Mean Girls—or Lindsay Lohan—really cool but a little bit sassy."
Martin added that he enjoys her combination of quirkiness and elegance—enough that he's willing to overlook that getting-caught thing and a few other habits.
"I love her to bits," he said. "She's a tall, elegant horse who is a little bit cautious and wary of everything. When you're riding her, she's got quite the spook. She'll often walk along snorting at shadows on the ground when you hack her out. She's lovely to be around in the barn and loves the attention, but she needs to trust the people around her. When we have a new working student, she has to grow to trust them.
"She hates being caught in the paddock, and I've often seen our workers out there with a bucket of grain; I've seen them out for hours, and as soon as they get close she walks off. I always make sure I ride her before she's turned out because Cue can really screw up the day's schedule."
• She's a simple girl with simple desires: namely, to eat what and when she feels like.
"She lives next to her best friend, Catarina, but other than that she doesn't really care about anything else. She's very simple, definitely not a diva," Simpson said. "She's not an easy keeper: She's on the Purina Ultium Gastric Care, but sometimes she decides what she wants to eat or not, and it's hard to get her to eat her supplements sometimes. She just goes on a hunger strike sometimes."
• She's a mom, but she probably doesn't know it.
"We have three of her babies, via embryo transfer," Simpson said. "Two have been started: Cuecumber and Barbecue. The other one we call Rubix Cube. All are potential event horses. Chris Turner bred Cuecumber, and then Boyd and Chris worked with Mary Hazzard, who owns the sire Mystic Replica, to produce the other two. Cue has never carried a foal since she's always been in work."
"The 5-year-old has similar traits to Cue—good jump and movement," Martin said. "They all have a good look about them, and I think we have an exciting future for them."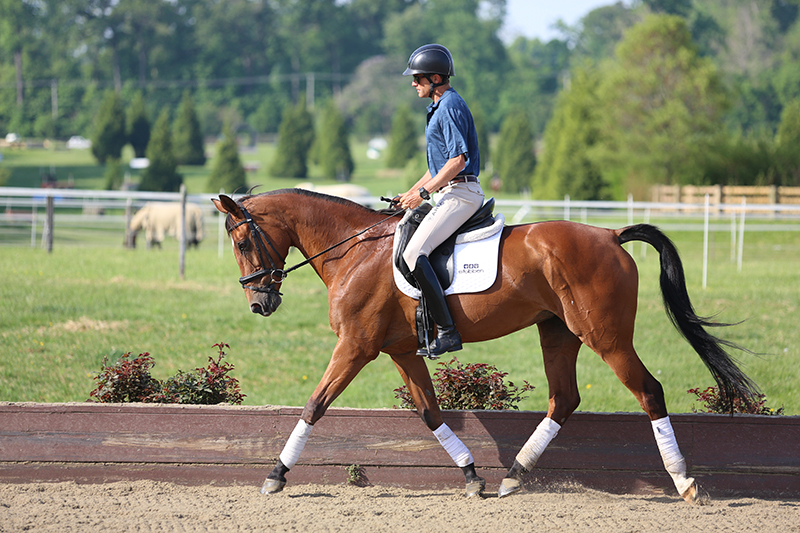 Tommie Turner, Christine's daughter, explained the breeding: On Cue Too ICF ("Cuecumber") is a 5-year-old mare by Rusticus; Mystic Cue ("Barbecue") is a 2-year-old gelding by Mystic Replica; and Mystic Martin ("Rubix Cube") is a yearling gelding by Mystic Replica.
"They're all going to be rock stars," Christine said.
• Cue passed the air-travel portion of the world-class event horse test with "flying" colors, having traveled to Aachen, Germany, and back this summer as the traveling reserve for the U.S. Eventing Team.
" She's a good traveler," Simpson said. "She's very easy and doesn't care if she's alone or has friends."
• She isn't super social, but she recognizes her people.
"She tolerates me and our girl Jess Gehman, and she likes Boyd, too," Simpson said.  "She's not outwardly social. She used to be more reserved, but she's come out of her shell a bit."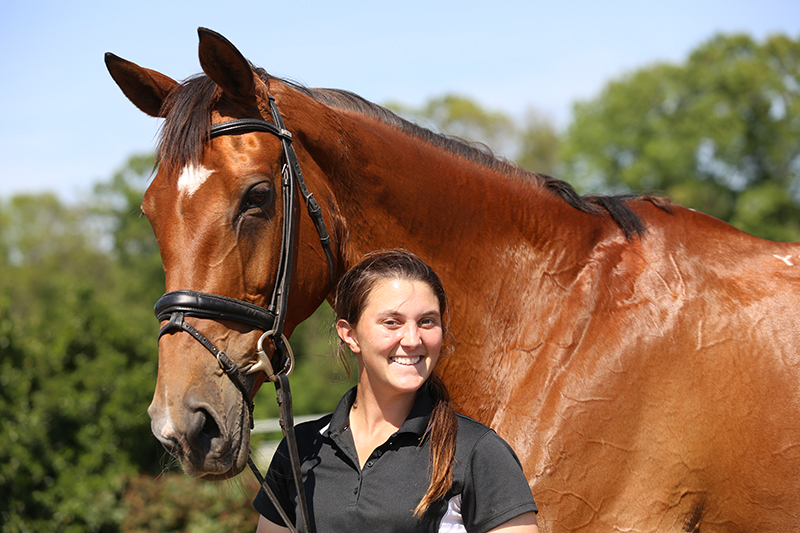 • Cue's spring trip to the Land Rover Kentucky Three-Day Event made her humans appreciate her all the more.
"Kentucky was the first time she was truly tested. It was the first time I've seen her really show off how nice she is," Simpson said. "Usually there are a couple things here and there, but I don't think she could have done a better job than she did in Kentucky this year."
Known as a cool customer himself, Martin said Cue's approach to her first five-star cross-country course helped give him confidence after he took a fall earlier in the day.
"I had just crashed out on Long Island T; I still had mud and dirt and grass stuck in my body protector and wasn't bursting with confidence, you could say," he recalled. "The course this year was causing absolute chaos, and I remember warming up On Cue, and she was absolutely raring to go over the warm-up fences. I thought to myself, 'Well, this is the perfect horse to get back in the swing of things with.' Going out on cross-country, I remember jumping the first three fences and thinking, 'I'm in business here!' She gave me an absolutely sizzling run around the cross-country course."
• As much as Cue works when it's time to work, she also knows how to kick back when it's time to relax.
"She loves vacation; she really lets herself go!" Simpson said. "She grows a thick coat; her hair is crazy, and she gets super dirty. She's beautiful, but she lets herself go."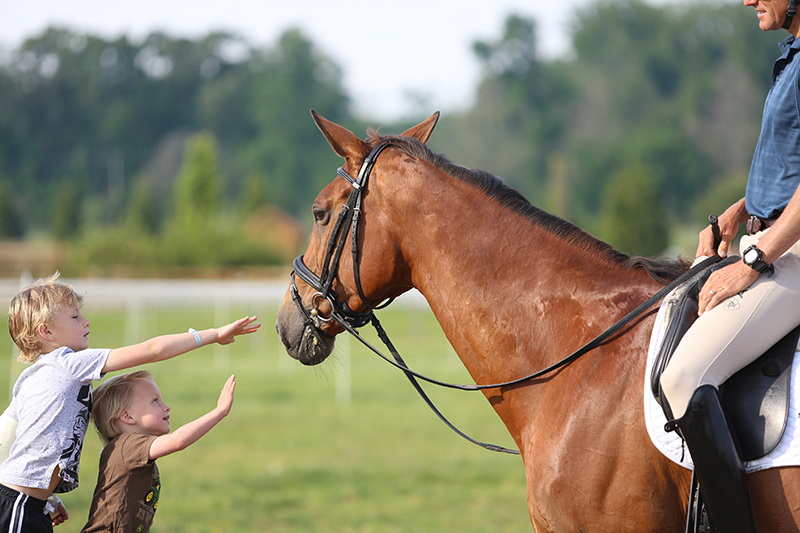 • Cue's on-her-toes nature helps her at competitions. She's also one of the only horses in Martin's barn who does all three phases in a snaffle (though she sometimes wears a slow twist for cross-country).
"She's brilliant actually; her slight spookiness turns into a huge advantage," Martin said. "On cross-country, she's the fastest horse I have in work—she's an incredible galloper. Her gentle spook slows her down in front of the fences, and she goes around in a simple snaffle. This year at Kentucky, she was the fastest American horse in the five-star, and that's being a green horse as well. She seems to thrive at the big championship-type events when you get there a couple days early.  In the dressage, it takes a couple days before she takes a big breath and relaxes."
• Cue has only been in Martin's barn for a few years, but she'd been in his sights much longer. She's been well worth the wait, he said.
"I didn't get hold of her until she was an older horse, and it was only this year that she came into form; she cracked around Kentucky, gave me a great ride at The Fork [North Carolina] and was in great form coming into the AEC. She's really been on fire this year," Martin said.
He first noticed the mare in 2013, when Turner owned her with Sinead Maynard (née Halpin), and he tried unsuccessfully to buy her soon after.
"I always loved her look: She was big, tall and rangy and long-legged, scopey and a beautiful mover. Sinead mentioned she'd sell the horse, and I tried her before the WEG in Normandy, but before I could scrounge up the money, Christine [Turner], who owned part of the horse, bought Sinead out, and Michael Pollard got the ride," Martin recalled. "Years later, I connected with Chris after Michael had finished riding. Cue had been in the field for a couple years, and Chris wanted to sell her, so she sent her to me. I rode her for a couple weeks and started working on Chris to hang on to the mare and let me give her a try."
Christine recalled that Cue had sustained a cut during a swimming session in Florida, and though it was a superficial injury, the mare kept swimming and the wound enlarged. When she shipped her other horses home to Texas at the end of the season, Cue stayed on to rehab. Once the wound had healed, she was at loose ends as to what to do next with the mare, so she sent her to Martin to sell.
"In a way that only Boyd does, he said, 'Chris, I really like this horse,' " she said. And the rest is history.
• Cue's owners are also a hugely important part of Martin's team.
"Chris is an absolute optimist and dreams big and was very supportive when I wanted to keep going with the horse," he said. "We first connected with 'Thomas' [Tsetserleg], and now with On Cue, and Chris has bred a number of young horses that she's sent to my wife Silva and me as well.
"She's a great supporter and a fun person to be around. She and her daughter Tommie are both great when things go well and also when things don't work out as hoped. We have a nice bunch of young horses in the pipeline, both relations to Thomas (and his sire Windfall), and Cue, and I'm looking forward to good things in the future from them."
"Cue is just a classy mare. She's pure class. She's also sassy!," Christine said. " Thomas is sweet, but she's sassy. You can tell she loves Boyd, and she'll do anything for him. There's never a hesitation: If he asks anything, she'll do it. Last year I gifted 30 percent of the ownership to Boyd—he's on the papers now—because he deserved it. He's put so much time and devotion into her."
Tommie Turner created an Instagram account for On Cue, and fans can now follow her at @always.on.cue