Nicky Galligan and Java's Miss Jordan have been on a roll this season, starting with a win in January in the $137,000 Brown Advisory Grand Prix CSI3* at Desert Circuit II (California) and following that up with a win in the $250,000 CSI4* Grand Prix at the final week of the Desert Circuit in March.
This fall, they topped the $75,000 Longines Grand Prix Qualifier CSI4* at the Hampton Classic (New York) and the $36,600 Saugerties FEI CSI4* Classic at HITS-On-The-Hudson (New York).
Originally from Ireland, Galligan picked out "Jordan" as a 4-year-old in his home country, and for the last few years, he's been chasing his dreams across the United States with his partner Paige Jardine and the 12-year-old Irish Sport Horse mare (Luidam—Alley Angel, OBOS Quality 004).
He was based in California in early 2021 but has since moved his Guardian Stables to Brookhaven, New York.
We caught up with Galligan to learn more about the fiery chestnut mare.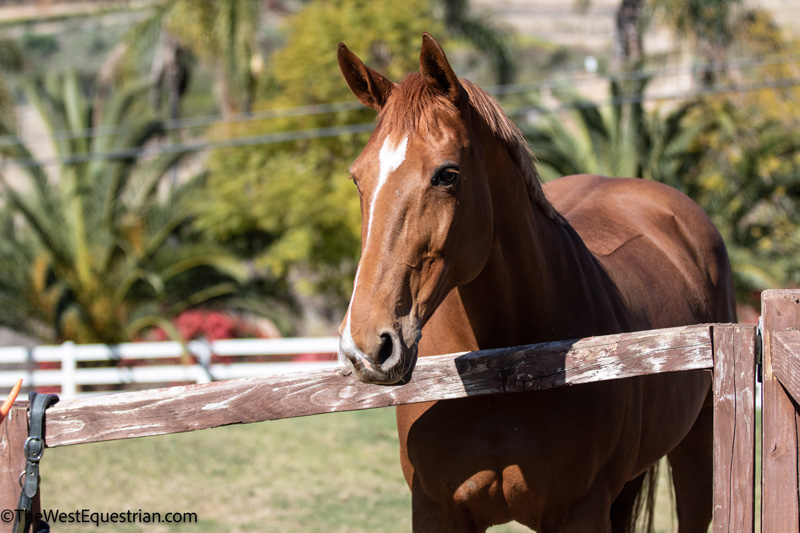 • She loves to vogue. "She's a model," Galligan said. "She loves the camera. Not just at shows, at home, too."
• She likes things her way. "She is the easiest horse in the world to take care of when you do things her way, and she does a very good job communicating with you the things that don't please her," he said.
Keeping her quick mind engaged is critical to maintaining the mare's good mood. At shows, "the stewards laugh at all the things she picks up and sees," Galligan said. "I'll take her around for a hand walk, and she might stand at the ringside for 40 minutes with her head on a swivel, watching a horse go by, a car, anything that moved. She is always engaged. The only thing that is boring for her is standing in the stall with zero stimulus."
Galligan admits to being a tad the same way. "We spend as much time out of the stall as possible," he said.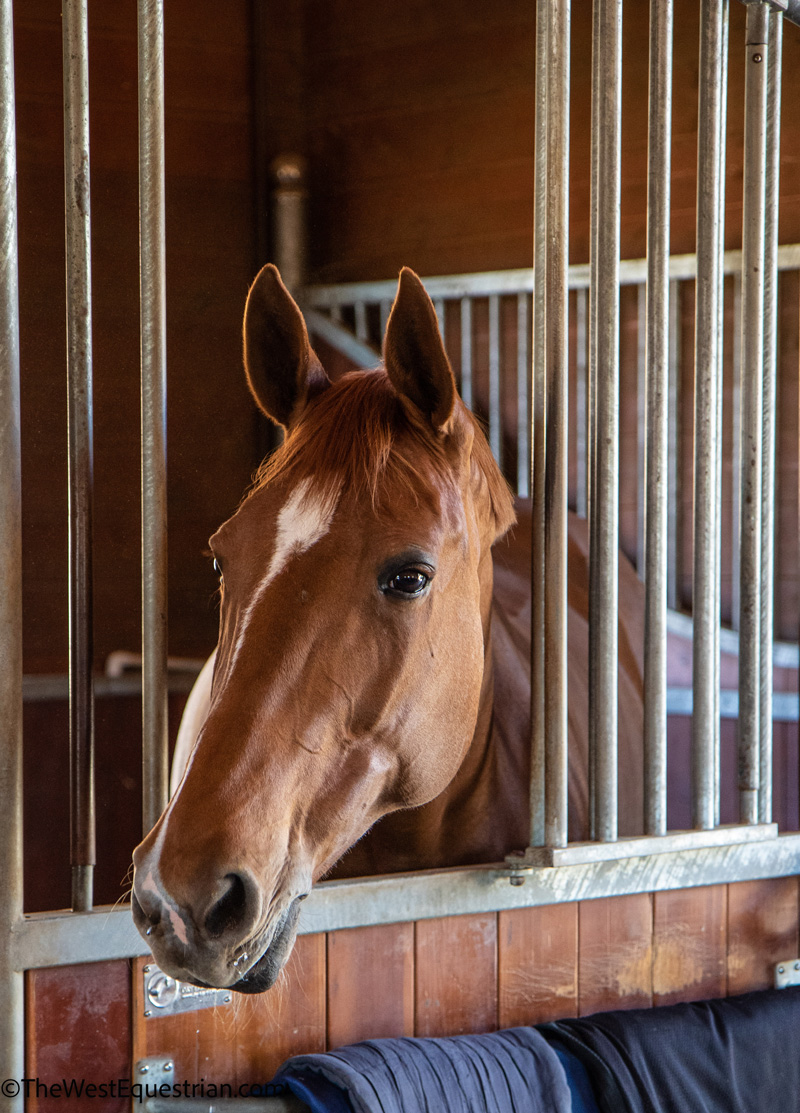 Her mental sharpness necessitates variety in Jordan's daily and weekly routine—never the same thing twice. In their early years, that made it hard to focus. Now, "she really understands what she's doing, and when it's time to be on or off. She manages that herself."
Galligan sees a correlation between Jordan's keen awareness of her surroundings and her carefulness on course. Riding her bareback or hand walking her, he's happy to indulge her constant quest for stimuli.
• She knows when it's time to show. "Jordan knows [when] it's an off week, so she has zero interest in her grain and anything else for breakfast," he said. "She sees you, and she kicks and paws until we take her out to the paddock, where she loves to get out, have a roll, pick on some grass and just decompress a little."
Conversely, on show days, she eats her breakfast without reservation, seeming to know she'll need that energy for the day's tasks.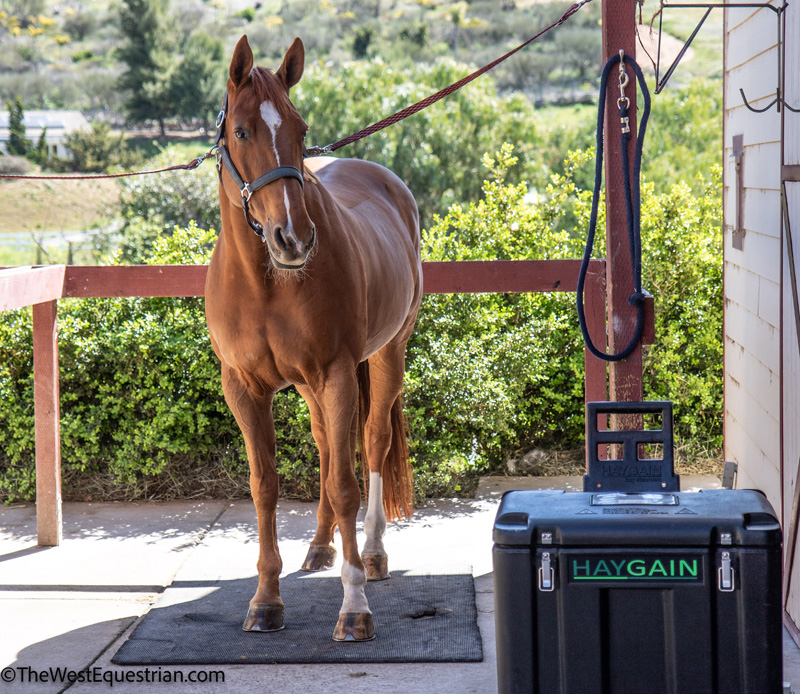 • Galligan and Jardine have made several changes to Jordan's life over the last two years. Respiratory function, focused energy and looseness in the body have been the main targets of changes in her routine.
A serious soccer player as a kid, Galligan has exercise-induced asthma, and he recognized familiar feelings in Jordan's capacity for oxygen late in 2019. They were finishing top 10 in big classes, but occasional rails seemed due to her "feeling puffed" at the end of the course.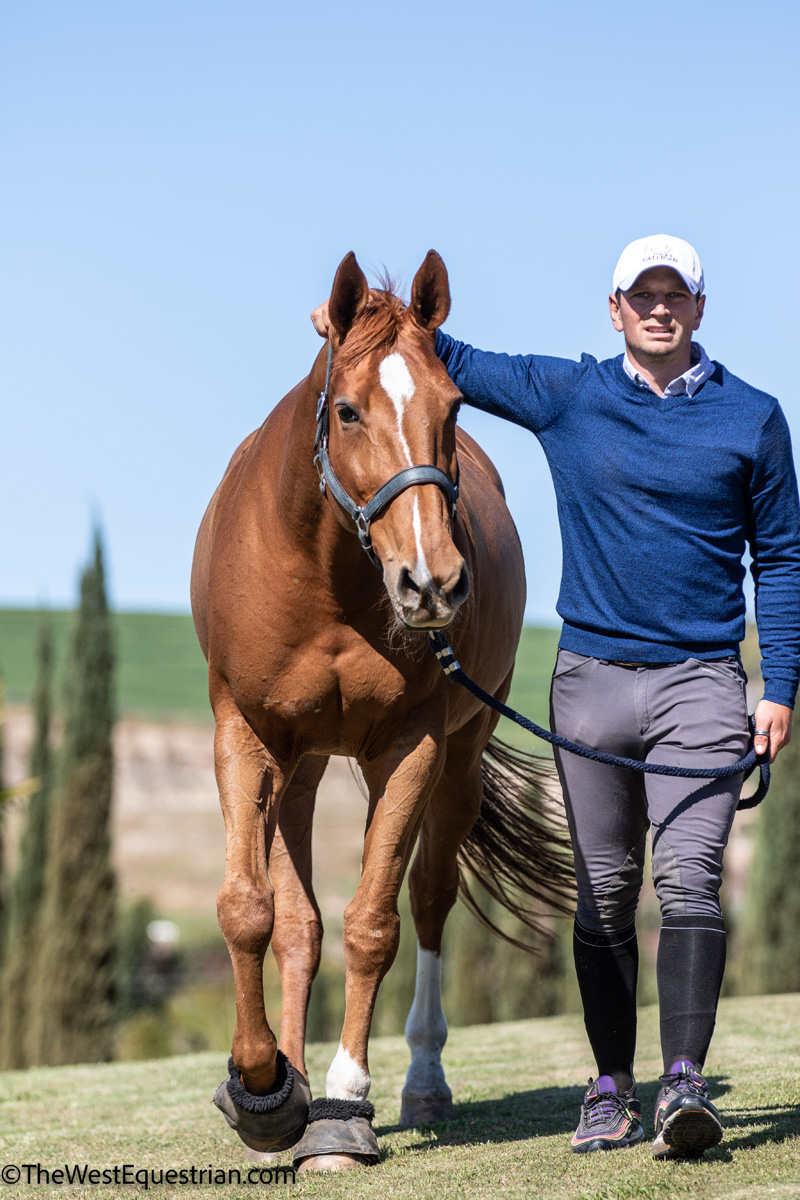 He started her on Haygain steamed hay to eliminate airway irritants and nebulizer saline treatments. Performance improvements were immediate. She also started swimming for conditioning. Galligan is also big on icing legs and hooves and cold-water therapy.