Irishman Nicky Galligan has been chasing his dreams since he arrived in the United States six years ago. He's made his way up and down the East Coast and across the country, working for various people, with the goal of campaigning a special mare, Javas Miss Jordan.
On Jan. 31, he and "Jordan" won their first international class together at Desert Circuit II in Thermal, California, where they bested 32 other pairs in the $137,000 Brown Advisory Grand Prix CSI3*. Then on March 21, the pair picked up their biggest victory to date in the $250,000 Thermal Grand Prix CSI4* during the final week of the Desert Circuit.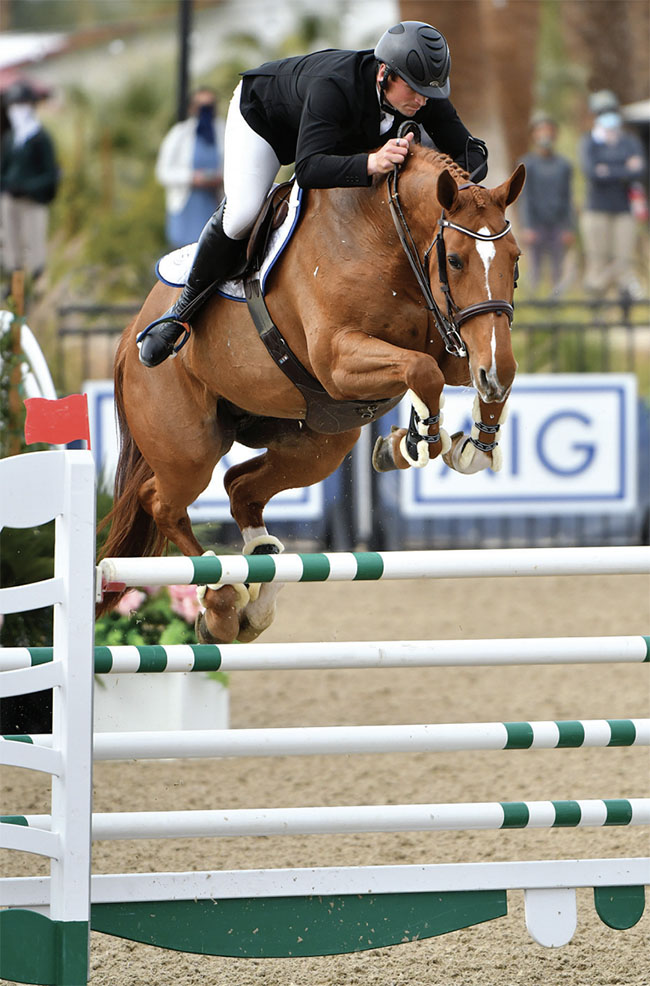 The wins put some money in the bank, but it's always been about more than that for Galligan.
"I don't really know that I have words to describe it if I'm honest," said Galligan about his partnership with Jordan. "When you come over here as a rider, people like what you do until they have you in their inner circle, and then they try to change everything you do. You have to do not necessarily what you feel is right by the horse, but because somebody is paying you, you have to do what they're telling you to do. You just have to do it. She's been an absolute true reflection of how I view caring and producing a horse.
"For me, it's always horses before humans," he continued. "She's my whole reason for everything I do— the tough days I fight through so I'm able to do right by her. The good days like yesterday, I take a quiet moment to sit in the stall with her and just feel incredibly proud of her and what she's achieved. I don't have a word. She's very, very special to me."
Galligan grew up in County Meath, Ireland, riding horses and ponies at his mother Anne Marie Galligan's riding school. He broke horses, evented and foxhunted, learning from his mother and just by making mistakes.
Eventually, he began to focus on show jumping, spurred on by winning a young rider bursary from the Royal Dublin Society. An intense training session with Norwegian coach Hans Jenning Storm helped hone his ambition.
"He really captured my desire to want to improve on the technical side of things and to really become passionate about competition and training horses to go on to higher levels," said Nicky.
After Nicky got more serious about show jumping, one of Ireland's best coaches, Ian Fearon, took him under his wing. "I don't come from a lot of means, and I've never had a big budget to do any of this," Nicky said. "It's always been move mountains and try to fight and find a way to do it. Ian at that time I guess saw a little bit of something inside me that he could relate to, and he really gave me a hand. He lived close to me at home but went out of his way to help me. I owe him a lot for some of my early show jumping training, for getting into my mind and teaching me to ride a little bit softer. Because I'd foxhunted and evented, I was very typical Irish: very much try to protect the jump too much and try to carry the horse from one side to the other. Ian really got into me to try and enhance the horse and ride softer and lighter."
Testing The Waters
Nicky, 30, set up his own business at home and traveled to the United States in 2012 to get a feel for the market for selling horses. He spent about three months over the winter working for Emil Spadone in New Jersey and then with fellow Irishman Darragh Kenny in Wellington, Florida.
Once back in Ireland, Nicky got to work riding and showing young horses. He bought Jordan from her breeder, Judy Murphy of Java Sport Horses, as a 4-year-old.
The mare spent the winter of her 5-year-old year in a field while Nicky returned to the U.S. to work for a client riding young horses. Then he had a decision to make: sell Jordan and put down roots in Ireland, or come to the U.S. with her and see where life took him. He chose the latter.
He brought Jordan over as a 6-year-old and found a job working for Hyperion Stud in Barboursville, Virginia. He stayed there for 3 ½ years, training and competing their young horses while bringing Jordan along.
"Always thinking a little bit longer term, the more old-school view of horsemanship where the horse reaches their prime at 12 or 13 years old, not where we use them all up by the time they're 10," Nicky said of his method to produce the now 12-year-old Irish Sport Horse (Luidam—Alley Angel, OBOS Quality). "Longevity has always been a big part of my plan, rather than wanting to be quick and then gone. Wanting to take the time and give her all the tools for her to be successful in a sustained period.
"She's got a huge amount of heart and loves what she does," Nicky said. "She's very naturally careful and jumped a lot of clear rounds at every level the whole way up. We would pick and choose when to show, trying to mind the dollars because I was working for salary and trying to pay expenses on her. It hasn't been the easiest road. I've been offered a few times to sell her for a lot of money, but that was never what it was about. It was about chasing the dream and trying to do right by her."
Take The First Flight Home
Nicky and Jordan started competing at the international level in 2018 on the East Coast. Nicky was working for a private client in Ocala, Florida, when the COVID-19 pandemic hit. In April, he rushed home to Ireland after his father, Phil Galligan, was hospitalized with the virus and put on a ventilator.
"I went home to be with my family because it was quite serious," Nicky said. "We're incredibly lucky that it ended up a good story. Dad is healthy and survived. He was 62, diabetic, leukemia, overweight. Four and a half weeks is a long time on the ventilator to come off. There were multiple phone calls from doctors. 'Medically we can't do anything else for him. He may be here tomorrow; he may not. Depends on the kind of fight he has.' "
Nicky's partner, fellow grand prix rider Paige Jardine, returned to her family in Australia for a time as well, and Jordan hung out in a field in Virginia.
"I'm a big believer in rest and recovery," Nicky said. "I very much work and train the horses off of trust and understanding, and I think when you make them understand what you want them to do, then it's something that becomes sustainable. I'm not big on working them into the ground and drilling them. I was happy for her to have some complete downtime to take the pressure off. There was no rush at that point."
But when he tried to come back to the United States over the summer, he faced an uphill battle between visa issues and COVID-19 travel restrictions. With some help from a lawyer and a negative test for the coronavirus in hand, Nicky managed to obtain a waiver to return.
He'd been away for nearly three months, and he discovered he no longer had a job to come back to.
"It was quite a sucker punch at the time, trying to deal with that, because it was something I thought was constant," Nicky said. "I had a good friend [Colm McGuckian] who had a farm in Long Island [New York], and I went to him for the summer and did a lot of teaching out of his facility. I worked as hard as I could to be able to afford to go and show."
He and Jordan had some strong results at HITS Saugerties (New York), finishing in the top five in two $200,000 grand prix classes.
McGuckian encouraged Nicky and Jardine to head west with two sales horses. A friend who was representing Belgium-based Stephex Stables in the U.S. suggested Nicky jump in some of their sponsored grand prix classes at the Desert Horse Park.
A change of climate benefited Jordan, who's a heavier type and does well in the lower humidity of California. A nebulizer had been a regular part of the mare's routine on the East Coast, but the desert air has improved her breathing.
"She's a little bit of a stronger type," Nicky said. "A lot of people would say she looks more similar to a Quarter Horse than a modern show jumper. She's quite strong and powerful and a little downhill in her conformation."
He also started swimming Jordan to help with aerobic fitness without pounding her legs.
In November, they won the $30,000 National Sunshine Series II Grand Prix (California) and followed that up in December by winning the $40,000 Desert Holiday I Grand Prix.
After another break, their win on Jan. 31 was their first week back out showing. "We really are a partnership," said Nicky. "I owe so much to her for just how much she loves what she does and how much she gives me. It hasn't fully sunk in yet if I'm honest."
Watch Nicky and Jordan's winning jump-off round from the $137,000 Brown Advisory Grand Prix CSI3*, courtesy of Horse Sport Ireland.
At the shows, it's just Nicky and Jardine taking care of Jordan. Jardine has a 6-year-old as well. They had a groom last summer, but since she returned to Ireland, it's been just the two of them, and Nicky prefers it that way.
"I thoroughly enjoy knowing the horses and taking care of the horses and being around them, so it was quite nice after having a busy summer teaching 12-hour days and trying to ride before and after teaching, to actually get a little bit of time to spend with the horses again," he said.
"I just love working my horses. I love the animal," he continued. "I always say to people, 'Yes, I'm a competitor, but first I'm just a kid who fell in love with horses.' I still do silly things like ride around bareback on days when I'm not showing at the horse show and just let the horses switch off and enjoy it. I just do it because I enjoy it, and it's fun. I think being part of a horse learning and understanding and developing is an incredibly special feeling. You have to be sensitive and patient and find a way to connect and communicate with an animal that doesn't understand the same language you speak, so you have to find actions and feelings to be able to connect with them and build those connections and see them develop and understand what you want. I think it's an incredibly rewarding feeling."
Now based in Bonsall, California, training a private client, Nicky would like to stay in California after the winter circuit, but he's open to whatever comes his way.
"It's always any Irish kid's dream to show at Dublin and the five-star level, but I just take it one day at a time and try and keep doing what we're doing and building the results, and see where we can go," he said.
"It's unique for a rider to own their own horse at this level," he continued. "I shouldn't be able to. I've just been incredibly stubborn and believe so much in her. I never wanted to not have that. It was the only way I could ever ensure I could always do right by her. Just work harder to try to make enough money to be able to do right by her and provide for her. It's almost like I'm talking about a child isn't it?"
---
This article ran in The Chronicle of the Horse in our February 22 & March 1, 2021, issue and has been updated.

Subscribers may choose online access to a digital version or a print subscription or both, and they will also receive our lifestyle publication, Untacked. Or you can purchase a single issue or subscribe on a mobile device through our app The Chronicle of the Horse LLC.
If you're just following COTH online, you're missing so much great unique content. Each print issue of the Chronicle is full of in-depth competition news, fascinating features, probing looks at issues within the sports of hunter/jumper, eventing and dressage, and stunning photography.