Icabad Crane made headlines in 2014 when he won the Retired Racehorse Project Thoroughbred Makeover's Most Wanted Thoroughbred title.
The bay gelding (Jump Start—Adorahy, Rahy) had raced 33 times with trainer Graham Motion for owner Earle Mack, and when it came time to retire, Motion suggested he go to Phillip Dutton's True Prospect Farm in West Grove, Pennsylvania, to try a new career in eventing.
Fans followed the gelding's eventing career as Dutton took him through the CCI2* level, and then his daughter Olivia Dutton took over the ride.
After suffering a pasture accident in 2018, "Icabad," now 16, came back to compete in 2019 with Olivia. Most recently, Phillip's wife Evie was riding him as his competition career wound down.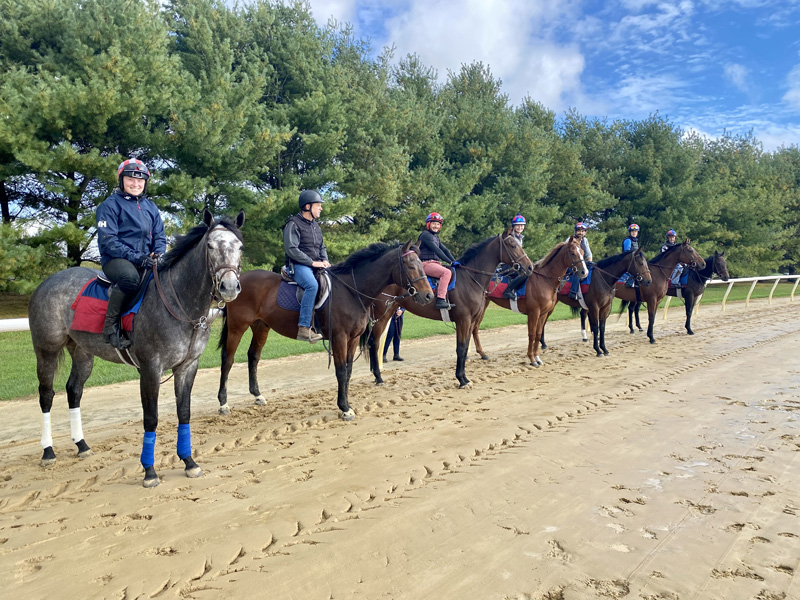 "He had a pasture accident where he broke a bone in his hindleg, but typical Icabad, he was OK with stall rest and put up with it," Phillip said. "He was in a sling for a little bit. He's got the temperament that he went through it and recovered well. Then we got him back in work, and he's a bit older now and a bit crotchety, so [my wife] Evie started riding him and had a great time and was jumping him. He was in full work with her."
Icabad has become a member of the Dutton family, but Phillip recognized the gelding was perhaps a bit bored and ready for another job this fall, so he called up Motion, who took him on as a "pony" at the Fair Hill Training Center in Elkton, Maryland, where he trains his Thoroughbreds.
"He's a really kind gentleman that comes out and enjoys being ridden and enjoys everything about his life," Phillip said. "That's why it's exciting for him to have another chance at doing something different. It was a bit of a quieter life [here], not going to competitions and having Evie riding him at home, whereas now I think he went out on three sets yesterday. He's got a lot to do, but it's an easy life physically on him."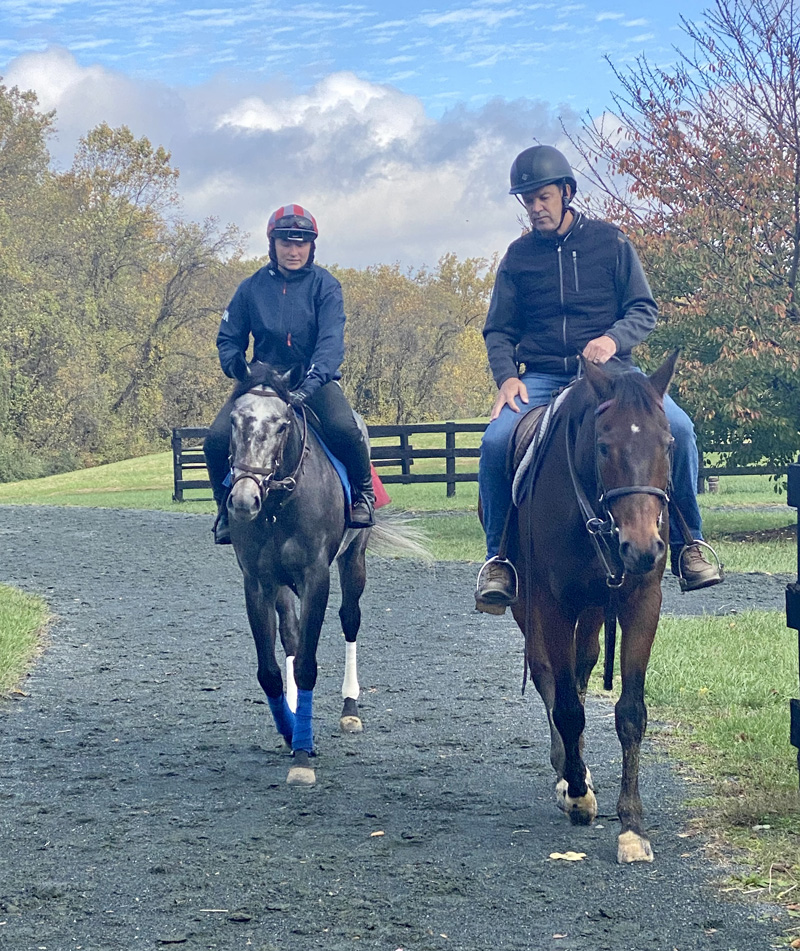 Motion is using Icabad as his personal horse to pony charges including Caravel (Mizzen Mast—ZeeZee ZoomZoom, Congrats), a 4-year-old filly owned by celebrity chef Bobby Flay and her breeder Elizabeth Merryman who is headed to the Breeder's Cup on Nov. 5.
"I tend to go out with the [young horses] back in the fields, and he either leads them on gallops or watches over them when we're out," Motion said. "We have quite a lot of area we can go to, and you can't get there in a vehicle, so it's pretty handy to be able to go jump on him and go out with them and watch them go and lead them on some of the sets. I think he was a pretty generous horse on the racetrack and had a great mind and disposition, which is helpful now."
Icabad lives at the Fair Hill Training Center and gets to spend plenty of time turned out.
When Icabad first went to Phillip after his racing career ended, Motion said he and the racing industry as a whole were starting to see the value of finding new careers for Thoroughbreds, so the timing was right to have an ambassador.
"The deal with Phillip  came about when we were starting to think about in what ways we could bring attention to retired race horses and what else they can do," he said. "We started this initiative with Phillip and Evie, and he was one of the first ones we did it with. He was one we always had our eyes on. He was a lovely horse to be around, and everybody loved riding him. We always thought he would really suit, and he did.
"He served a great purpose by bringing attention to that, and I think in racing now we're so much more conscious about minding the retired race horses. He was a great messenger. Having him with Phillip, who's well-known and a great rider, didn't hurt. It's been a cool sort of family project."
Phillip said Icabad was a great event horse and became a family and fan favorite during his years at True Prospect. Along with being a shared ride among the Dutton clan, the gelding also helped fellow eventer Peter Barry get back on a horse after he'd suffered a stroke.
"We went through a lot together, and he really brings it home to you how fortunate we are when dealing with horses, especially when you deal with one like Icabad Crane; he's a pleasure to deal with and wants to learn. We've gained as much from him as he's gained from us," Phillip said.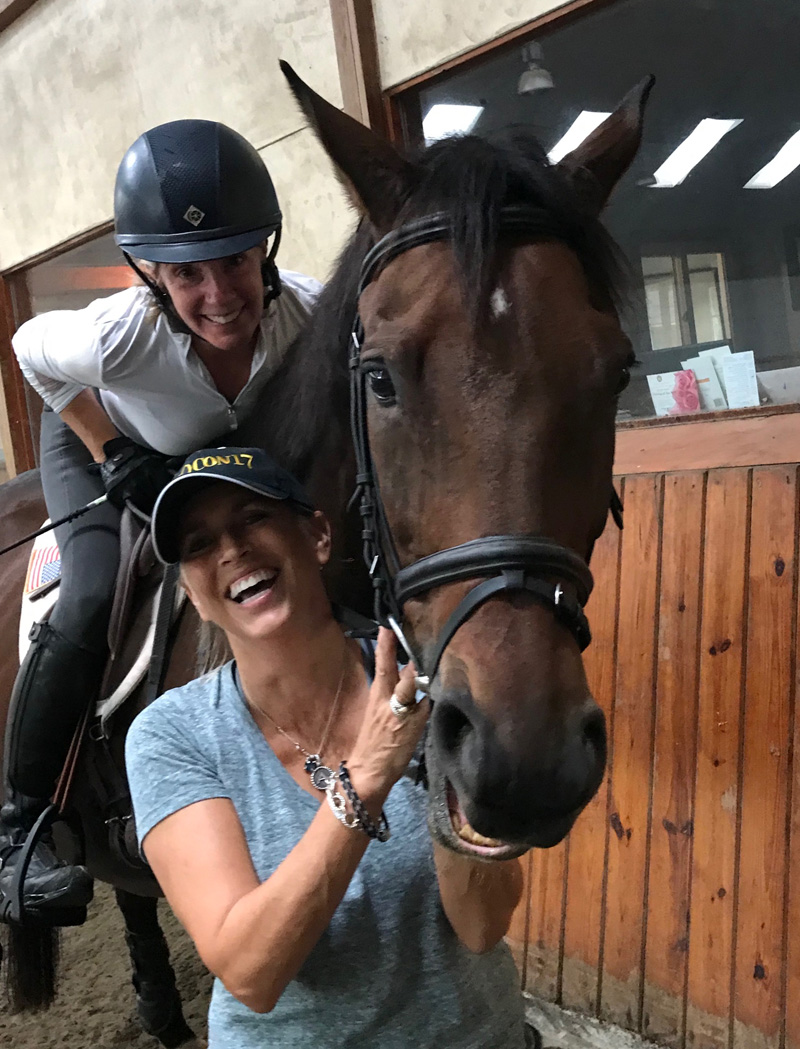 Phillip has always loved Thoroughbreds, but said he's just looking for good horses when he's trying to find his next star. Motion and his wife Anita Motion have sent several Thoroughbreds to him since Icabad, including Lincoln's Address (Union Rags—Sincerely, Meadowlake), a 5-year-old gelding who recently finished fourth in the USEA Young Event Horse East Coast Championships (Maryland). He's also competing Sea Of Clouds (Malibu Moon—Winner's Ticket, Jolie's Halo), another Motion-trained Thoroughbred, at the five-star level.
"There's been opportunities that have come through Graham and Anita," he said. "We've tried to help them find other homes and lives for their retired horses because they care so much about making sure when the horse is finished racing that they'll have a good life. From time to time, if one comes through that I think might be suitable for going up the levels, then we'll try to find a way to acquire that one. Certainly, in eventing, there's a place for the Thoroughbred horses."