Icabad Crane came up a little short on his previous trip to Pimlico Race Course, finishing third to Big Brown in the 2008 Preakness Stakes.
Given a second chance, however, he came out on top—only this time it was in his new career as an event horse, with Phillip Dutton and daughter Olivia taking turns in the irons.
The Retired Racehorse Project's Thoroughbred Makeover is all about second chances. In the second year of its symposium on Oct. 4-5 at Pimlico in Baltimore, Md., a new version of its popular training challenge debuted—the America's Most Wanted Thoroughbred Contest.
The basic premise was the same as in past years—to show the retraining processes that off-track Thoroughbreds go through as they embark on various second careers as sport horses. Whittled down from 26 pairs a year ago, this incarnation featured 10 horse-and-rider "teams" competing in 10 different disciplines, with the public voting online to determine the winner. Participants posted blogs and videos throughout the training process in their quest for part of $10,000 in prize money, and each had 15 minutes in a makeshift arena on Pimlico's homestretch to demonstrate their progress as the finale to the Thoroughbred Makeover.
A panel of three judges–Hall of Fame jockey Chris McCarron; pioneering former jockey and current horse broker Diane Crump; and former trainer and Baltimore Sun racing reporter, and current executive director of the Maryland Horse Industry Board, Ross Peddicord—offered commentary on each pair. But the winner was selected American-Idol-style, based on the votes of the folks watching at home.
Dutton and Icabad (Jump Start—Adorable, Rahy), a 9-year-old bay gelding owned by Graham and Anita Motion, were the last pair to go, and although all the contestants were impressive, the benefit of having a three-time Olympian in the tack clearly showed.
Icabad ran his last race in August, capping a career where he earned $585,980 in 33 starts. He started his retraining in November, jumped his first crossrail in December, and completed his first event in March. The pair came to Pimlico fresh off a sixth-placed finish in the gelding's third start at training level at the Morven Park Horse Trials (Va.) the day before with Dutton aboard.
Dutton put the very businesslike gelding through his paces on the flat, and then showed his form over a course of jumps, including an impressive display of adjustability by riding the same vertical-to-oxer line in four, five, six, seven and eight strides. But to prove that the horse's success wasn't all due to his famous rider, Dutton's 13-year-old daughter Olivia then hopped on to trot the horse around at the end of their segment.
Icabad claimed 2,534 of the 10,480 votes cast, but coming in a close second was the aptly named Pookie's Princess, trained for barrel racing and Western dressage by Patrick King. The 5-year-old chestnut mare (American Tribute—Pookie, Wild Again), owned by Jackie Harris, won $17,928 on the track in 16 starts.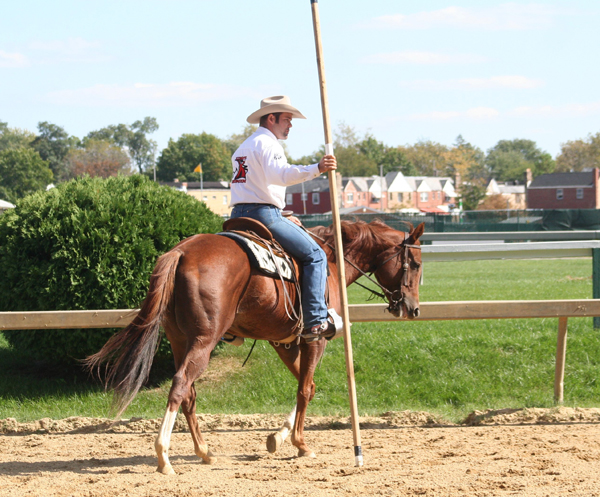 Pookie's Princess and Patrick King showed off their barrel racing and Western dressage
for second place in the America's Most Wanted Thoroughbred Contest. Photo by Erin Harty
During a panel discussion with the participating trainers, held the morning of the contest, King explained his retraining philosophy: "It's not that she was uneducated [in her racing training], her education just didn't apply to the new job she had," he said. The mare had her first retraining ride just a week after her last race in November. "You just get on the darn thing and ride," King said with a laugh.
A crowd favorite during their demo, King showed Pookie's training on the flat, and also worked her with a garrocha (a long pole used in bull fighting) and had her lie down on command.
Finishing third in the voting was Discreet Dancer, trained for show jumping by grand prix rider Armand Leone, current vice president for high performance activities for the United States Equestrian Team.
Discreet Dancer (Discreet Cat—West Side Dancer, Gone West) won $365,400 in eight starts for trainer Todd Pletcher, but after the second occurrence of a soft tissue injury, his connections opted to retire him and donate him to New Vocations rather than dropping him down in class and continuing to race him. The 5-year-old chestnut gelding enjoyed some time off after his last start in July 2013 and began the training for his next career in March 2014. Leone began working with the horse in August 2014.
During the trainers' panel on Sunday morning, Leone lamented the disappearance of Thoroughbreds—a breed he called "very dear to my heart"—from the hunter and jumper rings starting in the 1980s with the emergence of warmbloods. "People don't ride as well now," he said with resignation.
He compared the differences in riding warmbloods and Thoroughbreds to the differences in parenting daughters and sons. "Thoroughbreds are like daughters—you work with them, you don't tell them what to do," he explained. "You're channeling energy instead of creating it."
In his demo ride, Leone showed the gelding's progress on the flat and over fences while Anna Ford, of New Vocations, explained how learning to jump had actually helped Dancer's flatwork by helping him learn to carry himself and get off his forehand.
"The way that horse jumps is exactly what people are looking for," Crump said after the ride, praising his excellent form and tight knees.
Rounding out the top money-winners in fourth place was D'Sauvage, one of the older horses in the contest at the age of 8. The chestnut gelding (D'Wildcat—Tres Chaud, French Deputy) raced 44 times, winning $143,302, but he bled badly in his last race in March 2014, and his connections decided to retire him and donate him to MidAtlantic Horse Rescue.
When MAHR's head trainer, Beverly Strauss, met D'Sauvage, she felt he was best suited for the hunter ring, despite the fact that he was a "one man wrecking crew" when he first started over fences, she joked during the trainer panel. But he progressed quickly after starting his retraining in May. His show ring debut was also at Pimlico, at the Totally Thoroughbred Horse Show in July, where he showed in an in-hand class and leadline. (Yes, you read that right, leadline.)
Strauss praised D'Sauvage's quiet demeanor and the skill of his rider, Lynne Pennypacker, in making everything look easy in his demo. He was also shown being ridden sidesaddle, and at the end, he was reunited with his leadline rider for a quick trip around the ring.
The icing on the cake—in addition to his fourth-placed finish, D'Sauvage found a new owner while he was at Pimlico, and headed home from the symposium with a young rider to start a new partnership in the hunter ring.
The other six competitors were:
Now And Then (Tiznow—Holiday Runner), a 4-year-old bay gelding trained in dressage by Nuno Santos.
It's A Little Chili (Cowboy Cal—Atanyrate), a 3-year-old chestnut mare trained for polo by Marisa Bianchi and Juan Carlos Gonzales.
Mad Bomber (Lite The Fuse—Madilynreign), a 5-year-old bay gelding trained for Pony Club by Hannah Gilhool.
Rikim (Van Nistelrooy—Dakini), a 9-year-old chestnut gelding trained for ranch work by Dale Simanton.
So Outspoken (Bernardini—Green Door), a 4-year-old bay gelding trained for steeplechasing by Jazz Napravnik.
Saba Rock (Van Nistelrooy—Sabina), an 8-year-old chestnut gelding trained for foxhunting by Christy Clagett.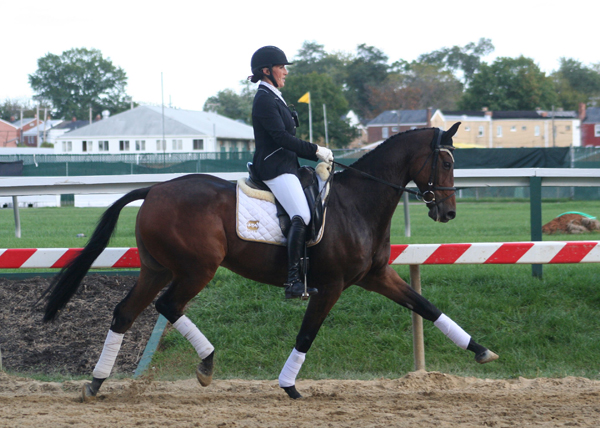 Four-star eventers Laine Ashker and Anthony Patch showed off the former racehorse's stellar moves
in a demonstration for the crowd. Photo by Erin Harty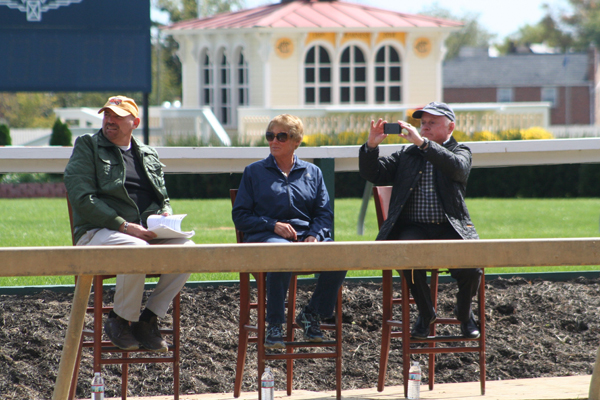 Judges (from left) Ross Peddicord, Diane Crump and Chris McCarron provided commentary, but the America's Most Wanted Thoroughbred Contest winner was decided by fan votes. Photo by Erin Harty