They say a good mare will give her all for you, and Lauren Kieffer's four-star partner, Veronica, will do just that…but not without pulling a few faces first.
Kieffer, 27, has been partnered with Team Rebecca LLC's 13-year-old Dutch Warmblood mare (Pacific—Kimbel, Ferro) since 2013 after she took over the ride from Karen O'Connor.
They won their first three FEI competitions together and went on to become the best placed U.S. pair at last year's Rolex Kentucky CCI**** in second and placed ninth at the Pau CCI**** (France) in the fall.
This spring, they've topped advanced divisions at Red Hills (Fla.) and The Fork (N.C.) on their way to Rolex again. You can follow along to see how Veronica and Kieffer do with all the Chronicle's Rolex Kentucky coverage on www.coth.com.
Kieffer's groom, Shannon Kinsley, has been taking care of Veronica since last September and traveled with her to Pau. "She likes her people. She makes her faces," said Kieffer, of The Plains, Va. "She's a fighter and she's going to fight for everything. She's so tough, and she gets to the end of everything, which makes her a four-star horse for sure."
"She's my favorite. I love her. She's tough, but that's why she's so good," Kinsley added.
Here's what you might not know about Veronica:
She's not into hugs or fussing. Veronica's more likely to go to the back of her stall when she sees you coming, unless you've got a cookie!
"She doesn't love massages because she doesn't like getting messed with, but she does love acupuncture," said Kieffer. While she doesn't enjoy grooming, she enjoys falling asleep on her Theraplate or being treated with a Magna Wave.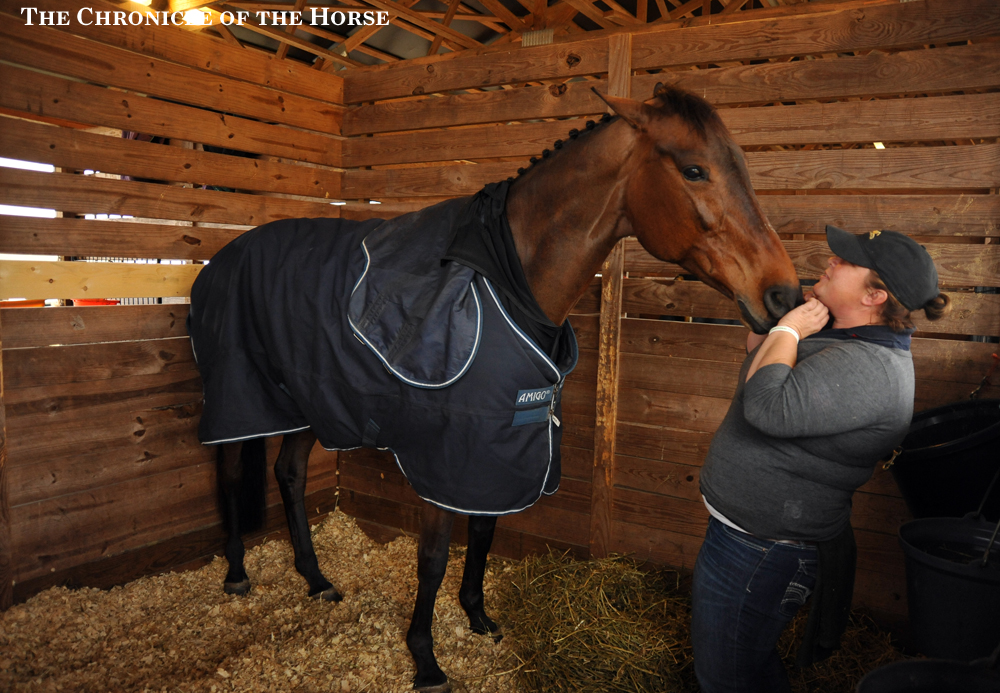 Veronica snarling at Shannon Kinsley
At shows, if she has a neighbor she doesn't like, "she kicks and she bites and pins her ears," says Kinsley. "She just kind of leaves you alone, and you leave her alone. Neither one of us are very snuggly, so it works."
She loves her food and her naps. Veronica has never missed a meal and is a very good traveler, even when she had to get on a plane to go home from Pau with 15 other horses. "She knows how to take care of herself," Kieffer said with a laugh.

"The Pau trip is such a long one with the shipping," said Kinsley." She's super smart. I didn't think she was going to be that good. She ate when we fed her and always drank. She was super quiet.

"She's a big napper. Flat out," Kinsley added. "She actually got up and changed position and laid the other way [at the Cloud 11-Gavilan North Carolina International (N.C.)]. At Pau, she slept every day, and it almost seemed like it was when you wanted to ride her. You'd go to tack her up and she'd be out."
Her nickname is The Troll or Piranhica. "She's just all faces," said Kinsley. Even so, the mare does make friends occasionally. Her best friend for a while last year was one of Kieffer's other advanced rides, Lucky Devil. At Pau, she enjoyed keeping company with Sharon White's Wundermaske, but she was a little too friendly with Erin Sylvester's No Boundaries. "We almost had an issue," Kinsley joked.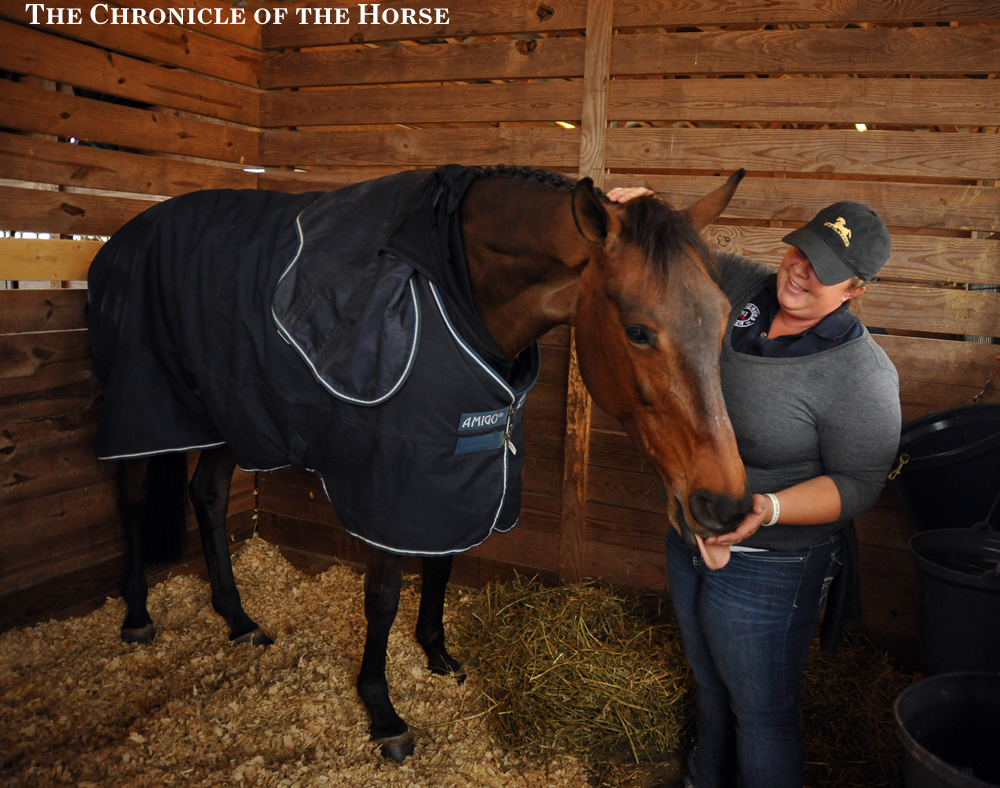 Veronica's cheery other personality.
"If a horse is scared of her, she definitely doesn't like them. It's the ones that just don't care that she pins her ears and sasses at them that she's OK with," Kieffer added.
She enjoys the sound of her own voice. "She sleeps out at night, and in the morning, you'll hear her at 7 o'clock sharp as soon as someone turns on the lights…'Rah!' It's not a whinny, it's a squawk," said Kieffer.
A dead baby lives in her stall. Well, it's just a creepy doll toy, but how it got there is the real story.

"When I first started riding her, if she was really friendly and in a good mood, [U.S. Eventing Team Chef d'Equipe David O'Connor] would joke to her, 'Did you kill a baby today?' because she's so mean all the time," Kieffer explained.

"Maybe someone will fess up now, but at The Fork last year, I came in the barn in the morning, and someone had that baby hanging from a noose from her halter outside the stall. Someone had heard the joke. Joke's on them—she loved it and played with it all weekend, and she went well that weekend, so the dead baby goes with her."

The dead baby lives in Veronica's stall when she travels. It went to Rolex last year and often ends up in her hay pile or water bucket. "Now I'm superstitious, and the dead baby travels with her," said Kieffer. "Sometimes at night, she pops its head out and shoves it into her water. At Pau, it was bobbing in [Wundermaske's] water. It's sick, it's twisted, but it's just kind of funny. She loves her baby."