There is a king of Kent Farrington's farm, and it's a short, spunky gray gelding called Uceko—Monkey, to his closer friends.
In 2015 alone, Uceko carried Farrington to five-star CSIO wins in the $400,000 Pan American Cup at Spruce Meadows (Alberta), the Longines International Grand Prix of Ireland (Dublin), and returned to Spruce Meadows for wins in the $85,000 AKITA Drilling Cup and the $210,000 Tourmaline Oil Cup.
Uceko carried Farrington at the 2013 Rolex FEI World Cup Final (Sweden), and the 2012 final (the Netherlands) as well as a 2011 Pan American Games appearance (Mexico). Farrington was a member of the winning U.S. team at the $75,000 FEI Nations Cup (Fla.) in 2013 aboard Uceko.
He's what you'd call a "been there done that" kind of horse—owned by RCG Farms, he's been under Farrington's tutelage since he was 6 years old, and he knows he's special. His groom, Denise Moriarty, says he puts everyone in their place from his corner stall at the farm, where the Dutch bred gelding (Celano—Patricia) stands first in line for pets and treats before Willow, Voyeur, Blue Angel and Gazelle (not a bad line-up for one stall row!).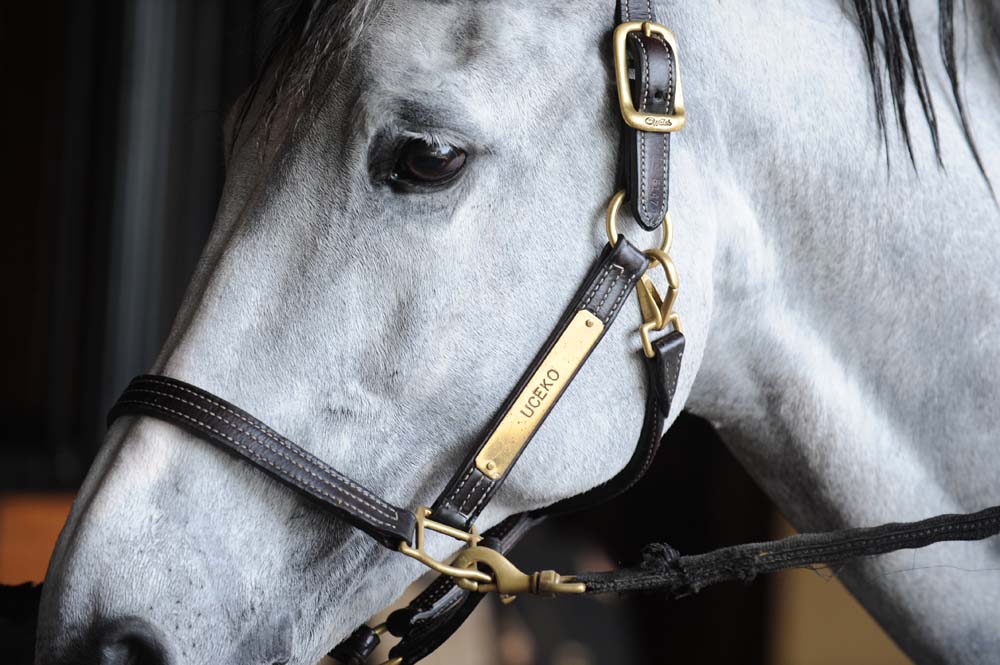 Photo by Ann Glavan
Uceko's 15 now, so Farrington has been taking it easy with his show schedule—last year, the horse didn't show at all at the Winter Equestrian Festival (Fla.), saving himself for the Spruce Meadows tournaments and a trip to show in Europe.
It's still up in the air if Uceko will make any winter circuit appearances this year, but he will be spending the next few months with the rest of Farrington's string at his Wellington property. We went to Farrington's barn to go behind stall doors with the gray king and Denise Moriarty, and here's what you need to know about Uceko:
He's both the oldest and shortest horse on Farrington's string, standing 15.3 hands at the withers and just turning 15 in Jan. of 2016.
"He doesn't look it in the ring, because he's got such a huge stride and really covers the ground, but he's not a big guy," Moriarty said.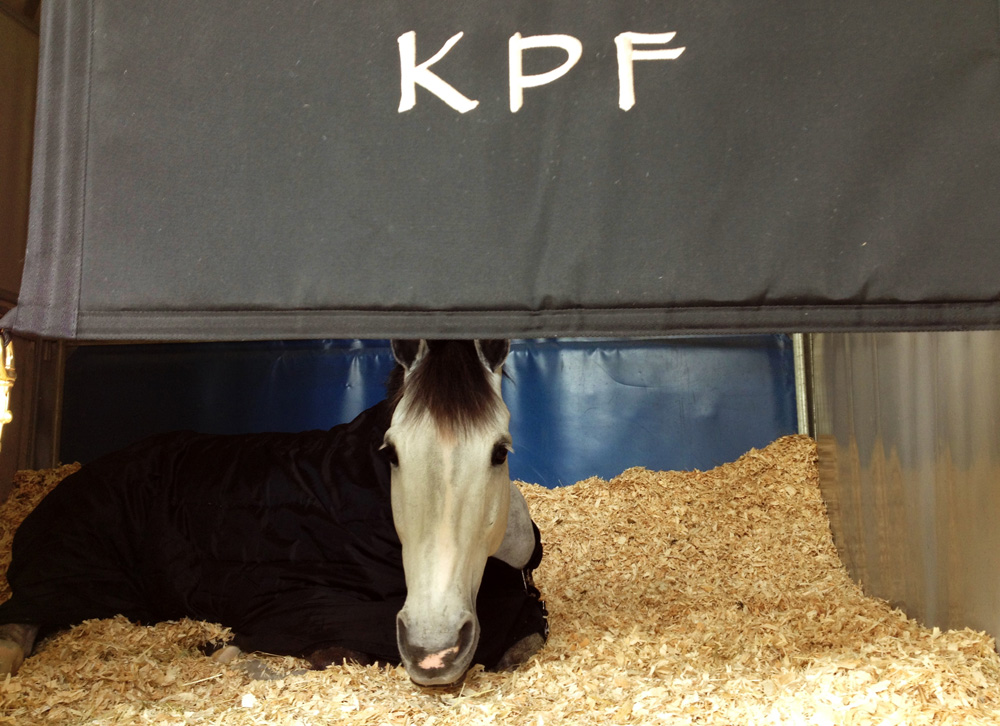 Photo courtesy of Denise Moriarty
He cannot behave himself for awards ceremonies or presentation pictures, not one bit. "He's actually banned from awards at Spruce Meadows," Moriarty said with a laugh.

Usually Farrington rides stand in horses for the awards (he even took a color guard member's horse into the ring at Spruce Meadows) but Moriarty remembers one occasion where Uceko had to do his own honors.

"The first year I took care of him it was the Nations Cup here [in Wellington] and we didn't have a horse to do presentations with, so he had to do them himself, and it didn't go so well. He cleared out the whole Canadian team," Moriarty said. "He nearly made someone fall off their horse. You made a bit of a scene, didn't you? You were very proud of yourself that day," Moriarty said to Uceko.

"But before we went in for that, he was standing there and he has the cooler on," Moriarty continued, "He has everything on, and then he swings his head around, picks up his back leg and starts scratching out his braids with his hind leg."

Luckily for us, someone caught that moment on camera…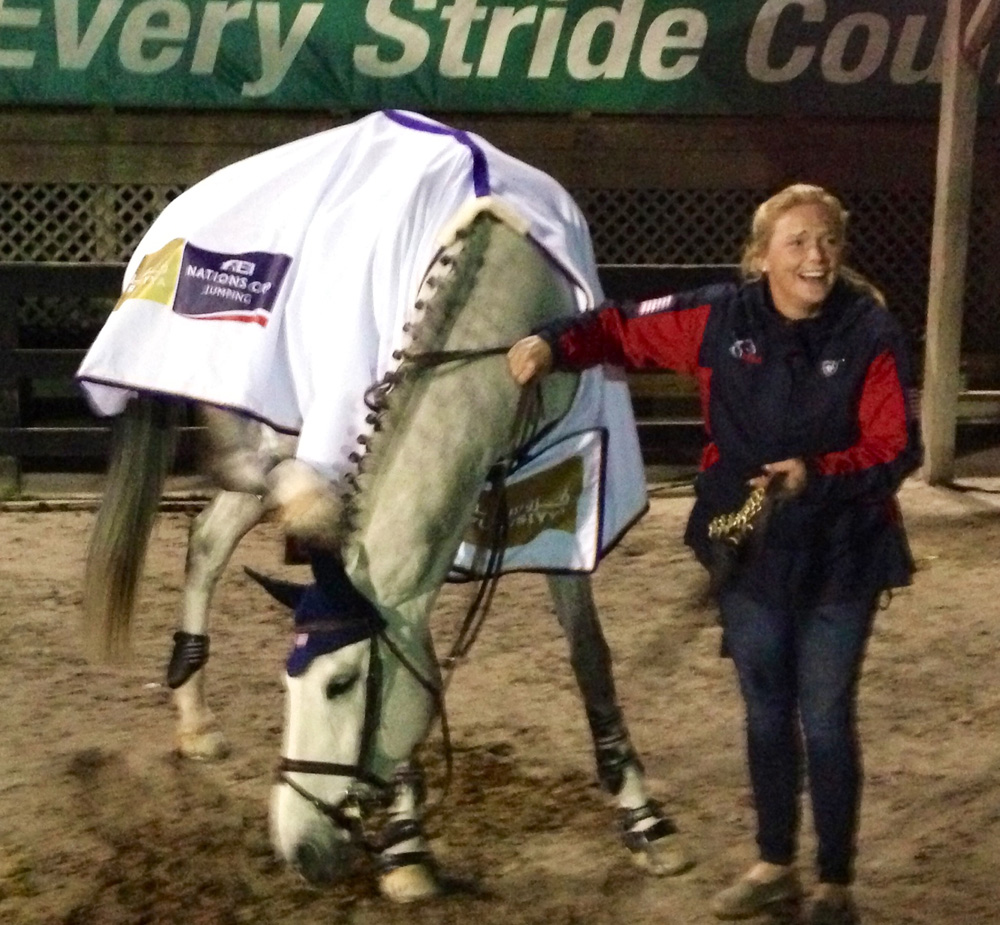 Photo courtesy of Denise Moriarty
Moriarty is not surprised at all that Uceko reached around like a cat to scratch his ears and braids—he's one of the most flexible and agile horses she's worked with.

"He'll be spooking and jumping around with you on his back, and it's really not hard to sit or scary, because he knows exactly where he's putting his feet, he's not falling over or anything," Moriarty said.

Speaking of flexibility, look at that bow! Uceko practically does a headstand to reach the treats Moriarty offers, bobbing his head up and ducking down when there are no more treats as if to say, "They come from under my belly, will I get more if I do another trick?"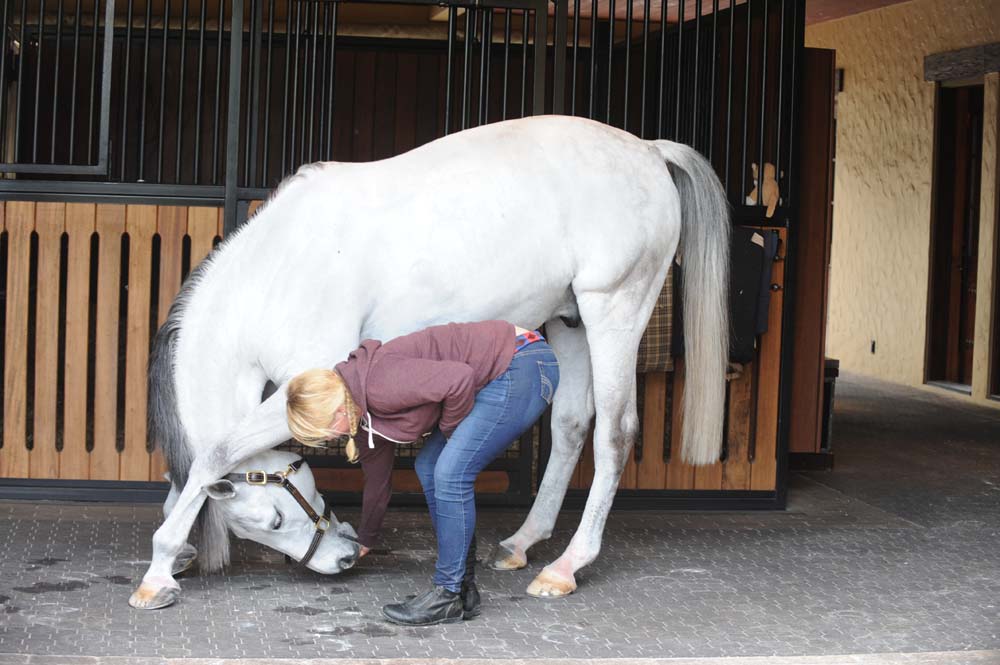 Uceko showing off. Photo by Ann Glavan
Uckeo rocks it in the ring with Farrington on his back, buts its getting Farrington up there that's the real challenge. Usually a treat bribe can get the horse to stand still just long enough for Farrington to climb aboard, but when he's amped up for a big event, Moriarty said the whole production becomes quite a spectacle.

"In Dublin, for some reason he was extra crazy, and we got Kent on him after like six attempts," Moriarty recalled. "Eventually we got him on, we had to put him up against a fence, and have someone hold his head, and have someone take the step ladder out of the way right when he got on, so he wouldn't step on it.

"The team vet was there looking at him and he was like 'Why is he so crazy?' and we were like we told you, this is what he's like!" Moriarty continued.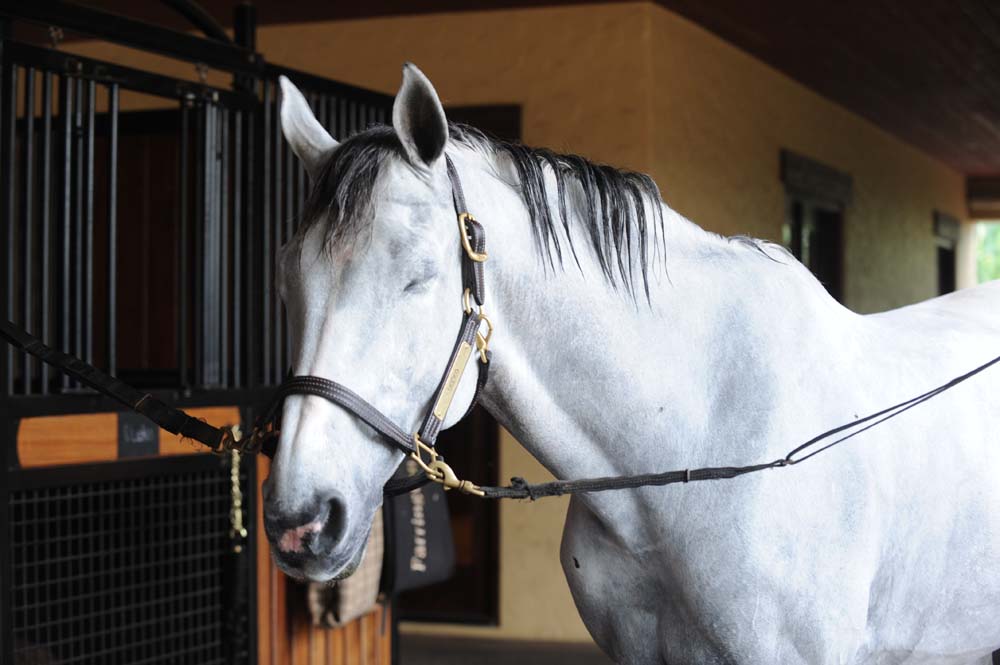 Photo by Ann Glavan
Uceko relishes his time in the paddock at Farrington's Wellington farm, and he's learned his lesson through the years: the quieter he is outside, the longer he gets to stay out.

"He knows the rule, if he runs he comes back in. And even if he starts running and you yell at him, he'll stop and put his head down like 'Sorry mom, I wasn't running, I'm eating," Moriarty said. "The younger ones will run around, and he'll just stand there and look at them saying "Hm hm hmm, you're going to get in trouble."

His antics may have gotten him kicked out of awards ceremonies, but Uceko still loves the spotlight, and he really can't stand it when another of Farrington's horses is the center of attention.

"In Geneva a couple years ago, when Willow won, [Uceko] got so mad, he was just in the stable, and Willow came back with the blanket on and everyone was paying attention to Willow, and [Uceko] threw like a fit in his stall. He was terrible, he was so mad," Moriarty said with a laugh. "Kent was like 'What is wrong with him?', he was saying 'Don't pay attention to him!'"

For all the acrobatics he manages in the ring, napping is a big part of Uceko's stall routine. When asked for pictures of him laying down in his stall, Moriarty replied with a string of five. "I don't know if you can tell, but he loves to take naps!" Moriarty texted.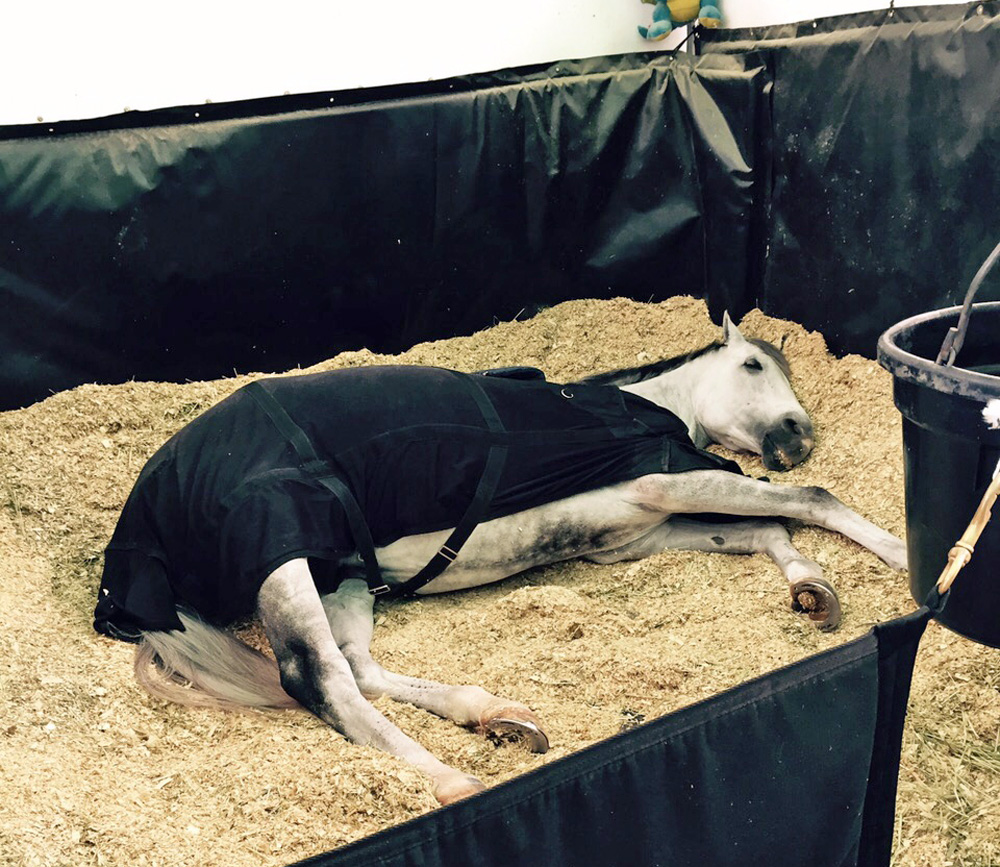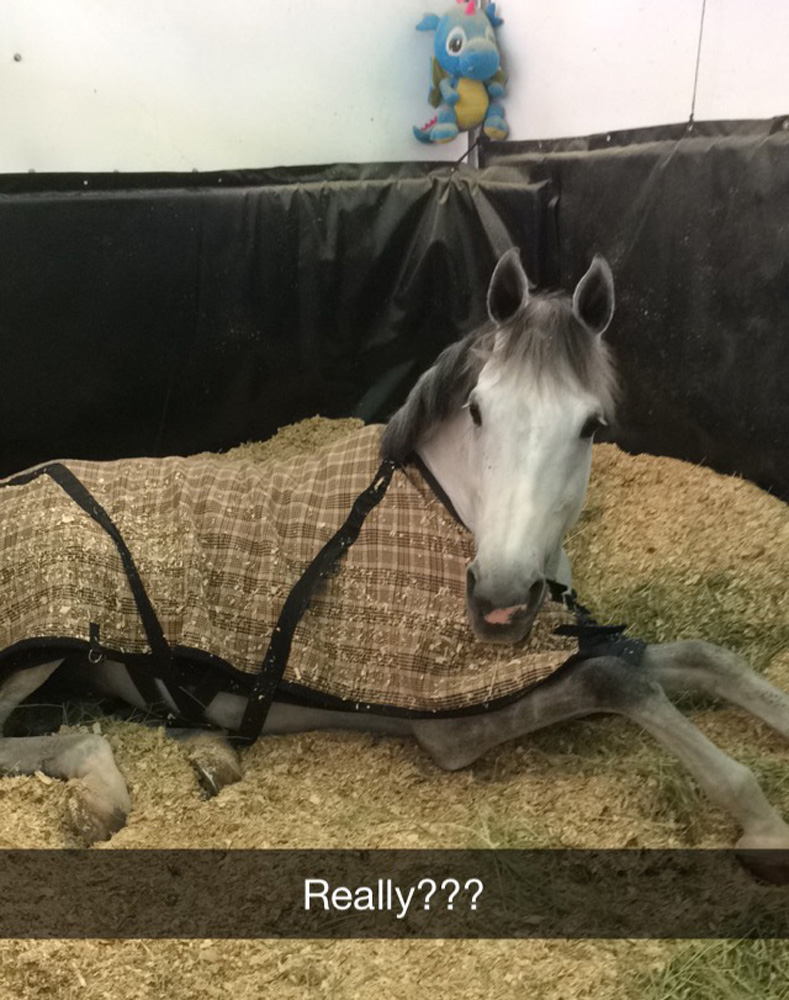 Uceko loves a good nap. Photos courtesy of Denise Moriarty
Like many of Farrington's horses, Uceko has a stuffed critter to keep him company in his stall—a monkey.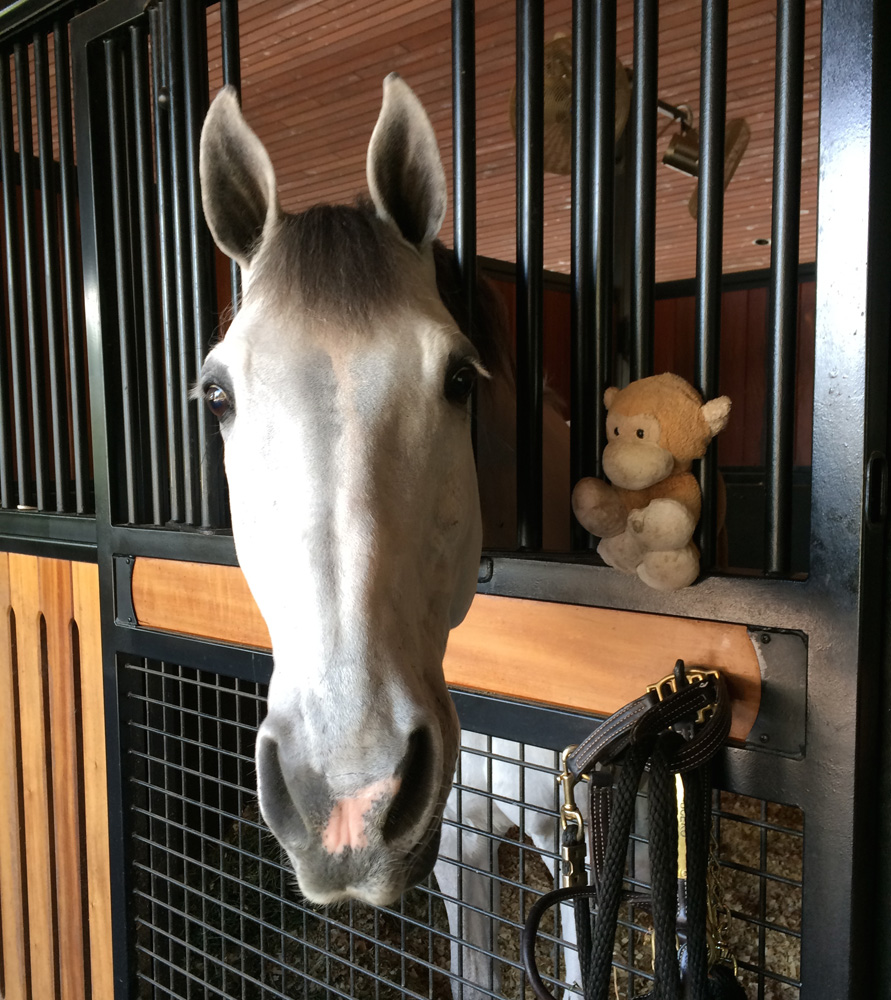 Photo by Ann Glavan
Uceko is still going strong at 15, but Moriarty said the whole team will love him regardless of what happens in the ring in the years to come.
"He doesn't owe us or Kent anything, he can go in and if he's good it's great and if he's not its fine, Kent's never mad at him," Moriarty said.