"Though she be but little, she is fierce!" Shakespeare's quote from A Midsummer Night's Dream may have been written to describe the opinionated show jumping mare, Ohlala.
Piloted by Olympic veteran and Pan American gold medalist Lauren Hough, the 15.2-hand Ohlala (Orlando—Carrera, Cardento) has jumped to numerous victories around the globe, including the 5* Credit Suisse Grand Prix of Geneva last November.
At the Longines Global Champions Tour CSI 5* Grand Prix of Miami Beach (Fla.) in March, Hough and Ohlala, 11, were the top-placed U.S. pair, finishing fifth in the inaugural seaside event. With her "don't blink or you'll miss her" speed across the ground, springy jump, and turn-on-a-dime agility, Ohlala has become a force in the grand prix ring.
Here's what you need to know about this mare, who's known around the barn as simply, "Lala":
She has a tendency to be grumpy, especially in her stall, her designated "sacred place." If Lala goes to her corner, you'd best not disturb.

"In the stall, basically she likes to be left alone," Hough said. "If you open the door and she doesn't want to talk to you, she'll turn around and look the other way."

"The stall is her place," groom Zane Josta added. "She's grumpy all the time. She always likes to turn around and stand in the corner. She'll stay like that—she's not that intrigued unless you have a treat."

It takes a village to please Ohlala. In addition to Hough and Josta, the 10-year-old mare is cared for daily by stable manager Nina Ulenberg, who rides the mare outside of the show ring. The four are a close-knit team, and Lala awards each her own privileges.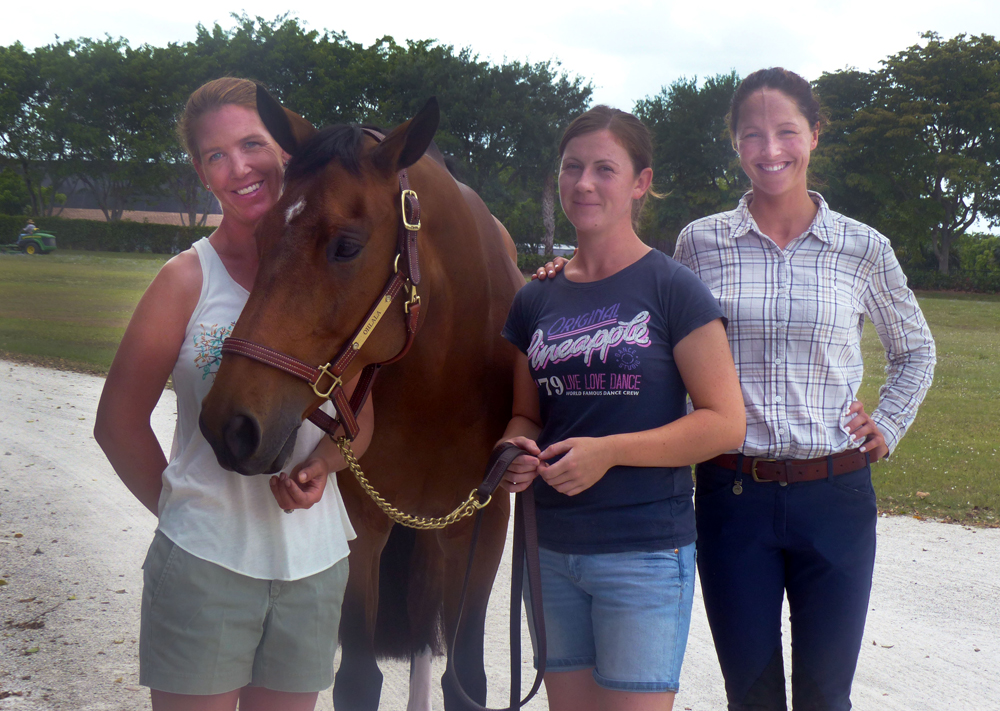 Lala with her team (from left), Lauren Hough, groom Zane Josta and barn manager Nina Ulenberg.
"I prefer to ride her rather than take care of her, because she can be mean sometimes!" Ulenberg said. "When you take care of her, you see it. I have scars on my arms from her, from when I put her wraps on. Otherwise, she's as sweet as can be.

"Honestly, I think she accepts Zane as her groom, and they get along and know each other really well, and I get along really well with her on the flat, and Lauren does the jumping. It's perfect. It's a perfect team effort on that horse," Ulenberg continued.

Taylor Swift has Swifties, and Katy Perry has Katy Kats, but Lala has the Ohlala Group. The mare is owned by a syndicate group that includes Hough, Dennis Singer, Desi Dillingham, and Fred and Heather Briggs of Belle Grey Farms.

"It's a wonderful group of people," Hough said. "I'm a 50 percent owner myself, and then there's a great group of supporters. They love to follow her, and now, with everything live-streamed, they can follow her around the world, which is really nice. They can all enjoy it together."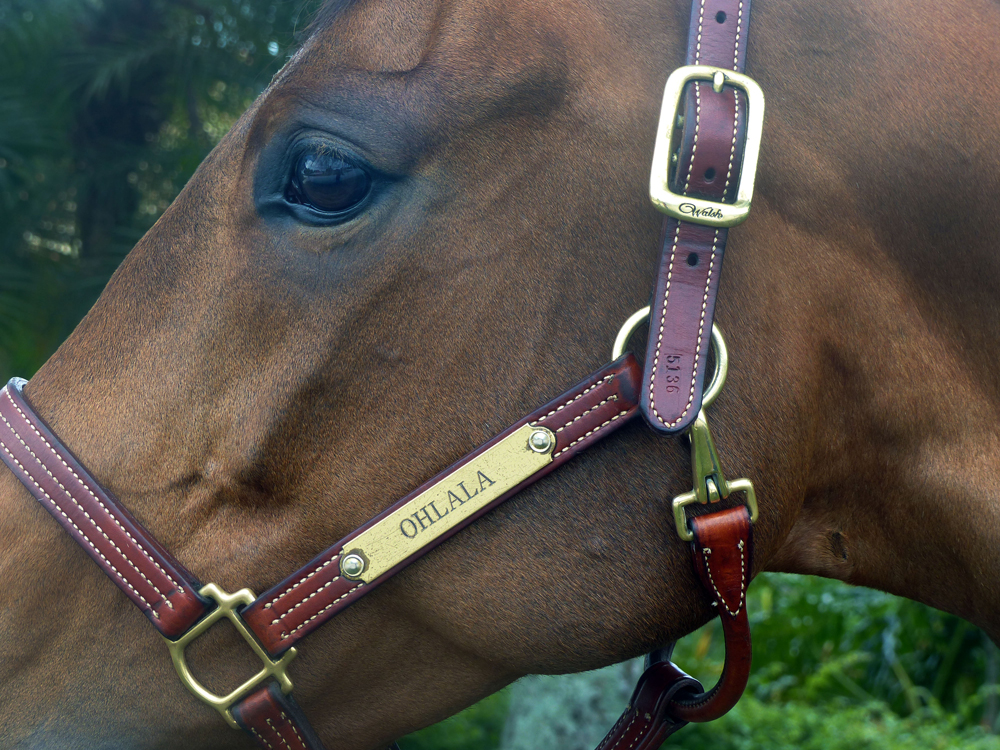 You don't walk Lala. Lala walks you.

"You can't ask her to do it your way a lot," Josta said. "You just have to go with what she wants to do. She walks very fast. She walks where she wants to go. She walks you most of the time."

Her diet is sugar-free. Cue special instructions for the chef!

"In December of 2012, we had a small bout of laminitis that we caught really, really early, but from that, that we learned that she has a very low tolerance to glucose, so she has a special pellet that she eats," Hough said. "Knock on wood, we haven't had any trouble since."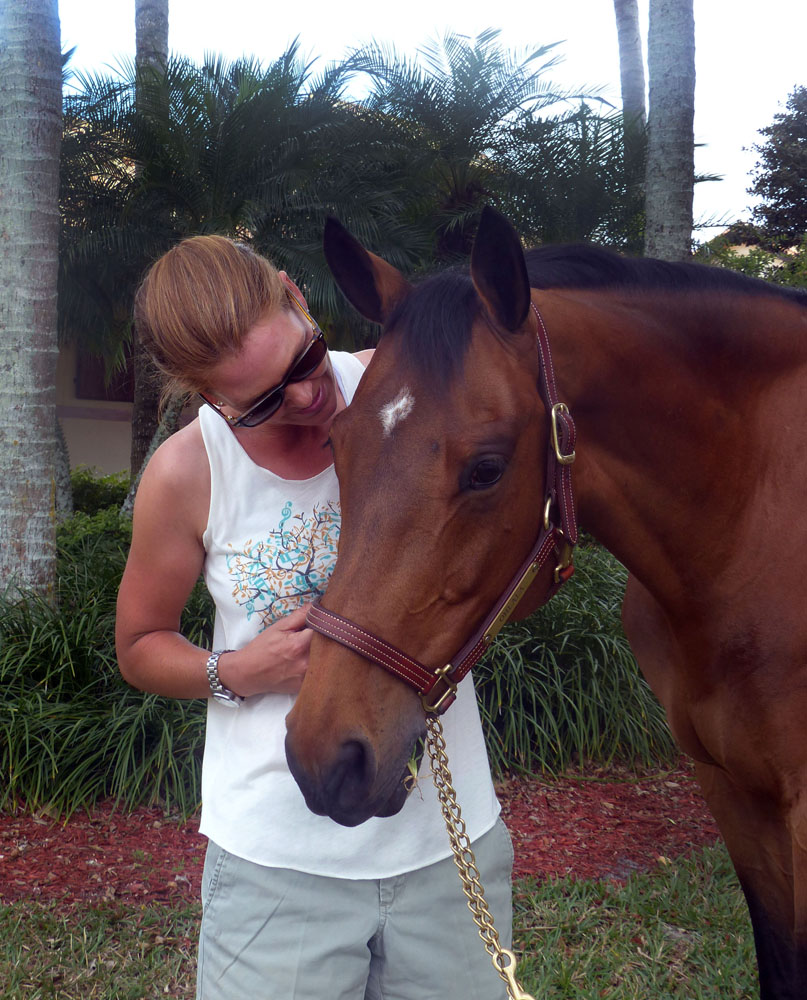 Hough having a chat with Lala
She's gone from the back-up to the starter in Hough's string. After Hough's top mount Quick Study injured himself last year prior to the Great American $1 million Grand Prix at HITS Ocala, Ohlala stepped up and out-jumped expectations. Ever since, she's taken command.

"She's always been a winner," Hough said. "We got her at the end of her 7-year-old year, and she won all over the world as a young horse and did many, many ranking classes as an 8-, 9-, and 10-year-old. Then last year, I was a little bit short of a horse to ride in the $1 million class in Ocala, and I knew she was very brave, and I thought, 'We'll give her a chance.'

"I had two [rails] down [and finished 10th], but she jumped it really easily. She had two of the last three jumps down. She was just more or less a little bit tired. I was a nervous wreck when I walked the course, because I thought, 'I don't know if she can do this!' That was the time when I knew that she was capable, and since that day, she's never really looked back."

She frequently gets "bed head," but you might want to call it, "hay head." Lala's favorite place to rest is underneath her hay net, which stays in her stall almost 24/7.

"She always has hay," Josta said, "but she never eats a lot. She decides when she wants to eat. She'll leave it and come back a couple hours later. After she jumps and comes in the stable, the first thing she does is go to her hay net and bite it."

Yes, that tail IS real!

"I've walked in to the ring and have overheard people making bets on whether she has a fake tail or not!" Hough said.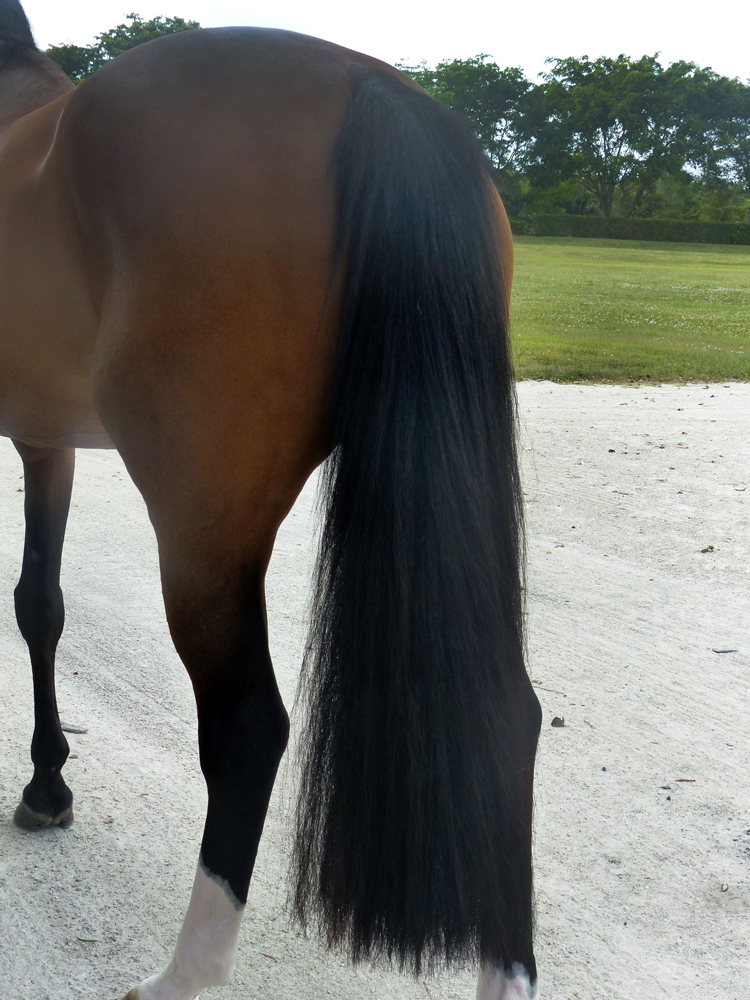 Man's best friend is her best friend. Hough and Lala are frequently accompanied on their hacks by Hough's whippet, Rosie. Another treat for Lala is to have a bite of shrubbery.

"She really likes trees," Hough said. "She'll eat them when I'm riding her!"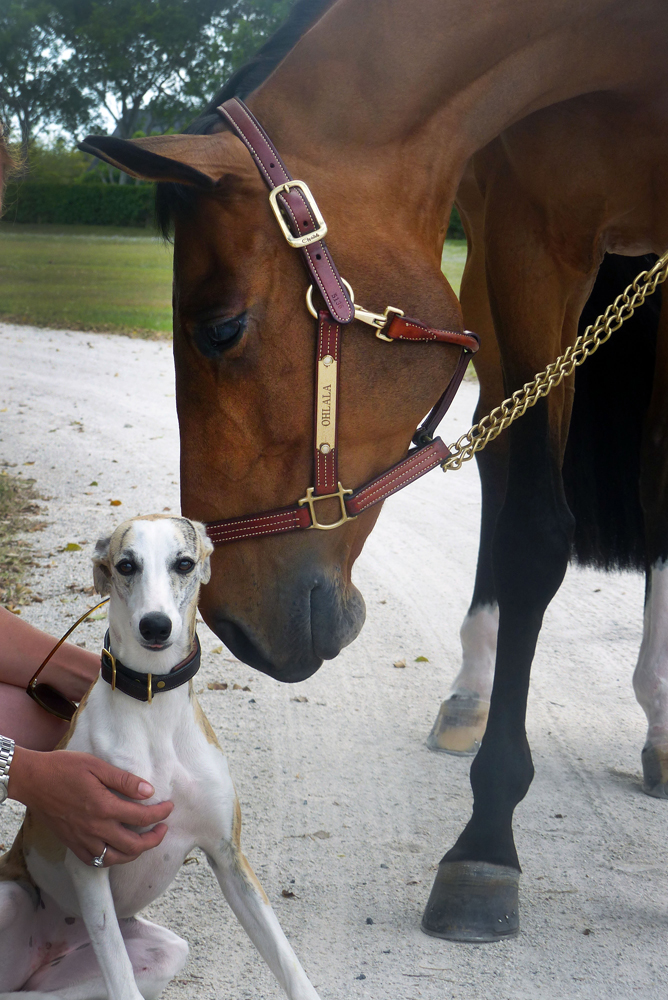 Lala and Rosie
If you pass her test, you're golden. Then you realize that her grumpiness is just a front.

"To ride, she's really, really nice once you get to know her," Ulenberg said. "In the beginning, it was a test. She was really testing me. She would always run away. It's her way, or the highway. But once we figured each other out, it was great. Now, we get along together perfectly. She loves trail rides. She's actually really, really sweet."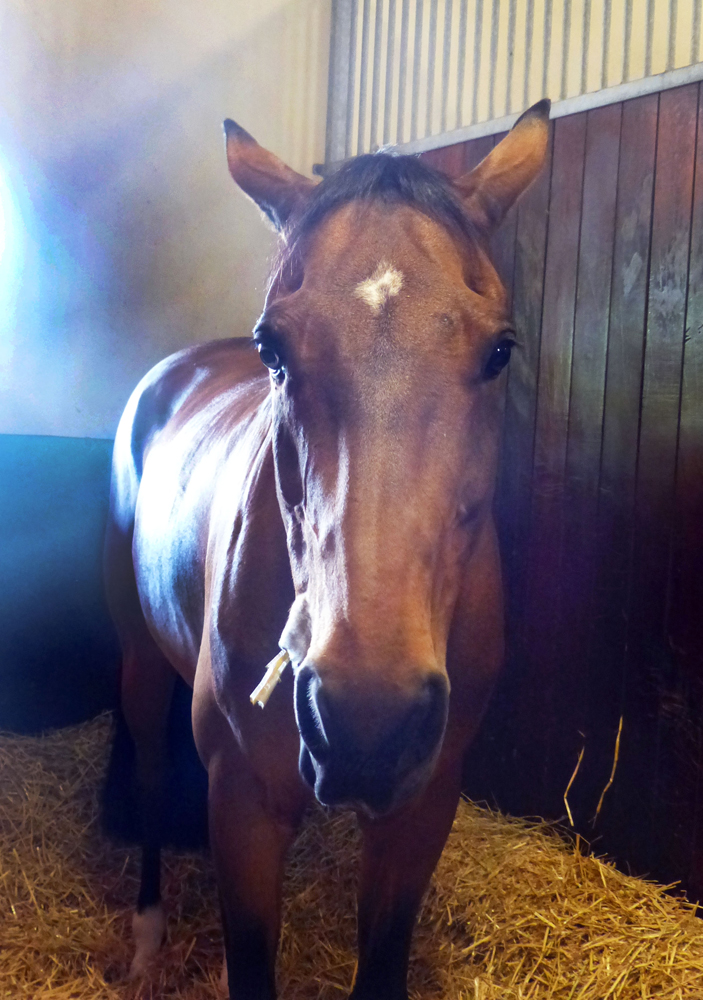 Grumpy Lala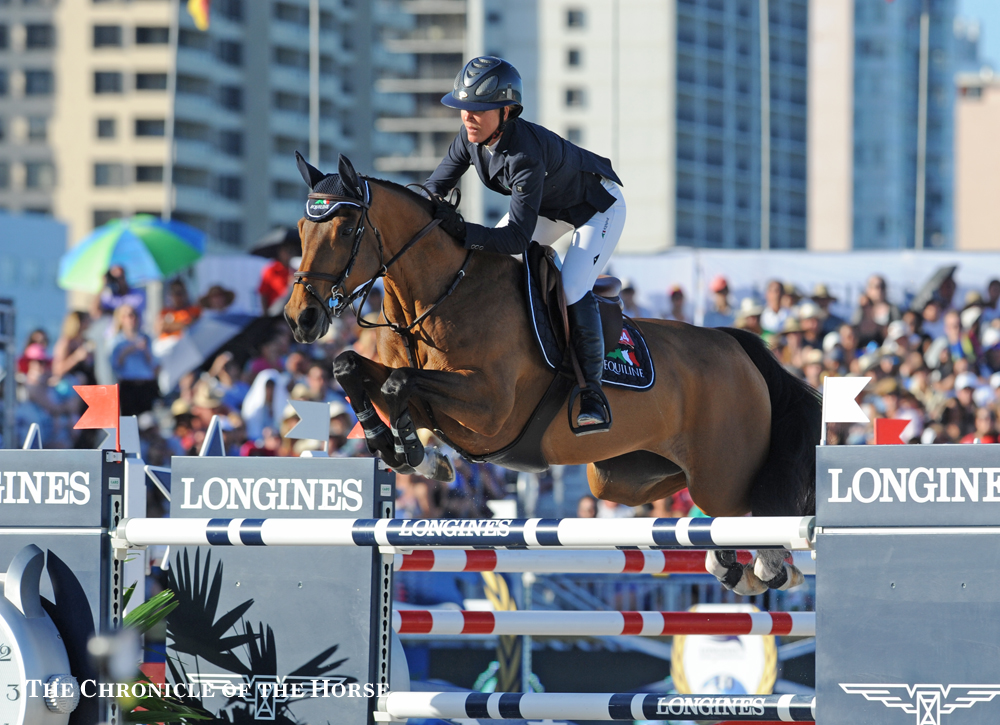 Ohlala and Hough during the Longines GCT Grand Prix of Miami.