Miami, Fla.—Apr. 4
"Let's throw him in the ocean!" Scott Brash is lucky to have escaped without a good dunking in salt water as he wrapped up the Longines Global Champions Tour stop in Miami with a clean sweep of the headline classes.
There's a tradition of Longines Global Champions Tour winners spraying each other with celebratory bottles of champagne on the podium, but a quick dip in the ocean seemed like a fitting substitute for that tradition given the seaside location of the show. But alas, Brash eluded that fate just as effortlessly as he galloped to the top of the $600,000 Longines GCT Grand Prix of Miami.
The day before, the Brit had teamed up with a relatively new ride, Hello Forever, to win the $127,000 American Invitational. But on a sparkling Saturday afternoon, in front of a crowd of bikini-clad and sunburning spectators, he put on a show with his veteran Hello Sanctos.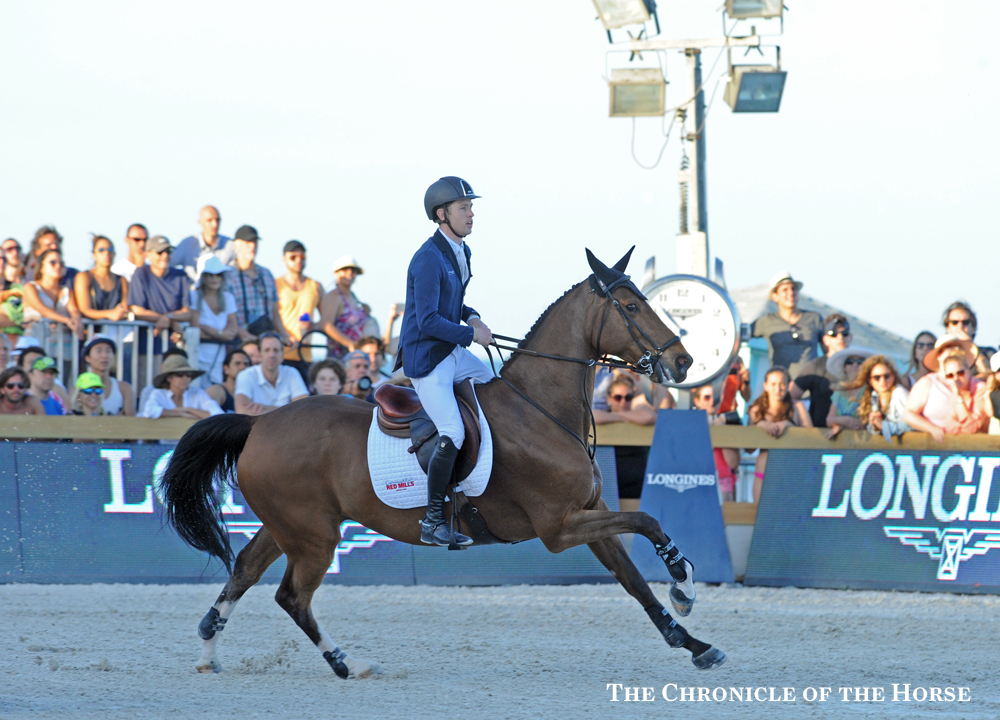 Scott Brash galloping to victory on Hello Sanctos. Photo by Molly Sorge
"Ten years ago, if you had told me I would canter down Miami Beach, I never would have believed you," Brash said with a smile. The setting for the show was almost surreal, with the ring set directly on the beach in Miami, just feet from the waves.
Brash is pretty stereotypically British in his demeanor—after his second clear round on Sanctos, he was cantering out of the ring quietly and then, hearing the crowd cheering, gave a very quick thumbs up. There's no jubilant celebration or wild gesticulation. But that's not to say Brash takes his wins lightly. When he talks about Sanctos, his admiration and affection for the horse shines through.
"I think his results speak for himself and how consistent he is. He has jumped so many clears and I think you could probably look back at last year and how count how many fences he has had down on two hands," Brash said. Together, the pair helped Great Britain earn gold at the 2012 London Olympic Games and bronze at the 2013 European Championships. Brash won the GCT series last year, and he's spent more than a year on top of the Longines FEI World Rankings.
"He is just a special horse. He loves to win. He wants to clear the jumps; he wants to win," Brash said of Sanctos. "He makes my life easy. He gives you great confidence, and you can ride confidently in the jump-off."
And Brash did just that. Only four riders had turned in clean rounds of the two first rounds of the class to jump off. Qatari rider Bassem Hassan Mohammed then jumped off first and laid down the trip to beat on Palloubet d'Halong. That horse was famously sold for an astronomical sum in 2013 and his athletic jumping efforts showed just why he was so coveted. He's owned by the Qatar Equestrian Federation and Mohammed has only had the ride since October.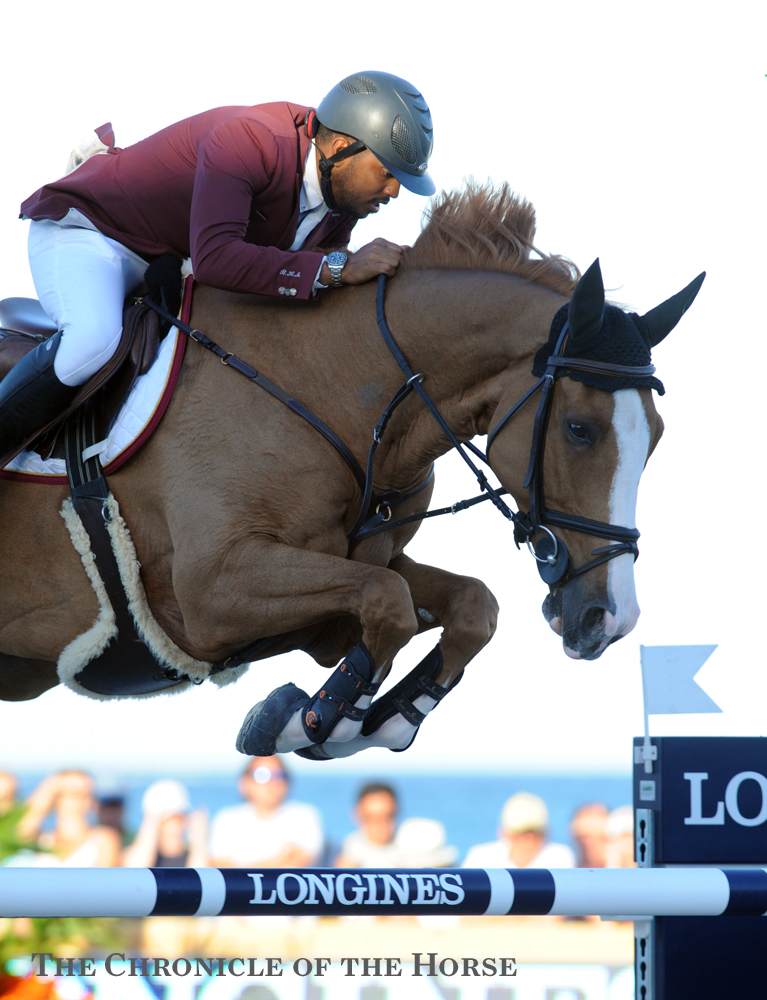 Bassem Hassan Mohammed on Palloubet d'Halong. Photo by Molly Sorge
France's Roger Yves Bost made a concerted effort to catch Mohammed, but came up short when a super-tight turn to a vertical left Nippon d'Elle confused and he stopped. Then Brash and Sanctos just cruised around the jump-off, making it look casual but shaving more than a second off Mohammed's time. "I thought that [Mohammed had] done a fantastic round," Brash said. "He was really, really good. He was first to go, and his horse jumped unbelievably smooth everywhere. There was not any one place where he lost it. I just tried to be as tight as I could, and as smooth as I could, and it worked."
Rounding out the top three was Belgian rider Pieter Devos on Candy, who won the CN $1 Million Grand Prix at Spruce Meadows (Alberta) in 2013. They had an early rail in the jump-off and finished fast enough for the yellow ribbon. Devos was pleased because this was just Candy's second show back at the five-star level after a year off to recover from injury.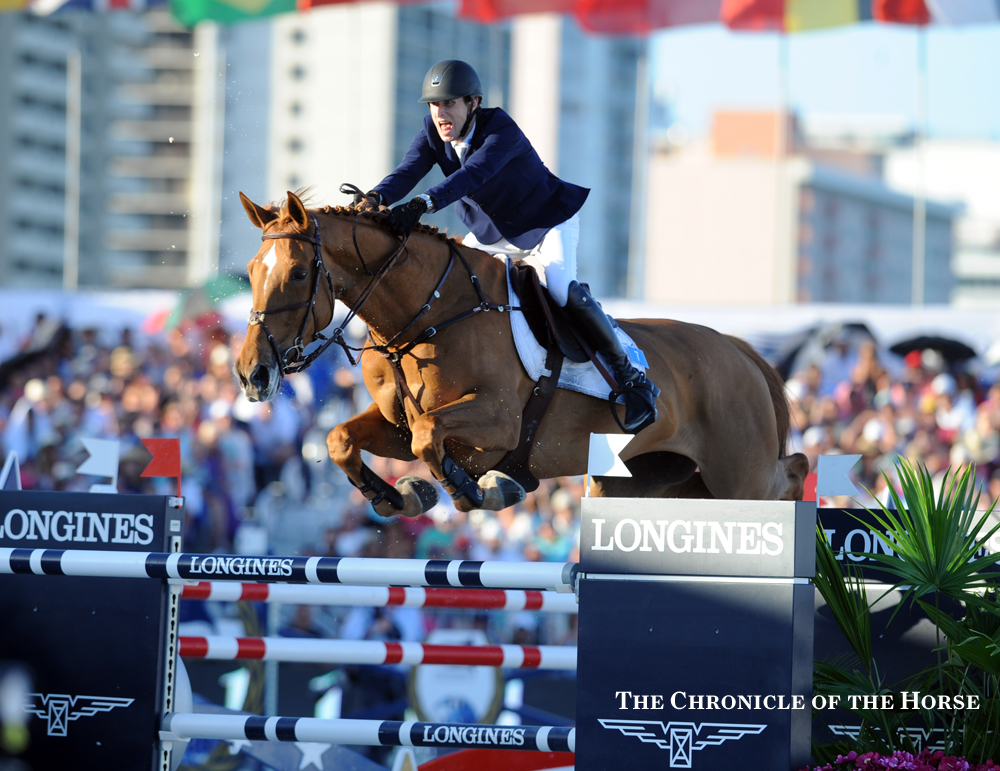 Pieter Devos on Candy. Photo by Molly Sorge
Sitting between Brash and Devos, Mohammed was charming in the press conference talking about Palloubet, obviously thrilled with his result. "He's a super horse, any rider would love to have him. At this show, he really showed himself. He was very happy to jump and he enjoyed it. I am not surprised [Scott] won, but for me it is a big thing to be here at the podium," he said.
U.S. riders didn't make it to the jump-off, but filled quite a few spots in the top 10. Lauren Hough placed fifth on Ohlala with just a rail in Round 2. Kent Farrington and Voyeur were sixth with the same score, while Margie Engle rode Royce to seventh place and Laura Kraut took ninth on Nouvelle.
The mood after the GCT Miami wrapped up was quite celebratory, as Miami mayor Phillip Levine raved about the event. "I just wanted to say one thing: We have an expression in Miami Beach, it is called, 'Getting sand in your shoes,'" Levine said. "What that means is that people come to Miami Beach, they get sand in their shoes and end up living here forever. I think that today we have a new expression, called 'Getting sand in your hooves.' This is something that we have all enjoyed and will hopefully be something we are able to experience for a very long time."
See more photos of the amazing venue in Miami, and find the answers to common questions about the Longines GCT Miami.
See full results of the $600,000 Longines GCT of Miami, complete with video clips of each rider in each round.
You can read more about Brash's amazing weekend at the GCT Miami, including more about how he schedules Hello Santos' shows, how the GCT fits into other important shows like Nations Cups and international championships, and more in the April 20 print edition of The Chronicle of the Horse.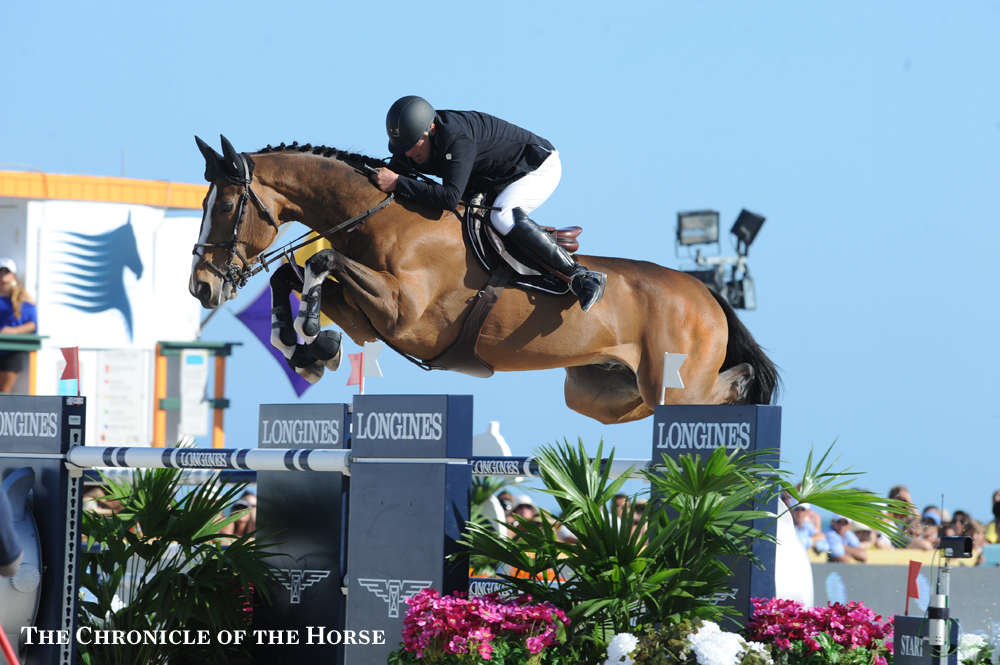 Roger Yves Bost of France on Nippon d'Elle, who took fourth place. Photo by Molly Sorge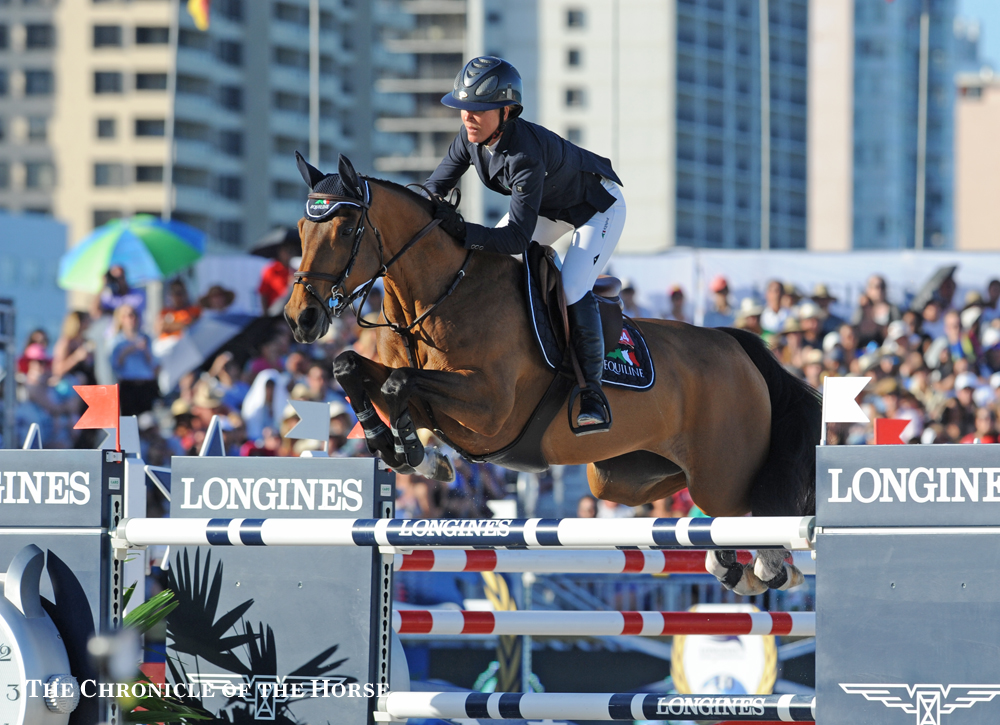 Lauren Hough rode Ohlala into fifth as the top-placed U.S. rider. Photo by Molly Sorge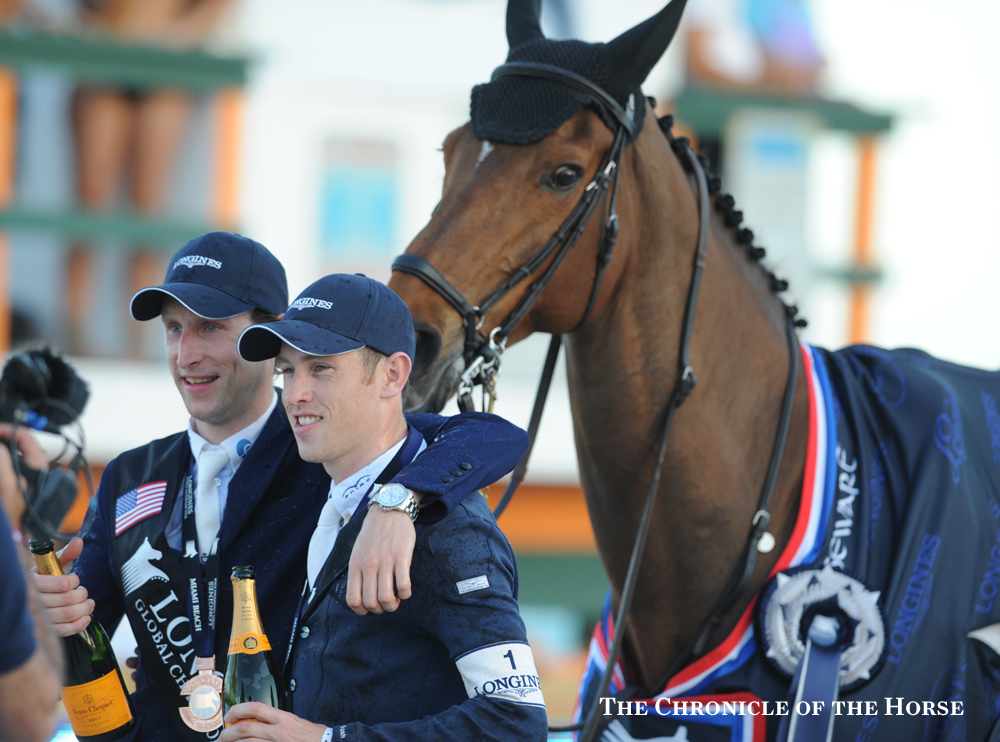 Scott Brash (right) and Pieter Devos posing for the cameras. Photo by Molly Sorge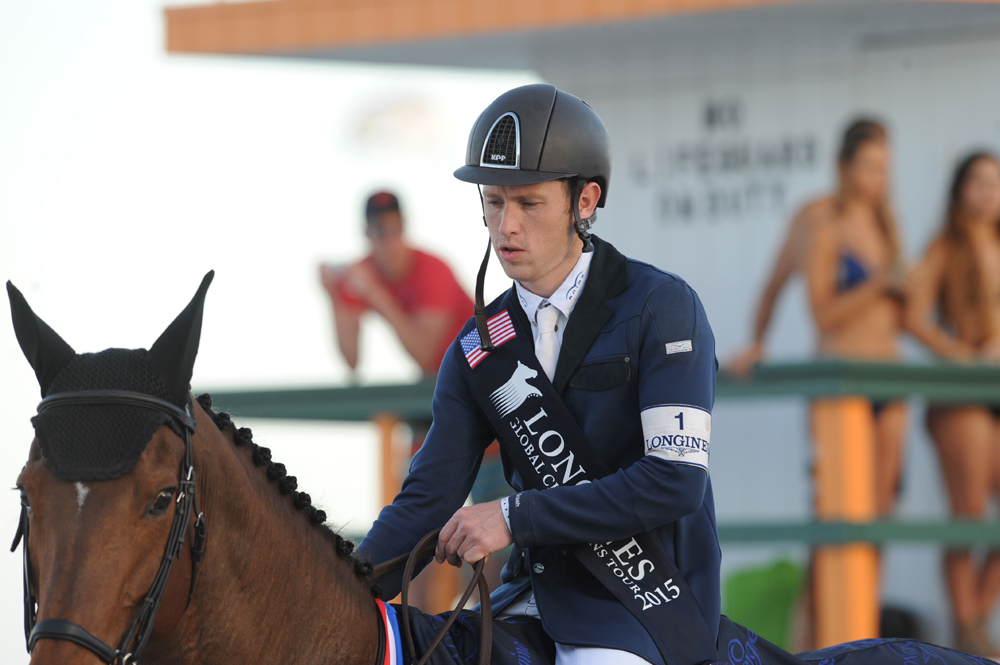 Even the girls in bikinis didn't keep Scott Brash's eyes from the prize. Photo by Molly Sorge