The term "nouvelle" refers to nouvelle cuisine, an approach to cooking commonly related to French dishes. Light and elegant looking platters characterize nouvelle cuisine, and the emphasis is on presentation.
The Evita Group's Nouvelle doesn't have quite as particular of a palate—she lives to eat and will take a bite out of pretty much anything—but the gutsy mare has used that fuel to establish a strong presence in Laura Kraut's string of talented show jumpers.
The 12-year-old bay Dutch Warmblood (Solitair—Nouvelle Dansante, Contango) stepped up in 2015 and took Kraut to the Longines FEI World Cup Final in Las Vegas, Nev. She also represented the United States in the 2015 Furusiyya Nations Cup Jumping Final in Barcelona (Spain), where she helped propel Team USA to its best-ever finish; and gave Kraut her first ever win at the Royal Windsor Horse Show (England) by capturing the Kingdom of Bahrain Stakes for the King's Cup.
Nouvelle has been plagued by some unusual issues, such as a broken pedal bone and ovary infections, but in October she was back on the winning radar, topping the $130,000 Suncast Welcome Classic at the Tryon International Equestrian Center (N.C.).
She may have a French name, but Kraut is happy to have her representing the red, white and blue. Here's everything you need to know about Nouvelle, affectionately known as "Julia."
Her name does allude somewhat to her personality, as Nouvelle is a full-blown foodie.

"Her favorite thing to do would be eating," said Nouvelle's groom Samantha Burrell, who has worked for Kraut for six years. "She's very food-oriented. If there's food of any sort—cookies, hay, anything—she's happy. That's when she's the happiest. She loves stud muffins or the red and white soft mints—she loves those. But really, other than that, she's not picky."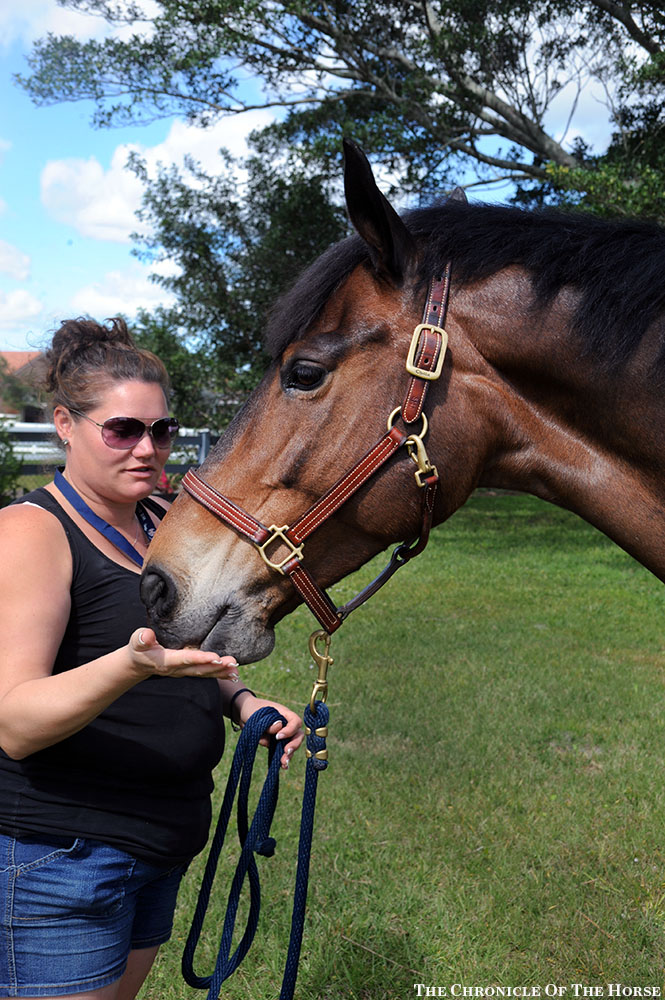 Julia is happiest when she's eating. The mare knows she can always rely on Burrell for a treat.
The origin of the nickname "Julia" remains a bit of a mystery. The mare arrived from quarantine with the nickname, and Burrell didn't learn until later that her actual name was Nouvelle. However, Burrell says "Julia" definitely fits.

"To me, she's a princess," Burrell said. "She's my No. 1, and she's my princess. Julia is a princess name.

"I can go out in the paddock and call for her, and she'll scream to me and come over to the gate," she continued. "She's always calling out for me, like 'Mom! Mom!'"

"A driver in Europe started to call her 'Noodles,' because she traveled with Deauville S, whom we call 'Doodles,'" added Johanna, who grooms Deauville S. "But Samantha was not very impressed. She said, 'She's Princess, not Noodles!'"
She's doesn't see her stylist on the regular. "She doesn't usually like to get clipped, and she grows hair faster than a Chia Pet!" Burrell joked. "So, we just let her go a little bit, and she gets a little fuzzy!"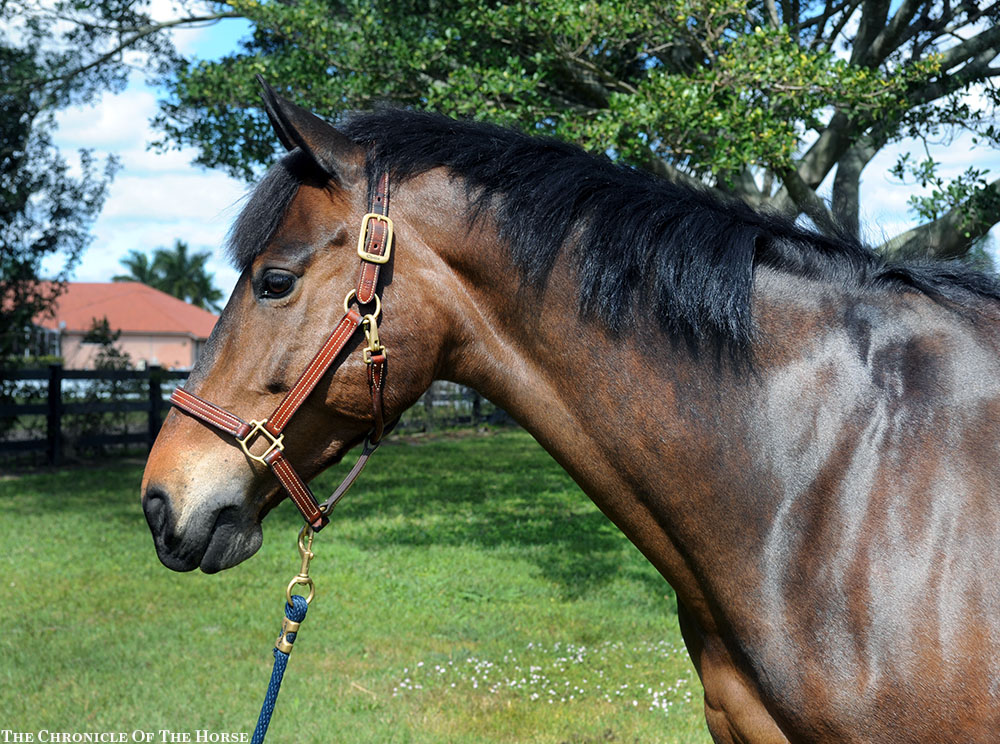 Julia boasts a soft and fluffy coat thanks to her distaste for body clipping.
She prefers to be covered up. Julia is not happy if she's out in the paddock without her precious "bug attire."

"She'd go out in the paddock all day if she was allowed, but she has to have her bug attire on," Burrell said. "If she goes outside without a fly mask on or a blanket on, she walks the fence line until you put it on, and then she goes right back to eating grass and she's happy.

"She wears a whole bug buster blanket and fly mask, and I'm telling you, if she doesn't have that fly mask on, she is not happy," Burrell continued.

She's a big fan of energy conservation—at least, personal energy conservation. The phrase "couch potato" might come to mind, but Julia far makes up for her apparent laziness in the show ring.

"She doesn't like to exert herself—unless it's eating," Burrell said, laughing. "Eating is the key with her. She loves her food."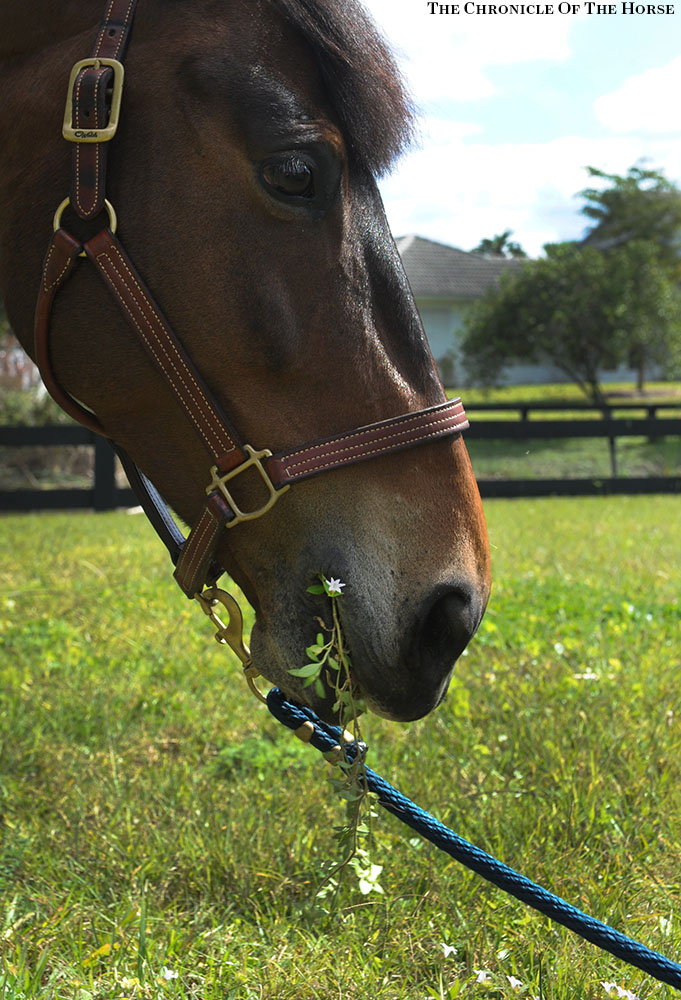 Weeds? Roots? Julia isn't picky.
Was it mentioned that she likes food? The prospect of another meal makes traveling a fun activity for Julia.

"She's an easy traveler," Burrell said. "As long as she has her hay net, she'll go anywhere!"

When it comes to Julia, things are kept fairly simple, from her routine to her tack. "She just goes in a snaffle, nothing special. She gets a breastplate and a running martingale. She can get a little hot at the ring, but otherwise, she's pretty easy," Burrell said.

"Her routine is simple, too," she continued. "She goes on the walker, she goes on the treadmill, gets turned out in the paddock, gets ridden, and that's pretty much it. She just wants us to feed her and keep the bugs off her!"

She prefers to have the attention to herself. She welcomes people into her personal space—you might have a treat, after all!—but she prefers other horses keep their distance. She only tolerates next-door neighbor Deauville S.

"She likes to keep to her own," Burrell said. "She has the pleasant face of, 'Everyone can come talk to me,' but when [another horse] comes over to talk to her, she's like, 'No, don't talk to me. This is my space, and I do my own thing.'"

"[Deauville S] doesn't get too close to the grass that she wants," added Johanna.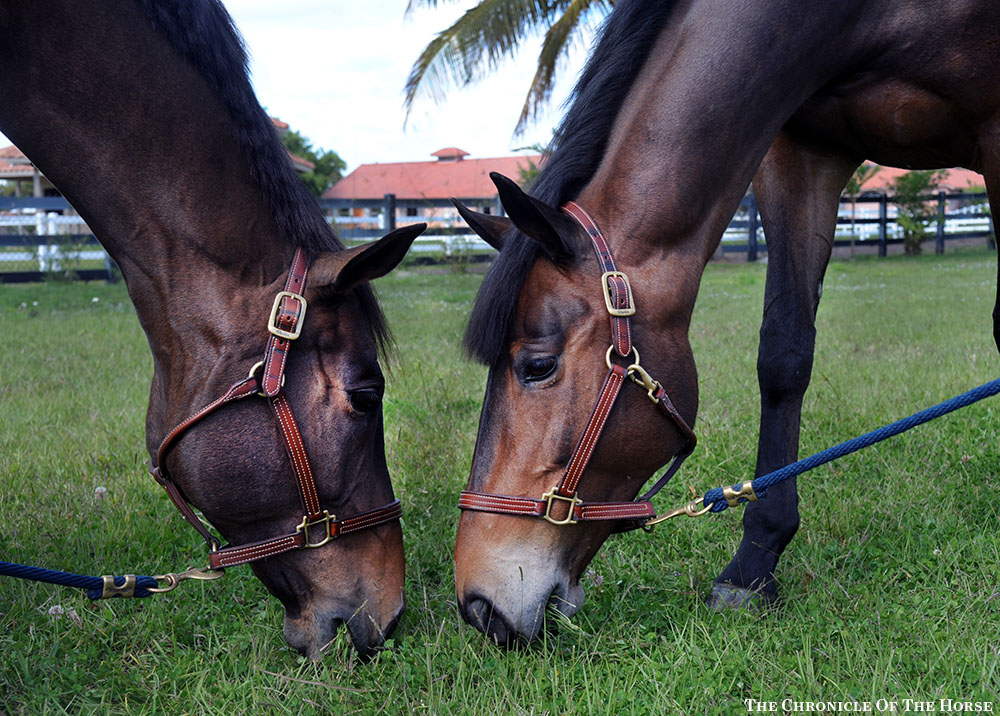 Julia (right) will only tolerate next-door neighbor Deauville S in her space.
Yes, Julia does do her own thing. Burrell is often just along for the ride.

"She's normally quite bold," Burrell said. "She goes where she wants to go. Whenever there's hand walking involved, she takes me with her. She's leading me everywhere; it's not the other way around!"

"She's a good girl, though," she added. "She'll always have a special place in my heart."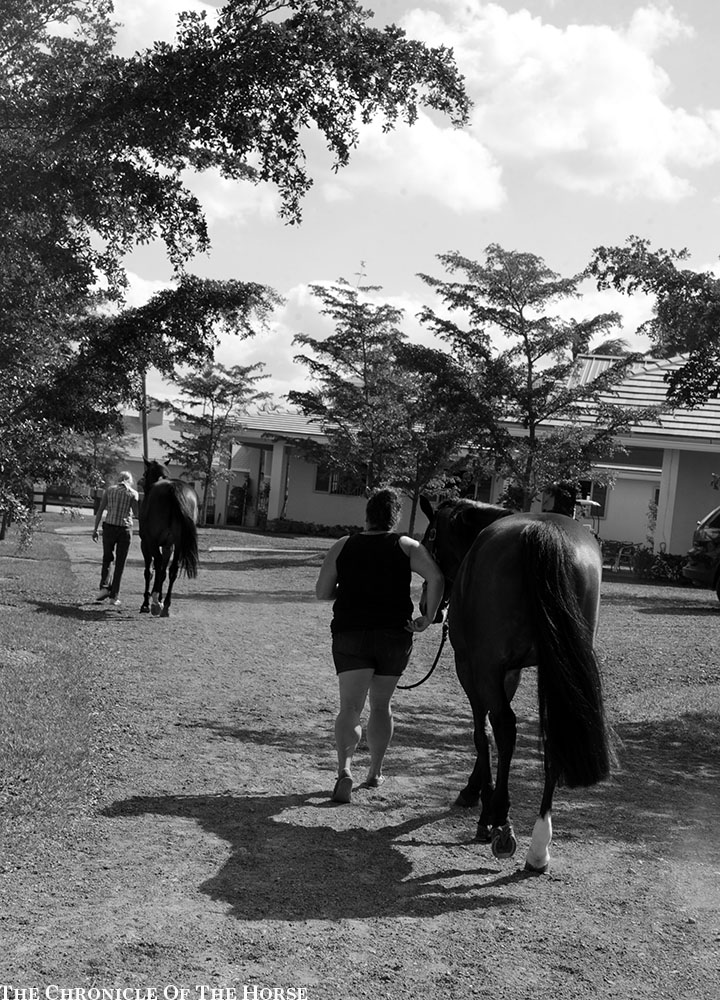 Julia walks Burrell—not the other way around.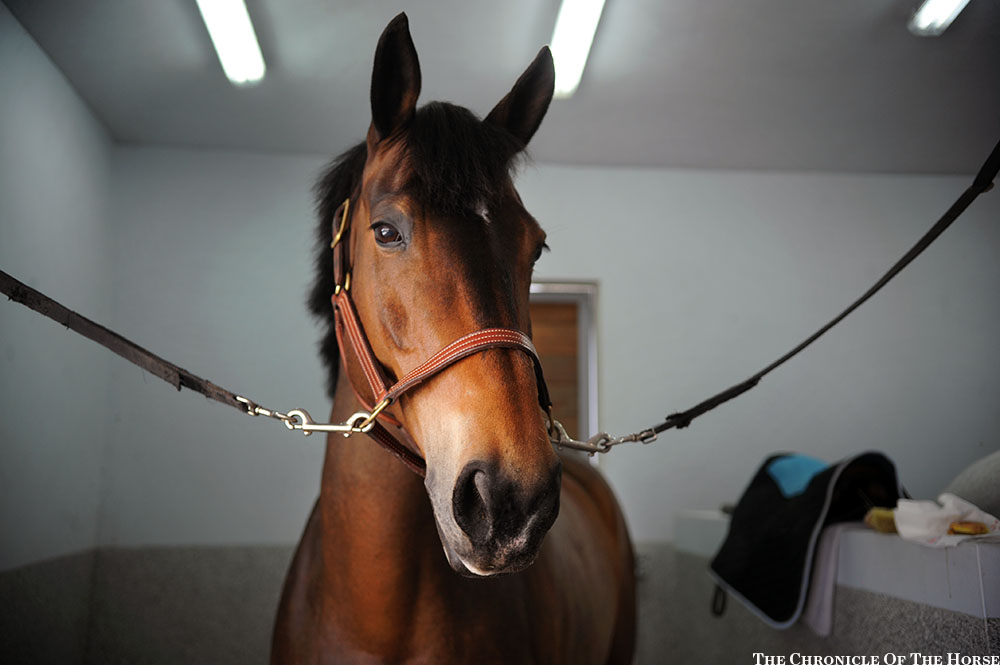 Julia perks up when she sees Burrell walk toward the treat bin.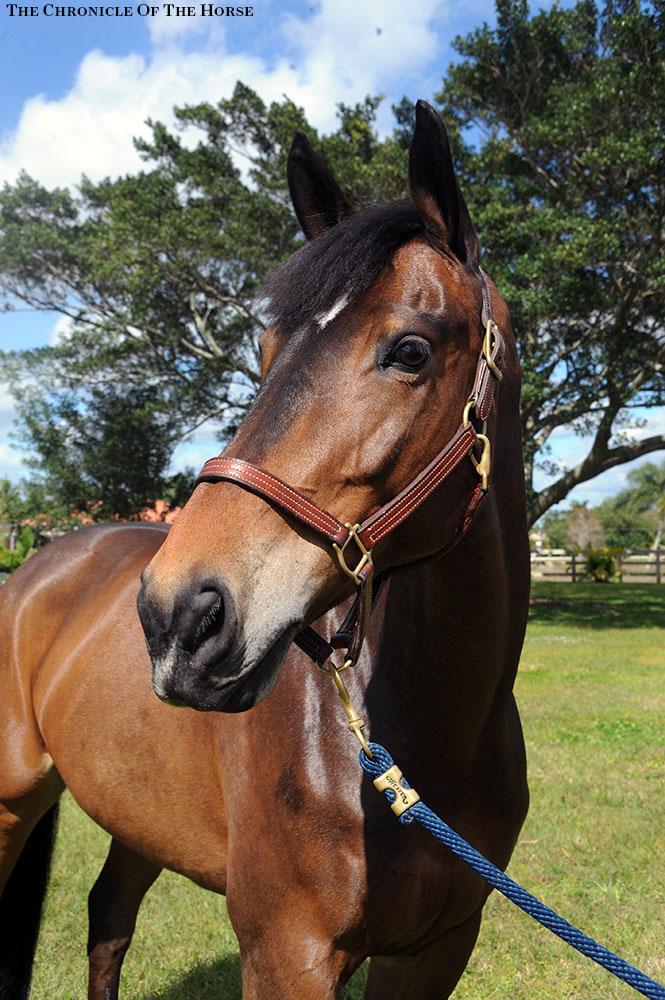 Nouvelle, otherwise known as "Princess" Julia