Author James Russell Lowell said, "Good luck is the willing handmaid of an upright and energetic character, and conscientious observance of duty."
That definition materialized is Cian O'Connor's 10-year-old Belgian Warmblood stallion Good Luck, who is making waves in the show jumping world with his fantastically athletic jumping efforts.
O'Connor acquired Good Luck (Canturo—Famosa, Furioso II) in November of 2014, taking over the ride from Belgium's Fabrice Galdini after Adena Springs and Ronnoco Jump Ltd., purchased the stallion from Dirk Geerinckx, and just three months later the newly partnered duo won the $50,000 Live Oak International CSI-W Grand Prix (Fla.). That day they bested a field of 46 competitors and jumped one of only two clear rounds over the 1.60-meter track.
Most recently, Good Luck and O'Connor took second place in the Great American $1 Million Grand Prix in Ocala, Fla., on March 27.
O'Connor has described Good Luck as "one of the best horses [he's] ever [sat] on," and that's saying something, considering he rode Blue Lloyd to an individual bronze medal at the 2012 London Olympic Games. O'Connor is intent on returning to the Games in 2016, and the still-learning Good Luck gives him his greatest chance at qualification.
Good Luck's groom Alan O'Brien took the Chronicle behind the stall door and has the lo- down on the embodiment of Russell Lowell's 19th century poetry:
He's a Jedi master.

Not exactly, but he shares a name with one. Good Luck is affectionately known as "Luke" around the barn. And he doesn't need a lightsaber to triumph over the forces of evil—err, his competitors. His weapon of choice is scope.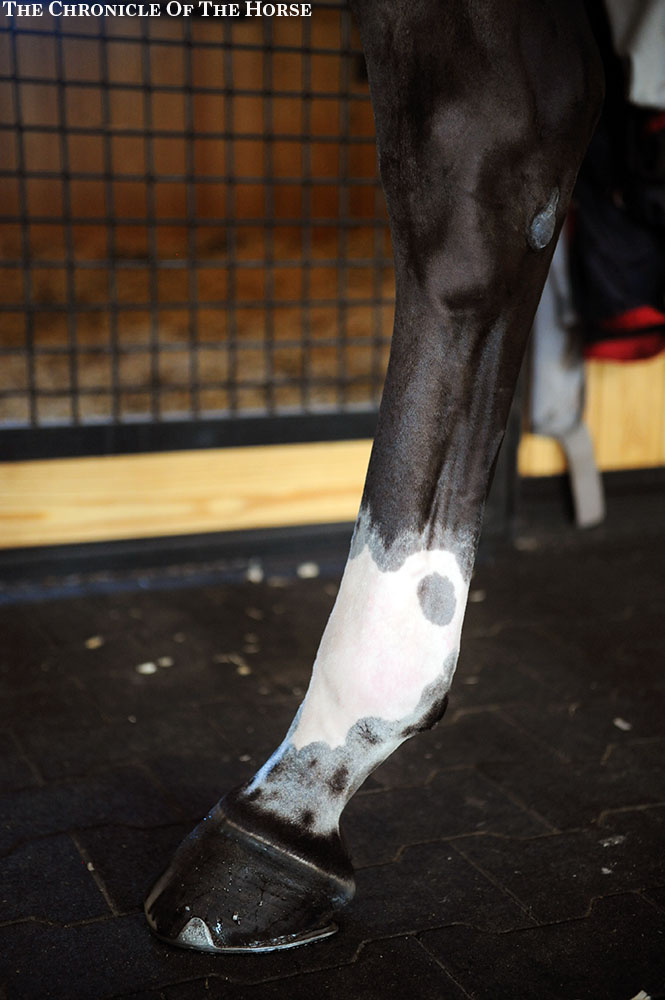 The mark of an equine Jedi master: Good Luck has unique polka-dot like markings on his right hind.
He's a gentleman.

"He's very quiet for a stallion," O'Brien said. "He's very, very relaxed. There's no badness to him. You don't need a chifney on him, you don't need a shank, he doesn't do anything bold. It's great that he's like that, because he doesn't get stressed out when he's traveling or at shows. If there's a mare next door, it doesn't bother him."

Don't mess with his schedule.

"He likes structure," O'Brien said. "He doesn't like when things change. He knows the routine. He has to be fed at the same time, and he'll remind you when it's lunchtime. He'll let you know what he wants and when he wants it."

When given the choice, he'd choose people over horses. He's a loner around his equine comrades.

"He doesn't get attached to other horses, but other horses get attached to him," O'Brien said. "We had Super Sox in Doha [Qatar] with him, and he absolutely loved Luke. As soon as Luke left, he was wondering where he was, but Luke's funny. He likes to do his own thing.

"He gets more attached to people. He knows me, and he knows Cian, and he knows [rider Ross Mulholland], so he knows those people and is used to them. If you put him in a strange place and one of us is there, he's fine. He doesn't necessarily need another companion."

He's a two-rider horse. O'Connor and Mulholland are the only people that ever get a leg up on Luke, and he's become quite comfortable with them, especially O'Connor.

"He knows when Cian's coming," O'Brien said. "He just brightens up when he's around. He loves Cian and he can hear him come in the barn in the morning and knows who it is. They really have a soft spot for each other."

"I suppose he's not an amateur's ride," O'Connor said. "He's a bit of a handful, but we've developed a partnership. Either Ross or myself ride him, and he's very used to us. We normally ride him twice a day. We don't necessarily work him very hard, but we keep him fit and relaxed. It's good for his legs and good for his muscles."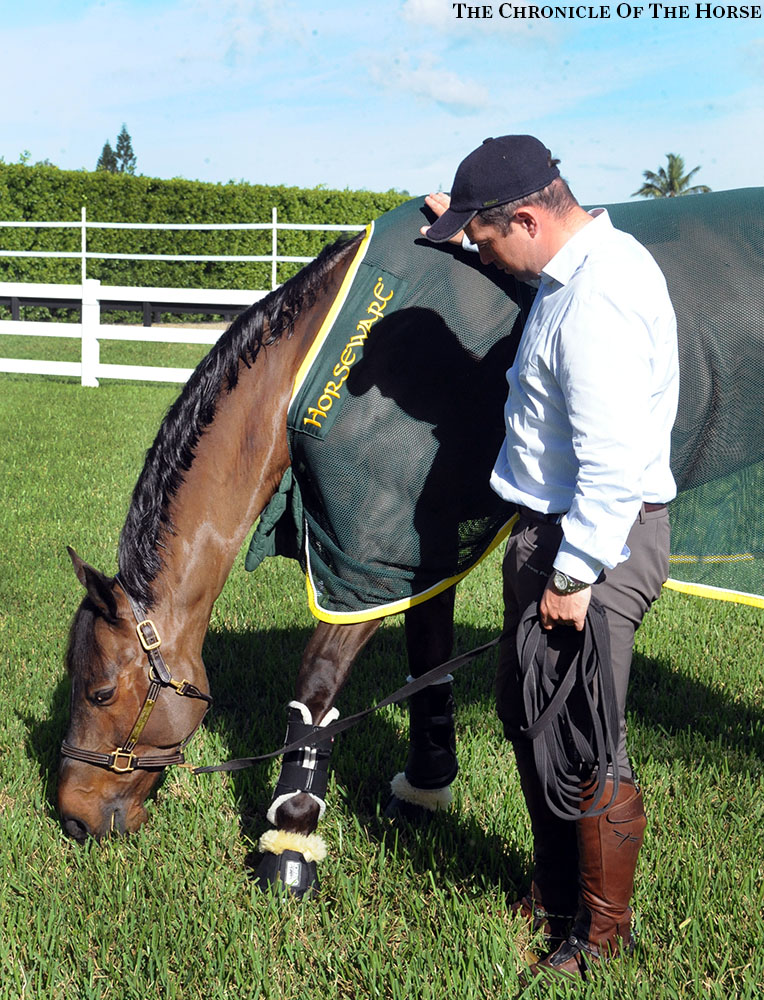 O'Connor and Good Luck
He loves a good spa day—or a good spa two-a-day. Luke goes in the equine spa twice daily for some cold saltwater hydrotherapy, a treatment method used for injury prevention and to increase mobility and reduce swelling before and after exercise.

"He goes once first thing in the morning and then last thing at night after he exercises," O'Brien said. "We fill the water up to his knees, and then he stays in there for 10 minutes. The entire process takes about 15 minutes.

"He gets a little bit impatient until the treatment starts and the bubbles come on—you'll see him pawing around—but then he stands completely still."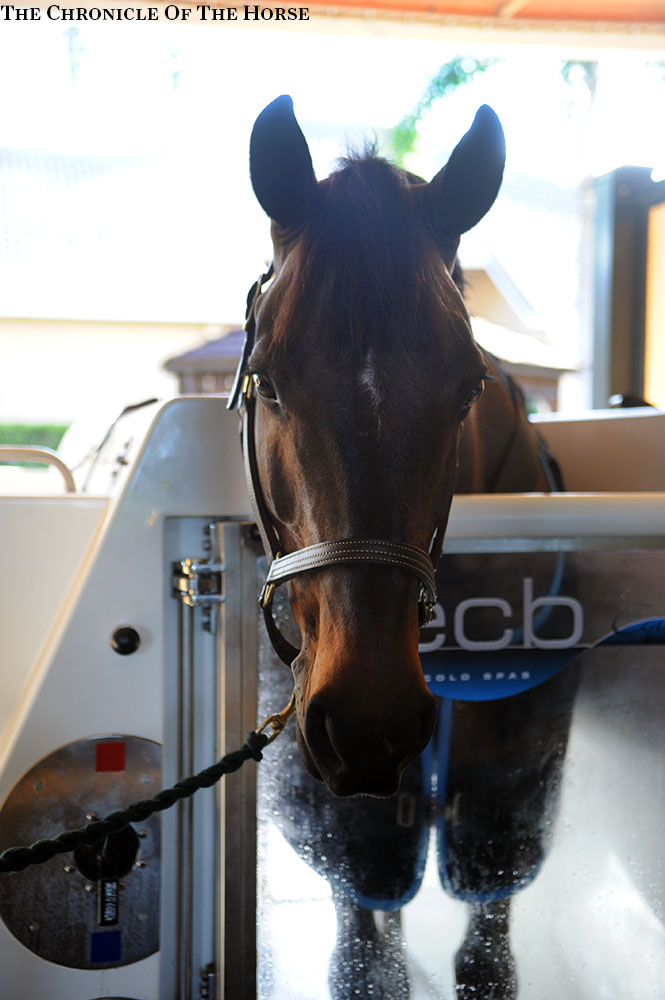 Luke enjoys his spa treatment.
His kryptonite: spray bottles. And not just any kind of spray bottle, but fly spray bottles. Just the mere mention of the words "fly spray" caused Luke to snort in fear.

"Mane and tail spray is OK, but fly spray is not," O'Brien said. "He doesn't like things touching him like that. When I put it on, I have to apply it with a towel."

He's got loose lips.

"If you're not with him and you don't have something in your hand—if you're not feeding him, he'll lick your hand," O'Brien said. "He's always trying to chew at something or bite something.

"He's not picky, but he really likes carrots and Polo [mints]. Give him a carrot, and he'll love you for it."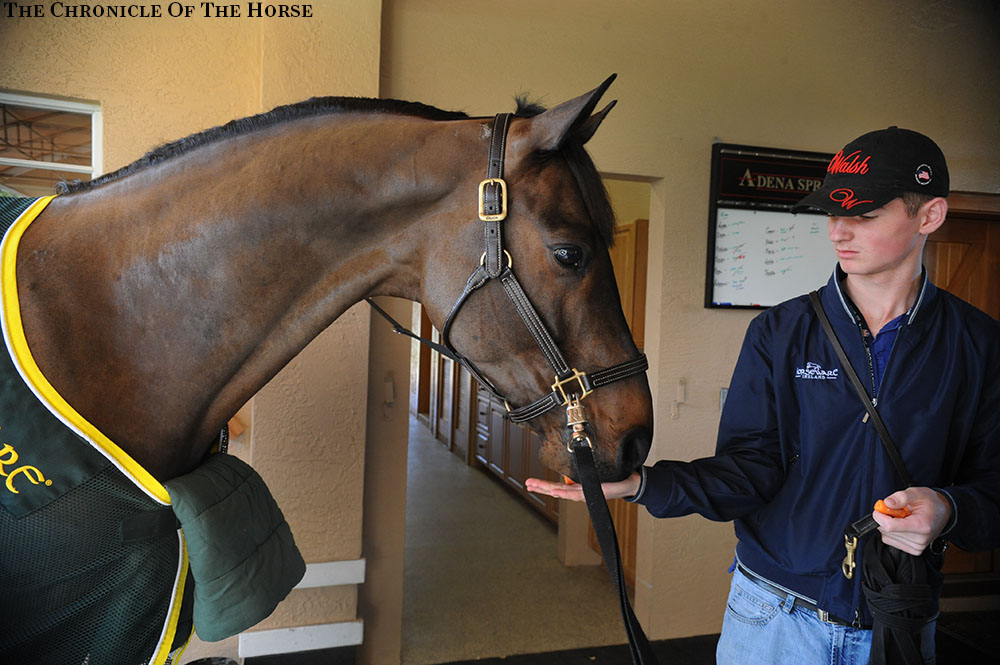 "Give him a a carrot, and he'll love you for it," O'Brien said.
He's the (deservingly) spoiled, favorite child of the family. Luke has his own paddock with fencing a foot higher than any of the other paddocks. Not because he's jumped out before, but when 1.60-meter fences look like crossrails to him, it pays to be careful.

He also has his own set of brushes and may or may not get an extra ration of treats. "I don't try to spoil him, but I do a bit," O'Brien said. "He does get a lot of carrots and a lot of treats. Every time you pass him, you have to give him something. Everyone has to notice him when they walk by, or he'll kick. He's got a kick pad in his stall."

"Alan is with him all day," O'Connor said. "Between the two of us, we know every hair on his body. He gets so much care, he's become like a dog, like a pet!"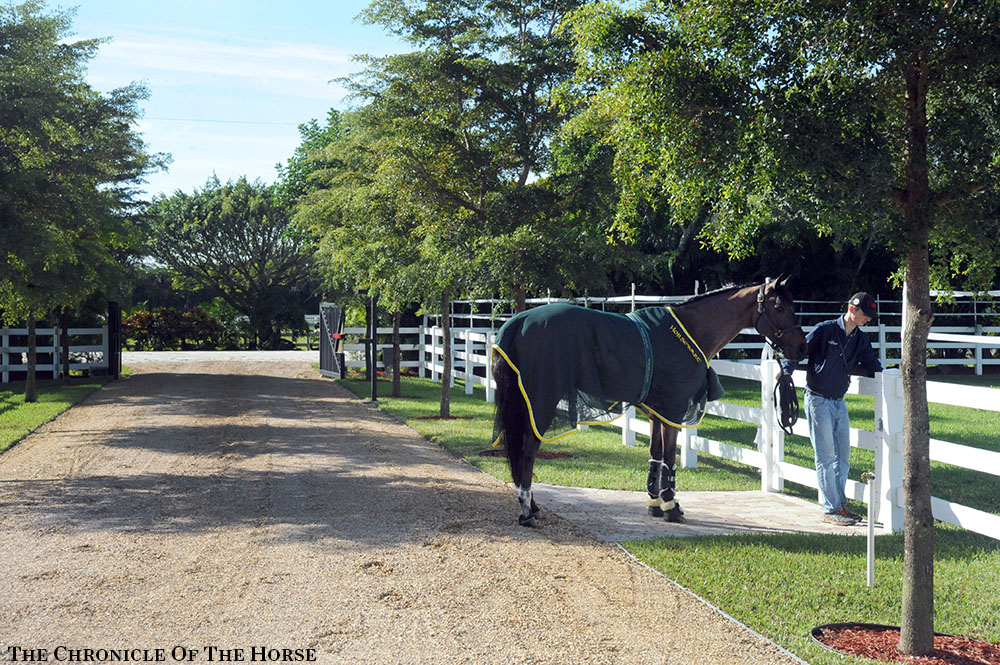 Luke has his own paddock.
He creates his own luck, but a little extra helps, too. Owner Nikki Walker of Adena Springs hung a horseshoe engraved with Good Luck's name on his stall that is displayed proudly.

"Hopefully he'll have a lucky year!" O'Brien said.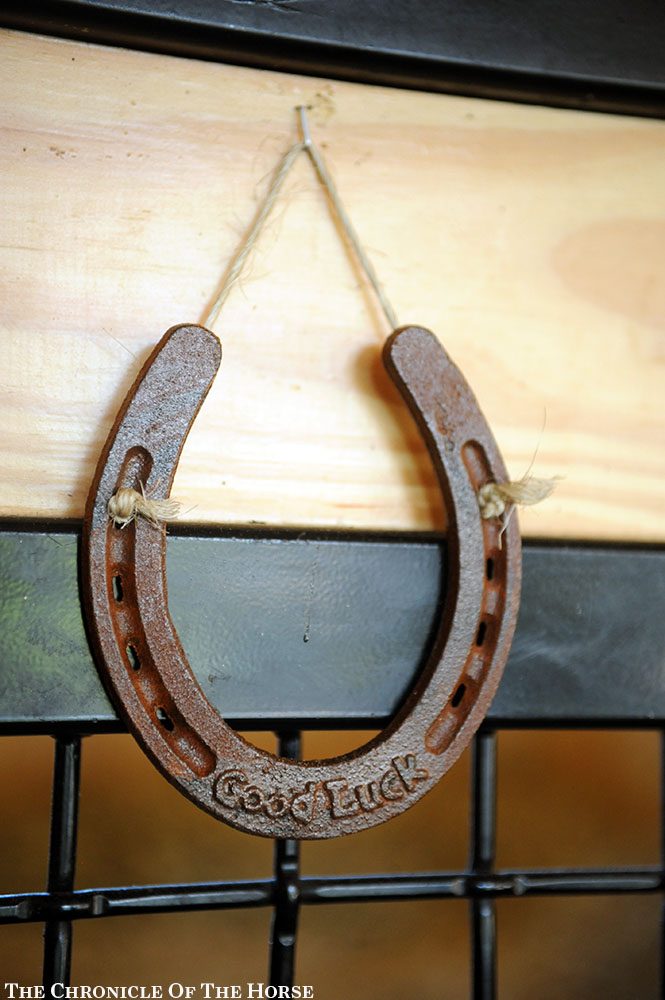 Some extra 'good luck' hangs on Luke's stall door.