Ocala, Fla—March 27
First there was a clunk as a rail dropped to the ground for Andre Thieme. Then, you could hear the whooping from the schooling area. Roberto Teran's crowd of supporters ran back from the in-gate. "You won, you WON!" you could hear them shouting.
And win he did. Teran and Woklahoma topped the Great American $1 Million Grand Prix by more than 2 seconds over a star-studded field.
"I knew I had very fast riders before me and after me, so I tried to go fast without taking too many risks, and it worked out," Teran said modestly after the class.
Those words understate the slick, efficient ride he displayed over the jump-off course. Lillie Keenan had set the stage with a tidy jump-off on Super Sox, but then Teran went in and demolished her time by almost 3 seconds (45.62 seconds to 48.43 seconds).
"This is a great mare," he said about Woklahoma. "She is very careful and brave. She has always tried, but lately she's shown more score than ever. She's on top of her career—super sound and happy."
Teran is on a mission to impress the Colombian chef d'equipe, Marcel Delestre, enough to earn a spot at the Rio Olympic Games. The Colombians have two individual spots available. Teran and Woklahoma have jumped for Colombia at the 2014 Alltech FEI World Equestrian Games (France) and at the 2015 Pan American Games (Toronto).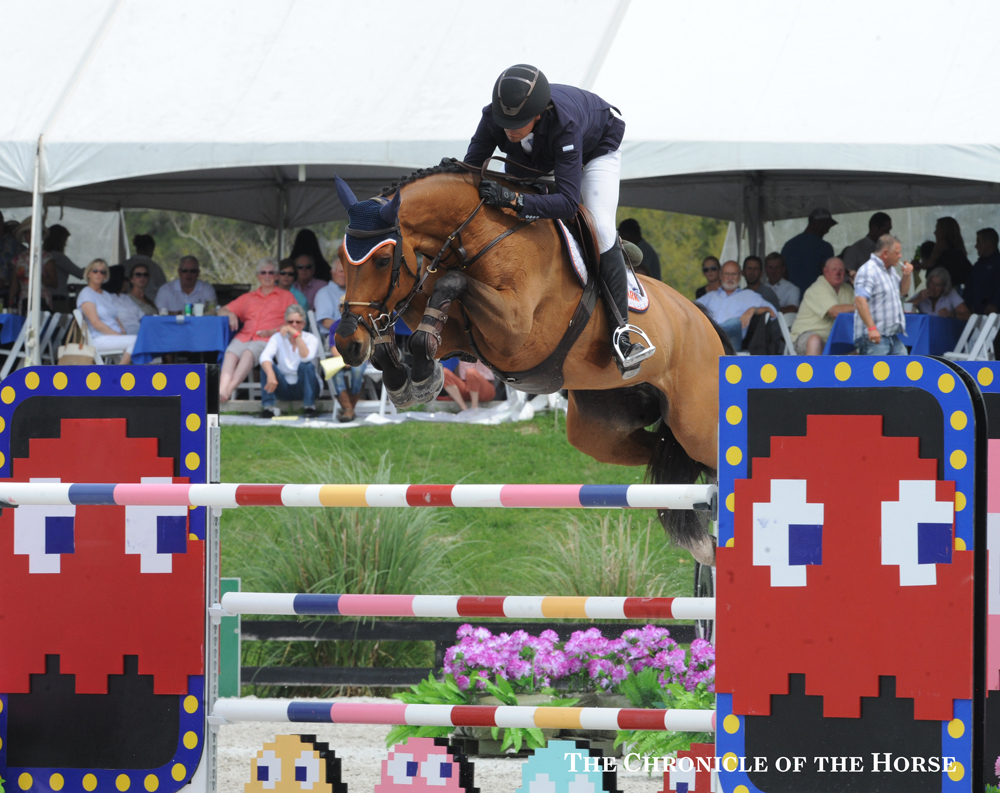 Roberto Teran on Woklahoma on their way to the win in the Great American $1 Million Grand Prix. Photo by Molly Sorge
The only time faster than Teran was Lauren Hough's on Ohala, who stopped the timers in 44.08 seconds, but left a rail on the ground to finish in fourth. Keenan's time held for third, while her trainer, Cian O'Connor, squeaked into second on the amazing jumper Good Luck.
Also taking on Teran were three HITS million grand prix winning veterans— Andre Thieme, Conthendrix McLain Ward on Rothchild and Todd Minikus on Quality Girl. They all ran as fast as they could, but paid for it in rails falling to finish fifth, sixth and seventh. The young Michael Hughes, 18, came in eighth on Torgal de Virton and Jonathan McCrea claimed ninth on Aristoteles V in the nine-horse jump-off.
Teran, who is Colombian but makes his home in Wellington, Fla., had jumped in three HITS Million classes before this victory. He plans to take Woklahoma to Europe to jump in some Nations Cups before the Olympic selections are made in May.
For O'Connor and Keenan, who both traveled to Ocala from Wellington, Fla., for the week, the Great American $1 Million was a class they targeted for this winter. They couldn't have been happier with their second and third place, respectively.
The crowd went silent every time O'Connor jumped a fence on Good Luck. The horse's amazingly elastic technique and huge air time earned him a lot of fans in the crowd. But in the end, the time in the air cost them in the jump-off. O'Connor considered third place a success, however. "It's been a long, expensive winter," he joked. "It'll be nice to go home with a check to pay for some of it.
He considered Alan Wade's track for the Million to be "Big enough, and technical enough. I was surprised so many were clear," O'Connor said. "But to be honest, it feels like I'm jumping 1.30-meter with this horse."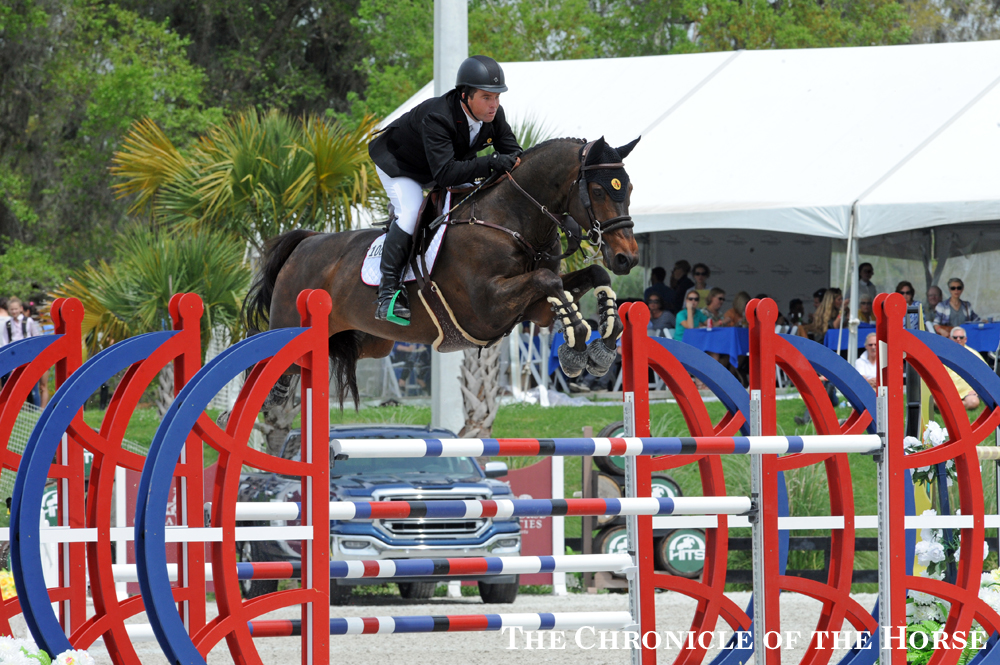 Good Luck and Cian O'Connor. Photo by Molly Sorge
Keenan noted that she was "thrilled with just jumping clean in the first round," since Super Sox just made his five-star grand prix debut at the Winter Equestrian Festival a few weeks ago. "My plan for the jump-off was just to be quick but not wild," since she was the first to jump off, she said.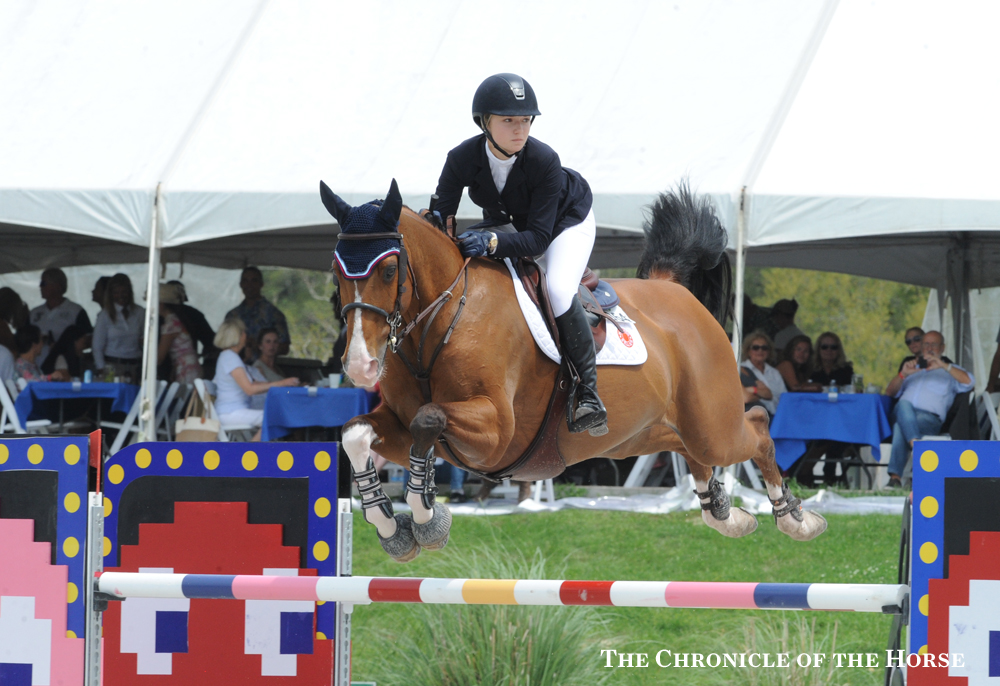 Lillie Keenan on Super Sox. Photo by Molly Sorge
Want to see more photos from the Great American $1 Million, including the signature Rothchild buck? CLICK.
See full results from the Great American $1 Million Grand Prix.
Want to know more about Roberto Teran and how he's developed Woklahoma in the four years that he's had her? Make sure to read the April 11 & 18 issue of The Chronicle of the Horse.