It's only been a year that Phillip Dutton's been riding Fernhill Cubalawn, or "Cuba," but they've already made quite an impression together.
Cuba was the highest-placed American horse in fifth place at his first four-star, the Rolex Kentucky CCI**** in April, and then he jumped clean to help the U.S. team take third in the Nations Cup at the prestigious Aachen CIC*** (Germany). Most recently, they were third at the Plantation Field CIC*** (Pa.), and Dutton has Cuba entered for the Dutta Corp. Fair Hill CCI*** (Md.) next week.
Cuba came up the ranks from training level to the three-star level with Alexandra Green, but in July 2014 Tom Tierney and Simon Roosevelt bought the 12-year-old Holsteiner gelding (Con Capitol—Corse Lawn, Arkan) for Dutton to ride.
Superstar eventing groom Emma Ford takes care of Cuba, and here's what you didn't know about this cross-country powerhouse:
He's not a ready to wear kind of guy. His bridle is a hybrid of a horse headstall and a cob noseband.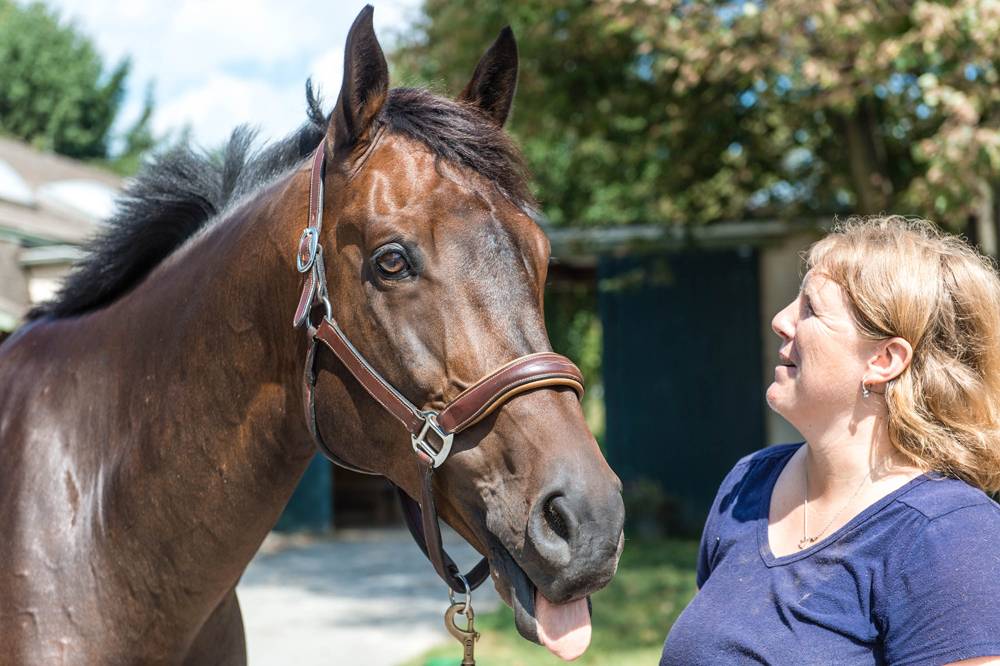 Fernhill Cubalawn pulls a face with Emma Ford.
The prefix "Fernhill" comes from the Irish dealer Fernhill Sport Horses; any horse sold through them has the prefix added to their name. Dutton rides another Fernhill horse, Fernhill Fugitive, too. (You can see Fernhill Fugitive's Behind Stall Door here.)

The 2015 Rolex Kentucky CCI**** was the first four-star for both of them. "The goal was to go this year with the two [Fernhill Fugitive finished ninth] for their first four-stars, but Cuba totally stepped up, and it was really special," Ford said.

He is a pony at heart and in his manners. "If you take him out to the paddock he will tug you down to the grass before you even have a chance. And he's one of those embarrassing ones who you'll be walking around Rolex, and he just be pulling you everywhere," Ford said. "He sets his neck and he's going."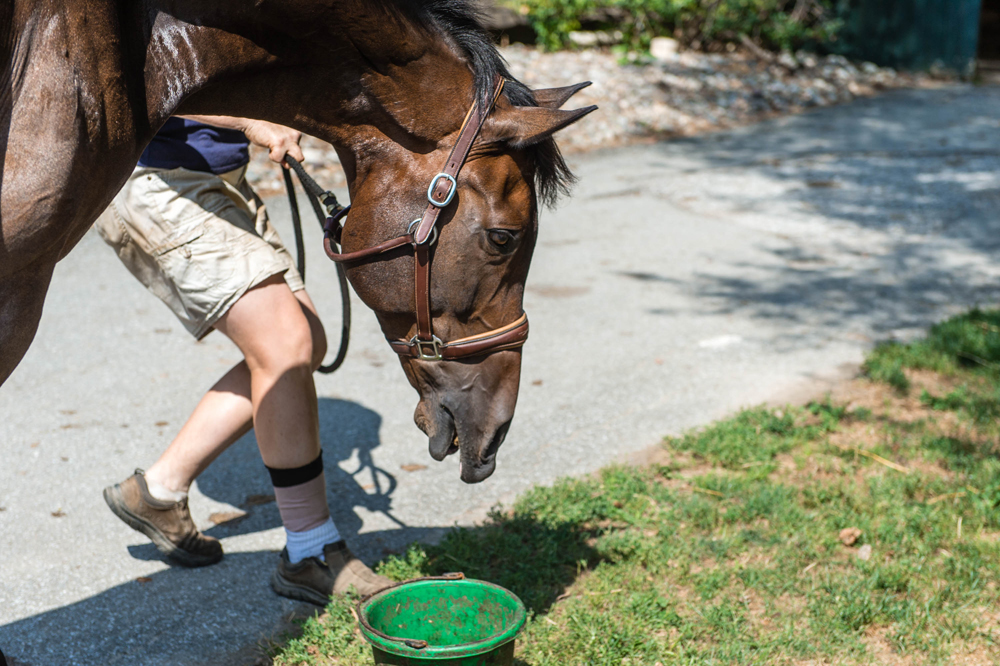 See food, EAT food.
He's a low-key kind of guy. "You can take him anywhere. You can tie him to the trailer; he stands in his ice boots without someone there all the time. We were at a show, and Phillip put [his daughter] Libby up on him to walk around," said Ford.
What's in a name? He's just Cuba in the barn. "Every show someone announces him a bit differently. My favorite is CUB-alawn," said Ford.
Don't get between a man and his meal.

"He's actually pretty aggressive at feed times. We've had neighbors moved at shows because he will go up over the walls," Ford said. "If he could crawl over he would. I always ask for a corner stall and try to situate him."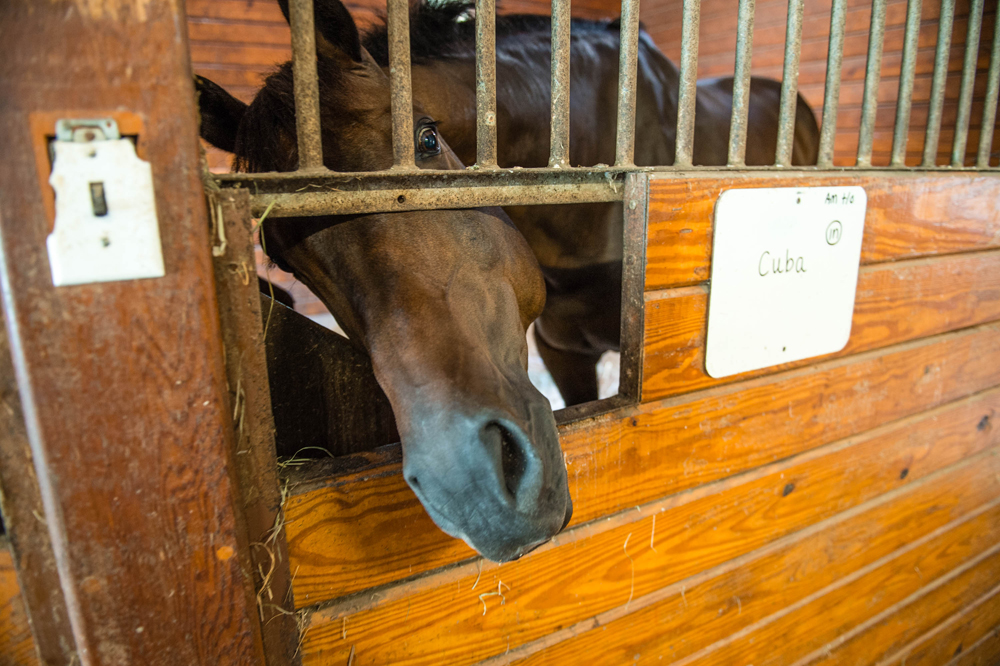 FEED me!
Entomophobia. He's got it. "He loves grass but hates bugs," Ford noted. "They touch him, and he gallops around the field. During the summer he is only out for a few hours in the morning."
Don't let his sweet personality fool you. "He's got a spin; the girls have to watch him. He's not mister sweetheart all the time," said Ford. "I always tell them: Don't be on your phones thinking he's being nice and quiet. He'll be really good for five days, and then on that sixth day…"
He's a people pony. "He loved being one-on-one in Aachen; it was the first show where it was just the two of us," recalled Ford. "And he totally got in the groove of that. He just hung out and was happy to have you at his door side."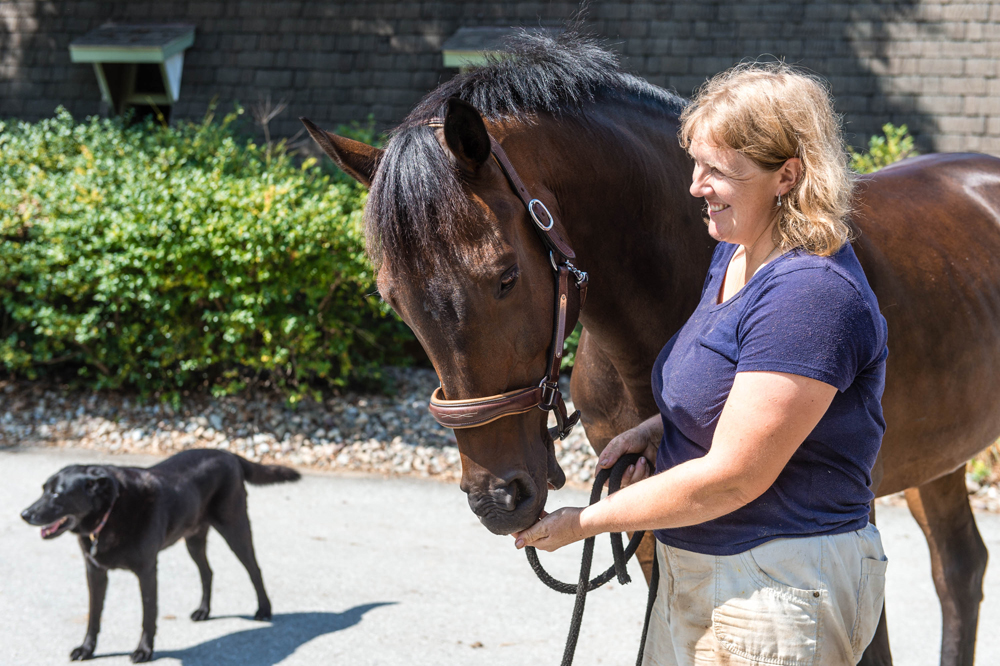 Cuba and Emma Ford.
He likes dangerous women. "The first day we were in Aachen, we were in the small area where we could hand-graze," said Ford. "We were out with Veronica, and he got pretty attached to her. He wouldn't eat, and that is not him.

"Veronica HATES, detests other horses," Ford said. (You can read more about Veronica's prickly personality in her Behind The Stall Door feature.)

"She was 20 feet away, and she was kicking out because he looked at her. I was out there for 45 minutes, and he didn't eat one blade of grass; he totally wanted to touch her. But it was just that one day. After that he was himself."

He could have a second career as a tack store model. "At Aachen you couldn't have gotten more of an electric atmosphere, especially since the Germans had won, and he just stood there like a saint," Ford said.