Lucy Davis scored a dramatic upset in the Longines Global Champions Tour Grand Prix of Lausanne, with the 20-year-old defeating some of the world's biggest names in show jumping. She's now the youngest rider to win a GCT event.
"I still can't believe it. It's amazing because my family all came over from the States for this show to watch me—my granddad and my dad and my mom, so it's great to be able to share that with them," Davis said.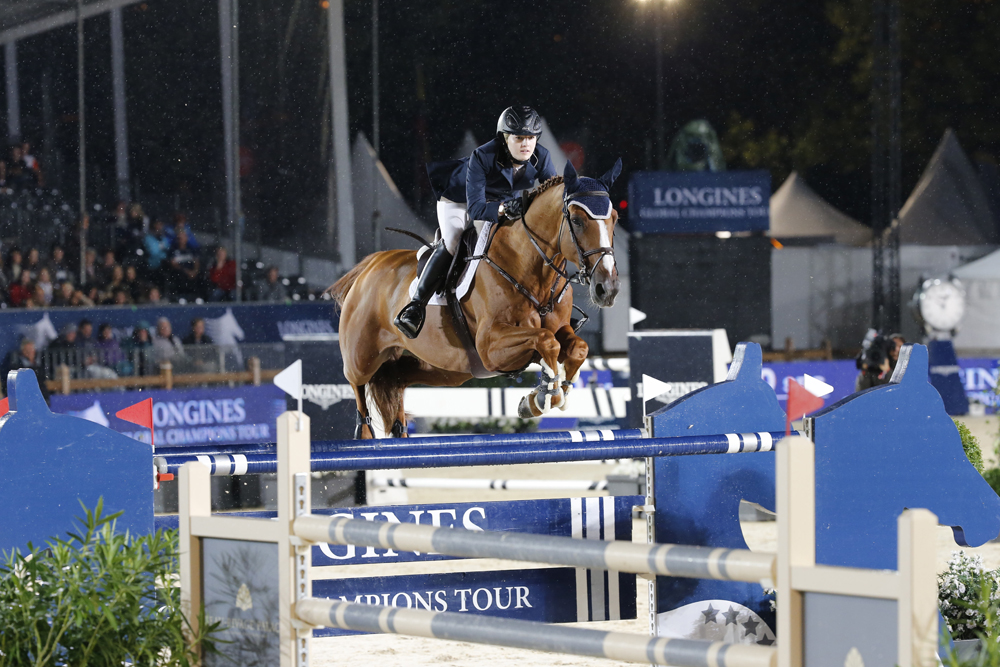 The crowd got to their feet to cheer Lucy Davis
and Barron on in the jump-off round.
Stefano Grasso/Longines GCT Photo
As last to go in the nine-horse jump-off, which was conducted during a downpour of rain, Davis had a tough mark to beat. Frenchman Patrice Delaveau had notched a clean round in 38.90 seconds. They all ran to beat him, but only his countryman Kevin Staut, had come close. Staut rode Silvana HDC to a clan round just .07 seconds slower than Delaveau on Carinio HDC.
When Davis trotted into the ring as the last to jump, many spectators had assumed the victory would be a French one, given Davis' relative inexperience. But Davis laid it all on the line, kicking on her Barron to a fantastic pace. The crowd got to their feet, cheering her on. After taking a flyer to the last fence, Davis looked up at the screen to see her time, and was rewarded with the news that she'd been a fraction of a second faster than Delaveau.
Earlier this summer, Davis and Barron, a 9-year-old Belgian Sport Horse (For Pleasure—Vita van het Riethof, Nabab de Reve), turned in two clean rounds to help the U.S. team take second in the Furusiyya FEI Nations Cup at Rotterdam (the Netherlands).
Not only did Davis win the day, but U.S. rider Laura Kraut remains in the lead of the Global Champions Tour. Kraut's day started well when she and Cedric jumped clean in Round 1, but disaster struck in Round 2. Cedric had to reach for the back rail of an oxer on course, and when he tripped a bit on landing, Kraut got unbalanced. They were discombobulated for a stride or two, and there were only five strides to the next vertical. For a moment, it looked as though Kraut was going to pull off a remarkable recovery, but Cedric decided at the last moment that it wasn't possible and stopped. Kraut came off over his head, eliminating them.
However, since the riders lurking right behind Kraut in the standings—Christian Ahlmann, Ludger Beerbaum and Luciana Diniz—also didn't earn significant points, she still has a 2-point lead over Ahlmann. There's just one competiton left—Vienna, Austria on Sept. 19-22—before the Longines GCT Final in Doha, Qatar on Nov. 21-23.
For all the results and to see videos of each round, see the GCT website.