He's fast, agile and imposing, and unlike the racecar driver, his career is just getting started.
The more Stars and Stripes' 11-year-old Dutch Warmblood gelding Andretti S (Corland—Tabelle S, Animo) does, the better he goes. In 2015, he returned from some time off to win the $85,000 Fidelity Investments Classic at the American Gold Cup (N.Y.) and finish third in the $35,000 Jolera International Jumper Welcome at the Royal Horse Show (Toronto) in November with rider Laura Kraut.
This year at the Winter Equestrian Festival (Fla.), he and Kraut kicked off with second place in the $35,000 Ruby et Violette WEF Challenge Cup in Weeks 1 and 2.
The versatile gelding has endless scope. He even finished second in the puissance at CSI Verbier (Switzerland). He can be a little immature, but he has all the ability according to his connections—as well as one pretty great equine mentor. Here's everything you need to know about the dynamic Andretti S:
He's a horse of many nicknames. His stall plate lists him as "Andy," but groom and rider Michelle Kristensen says the tall chestnut also goes by "Big Red," for obvious reasons.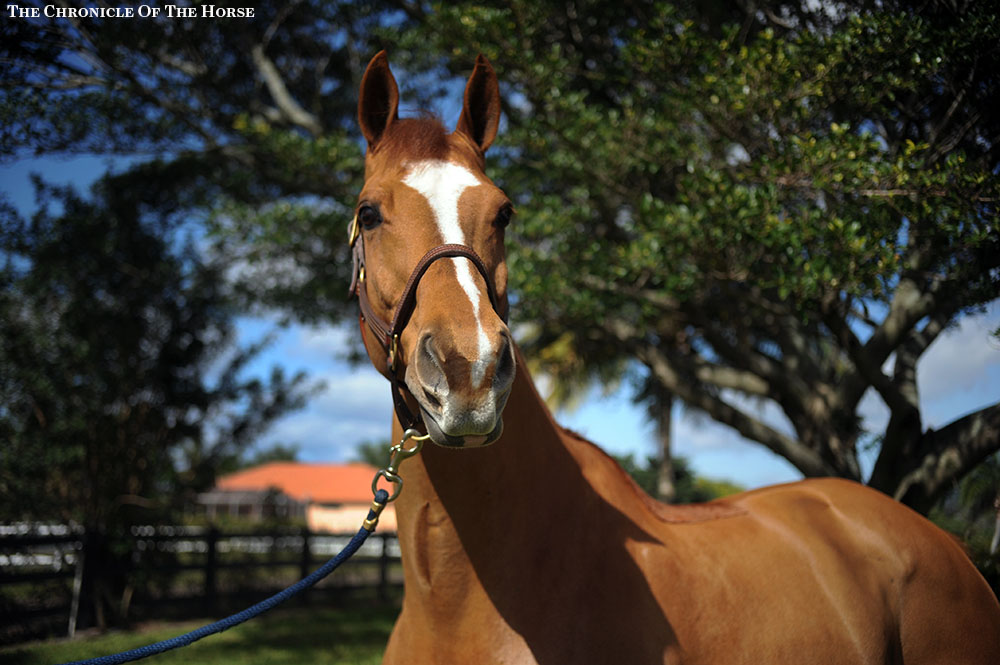 "Big Red" Andy
He's friendly—friendlier than a salesman at a mall kiosk that's looking to give you a free sample of perfume. If you are anywhere in the vicinity of his stall, he will try to reach out and nudge you. If his stall door is open and you are standing in front of it, he will immediately walk toward you and thrust his head in your chest. If you're within earshot, he'll call for you.

"He's a very loving horse," Kristensen said. "He loves people. When you walk into the barn, he's always screaming for you. He's just the sweetest. He's very goofy and easy to be around.

"He loves other horses, too," she added. "If it were up to him, he'd share a stall with other horses in the barn."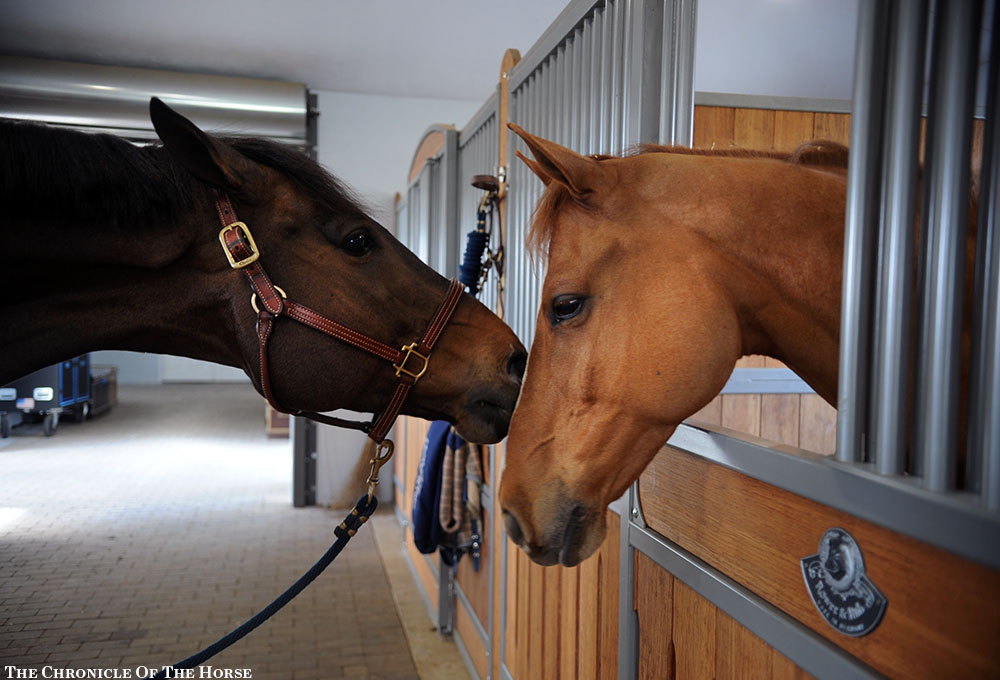 Andy will always happily welcome a visit with his barnmates, including Deauville S.
To whom is Andy closest? His equine mentor and closest friend is none other than Olympic gold medalist Cedric, who is still going strong at 18 years old.

"He and Cedric are especially good friends," Kristensen said. "They'll rub on each other and play with each other. He loves Cedric." (Cedric was one of our first Behind The Stall Door subjects.)

But when traveling, Andy gets attached to whoever is around.

"He gets very attached to other horses when we travel," Kristensen said. "I had him, Deauville S and Constable II at indoors, and he got very attached to the other two. When we came down to Florida in the winter and there were many other horses and he wasn't stabled beside those two, he kept screaming for them. But as soon as he figured out there that were a lot of other horses around, he was completely fine."

He's alert. Andy is incredibly detail-oriented, and changes in surroundings do not occur unnoticed by him. If you can't see it, Andy probably can.

Andy on alert.
He's Mr. Sensitive. He only goes in the softest bits possible.

"I use a soft rubber snaffle on him," Kristensen said. "He's a very sensitive horse, so we can't [put] too much [in his mouth]. If not, he'll get a little scared of your hand.

"He always sticks his tongue out with the bit in his mouth, too," she added.

He's an outdoorsman. He enjoys going out and getting his hooves dirty. He prefers that rugged man smell.

"He loves a good turnout, and we hack out a lot," Kristensen said. "We'll go out on all the trails, and he loves that. He's very brave.

He believes no outfit is complete without a few shavings sticking to it. "Every time he goes back in his stall, he rolls—always," Kristensen continued. "There's never one day that he doesn't do it. It's every single day, even after you spend a lot of time making him look nice. He'll always be covered in shavings."

He's the jock that's seemingly good at everything. Kristensen says that when she rides the gelding, he feels like he could master some technical dressage movements.

"His canter is so flowing, you just sit there and follow [the motion]," she explained. "You can get him to do pretty much anything you want. It's a nice feeling. He's light in the hand, and he'll do whatever you tell him to do—as long as he can figure out what it is [that you're asking]."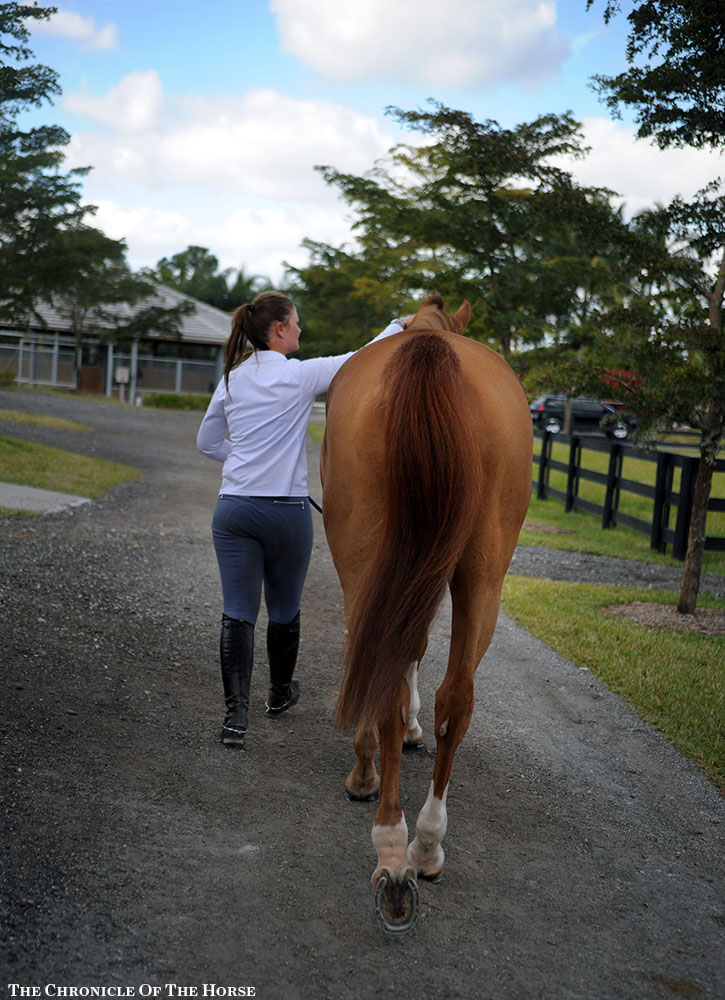 Andy and Kristensen