Careful, clean cross-country riding put this rider in the ribbons.
Two years ago, Josh Barnacle didn't know if he'd ever ride Florestan du Serin around a cross-country course again. A tendon injury took the horse out of play, and that made his advanced victory at the Woodside Eventing Spring Horse Trials, May 23-25 in Woodside, Calif., that much more meaningful.
"He was awesome. I did exactly what I wanted to do. The win was a bonus," said Barnacle, 21.
Barnacle, Santa Rosa, Calif., has owned the 15-year-old, Selle Francais gelding (Sir du Manoir—Houle de Brise) since 2002. From the start, "Flo" had good results, but the pair has definitely experienced some ups and downs along the way.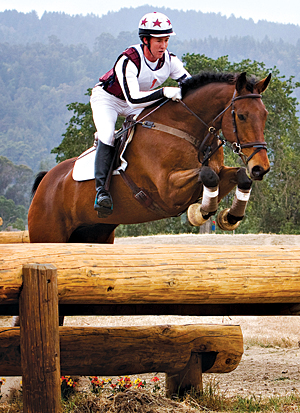 In 2004, he was on his way to the Fair Hill CCI*** (Md.) when Flo injured himself in the trailer. He came back in 2005 and won the Galway Downs CCI** (Calif.), but then he was sidelined again in 2006 with the tendon injury.
While Flo was recovering from the injury, Barnacle grabbed the opportunity to spend some time on the East Coast training with Jim Wofford and David O'Brien. He worked for Adrienne Classen in North Carolina and rode her horse, Rafferty's Rules, at the two-star level.
"Adrienne used to live in California. She's a good friend of ours," said Barnacle. "She lived in the Woodside area and took lessons with Yves Sauvignon, whom I grew up riding with."
When Barnacle started to pine for California again, he came back to find Flo rehabbed and almost ready to start eventing again, thanks to the patient efforts of his sister and aunt.
"My sister Rachel, who hadn't ridden in six years, said she would do all the boring stuff and rehab him for me," said Barnacle. "After she got him back to full work, she decided to get back into eventing. It was very nice of her to do that. I'm not the most patient rehab rider. When I came back, I let her start riding one of my other horses. She did her first event back at Woodside. She's 18. My aunt, Jan White, took charge of taking the horse to the vet to get ultrasounded and all the really important veterinary stuff."
Now Barnacle has his eye on Fair Hill again. He needed a good run at Woodside to qualify, and he hopes to finish his qualifications in the CIC*** in July at The Event At Rebecca Farm (Mont.).
"I knew I would be slow [at Woodside] because he's not fit enough, and he's not a fast horse anyway. I wanted him to come out healthy and have a qualifier," said Barnacle. "I need to get him to gallop a
little more uphill. He was a little flat. I don't feel like I can jump some of the fences as quickly as I need to make time.
I cruised around and went 45 seconds slow. I wanted a safe round."
Barnacle was the only rider to jump Derek di Grazia's cross-country course with no jump penalties, so he went into show jumping with quite a cushion, despite the time faults. Three rails down and 9 time penalties still left him far ahead of second-placed Marc Grandia aboard I Spy.
"He is a good jumper, but he's not an easy horse to ride in show jumping," said Barnacle. "I do need to work on that. It's not going to be like that every time. I have to step up my game if I want to compete with the big guys.
I want to be competitive at Fair Hill. I wanted to have a better show jumping. I've got a lot of work to do between now and then."
Barnacle splits his time starting horses for dressage judge Sue Curry and riding for a sales barn. He found his next prospect, Globetrotter, at the sales barn, and the 5-year-old, Oldenburg gelding won his novice division at Woodside.
Barnacle hopes to contest the American Eventing Championships with Flo and the Young Event Horse Championships with Globetrotter this fall when he returns to the East Coast before Fair Hill.
Sara Lieser