In the lead-up to the 2021 CHI Geneva (Switzerland), Laura Kraut and her team worked their way through their well-refined pre-trip check list for competing horses Baloutinue and Confu. In addition to packing the appropriate tack, feed and favorite treats, a veterinarian gave each horse a serum amyloid A (SAA) blood test to check for any systemic inflammation or infection, which the barn often does on horses before they travel.
The SAA tests take only a few minutes to process, and Confu's count came back at zero, signaling a healthy horse. But just as quickly, he changed.
"When we did it, he had nothing that was bothering him," Kraut recalled. "My sister [Mary Elizabeth Kent] was tacking him up, and he became very uncomfortable when she tightened his girth, which was unusual.
"We were very lucky we had a vet there," she continued. "We thought that maybe he was colicking, so they treated him for colic right away. He was better, but then pretty quickly, he became very painful again."
They immediately shipped St. Bride's Farm's 15-year-old German-bred Holsteiner gelding (Contact Me—Riga II, Cambridge 8) to a veterinary clinic, where his condition continued to puzzle veterinarians.
"Within hours, his SAA count went from zero to in the thousands, which is really scary," Kraut said.
Confu was diagnosed with pleuropneumonia, also called pleurisy, which is an infection in the lungs and the pleural cavity—the space in between the lungs and the chest wall.
"Apparently, humans who get it say it's excruciatingly painful," Kraut said, "which would explain why when she tightened the girth, that must have just added pressure, and that's why it became so painful."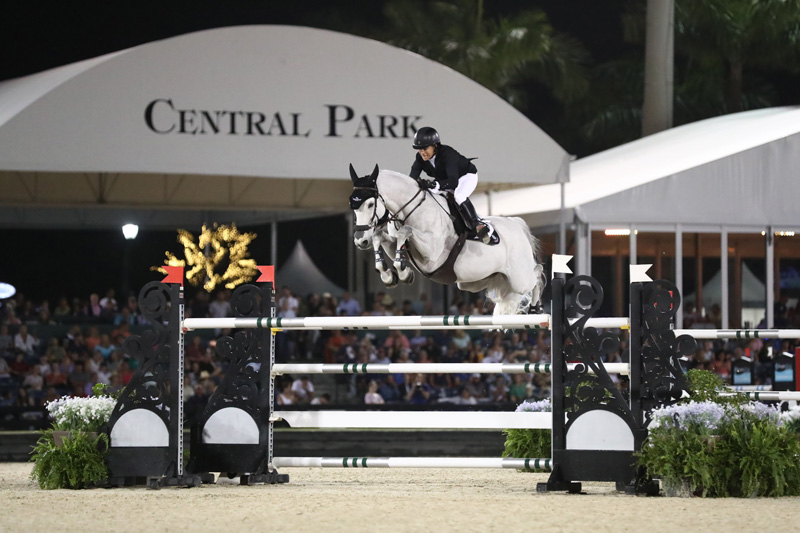 Veterinarians first fought to save Confu's life, then they started to worry about how much damage the virus would cause to the gelding's lungs.
"In the beginning, their prognosis was dire," Kraut said. "They were worried even if he would make it, and if he did, they were worried he would have so much lung damage that he would have to be definitely retired. They were talking along those lines."
If Confu realized how poor his prognosis was, he didn't show it.
"He rallied," she said. "He was always bright. We would go visit with him literally two or three times a day. His spirits never seemed to be down, which I think is good. So, I think the vets were more pessimistic than he was. I actually was pretty optimistic because I just know what kind of character he is. I was happy to see that he just stayed strong and powered through it."
Kraut received confirmation of her gut feeling about a week and a half later, when the veterinarian gave her the green light to let him move a bit in the round pen.
"He said, 'You know, I wouldn't normally do this, but I think with this horse you can,' " Kraut recalled. "They said, actually at this point, you want to be keeping his mental health in mind as well as the physical health. I was able to let him go out. He had a buck; he wasn't wild. He definitely was happy to be out, and he was dragging me around trying to eat grass. So, at that moment I knew he would definitely be fine."
Weeks later, he was able to return to home.
"Julie Welles started him back," Kraut said. "She knows him as well as I do. So, she started him back and started him back slow. But they said to just work him as we thought he could handle. And really, she said, even within a week, he felt like he was back to himself. He's always been a really fit horse, so I think that that helped.
"We've had the intern check in regularly, checking his lungs and checking everything," she added, "and they're pretty much in awe of how well he's come back."
With a clear bill of health, Confu traveled to the Winter Equestrian Festival in Wellington, Florida, near the end of January. And on March 19, Kraut decided to enter him in his first grand prix since his illness, the $216,000 Horseware Ireland Grand Prix CSI4*.
"I was really hopeful that he would jump clear in the first round, but I also felt like if he had one or two down, I wasn't going to be too disappointed," she said. "Because he has not been in the ring for over three months, my expectations were low."
But he stopped the clocks at 36.44 seconds in a 10-horse jump off (watch their winning round here) to take the top honors above Conor Swail and Vital Chance De La Roque. And with her team collectively to tears—and owner Barb Roux cheering from afar—Kraut rode Confu into the prize-giving ceremony, where he received a full dose of treats.
"I think he enjoyed every minute of last week," Kraut said. "He was definitely in his element when he got to ride in for the prize giving. Someone posted something like 'Good thing he's in a hackamore because he can eat all of his treats.' And it's true. He was consuming buckets of cookies and carrots and bananas—everything."
While every victory is a team effort, Kraut felt the truth of that even more profoundly in this instance. From Roux's support to Kent's horsemanship to Welles' fitness routines to the grooms and veterinarians, each played an integral role in helping Confu not just recover his health but return to top form.
"It was a victory and a great moment for everyone," Kraut said. "So, I think that's what made it the most special. It's always a team effort. but in this case, it was a major team effort."
If one person or one element had been different, Kraut believed Confu's fate could have changed.
"He's just a super special, super tough horse, in that I didn't think he ever felt like his life was in danger," she said. "But I think all of us knew that if it went the wrong direction, it wouldn't have been good.
"Had there been different circumstances, he might not have been so lucky," she added. "I was very fortunate."
---
Do you know a horse or rider who returned to the competition ring after what should have been a life-threatening or career-ending injury or illness? Email Kimberly at kloushin@coth.com with their story.