"C is for cookie, that's good enough for me."
It's only fitting that Confu's name starts with C because if it were possible to find Cookie Monster in horse form you've found it. The quirky gray gelding lives for treats—of any variety—and has got Laura Kraut's grooms properly trained to make sure he gets as many as he wishes.
"When he comes out of the ring, he always looks," said Paul Taylor, who looked after the gelding while he was competing in North America this fall. "Like, he'll clock me. He knows which [groom] is his. He walks out of the ring, and he look. And you give him a nice treat, and then he walks off, and then he's about five paces, he stops. He swings his head around, and goes 'Another one?' He's like, 'Where's the next one?' He's funny like that.
"You hold him at the ring and he's always in your pocket. You can't give him one because that's him until the rest of the night."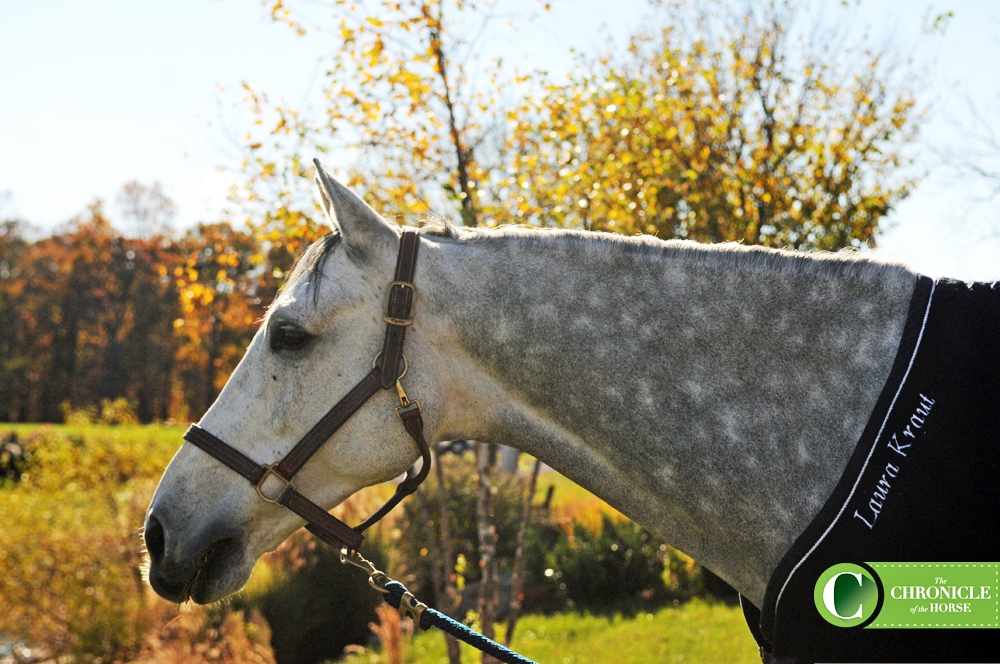 Confu. All Photos by Kimberly Loushin
Laura Kraut paired with the 9-year-old German-bred Holsteiner (Contact Me—Riga II, Cambridge) owned by St. Bride's Farm in March. The gelding got his international show jumping start with Wolfgang Puschak before spending two years under the guidance of Fabrice Schmidt before Kraut got the ride.
Confu made a name for himself when he jumped to the top of the CHIO Aachen's Stawag Speed Stake (Germany). He followed that with a fourth place finish in the $216,000 Longines FEI World Cup qualifier at the American Gold Cup (N.Y.) in September and placing second in the welcome stake and seventh in the $130,000 Suncast Grand Prix at Tryon Fall 4 (N.C.).
Most recently, Confu and Kraut took second place in the Longines FEI World Cup qualifier at the Washington International Horse Show (D.C.). They finished Confu's season with fifth place in the $75,000 Big Ben Challenge and 10th in the $130,270 Longines FEI World Cup qualifier at the Royal Winter Fair (Ontario).
Here's what you need to know about Confu:
He loves to be pampered—that includes clipping because that means then he gets to stand under the heat lamps, which is one of his favorite activities. Getting his ears clipped though? Less fun.

Confu and Paul Taylor.
Because he's difficult with his ears it also means that putting in earplugs can sometimes be a bit of a struggle.

"We've got him trained now because we had a lot of trouble getting them in and getting them out," said Taylor. "We can do it quietly and as soon as we do he gets a treat too. So he's associating that with a treat. So he goes, 'Oh god,' and then you do it and he goes, 'Where's my treat?' "

To help Confu with his earplug aversion they sewed ribbons to the earplugs so that they can grab the ribbon and quietly pull them out without having to dig them out.
"I do it usually put them in about an hour before he jumps because it could take me one minute or it could take me 10," said Taylor.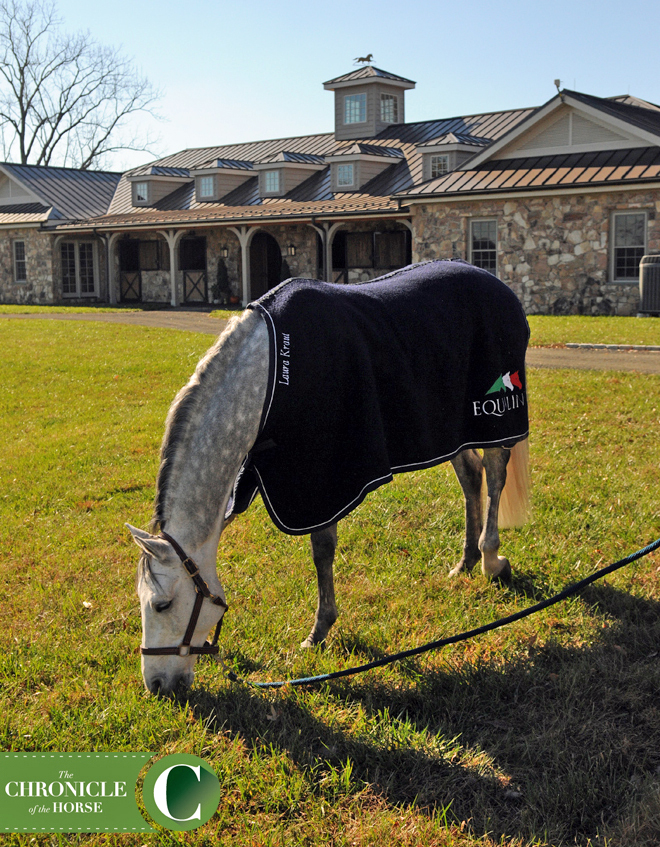 Taylor estimates that Confu stands at 16 hands, but don't tell him that. He thinks he's a lot bigger.
"He's developed this year. Like when he first came, he was a bit more pony-ish, but this year, he's butched up."
The way Confu keeps bringing more to the table despite his diminutive size reminds Taylor of another great gray Kraut had: Cedric.

"This horse has just come along at the most amazing time because he's like Cedric 2. He keeps surprising you—coming out jumping the big jumps. She loves him, Laura does."
It should come as no surprised that Confu is a good eater. He's doesn't devour it though, he likes to savor it.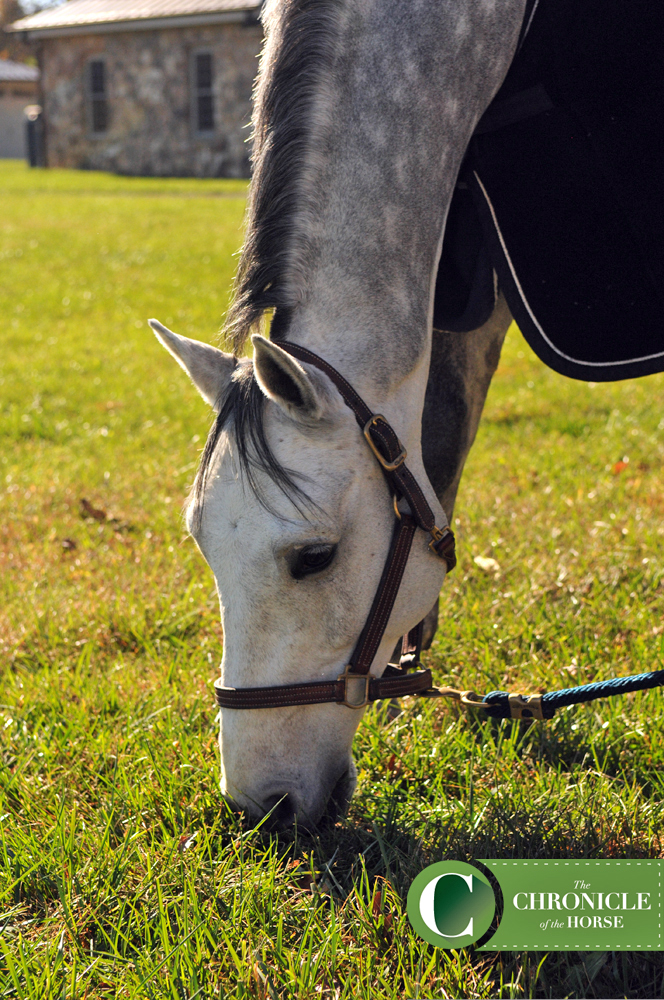 He gets the nickname "Rocket" for a reason.

"Because sometimes he's like a rocket," said Taylor. "But you know when it's coming because he always farts first. You can have have a nice school for like 15 minutes—trotting, cantering, whatever. And then you'll be walking him in, and then he'll be facing the other way. He's so strange like that. He's just naughty in a nice way. He's not naughty in a 'I'm going to kill you way.' "
Rocket's easy to get to the ring. No lunging required, just a nice flat session to get him loose.
At home Rocket goes out on the walker for 45 minutes to an hour and then goes for a ride. Sometimes that just means for a trail ride and other times it's for a short flat session before heading out on a hack. He especially enjoys hanging out in the field—after all, eating is one of his favorite activities.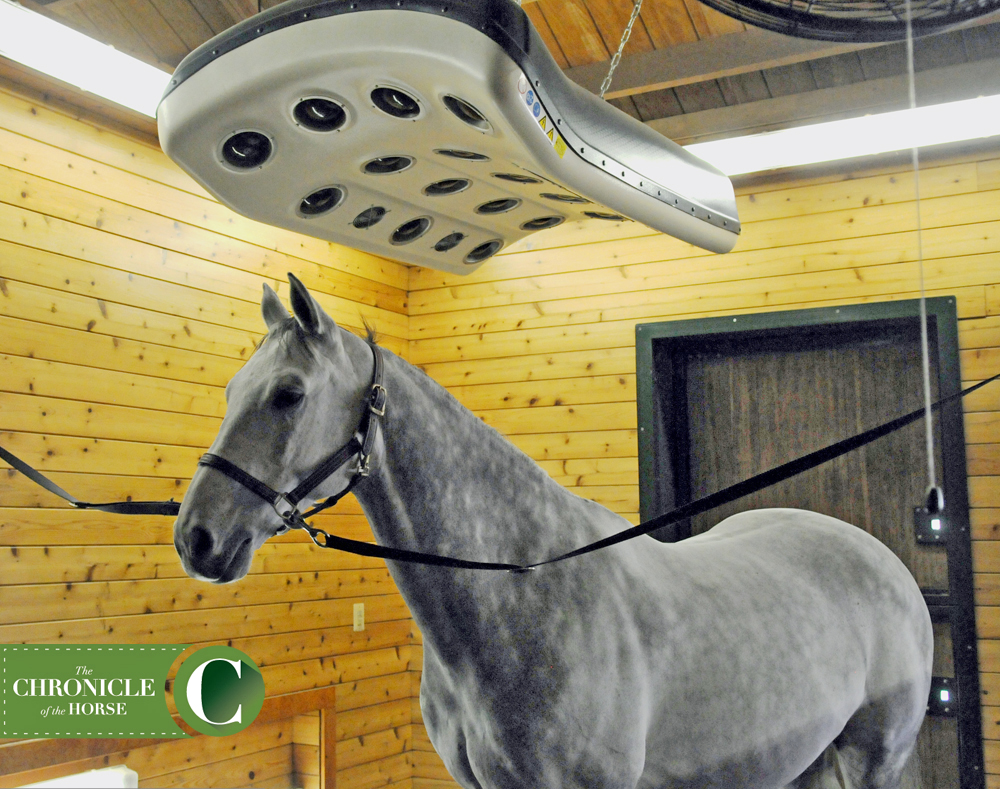 Confu standing under the heat lamps.
Washington was the first time that Rocket had shown indoors with Laura but he never missed a beat, not even in the cramped schooling ring.

"He just doesn't care," said Taylor. "A bird on the floor would upset him greatly, but 10 horses galloping towards him he wouldn't care."
He's a groom's favorite kind of horse because it's easy to tell when something's wrong.

"I had to do his temperature in the morning and night before Washington. Rocket is 99.7 [degrees] every single day. He never varies at all—morning, afternoon, he was the same every day. The others vary a little bit but not Rocket—99.7," said Taylor.
"When you walk out of his stable, if you're not quick to turn around, he's right behind you," said Taylor. "And you turn around and he's halfway through the door. He thinks you're taking him—he's not running, you know. You just turn around and you say, 'Get in!'
Confu is a lover, not a fighter. But only when he's gotten what he wants. "He's not evil in any way. He's a very kind horse. Except when you don't give him treats."