He and Beezie Madden are gearing up to win big money before heading to Europe.
The jump-off for the $200,000 CN Worldwide CSI-W turned into a blazing duel between two of the fastest horses in the country as Beezie Madden and Authentic went head-to-head with Kent Farrington and Up Chiqui.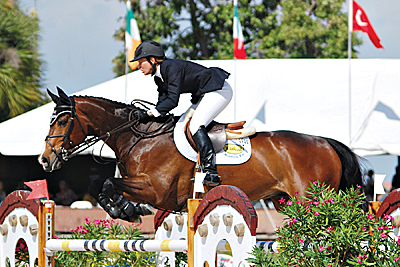 It's hard to beat Up Chiqui, but Authentic and Madden survived a momentary blip to do it, topping the class held March 16, during week 9 of the CN Winter Equestrian Festival in Wellington, Fla.
"I saw Kent go before me and knew I had to be fast in the jump-off," said Madden. With the crowd screaming at them to go faster to the last jump, Authentic stumbled, and the cheering paused. But a split second later, the Olympic veterans regained their ground and continued on to the final obstacle, still managing to better Farrington's time.
"After he tripped, I changed my mind and decided to add a step. Kent had been a little slow and wide after the triple bar, where I had done one less stride than he had," said Madden.
Madden's time of 34.17 seconds shaved more than a second off of Farrington's (35.23 seconds). Farrington and Up Chiqui, winners of the $150,000 CN US Open Jumping Championship on March 9, claimed second while Chris Kappler, Madden's 2004 Olympic gold medal teammate, took third aboard VDL Oranta in a time of 36.33 seconds.
Lazy Sunday Banks A Win In $50,000 International Hunter Derby
When Scott Stewart rode Beyond into the Internationale Arena at the Palm Beach International Equestrian Center on the evening of March 21, he was leading the $50,000 ASG Software Solutions/USHJA International Hunter Derby on Lazy Sunday and had the best first-round score on Beyond.
But the one-two finish slipped away as a dropped rail at the last fence put Beyond out of the money and left Lazy Sunday at the top of the class, picking up a check for $15,000. Patricia Griffith claimed second on Bradley Cox's Kosta. Jennifer Alfano and Rock Star, who won the $25,000 ASG Software Solutions International Hunter Derby on March 15 at the HITS Ocala (Fla.) venue, finished third.
Round 1 of the class went during the day of March 20, with 59 starting. Round 2 went under the lights on the evening of March 21, and 26 returned. Richard Jeffery built a course with plenty of unusual elements. One jump had large fake boulders placed at the base.
"The boulders sort of spooked me as a rider, and a few horses had problems, but most of the horses didn't really mind it so much," Stewart said.
Jeffery also incorporated the new bank complex in the ring. "The bank complex was quite intimidating," Stewart said. Horses had to go up the ramp, then jump down the 2′ bank over a small vertical. Two verticals were set on an angle to the down bank—riders had to choose whether to negotiate a direct one-stride distance to a 4′ vertical or a two-stride distance to a small vertical. In the hunter derbies, judges award bonus points for rides over more difficult options.
"I think it was a little more than we'd expected to do," Stewart said. "You really had to leg them through that, and then to get them back under control for the rest of the course was hard.
"Beyond went last and I really had to leg him through the bank jump. So, he got a little undone," Stewart said. "I didn't think I was having that great a round, so I thought that if I really galloped the last jump it might earn me some bonus points. So I really let it fly to the last one. He did it great—he even let me slow down a little bit in the last few strides—but he touched it and it came down. But his first round was amazing—one of the best rounds I've had on him."
Beyond's mistake left Lazy Sunday in front. Owned by amateur rider Keli Colby, the gray gelding had been at the Jacksonville (Fla.) and HITS Ocala (Fla.) circuits, competing in the junior division with Samantha Schaefer. Schaefer rode Lazy Sunday in the hunter derby at Ocala on March 15, and trainer Kim Stewart shipped him to Wellington specifically for the hunter derby.
"He's always a pretty consistent horse. He's so easy to ride around, and you can really trust him," Stewart said.
"It's a great concept and was well received," Stewart said of the derby. "I hope it will evolve into more of a classic outside course, with brush boxes, coops and stone walls. I hope they don't lose sight of the type of horses that you want in that class—quality hunters. That course rode more like a USET equitation course; it was very nice, but you definitely needed a horse that was game for anything. It's clearly not for every horse, but for the ones that are good at it, it will be fun. I hope they develop the class into something where a quality, classic hunter still wins."
Molly Sorge
Winning the $25,000 WEF Challenge Cup Round 8 on March 13 gave Madden and Abigail Wexner's Authentic the extra boost they needed to catapult them to the top of the list of favorites to win on Sunday when a field of 53 horses took to the Internationale Arena to compete for the largest purse offered during the 12-week Winter Equestrian Festival 2008 circuit. The event was also a qualifier for the FEI World Cup Final to be held April 24-27 in Gothenburg, Sweden.

Clocking In
Course designer Leopoldo Palacios of Venezuela set a course that challenged the best horses and riders from around the world, including those from the United States, Iran, Canada, France, Ireland, Mexico, Great Britain, Japan, Russia, Venezuela and New Zealand.
"It was a very typical Leopoldo course," described Kappler. "He makes sure the course is long enough and the time-allowed tight enough to put pressure on the rider."
Hillary Dobbs aboard Quincy B and Canada's Karen Cudmore on Southern Pride both jumped clear rounds but exceeded the 90-second time allowed.
"I think the course could have been a little harder," said Madden, who considers Palacios one of the best course designers in the world. "But having 10 clear made for an exciting jump off. When I walked the course, I didn't imagine there would be that many clean rounds."
Lauren Hough and Casadora were the first to tackle the jump-off, galloping through the timers with a clear round and a time of 37.82 seconds. Jeffery Welles and Armani tried to better Hough's time by turning tight to the ominous CN vertical on the far end of the ring, but two downed rails ruined their chances of victory.
Gigi Z with James Benedetto were the next to challenge and they too dropped the rail on the CN. The curse of the CN vertical continued when Christine McCrea and Vegas clipped the red rail as well, costing them the top spot.
Canadian Olympian Mac Cone piloted Ole to a clean round in a slow 39.73 seconds, leaving the door wide open for another Olympic veteran, McLain Ward, to jump to the top. Ward and Sapphire tried to put the pressure on Hough, finishing with a time of 35.86 seconds, but a four-fault score put them out of blue-ribbon contention. Next came Great Britain's Peter Charles who galloped Murkas Rubert R to a clear round and a time of 36.85.
But Charles wasn't the leader for long. Farrington and Up Chiqui attacked the course, hoping to take the top spot two weeks in a row. When they finished their round with a time of 35.23 seconds, it appeared, momentarily, that they had done just that. But Madden and Authentic weren't ready to go down without a fight.
The final competitors to enter the Internationale Arena were Kappler and VDL Oranta. The large gray mare, though slow-strided, made tidy turns and a good run at the in-and-out but wasn't quite quick enough to take over the lead.
"I watched Lauren go before I got on to warm up, and I also had the opportunity to see Beezie go before me, so I planned on just trying to make the turns as tight as I could. I really needed to do eight strides from jump 1 to 2. It was staring me in the face, and I still didn't do it," said Kappler, a bit remorsefully.
"Byeing" Time
Madden's spring schedule was simplified when on Feb. 13 the U.S. Equestrian Federation selection committee named her and Authentic to the short list for the Olympic Games in Hong Kong. Authentic didn't have to jump in the five rounds of the selection trials, Feb. 28-March 9.
"When I knew I didn't have to compete in the trials, I decided not to use him during that time at all," said Madden, who plans on competing at the $200,000 Budweiser American Invitational (Fla.) on April 5 and the $500,000 Grand Prix of Charlotte (N.C.) on April 13 before giving Authentic a six-week break prior
to the start of their European tour in June.
Kappler has also been buying time on the 11-year-old VDL Oranta, who sat out all of 2007 with a back injury. After a disappointing finish in the selection trials—they finished ninth with 30 total faults—Kappler is concentrating on the FEI World Cup Finals. "I know my horse is one that can be there and do it.
Unfortunately we finished just out of the results during the selection trials. That had been my goal for her, and I was hoping to be just close enough to qualify [for the short list]," confessed Kappler.
"The trials were just too early for things to come together for us again," he added. "The courses were big and difficult, and we were missing a lot of the nuances of preparation work. I would love to go to Europe and then on to the Olympic Games, but it was just too soon. Chance for Olympics or not, I am so proud of how this mare came back and was a fantastic third behind two great horses."

Elizabeth Shoudy