Heading into the arena for her Intermediaire II ride in the Adequan/USEF Young Adult Brentina Cup Championship on Wednesday morning at the U.S. Dressage Festival of Champions (Illinois), Jordan Lockwood needed a little help from her support crew to lead Sagacious HF.
At 23 years old, the gelding is older than his rider but still just as enthusiastic about his job as when he first trotted down centerline in 2004 at first level.
Throughout his career, "Kitty" has taken several riders to Grand Prix, most notably Lauren Sammis, who earned individual silver and team gold at the 2007 Pan American Games (Brazil) at the small tour level.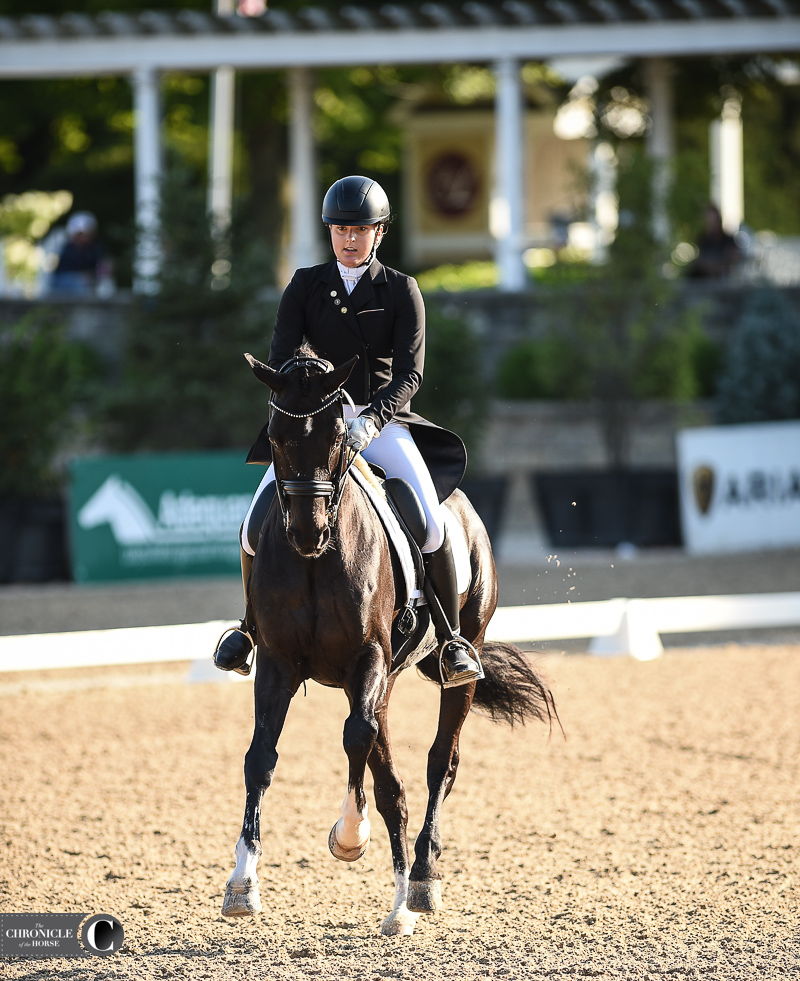 Caroline Roffman then took over the ride in late 2012 for owner Al Guden, and she competed at the U-25 and Grand Prix level until 2014 when Chase Hickok leased Kitty to compete in the U-25. They competed to the CDI5* level, including in Europe where they ran into trouble coming home after a false glanders test.
Kitty stepped down in 2018 to teach Alessandra Ferrucci the ropes at the Young Rider level, and Lockwood got the chance to lease him last fall.
While working for Helgstrand Dressage in Wellington, Florida, as a student rider, Lockwood, 21, met Kitty, who was being kept lightly fit on the walker in semi-retirement after two years out of the show ring.
Allison Brock and Amanda Perkowski suggested she lease the Dutch Warmblood (Welt Hit II—Judith, Cocktail) to get some experience, and they thought she'd be the perfect fit since she wasn't a timid rider.
"He's just such an amazing horse—23 years old, and he just wants to keep working," Lockwood said. "He's teaching me so much. I didn't know how to do one-tempis, piaffe, passage—nothing—and he's taught me all that. He's just so fun. Every day he wants to work, and he loves going to shows, and I can't give him more than a day off because he's just raring to go."
With help from Andrea Woodard, the pair started showing, and Lockwood did her first Intermediaire I and II tests. Then she earned her U.S. Dressage Federation gold medal.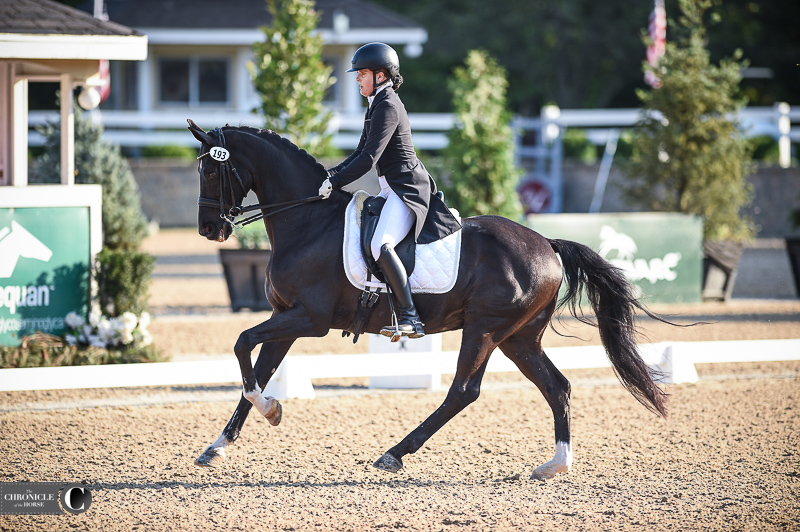 "[Guden's] such a supportive owner," she said. "He was the one who told me I should try for U-25 and come here. We did all the qualifiers, and now we're here. Sagacious is really making my dreams come true. He's teaching me so much."
Lockwood, who's originally from Florida but grew up in Nashville, Tennesse, now trains with Lars Petersen at Helgstrand, where she rides some of his horses, does barn chores, grooming and tacking up.
"It's such a great team there," she said. "Everyone's so supportive of us coming here. They're holding the fort down at home."
At home, Kitty is king of the barn. He does get a joint supplement and electrolytes, and Lockwood changed his feed when she started riding him, but she credits short rides and lots of hacks to his longevity.
"I keep the work pretty balanced since he knows everything," she said. "It's just a matter of me riding it. Usually I ride him five days a week, but I hack him a lot. I honestly stick to very quick, short rides when I do train, because you don't need to ride him for super long. I walk him a lot before and after. We have hacking trails. He goes on the walker. He loves it. I think he's a horse of a lifetime. Every single day, he's such a happy horse, and he just wants to work. I'm so grateful."
Her Wednesday Intermediaire II test earned a 64.32%, followed by a 61.12% Thursday to end up fifth in the Brentina Cup championship, but just qualifying for and attending the Festival of Champions is a huge win for Lockwood.
"He was a little tight, a little excited and a little tense, but overall I felt like it was a good test given the atmosphere," she said after her Wednesday ride. "He's 23. What more could I ask for? To come here and be able to ride and be here competing. I'm happy with it. He's been feeling great every day here. …. I'm just happy to be here."