Hyperion Farm's fancy black Dutch Warmblood gelding Sagacious HF has been wowing judges and winning the hearts of fans in the Grand Prix dressage arena for more than a decade.
Now 18 years old, he first burst upon the international scene with Lauren Sammis when the pair won team gold and individual silver medals at the 2007 Pan American Games. Sagacious later moved into training with Caroline Roffman, who became the first rider to represent the United States in the Under-25 division at the 2013 CDIO Aachen in Germany when the elegant pair finished second in the short Grand Prix and Grand Prix freestyle.
For the last three years, Sagacious has been teaching the Grand Prix ropes to multiple-NAJYRC medalist Chase Hickok, and the relationship has flourished. After winning the 2015 USEF Brentina Cup Under-25 National Championship, their career has moved into the open Grand Prix division with successes on the CDI circuit in Wellington, Fla., and most recently being crowned victors of the open Grand Prix and open Grand Prix freestyle championships at the U.S. Dressage Finals (Ky.).
This summer, Hickok and Sagacious served on the U.S. teams at the Hickstead (England) and Falsterbo (Sweden) Nations Cup teams. They were second in the Grand Prix and third in the Grand Prix Special at Hickstead to help the team take third in July, and at Falsterbo they were fourth in the Grand Prix and second in the Grand Prix freestyle.
But Sagacious' return from Europe didn't go smoothly. He tested positive for glanders, and was retained in quarantine . A second test came up negative, and Sagacious returned to his Wellington home on Aug. 24.
Even with all his talent and success, Sagacious is a quirky kind of guy, but Hickok and owner Al Guden love every single idiosyncrasy:
•  It's not always love at first sight for Sagacious. "While we clicked right away under saddle, on the ground it was a relationship that had to grow over time," said Hickok. "He's definitely a horse that you have to work to earn his trust because he doesn't warm up to a lot of people. But once he trusts you, he really comes out of his shell."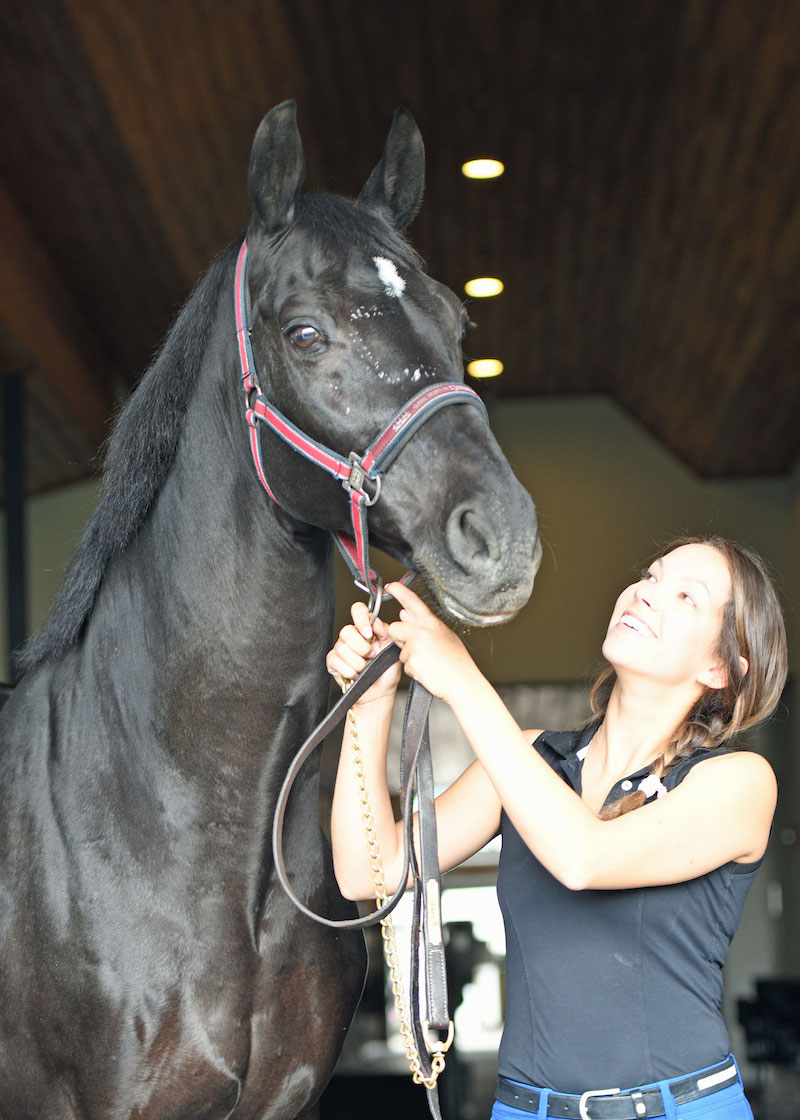 •  Same rules apply for people in the barn. "He puts people through his paces and is very picky. There are only a select group of people who are, in his eyes, qualified to be around him," Hickok added. "He's very attached to his current groom Angela, and if he sees her even looking at another horse he gets very jealous, kicking the stall door and pinning his ears."
•  He gets special barn privileges. The first thing one notices upon walking in the barn is that Sagacious is the only horse in the barn whose stall door is wide open with only a rope across the opening to "contain" him. "The rope is just there for show so that people don't freak out. I think you could leave it open entirely and he wouldn't go anywhere. It's because he is the man in charge and wants to be involved in everything that goes on. We laugh and say that it's his barn and we're all just living in it."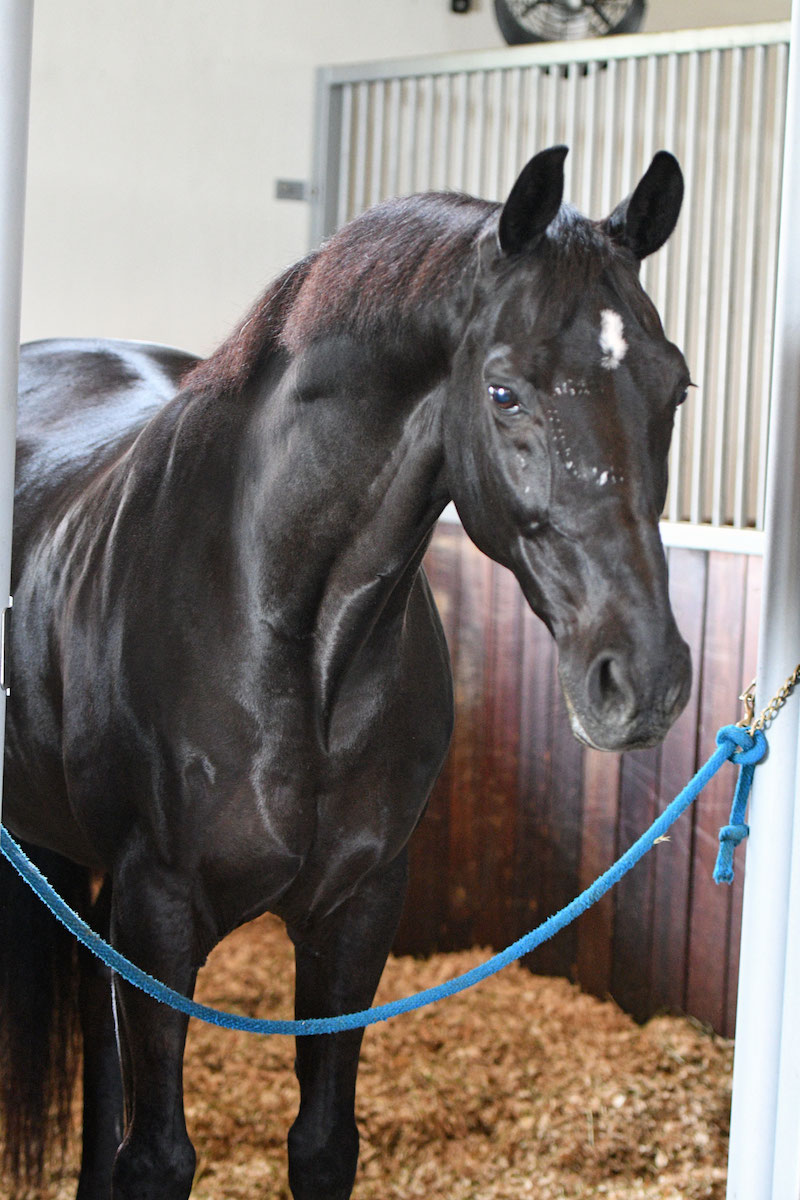 •  Fans have noticed the jet-black gelding recently sporting some distinctive new white markings on his face. "Those are the suture scars resulting from surgery to remove a cyst almost a year ago," said Guden.
"But we call them his beauty marks to make him feel better," Hickok quipped.
•  Sagacious keeps his stall very tidy. Hickok noted that everyone fights over who gets to clean his stall because everything is done in just one corner, making cleanup a snap. "And there's nothing that he loves more than a clean stall, and he makes a big production of rolling around in clean shavings. But of course he must do both sides and is very thorough about it," she laughed.
•  If Sagacious has an idea that he's about to be taken out of his stall for work, he will insist upon relieving himself first. "I don't think I've ever ridden him where he went to the bathroom under saddle—he wants to get it over with beforehand," Hickok explained. "And if you come to get him in the stall but then leave and come back in a few minutes, he'll have to go all over again."
•  Grooming is a necessary evil in Sagacious' eyes, and he's not afraid to make plenty of ugly faces to let everyone know exactly how he feels about it.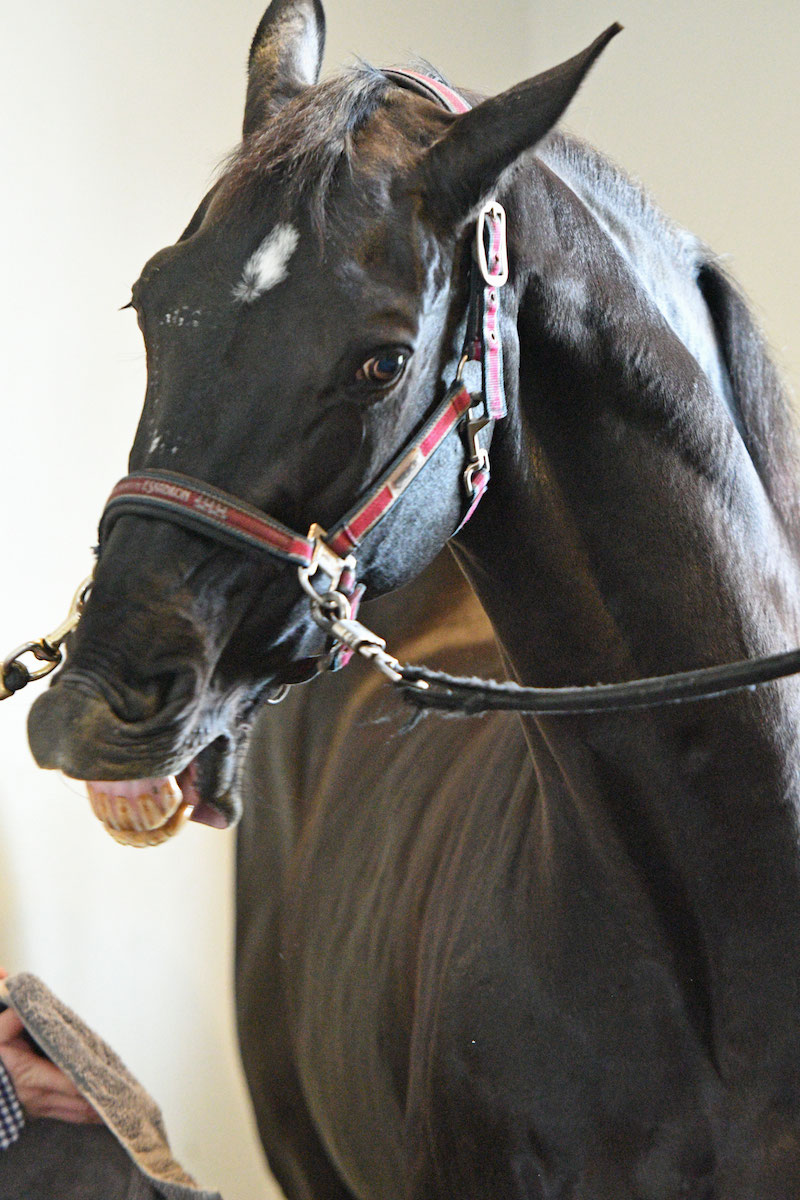 •  He's not really food motivated, but there's one treat he can't resist: licorice. "Especially red Twizzlers," said Hickok. "But then Angela started special-ordering licorice treats for him from Holland, so now he'll turn up his nose at American stuff. That's how it goes: he asks, and he shall receive."
•  He loves showing. "Because it's another opportunity to be worshipped," Hickok laughed. "He's always on his best behavior and looking around for his admirers."
•  Sagacious is a Grand Prix master: having been a show horse since 2004 and competing at the Grand Prix level since December of 2008, he's done well over 100 Grand Prix. "So he definitely knows what he's doing," she added. "I swear when we go in the ring he's trying to say to me, 'just sit there and be quiet, I've got this.' "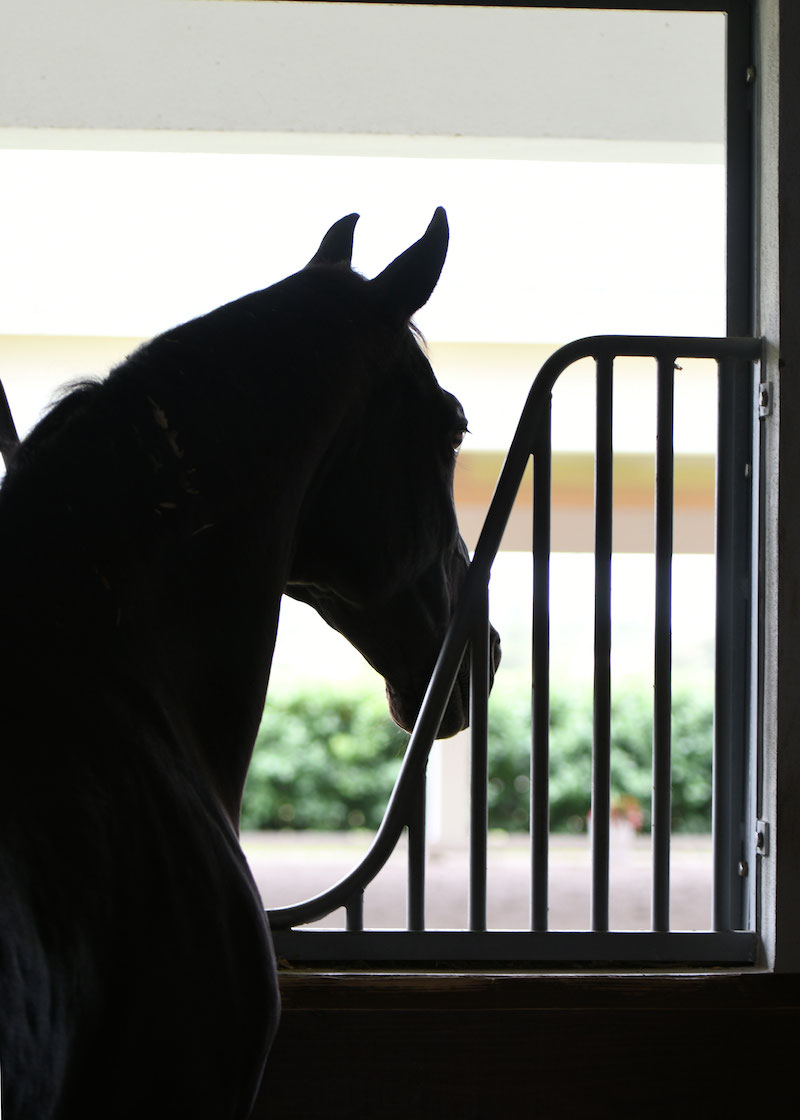 •  Sagacious is not a fan of horse trailers. "When he was young, he wouldn't load. We had lots of 'experts' and 'cowboys' who believed they could get him right on, but boy he showed them the door," said Guden. "Things have to be his idea, and after six months of perseverance he finally decided trailers were acceptable. But to this day he's like that annoying kid in the back seat when on a road trip. Every time you stop, he kicks and paws the heck out of the trailer. As long as you're moving it's OK, but once you step on the brake it's game on."
•  Despite all his gentlemanly habits, Sagacious does have one indulgence: he sucks his tongue. "He rolls up his tongue and will suck on it for hours—he seems to do it to soothe himself. He'll drool so much he makes a puddle on the floor," said Hickok. "It's the only unrefined thing he does."