As the afternoon wound down today, Allison Springer watched the wind pick up and the temperature drop. The stands slowly filled with spectators despite the on-and-off rain. The notoriously spooky Arthur was "wild," as Springer said, during their lunchtime prep ride.
But the day went their way anyway. Arthur trotted down the ramp into the Rolex Stadium, and he kept his focus 100 percent of the time—picking up a score of 39.5 penalties for a comfortable lead over second-placed William Fox-Pitt on Bay My Hero. Lauren Kieffer, at her second Rolex, is third on 46.7.
"He's not a more mellow guy now," said Springer, Upperville, Va. "But I think we know each other really well now. As a competitor, he's given me most of my mileage, so I've learned to be more relaxed and understanding with what I have. At lunchtime, I was like, 'Uh oh. I'm in trouble here.'
"You have to ride the horse you have and do the best you can," she continued. "I think he remembers Kentucky because he was so pleased to be at the jog. That was the nicest he's gone down the ramp and trotted around the outside of the ring. I was like, 'Thank God.' "
Though Arthur spent most of last year off from competing—including missing the 2013 Rolex event—due to an injury, he's now back for his sixth Kentucky four-star. Springer and Arthur, now 15, came closest to winning it in 2012 by placing second.
"I think two years ago he had a great test," said Springer, who was warmed up for her test today by Grand Prix dressage rider J.J. Tate. "I liked this one better because I was a bit more emotional about it after getting him back. I think he went into the ring a much more confident horse this time. He knew where he was, and he kept a really good rhythm. I think maybe we're both maturing a bit."
"It's always about getting his focus; we've done a lot of work with his spook because if he can stay concentrated, he's amazing. We're just always struggling with that. I just was moved to tears today. It was fun to see him keep his cool and do such a lovely test," added Tate.
Great Britain's Fox-Pitt chose Rolex Kentucky for Bay My Hero, an 11-year-old Irish Sport Horse (Cult Hero—Bing Power, Tomgar Power Crest) owned by Catherine Witt, as the next logical step in the horse's development. They finished fourth at the 2012 Pau CCI**** (France).
"He couldn't have gone much better," said Fox-Pitt, who's also in 10th with Seacookie TSF. "He can be quite easily distracted. He likes to look at everything, but today he held it together well. I think there's more to come. He's an excellent horse to work with, and he's very fun to ride. He's a little bit like a big pony in his brain. All he wants to do is eat. I'd say he enjoys his life every minute."
The riders start heading out on Derek di Grazia's 27-element course at 11 a.m. tomorrow. A few new questions, including a set of seriously angled hedges at 16, had the riders talking—and worrying.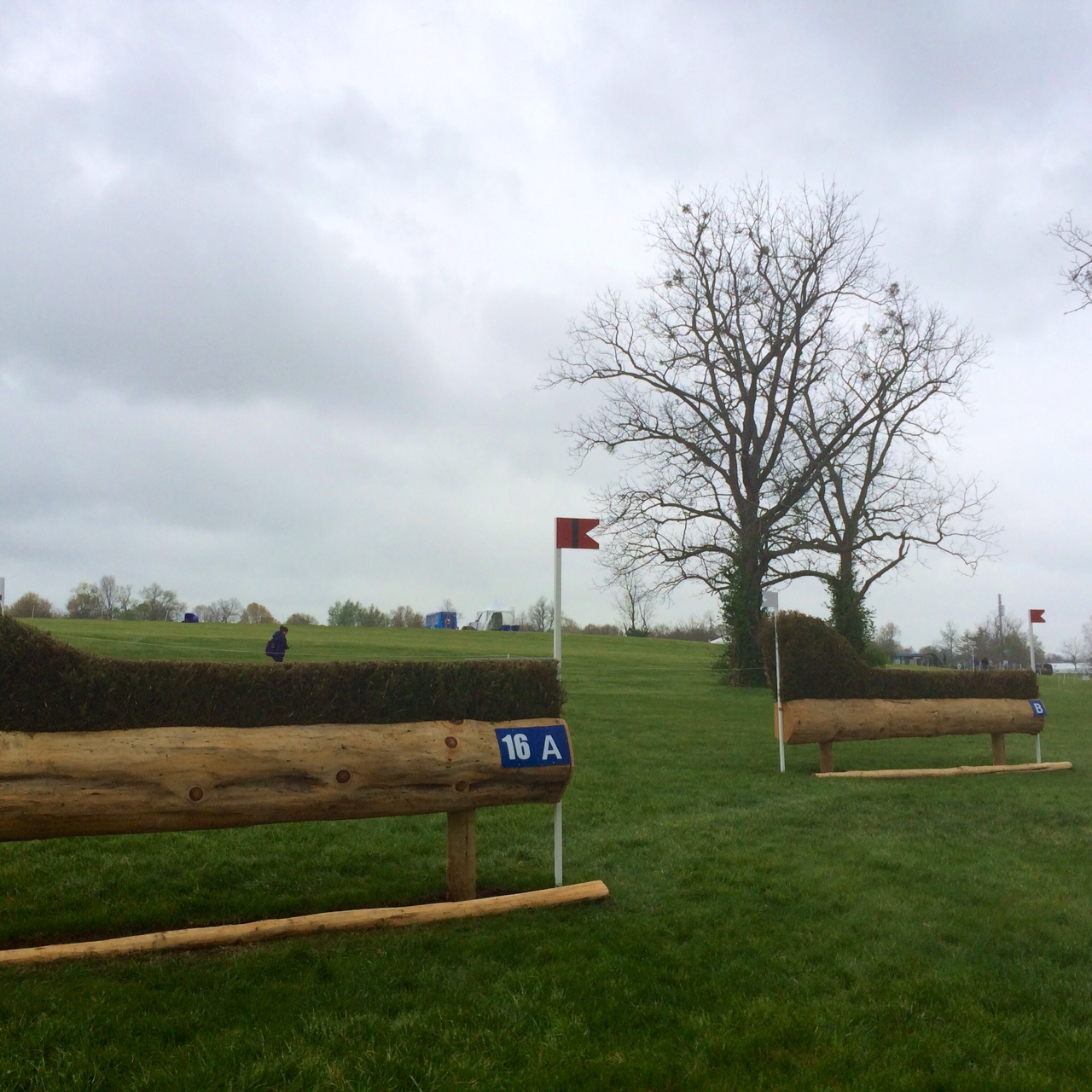 "They look horrible, really," said Fox-Pitt with a smile. "We've all been developing squints looking at them. The first water is already testing how well the horses can turn right. The quarry and the hollow, individually they're not as difficult, but they are when you put them together. The Head Of The Lake is always influential. There are a few fences with A, B, C and D elements. The horses need to be on the ball."
Veronica was here in 2012 with Karen O'Connor, and O'Connor took a fall at the first water. Kieffer started competing Team Rebecca's mare in early 2013.
"I think it's a beautiful course," she said. "The lines are there, and the horses can see them if you ride it well. You can't lose your focus for a second. If you have any weaknesses they're out there somewhere, maybe a few times."
As for Springer, who's also riding Copycat Chloe in the horse's first four-star, she'll be looking for what everyone wants tomorrow—a fast and clear ride. She lost her dressage lead in 2012 by picking up just a few time penalties.
"With Arthur, I want to have a great day," she said. "I think the angled hedges will be the most severe angle I've ever jumped. That being said, I really trust Derek as a course designer. I have a lot of faith in Arthur. If I give him the best ride I can, I think he should go well."
Full results available on the Rolex Kentucky website.