So far, 2016 has been the year of reestablishing my riding confidence after a rough 2015. In addition to hundreds of hours of lessons, much of my progress can be attributed to my leased schoolmaster horse, Andy, who got me over my fear of crossrails and back into the 2'6" hunter and equitation ring, and even introduced me to my new love, the jumper ring.
The honest truth is that I needed anywhere from six more months to 20 more years on Andy. But a mid-to-low five-figure vet bill incurred by my very sick Great Dane puppy decimated my animal budget—and my everything else budget—and I had to send Andy home at the beginning of the summer. I'm sure he was pleased to go home, but I lost a teacher and a buddy. These things are never easy.
Meanwhile, Kingston finished his lease term and went straight out to another barn on trial for purchase. I had put in the "sell!" order for him a couple months prior.
My riding was greatly improved, but I still had moments of panic when jumping, and Kingston isn't a horse that tolerates rider panic very well. The plan was to sell him and focus on my green mare for a while until both my puppy and my finances recovered. I felt a few pangs of "what might have been" when I thought of Kingston, but I was at peace with the decision.
Fate had other ideas. My trainer called me on a Saturday evening with the news. Kingston was unsound when he stepped off the trailer so his trial ended abruptly. He was now on his way home and we would get him vet checked and treated before promoting him for sale again.
I hadn't seen him in over six months and was not expecting to see him again. I certainly never anticipated the flood of emotions I felt upon hearing of his return: concern for his health, curiosity about his time away, trepidation at the opportunity to sit on his back again.
But more than anything else, I was simply excited. I couldn't wait to see him.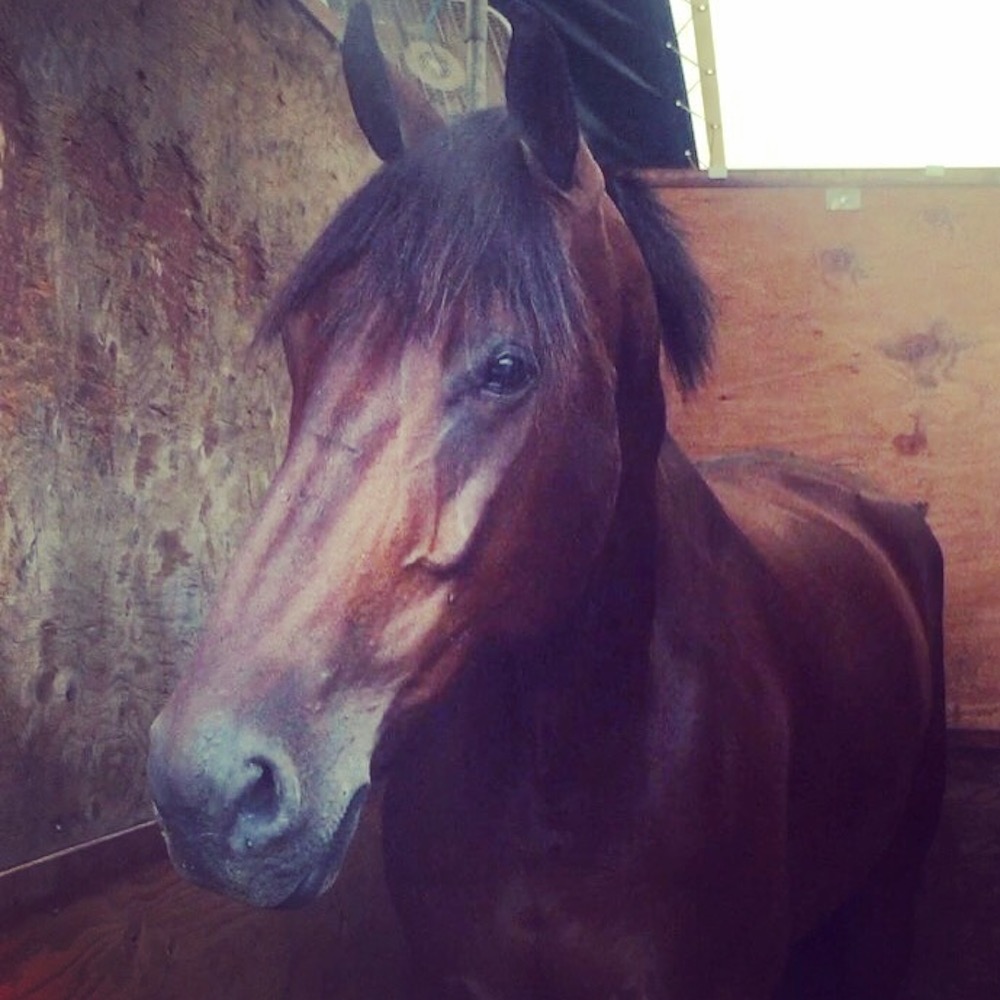 Kingston's handsome face.
Like a kid on Christmas Eve, I didn't sleep much that night. I woke up before my alarm and raced to the barn, slowing down only for a quick stop at the grocery store to procure a boatload of apples and carrots. It was a busy Sunday morning but I didn't even stop to greet any of my barn-mates. I just quietly slipped into his stall.
It's hard to describe Kingston's energy without sounding too new age and romantic. But his presence is immense, and it's not just because he stands 18.2 hands high. He has an air of nobility, and his enormous brown eyes are at once gentle and commanding.
He's also mouthy, and gives anyone entering his space a thorough inspection with his muzzle. But it's not just a carrot pat-down. It's a search to see how you're doing, where you've been, who you are.
In her book The Horse: A Biography of Our Noble Companion, Wendy Williams eloquently expresses my own feelings about the horse: "Horses evoke something ineffable in the human psyche, something at once both exciting and calming. Just looking at a painting of horses, on a museum wall or on a cave wall, can be heart-stopping. Their presence in our lives makes the world so much more grand, even if we only see them from a distance."
From a distance, horses make the world grand; up close, they make it magical. While my mare is like my best girlfriend in a way that blurs the lines between human and animal, Kingston is 100 percent horse.
He's an ambassador of the horses that "make the world grand"… the horses that live in our dreams and imaginations, the horses that inspire art and poetry, the horses that compel us to rearrange our lives just to be near them. In a sport where the fact that we make partners of these unique creatures is so normal that we forget how incredible it is, there is something about Kingston that never fails to remind me.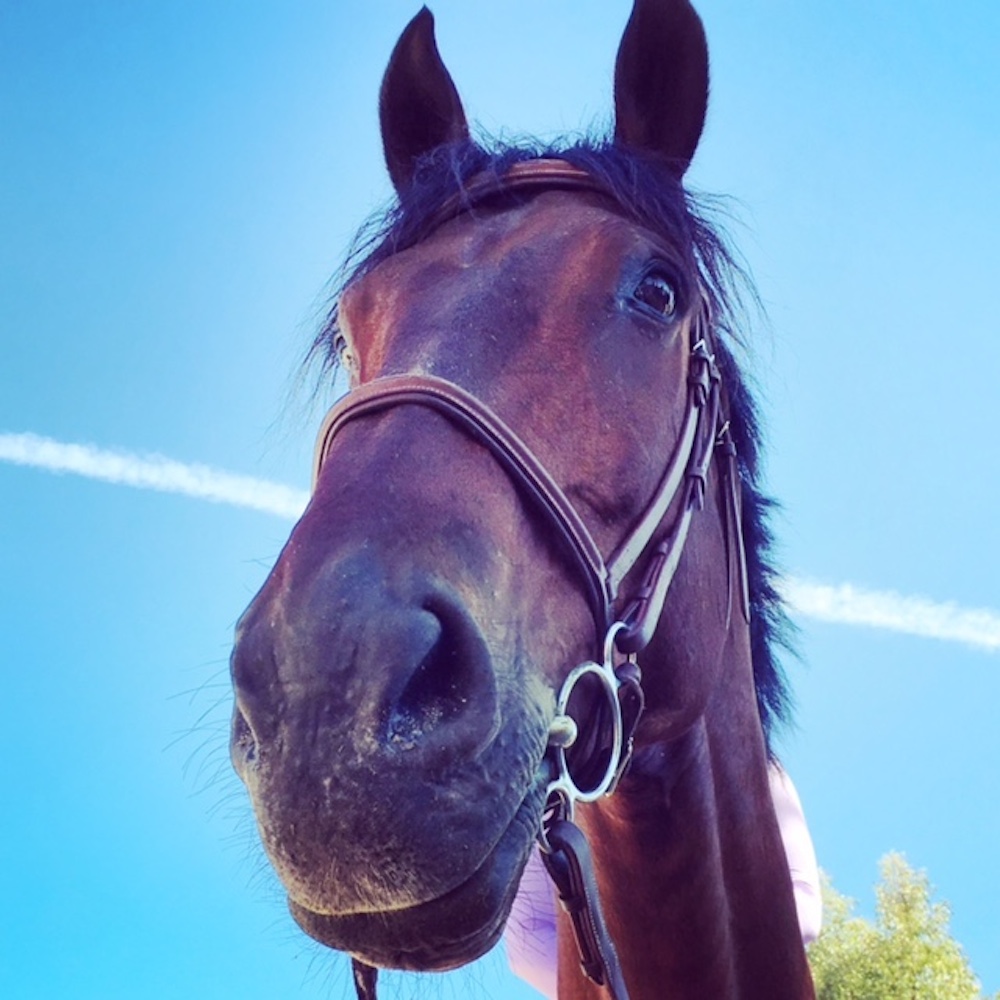 Of course, all romanticizing aside, this is the animal that threw me off and snapped my pelvis, causing months of physical pain and a sort of mental PTSD I never thought was possible in this "hobby" that's "supposed to fun."
Yet there he was, back in my life that Sunday morning, nuzzling his head against my chest and gently licking my hands. And when he stepped back and showed me his biggest softest puppy dog eyes, it became crystal clear that I wasn't going to send him away again any time soon.
He wasn't going up for sale, but picking up with him where I left off on Andy wasn't an option either. We would have to start again from scratch. But this time, I wanted to lay out some ground rules. So I did something I know will be controversial in the comment section: I hired an animal communicator to speak with Kingston.
Now, I'm not entirely sure I "believe" in telepathy or psychics or anything of the sort, but (a) I figured it couldn't hurt and (b) desperate times call for desperate measures. Any small insight into Kingston's psyche would be valuable.
Mostly to be polite, my first question to Kingston, through the communicator, was about his time out on lease—you know, a "how are things" before launching into my requests. I was happy to hear that he had a great time.
Then he added that it was "nice to have someone who really knew how to ride him." Fair enough, I knew the junior he was leased to was a skilled and talented rider, and she piloted him to top placings in big classes during their time together.
He continued babbling. I didn't even ask another question. He explained that he really appreciates riders who are "very high quality." He loves being part of a team and kept repeating that he and his rider should be "one animal, one animal." Then he volunteered that he himself has a lot of training, but he thinks that I could use some more training.
OK buddy. You've got a point, and that's why I lesson every day (and sometimes two lessons in a day). But how can we be one animal if you THROW ME OFF. Use that XL brain of yours, big guy.
I didn't want to be rude and I don't know the proper protocol for speaking to a horse, but I told the communicator that he would not be able to be my horse if he does not mind his manners under saddle. She felt that was an acceptable agreement and relayed the message. He admitted that he knows it's not OK to buck off his rider, and said he would meet me in the middle if I would be a stronger leader.
He also indicated that he has an awareness of our karmic relationship. He knows that if we can become real partners, we can make each other better. It's a big "if," and he's not sure if I have it in me, but he's willing to try.
At the end of the conversation, Kingston showed the communicator images of his muscles and told her that he is very strong and very handsome. So there's that.
Most people have simply giggled at my recounting of Kingston's reading. But a few reactions have ranged from shocked to indignant, along the lines of  "who does he think he is, saying you need training… doesn't he know how good his life is?"
For my part, I'm not at all offended by his comments. Horses aren't dogs: feeding them, grooming them, and paying the board bill does not ensure their loyalty and obedience under saddle, as much as we'd like it to.
Kingston's thoughts were honest, and actually reflect my feelings towards him: I'm not sure if he's my perfect match or my forever horse. I don't know if I'm strong enough (both mentally and physically) to be his partner long-term.
But I believe that he came back to me for a reason, and I know we have unfinished business. If he can demonstrate patience in the face of my inevitable rookie mistakes, he'll be a better-rounded horse, eligible for more "jobs" in the future. If I can go through all the steps to confidently complete a course on him, I'll have become a far better rider.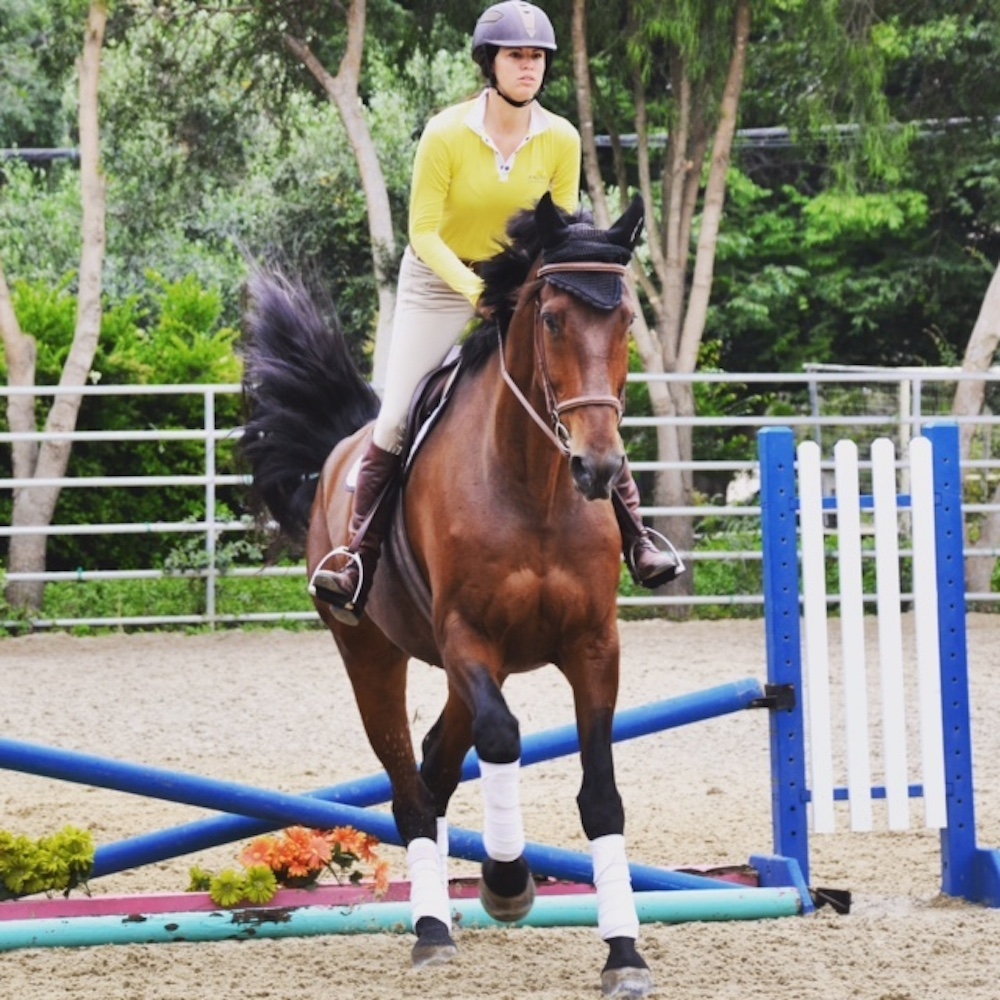 This path wasn't my first choice, but fate nudged me in this direction, and I'm going to ride down the road as far as I can. I think that's part of the excitement of the sport—there are so many moving parts, so much that happens by chance.
Oh, and Kingston wasn't lame when he arrived back to my barn. I'm not sure why he was off during his pre-purchase trial. Some things will remain a mystery, and though we all try to stack the deck the best we can, ultimately in this crazy hobby you just have to play the cards you're dealt, knowing you'll either win or you'll learn.
Lindsey Long lives in Southern California with her one tabby cat, two Great Danes, three hunter-jumpers, and a husband. She recently returned to riding after a 15-year hiatus and is desperately trying to make up for lost time while balancing a full-time job rife with deadlines. Her goals include winning pretty ribbons, finding appropriate distances with some degree of consistency, and not losing her breakfast at the mere thought of a hunter derby course.