Maybe if I'd rolled off instead of launched off, things would have ended differently. Perhaps if my fall had been distributed over multiple points of impact instead of all my weight onto one bone, it wouldn't have broken.
If I'd kept my lower leg solidly in place over the fence I'd most likely have been in a better position to stay on. And if I had added the stride instead of pushing my horse Kingston off the ground from a long spot, he wouldn't have felt the need to do his signature duck-prop-buck move in protest of my amateur-ness.
In his mind it was probably just enough to say "that's not how it's done, lady," but I flew off and landed at urgent care with a fractured pelvis.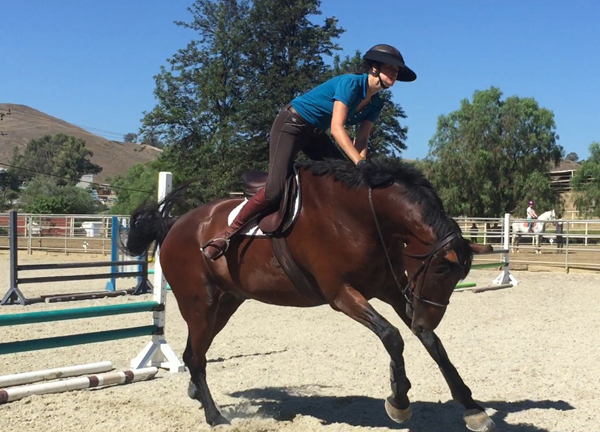 Yep, that move.
Now you may remember from my first blog that I am in quite a hurry to be a real competitor, and that patience is not my strong suit. That's why I got Kingston in the first place.
My beautiful mare, Aria, was coming along as quickly as a green horse can, but I understand that the slow way is the fast way for a young horse's education. I figured I needed a second horse, a finished one, to double my practice time and, theoretically, halve the amount of time to reach my goals.
Kingston is in many ways my dream horse: dark burgundy bay, no markings, luxuriously thick jet-black mane and tail, and an awe-inspiring 18.2 hands tall. It was six long weeks of hobbling to the barn to watch from the sidelines as he was being worked—and yes, I understand that only six weeks of recovery time is a lucky break, as far as these things go, and I am grateful.
I was ecstatic to get back into the saddle. I had it all planned: a few easy flat sessions to regain my sea legs and then right back to jumping. We'd be ready to show again by the end of the month, easy.
My first ride back wasn't the glorious homecoming I'd imagined. I had a bit of lingering stiffness and seriously weakened muscles.
The sensation of your body refusing to oblige when you're clearly telling it exactly what to do (leg on! heels down! shoulders back!) is one of the most frustrating feelings ever. But I gritted my teeth and pushed through it.
After a couple weeks, my trainer deemed me physically strong enough to jump again, and I picked up an easy trot and headed for a cross-rail.
And then I stopped. My heart was racing like crazy, my face was burning hot, my eyesight was blurry. The "fence," at maybe 8 inches off the ground, may as well have been a two-headed monster. I was petrified.
People say they feel fear in the pits of their stomachs. I do too, but I also feel it in my throat and jaw, making it almost impossible to speak, swallow or breathe.
Just a few short months before, I had everything under control. Kingston and I had participated in an intensive five-day workshop with Bernie Traurig. On Day 1 I was so nervous my legs were shaking as I mounted, but after five days of working twice a day, Bernie became a trusted friend and advisor, and Kingston and I became real, bona fide partners. I left the workshop ready to take on the world (and by the world, I mean the amateur 2'6″ division at a county show).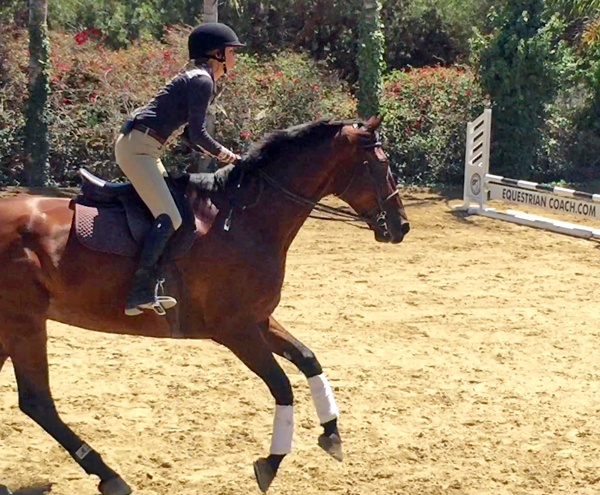 Riding Kingston with Bernie Traurig, a few days of enlightenment that had boosted my confidence. 
But now, I was terrified of jumping.
I'm not going at this alone. I have a great team. At the center is my trainer, and the buck stops with her… literally. She's a perfect equitation rider who can cowgirl it up when a naughty horse warrants it. With a client roster full of adult amateurs, she's one part coach and one part therapist, charged with constantly balancing the somewhat opposite tasks of protecting our fragile little egos and also pushing us to stretch a little further to reach our goals.
We made the choice to temporarily lease out Kingston to a more advanced rider, and in turn I leased Andy, an older Holsteiner gentleman who I am told was a real rabble-rouser over the big fences back in his day but has since mellowed out and become a professional teacher. With a soft, lopey stride and an unflappable temperament, he seemed uniquely qualified to help me get my confidence back.
Andy and I got to know each other on the flat for about a week, and then it was time to start jumping. I was now aboard one of the safest, most forgiving horses on the planet. All I had to do was point him in the right direction, and he'd take care of the rest. Again, the warm-up cross-rail was set up. Again, in my mind—and in whichever part of the body is responsible for releasing adrenaline—it may as well have been a puissance wall.
Here's what I've learned. Most likely, there will come a time when you get spooked. It seems especially true for us adult amateurs, as I am convinced that we have a more highly developed sense of self-preservation than others. Maybe due to a fall, maybe an injury, maybe a near miss. When it happens, use all resources at your disposal to figure out how to overcome it. Read, learn, plan, and strategize the you-know-what out of it. Lean on your trainer and your barn friends for support. Having a team is vital; it really does take a village.
But, ultimately, you have to face your fear head-on. It has to come from inside. No one can get you over the fence but you. Three strides away when you're considering pulling up, pulling out, shutting your eyes, crying, puking, screaming, or some combination thereof… no one else can make the choice.
And sometimes you have to dig way, way deep to get over that crossrail. All the while wondering if anyone in the history of the sport has ever felt as chicken as you feel in that moment, and seriously contemplating hanging up your spurs for good and taking up a less terrifying hobby. Like bungee jumping. Or diving with sharks.
Obviously, the choices you make affect your horse and your partnership. Your horse is a sentient being with his own ideas about the task at hand ("for goodness sake loosen up, and it's four strides, not three, obviously"). He makes choices too. Kingston, a generally cool guy, reacted to my pre-fence freakout by getting worried and tense—a perfectly normal, healthy response for a herd animal whose supposed leader is panicking on his back.
Andy's choice is to prick his ears forward, maintain a steady stride, and politely jump from whatever crappy spot I've brought us to this time, making his best effort to catch me on the other side. I'm sure he's hoping I approach the next fence with a little less drama, and hoping even more that there are enough apples in the refrigerator to appropriately compensate him for his saintliness.
It's been six months since my fall, and thanks to Andy I'm now back to jumping 2'6" courses. I know that when I move up in height, or when I fall again (because we all know it's "when" and not "if"), or when I get Kingston back, some fear and anxiety will inevitably creep back in.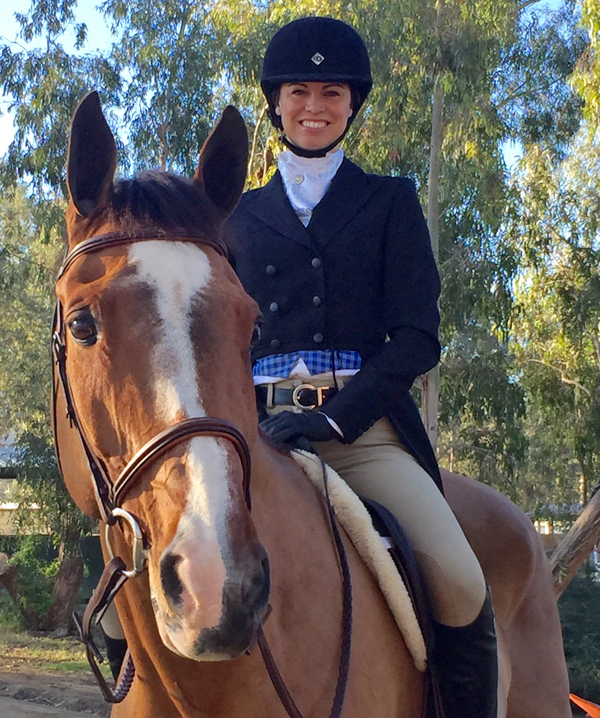 Andy the saint and I.
I don't have it all figured out, and I'm not brave every day, or even most days. I ride six days a week, and some days I just don't have it in me to push the limits. On those days, we just practice what we know we can do stress-free.
There's an internet meme that I saved to my Pinterest board. It says "If your dreams don't scare you, they're not big enough." The photo is of a horse and rider crashing into a cross-country fence.
Just looking at the image terrifies me. But I'm learning to embrace fear as part of the process, and I'm hoping that, just like anything else, if I practice, eventually I'll get better at overcoming it.
Lindsey Long lives in Southern California with her one tabby cat, two Great Danes, three hunter-jumpers, and a husband. She recently returned to riding after a 15-year hiatus and is desperately trying to make up for lost time. Her goals include winning pretty ribbons, finding appropriate distances with some degree of consistency, and not losing her breakfast at the mere thought of a hunter derby course.