I am typing this (quietly) while my 4-month-old baby is asleep in his car seat. We just got back from getting his shots, and after the screams over the pain and unfairness of life, he finally fell asleep and I am not moving him.
I haven't blogged in almost a year. It isn't that anyone would have noticed, but more that I am in awe over how much has changed in that year.
I got pregnant.
I sold my one-star horse.
I got a new house (and moved the week I had the baby).
I had a baby.
And all of life's priorities shifted. I knew they would, and I was ready for riding to move down the list and family to move up.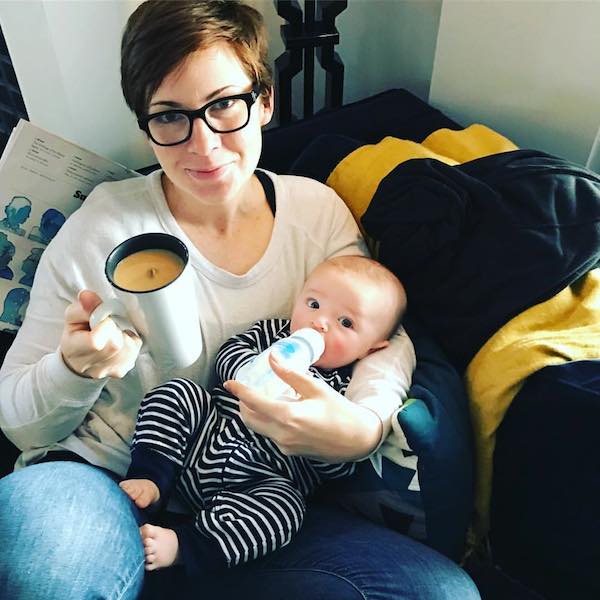 I was silent this year because I didn't have much to say to inspire anyone. Because this has been a hard year for eventing, and I have questioned the sport and the risks.
I didn't want to write about those things, because I didn't want my thoughts to seem in response to one death in particular. I didn't want my questions to discredit the narrative that someone died doing what they love. My questions were personal, and each rider has his or her own set of answers, and I didn't want my answers to challenge someone else's.
But it was a hard year, and I can't say that I ever posted a picture with a hashtag to #RideFor whoever the latest death was. I couldn't. It seemed trite and unable to carry the weight of what it stood for.
I realized that if I were given the option to leave the start box and never return, or not to leave the start box at all, that I would curl back in bed with my family and not be braiding at 3 a.m.
I questioned if I should sell my other horses, as I have a 4-year-old and a 2-year-old. I know that accidents happen, and I could get a hoof to the head just as quickly as I could rotate over a table. So how do I define risks, and how do I weigh them? I'm statistically more likely to die driving to the barn than at the barn, so am I being unreasonable?
But the thing I settled on is that risk, for me, has to be considered in the context of its level of choice. I drive because I have to, it is a risk I must have to live a fulfilled life. Is riding also such a risk? Yes, for me to be fulfilled I need to ride, I have decided that. But at what level? Can I feel happy and complete cantering around training level, or do I need in my soul to be galloping full throttle to a ditch and wall?
For now, I am riding three days a week, on a good week. The other mornings I am working or simply deciding to snuggle up with my baby and do nothing.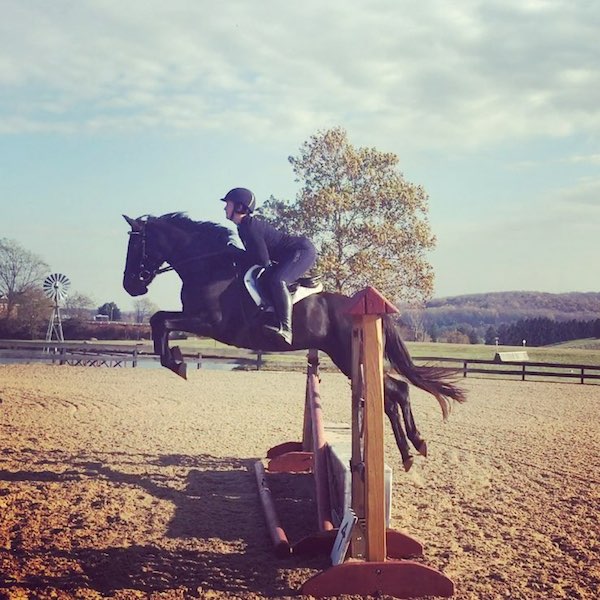 There are days I could ride, but decide to do something else. And I'm OK with that. I am OK with life's priorities shifting, and I don't feel anything should be too heavily anchored to a certain position. Well, that isn't true. The one thing that parenthood has meant for me is that the first slot on my priority list belongs to my baby boy. My needs and wants all fall woefully below, and that isn't a sacrifice, it's a privilege.
So I don't know that I will be the blogger that inspires your next ride. I don't know that I will impress you with my ability to work full-time, compete at the international level, and fill your newsfeed with smiling family photos. I don't know that I want to, even if I could.
For now I will head out to the barn a few mornings a week, brush off my 4-year-old and hack around or pop her over some baby fences. One day, she might even put her head in the lower hemisphere.
I know that I feel fulfilled from those moments, and I don't need the adrenaline pulsing through my veins as I gallop over huge fences to make me feel whole anymore. The void that was left when I sold my upper level horse and stored my shadbelly was filled by a little human with the tiniest toes and the funniest donkey laugh.
And I'm OK with that. And I hope, however you are balancing your life, that you're OK with your choices too. I hope this holiday season that we can all let go of our expectations for ourselves, and reorder our list around what lets us feel complete.
I still plan to write, but perhaps a lot won't be about horses, so in the new year I promised myself to reflect at least once a week on my personal blog. I still plan to ride, but it might be more bareback hacking and less high intensity training.
But I also plan to leave space for all the things I didn't know about before, all the potential that I see now in places I didn't know existed, all the love I want to give that I didn't know I had.
A year ago I said, "My 20s felt like the constant discovery of sunrises and new horizons, while starting my 30s has felt like sunsets and shrinking opportunities. Realities have begun to weigh more than possibilities."
I couldn't feel more differently now. This year has taught me that the very eyes with which we see the world change. And with those changes come realignments, and in some cases, reawakenings.
One of the Chronicle's bloggers, Kristin Carpenter grew up in Louisiana and bought "Trance," a green off-the-track Thoroughbred, as a teenager. Together, they ended up competing at the North American Young Riders Championships and the Bromont CCI**. She now has two baby horses as well as one baby human. Kristin juggles the management of her own company, Linder Educational Coaching, with riding, writing, and being a mom. You can read her non-horsey blogs at www.KristinLCarpenter.com.