To say Courtney Bolam Bretl knows Harlan's Flight well is something of an understatement.
The veterinarian became the regular doc for "Harley" some eight years ago when he was competing with then-owner Chrissy Hollnagel at the advanced and intermediate levels of eventing. She did wellness checks, the occasional lameness exam, and even operated on Harley to remove a splint bone.
With Hollnagel, Harley placed second in the open intermediate division at the American Eventing Championships (Ill.) and completed the CCI** at Fair Hill (Md.) in 2009. After that, Hollnagel decided Harley's upper-level days were behind him. He showed at the lower levels with a few different riders, and then in 2013 Bretl was returning to the saddle after a 10-year hiatus during college, veterinary school and starting her career.
"It was a little bit [intimidating]. I borrowed rides, I still didn't have my own horse, so I approached a couple of people who had become close clients over the years," recalled Bretl, who grew up riding dressage and Pony Club in her native Ontario.
She finally bought her own horse, but that horse died unexpectedly, and Hollnagel suggested that Bretl lease Harley. Perhaps surprisingly, Harley approached novice and training level events with the same ferocity he had shown at the top levels, and never let Bretl forget that he had been around the block a few times.
"He will tell on me. We'll be in a lesson, cantering down the long side and if I shift my weight, he'll switch his lead. Or if my outside leg is too far back, he'll haunches-in," she said.
Bretl even recalled one event when she took Harley to a training-level horse trial at the same show grounds where Hollnagel had run him advanced. The quirky chestnut gelding was so thrilled at the prospect of running cross-country that he began rearing and spinning.
Hollnagel, who was eight months pregnant at the time, tried to lead Harley into the start box. In the end, Bretl recalled, they had to ask for a countdown some 20 strides away, and gallop through the box.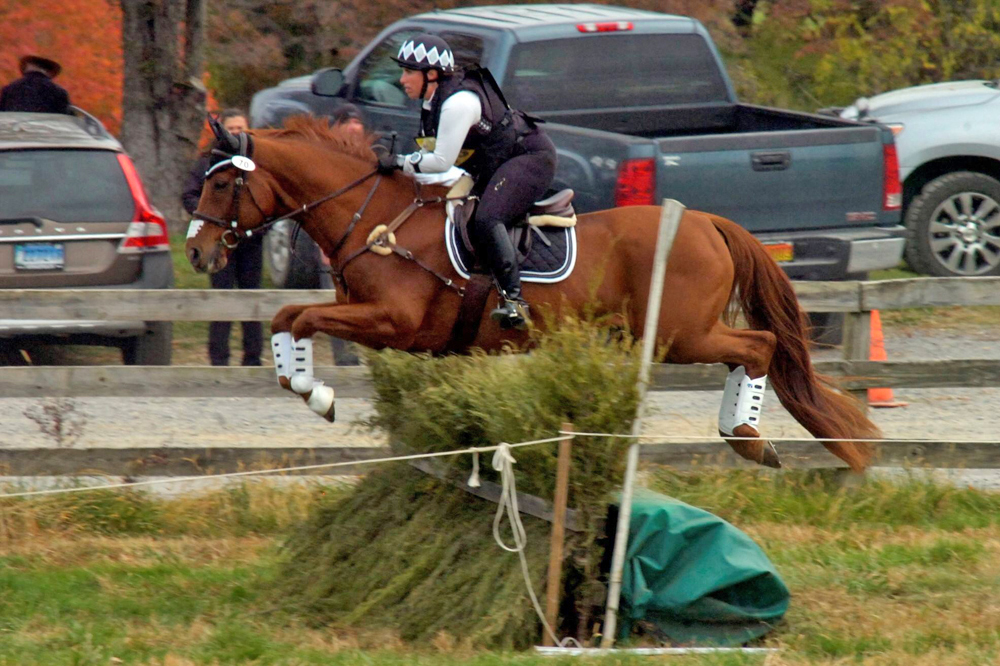 Even though he's running at novice level with Courtney Bolam Bretl, Harlan's Flight hasn't lost any of his joy for cross-country.
When Bretl made a move from Wisconsin to Virginia in 2014 for work as a surgeon at two different practices, she had to leave Harley behind. She asked her new trainer to help her find a horse, and gave her Hollnagel's number for background information.
"Harley's owner said, 'You know what, I've got the horse you need in my backyard, and I'm willing now to sell him to you," Bretl remembered.
Harley had been Hollnagel's once-in-a-lifetime horse, but after having two small children, Hollnagel had found she didn't have time she had hoped to keep Harley working. Bretl knows the decision to sell Harley was emotional for Hollnagel—and after knowing the pair for six years by that point, it was emotional for Bretl, too.
"She cried while she wrote the email, I cried when I read the email. I still tell him (which is ridiculous), 'Oh I'll have to call your mother, and tell her how you were today,'" Bretl said.
In 2015, Bretl and Harley returned to eventing and completed a big goal for Bretl—the novice classic three-day at Waredaca (Md.) in October.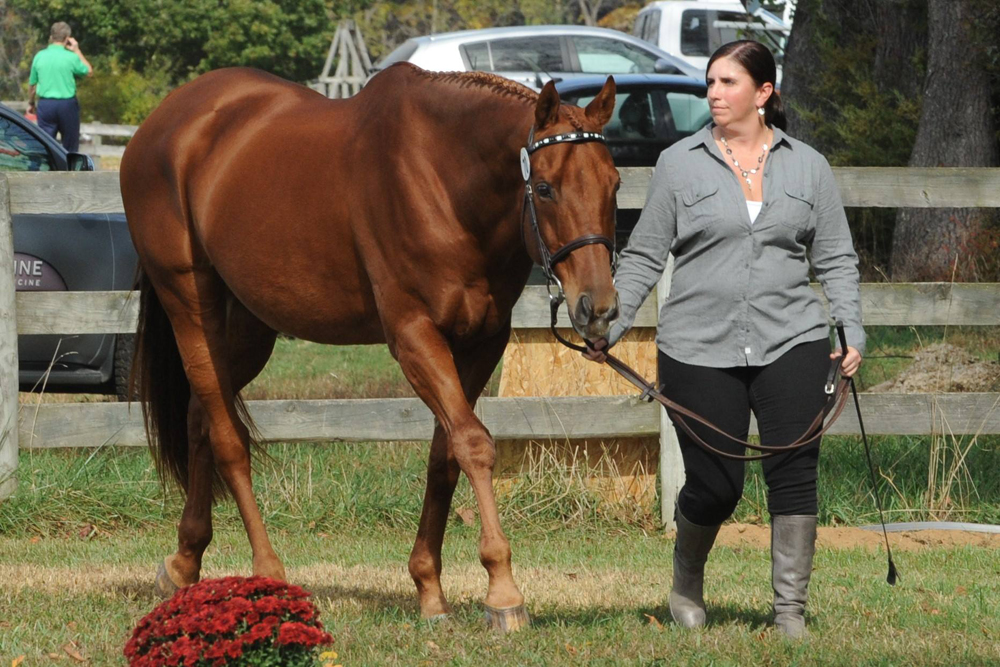 Courtney Bolam Bretl and Harlan's Flight during the horse inspection at the 2015 Waredaca novice classic three-day. Photo by GRC
These days, Bretl reports that Harley, who is now 19 years old, is still going strong and living the good life. He remains feisty enough that he breaks halters and cross-ties if girths are not tightened to his exacting (read: slow) specifications. He stands for sugar cubes, and still comes out for jump lessons breathing fire. And of course, having a veterinarian for an owner helps ensure that he stays healthy.
For Bretl, being a vet enables her to give Harley great care at a huge discount, but it also tickles the same panic buttons that any lay owner of a nearly 20-year-old horse may have.
"I think it's helpful but it can be a hindrance sometimes," she said. "When he takes a lame step I immediately go to the place where I'm retiring him and buying something new, and 'Oh gosh, what am I going to do?' He had a colic episode when he shipped out here and I immediately went to the place of 'He's going to need surgery, he's going to die.'"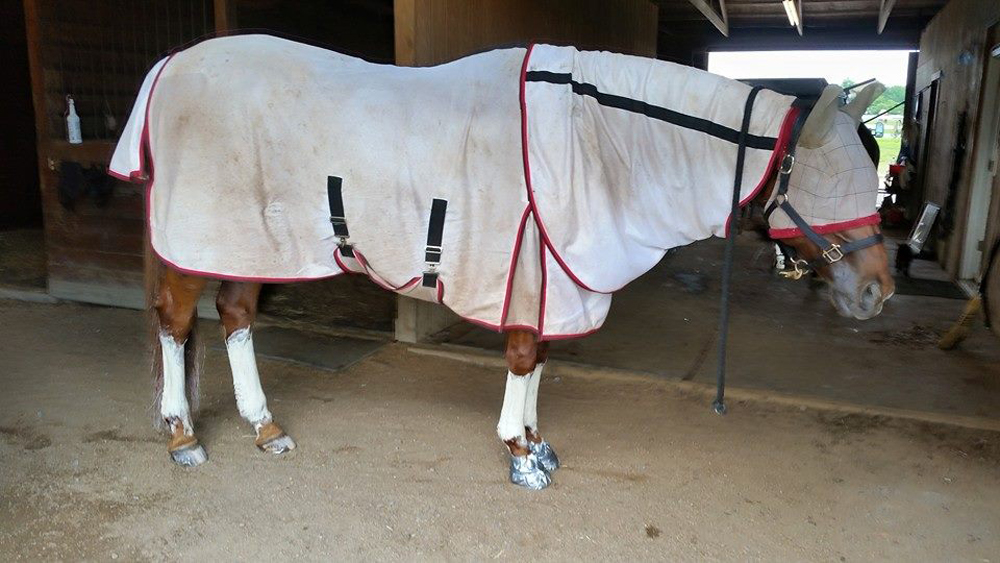 Harlan's Flight lives the good life with veternarian Courtney Bolam Bretl as an owner—he enjoys quite a bit of pampering.
The flip side of being a veterinary surgeon is that Bretl's schedule is quite hectic. Her move from Wisconsin allowed her to leave the traditional role of ambulatory veterinarian and become an on-call veterinarian handling surgeries and emergencies for two different practices—Piedmont Equine Practice in The Plains, Va., and Woodside Equine Clinic in Ashland, Va.
She lives close to Woodside, in Glen Allen, Va., but when she's on call at Piedmont, she has to stay two hours away from home. Bretl estimates she works 100 days per year for each practice, which allows her to have the rest of the year off.
The downside to the arrangement is that most of her emergency coverage is on weekends, making it tough to fit competition into her schedule. In 2016, Bretl has eight weekends off of work and six will be dedicated to horse shows. She even had to give up a spot at the American Eventing Championships (N.C.) this year after qualifying because she will be on duty that weekend.
"I have been able to kind of rejuvenate my enthusiasm for my job," she said. "When I'm at work, I can be at work wholeheartedly and when I'm not at work I don't have to think about it."
Another area in which Bretl said she's just like any other adult amateur: nerves. Even though she and Harley successfully completed a long format three-day at Waredaca at the novice level and qualified for the American Eventing Championships this year, she still gets a case of the butterflies before entering the dressage ring.
Bretl describes herself as competitive, focusing on scoring goals for herself (she's hoping to score under 30 in a recognized event). But like many of us, Bretl also said anxiety can creep up on her in the saddle, too.
"Because he is experienced—and because he will jump just about anything that you point him at—sometimes I'll just hold on. We're going back a little bit to basics and working on gymnastics, which is hard for both of us," she said. "I'm trying to take advantage of all he has to teach me."

Courtney Bolam Bretl has been taking advantage of every opportunity to learn from Harlan's Flight's experience in eventing. Photo by GRC
Bretl credits Harley's health and soundness with a slow approach from Hollnagel, who brought the gelding along from ages 6 to 17. She admits that Harley's conformation isn't perfect (although he's a Thoroughbred, he struggled with bucked shins often enough that he never made it to the track), and believes careful management and a well-timed step back in the levels helped keep him in action.
"I think I'm probably the luckiest girl in the world," she said. "That sounds so cliché, but I've watched this horse develop, and to get the ride on him in less than ideal circumstances and to eventually own him is beyond what I imagined. To be able to take advantage of all the experience and knowledge that he has…I don't know that I'll ever have another one quite like him.
"I'm just going to ride every ride because there may not be another one. One of these days he'll tell us he's done, and that might be soon or many years from now. But he'll be taken care of until he's no longer with us. He has a forever home. He deserves it."