I was born and raised in Loudoun County, which is prime Virginia horse county. I rode and took lessons, but I never really got to experience the hunter/jumper shows because I never had the "fancy" horse or pony growing up. I always tagged along with friends or just showed on the local grassroots circuit.
The Upperville Colt and Horse Show was one I've always dreamed of showing at since I was about 5. I almost got the opportunity when I had Ollie, but he mentally was not able to handle the 3′ if the wind blew or the sun shined the wrong way. I never thought I would have, let alone train, a horse that I could show at the oldest show in America.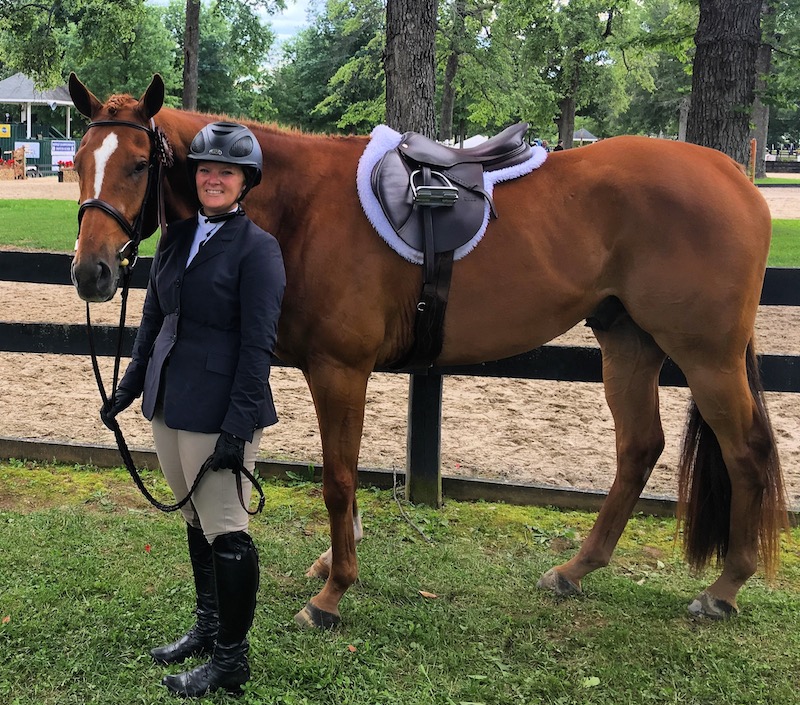 It is a good thing that I am used to working under stress because the day before and the day of Upperville were nothing short of fast-paced. I scheduled physicals for the girls mid-afternoon on Monday, I forgot Sean was working, then had to drop Natalee off with my grandmother with my dog, Mikey, check in at the show, hack Finn and prepare everything for Tuesday morning. So my forgetfulness put me front and center for tackling everything!
I finally made it to the barn around 6:30 p.m. with Marissa. We grabbed dinner on the go. I got some quick hill work at the trot followed by a walk around the farm. Marissa helped me clean tack, bathe Finn, load the trailer and entertained him while I braided his mane. We finished up around 9:30 p.m. or so and headed home for showers and bed.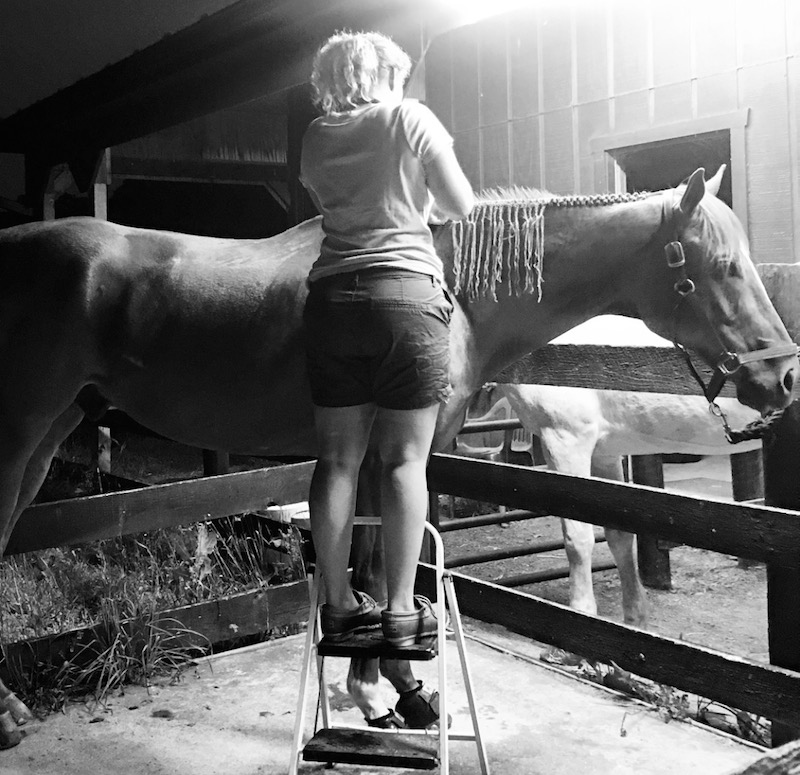 The next morning, I headed to the barn, fed Finn, hung his fake tail and finished the finishing touches with a pinwheel tail braid and forelock. The kids went to school for the day and on the road we went. We met up with Sean at our volunteer firehouse and he took over the driving so I could rest. We stopped for some quick tailgate food before arriving under the famous oaks.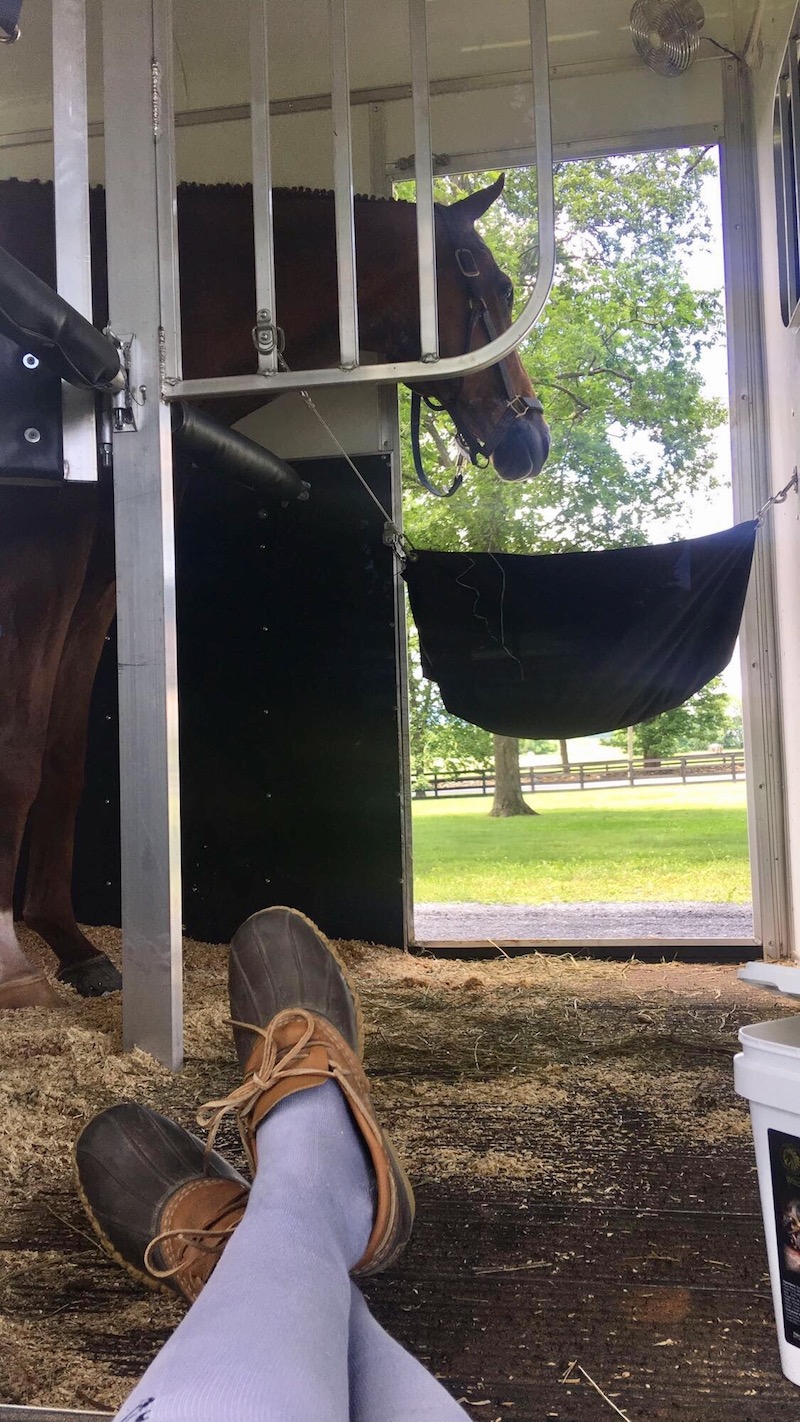 We picked a great spot in the shade and away from other trailers so we could keep it low-key. I decided to take Finn for a hack in the warm-up ring, which turned into a jump school due to some extra energy on both our parts. Sean was able to snag a fence and set jumps for me. Finn was a little fresh—it was actually very mild for Upperville being in the high 60s/low 70s.
Some of the bigger hunters were in the warm-up ring, so I wasn't really paying attention and ended up jumping a solid 3'3″! He felt great and no wonder he was jumping me out of the tack! Our amazing barn owners, Dorothy and Owen Lowe were able to catch us in the warm-up ring and I caught a double thumbs up from her after some of the fences. They both were kind enough to give up their day and come and support us!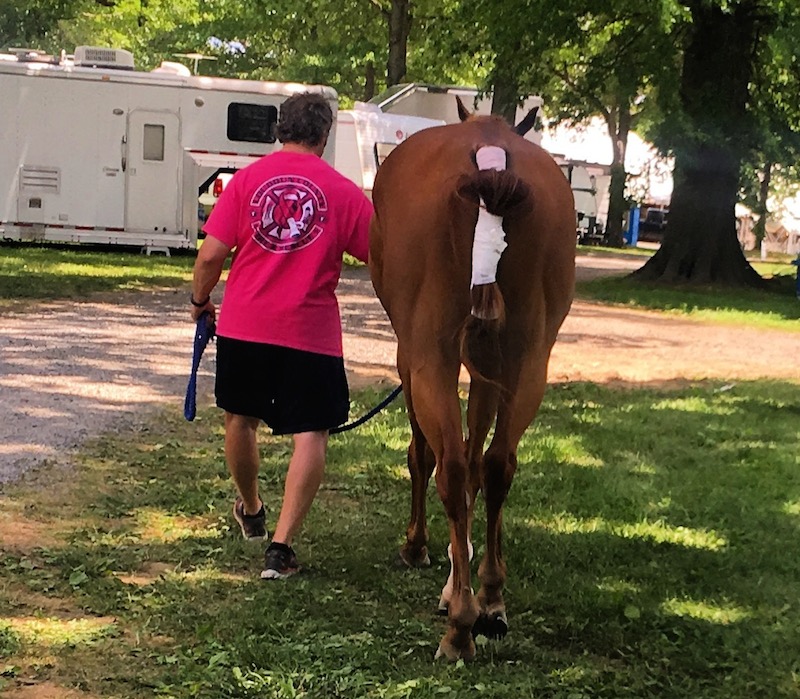 We headed back to the trailer for some well deserved treats and a bath. Sean assisted me by carrying our stuff, holding Finn and bringing his bucket of water back to the trailer. We loaded on the trailer, fixed some flyaway hairs, ate some snacks and relaxed while we waited for our classes to start.
It was time….we tacked up, Sean took our groom box, coat and number up and stood ringside while we waited for the WVBC Back from the Track Hack class to start.
They called all of us into the ring and started the hack class. I had a good position and was off to a great start, until I was cut off by another rider and then boxed into a corner with other horses bucking and kicking right after we were asked to canter. Finn took offense and had a moment, which is totally acceptable… things happen. We gathered ourselves back together and finished the rest of the class strong to earn a sixth place. I was thrilled!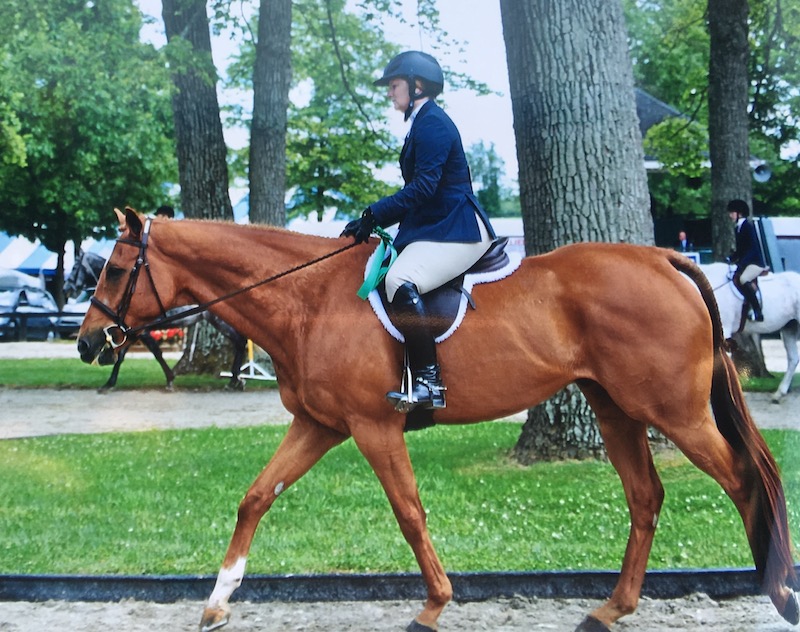 Next up was the WVBC TB Hunter Development class. It consisted of an over-fences portion, a hack and a model. I went second out of the 3′ section to shut down my nerves. This was only our second time at 3′ and I was scared to death!
We didn't get to see the ring or the jumps prior to showing in the hack class. I walked in and picked up the trot and then the canter directly in front of the judge. We cantered up to a single fence on the quarter line in front of the grandstand, NAILED IT!
Down to the outside line in front of the judges decently, around to the diagonal line, nailed the first fence of the line and then it hit me… I was making it around the big ring at Upperville!!!!
Oh crap?! I forgot how many strides… there it was…. a big old giant chunk to the oxer! That's OK, Finn didn't care and We both took a deep breath and kept going. We had a single oxer in front of the grandstands, nailed it again and finished up over the diagonal line towards the in-gate. I finally took a deep breath when I landed and smiled. We made it around!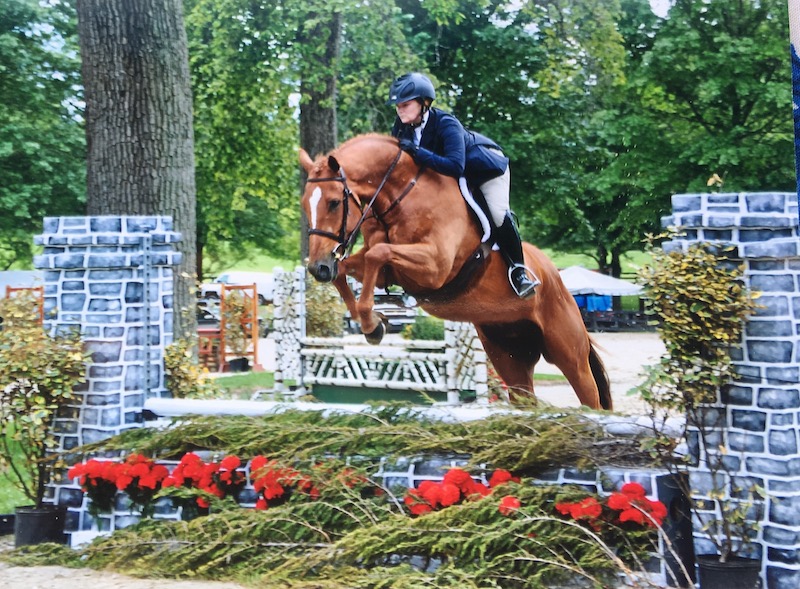 We were all called back to hack. Finn was his normal floaty and relaxed self. We were asked to line up in the order our numbers were called. We were standing parallel to my cheering section and I was trying to count while I was getting the thumbs up. I had to do a triple count, because I counted seven horses in front of me—that meant we were in eighth!
The two judges came and looked at Finn's conformation, each spent a few minutes, smiled and went on to the next horse. The announcer started placing the class—we took eighth in the WVBC TB Hunter Development! I was the last one to leave the ring and I took a brief moment to thank Finn before left.
Dorothy came over as fast as she could, I think she was just as excited as I was! She's been one of my biggest supporters. The long walk back to the trailer seemed surreal as Finn and I both took our time. We all talked about the progress we've made and how well he took things in.
A good friend and fellow amateur, Katie told me, "When all else fails, grab mane, kick, hold on for dear life and always have fun!" Those words couldn't have been more perfect for Upperville because that's what I did! I let my inner 5-year-old out and let Finn take over the role of being the adult for the day; this concept still amazes me!
I went the following day to support Katie as she showed in the adult amateurs. There were seasoned amateur riders and casual amateurs and those who hadn't shown in years. Each one had various levels of anxiety and determination. Some riders were point chasing, some just to knock it off the bucket list and some for the tradition.
The same level of excitement and joy I've experienced over the past couple of years was seen in almost every rider that exited the ring. Regardless of the trip that was laid down, there was a smile or subtle smirk that was followed by a rub or pat on the neck for a job well done.
This was evidence that I was not alone. I watched some riders have moments of anxiety and frustration that ensued with a few tears. A quick pep talk from a trainer or a friend and those fears disappeared. It was truly a breath of fresh air to see that none of us are alone. We all are our own worst enemies. We each have challenges to overcome, but we all face them on our own terms.
I finished out the day in the adult amateur ring and learned it's okay to leave the kids at home, or to bring the kids, not be dressed to the nines or to rush home to get dinner ready and it's OK to have help.
You won't be judged any less for having a life while trying to ride. We all make sacrifices and all have a common goal, to ride!
It was a great week off before starting at my new job. I was able to let the reality of things set in with one last outing at the grand prix on Sunday. Sean and Logan were happy to tag along for a ringside tailgate with some good friends of ours. No one in my family has any real intentions of riding, but it is always nice to be able to share an interest. They have always enjoyed watching the bigger jumps, helping me and taking part in the social aspect of it.
Elizabeth Grubbs fits riding her off-the-track Thoroughbred hunter, Finn, around her full-time job as a firefighter/paramedic and two part-time jobs. She also juggles that with her life as a wife and stepmother to three children. You can read more about her in the Amateurs Like Us profile "Elizabeth Grubbs' Bumpy Road Led To The Right Place" and read all of Elizabeth's COTH blogs.