It has been a long bumpy road for Elizabeth Baroody Grubbs to find that once-in-a-lifetime horse to jump and show and even fulfill her dream of getting her wedding photos taken with, all the while balancing her riding with family and a career.
Today Elizabeth is a paramedic, working three jobs to pay her horse bills but also living her dream as she shows Finn, her off-the-track-Thoroughbred with a heart of gold. You can find her this spring in schooling shows around Northern Virginia, with her husband setting jumps in the warm-up.
"It all boils down to motivation and desire to have the things you really want," Grubbs said. "My horse lives out 24/7. It's cheap, but it's also what makes him happy. I get my hair done four or five times a year and only do color twice during the winter or summer. I also do my own nails unless I decide to treat myself. It's possible. Another thing—eBay! It's helped me get things at a steal!"
Grubbs, from Cross Junction, Va., works full-time as a county firefighter and paramedic, has another part-time job on the side as firefighter/paramedic, and works off her lessons with a dressage trainer. In whatever daylight hours she has left, she squeezes in rides on Finn with the goal of eventually getting him to the amateur-owner hunter division."Life is always hectic, but I make it work!" she said.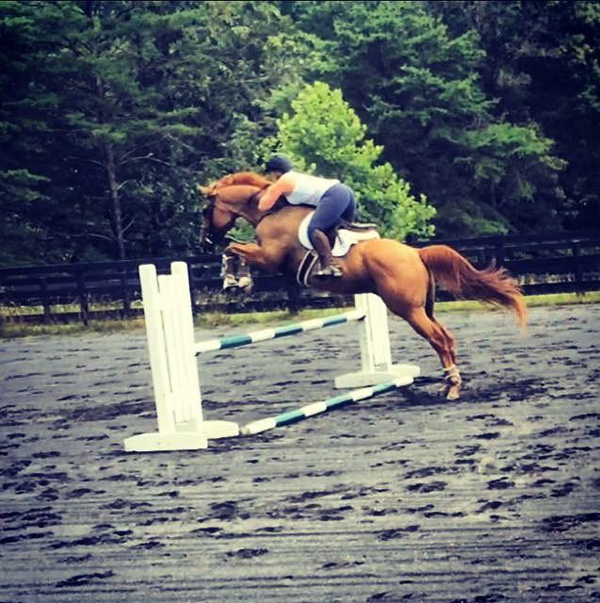 Elizabeth Grubbs schooling Finn at home by herself. Photo courtesy of Elizabeth Grubbs
Now 31, Grubbs started riding as a child, trading barn chores for lessons and rides. By high school she was showing on the A circuit and doing the junior jumpers. She groomed to help pay her way, working late into the night. "I learned to braid and offset the costs. I would be up all hours and my horse came last," she said.
After finishing high school, Elizabeth took her junior jumper to Sweet Briar College (Va.), but tragically that horse colicked and died during her first semester there. That, combined with the stress of being not quite ready for college and struggling with her grades, then getting kicked in the face by another horse within days of losing her horse, led to her taking a semester off.
When she returned to Sweet Briar, Grubbs continued to face challenges. A broken leg sidelined her. The 3-year-old homebred mare she brought with her developed EPM and had to be put down.
After that, "I quit riding, for the first time in my entire life," she said.
Grubbs decided to reboot her life, spending some time on an exchange program to Hampden-Sydney College (Va.). While there she met K.C. Meadows, the coach for the equestrian team at nearby Longwood University (Va.). Meadows encouraged her to get back in the saddle, and gave her a leg up onto an off-the-track Thoroughbred, Henry. "She and Henry are pretty much why I ride today," she said.
Grubbs finished her undergrad education at George Mason University (Va.), with a full course load and working 40-plus hours, she said, before setting her sights on becoming a paramedic. And, she started thinking about getting another horse.
Someone told her about a chestnut "polo pony reject" that hadn't been ridden all summer. She could have "Ollie" if she took over his board. "I took him on a one-week trial and he tried to buck me off the first day," she laughed. And I thought, "Oh he's the perfect horse for me."
Elizabeth had Ollie, show name Once In A Lifetime, from 2006 to 2014. He wasn't easy, but she learned a lot from him. "If you didn't ride him right, he'd dump you in the dirt. He'd spook at a blade of grass if it was facing the wrong direction," she said.
Grubbs had just started dating Sean, who is now her husband. She had visions of getting wedding pictures taken with Ollie.
But that all changed when Ollie flipped over a fence while turned out. She saw him through a few months of rehab, then he got injured again, impaling himself on a stake. Elizabeth was grateful that she'd made the decision to insure Ollie—after her irreplaceable show horse had colicked and died uninsured she decided that, "I never wanted to have to make a decision based on money."
But when Ollie developed an infection, he took a turn for the worse. Elizabeth sat with him non-stop, but eventually had to make the decision to bid him goodbye.
"I looked at him and knew he wouldn't make it," she said. She put him down Feb. 26, 2014. Heartbroken, she logged off Facebook and shut down for a bit.
When Elizabeth opened her computer a few weeks later, she found herself looking at CANTER horses and clicking on for-sale ads. Then one day she opened Facebook and saw a $400 horse in Pennsylvania. "We can afford that!" she told Sean. She saw a video of Finn trotting and said, "I have to have this horse!"
A foot of snow had fallen in Virginia but that wasn't going to stop her—she and Sean had the money from their first joint tax return. Finn was living in a field—a hairy, gangly chestnut off-the-track Thoroughbred still wearing his racing plates. He cantered away, did a lead change, and it was over for Elizabeth.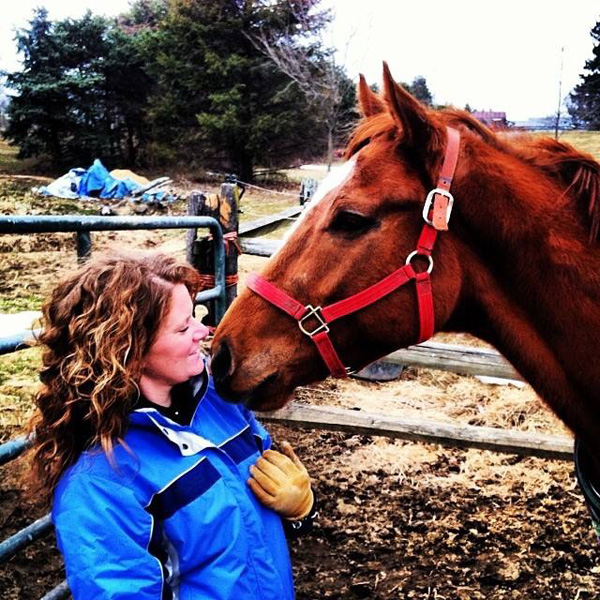 Elizabeth meeting Finn the first day. Photo courtesy of Elizabeth Grubbs
"I looked at Sean, handed her $400, and signed everything," she said.
His name was Financial Legacy, so she named him Finn for short—and short for Finnegan's the restaurant where Elizabeth and Sean had their first date. Finn slowly learned to take treats. Carrots he learned after a week. Apples he still doesn't like.
Elizabeth noticed riding Finn that he breathed a bit funny. Finn had been placed via NEW START for Horses and so Elizabeth was able to get Finn's vet records and information on his owners. His owners, Thomas McClay & Harry Nye, had bred Finn to be their Derby horse, she says, but he had an airway issue and he was sent to New Bolton for surgery and a cardiac workup. "That's why he's not a closer," his foster owner had said of Finn's failure to thrive on the track. Elizabeth's own vet said Finn's breathing would not be an issue in his new career.
Elizabeth spent 2015 getting to know Finn and working through his ulcer issues. He got a radical diet change, with treatment with Gastroguard and 24/7 turnout, which is how he still lives. "He's happier that way and we've got an excellent supply of Rambos!" Elizabeth said.
Finn just turned 7 and Elizabeth calls him a "saint." Any of Sean's three children from a previous marriage are able to walk him around the ring. They finished 2016 with successful trips in the 2'6" baby green and Thoroughbred hunter classes.
Elizabeth does most of the work with Finn herself—she bought a truck and trailer and ships him to shows. Sean sets jumps for her at home and at shows.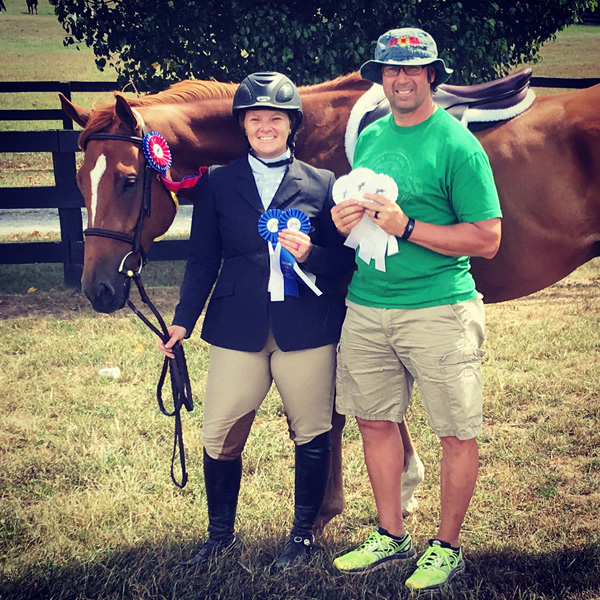 Finn, Elizabeth and Sean in September at Finn's first show. "Finn had never jumped oxers or fluffy jumps, or jumped in a warm-up ring or off the farm before. It was my first horse show course since 2009 and his first course ever," Elizabeth said. Photo courtesy of Elizabeth Grubbs
"He just jumps around, never bats an eye," Elizabeth said of Finn. Flowers, brush, new fences, it was all good. He has a big lopey canter and doesn't mind if you miss a distance, she said. They were champions in their first time out at 2'3".
"I've been taking my time," Elizabeth said. She didn't really start jumping Finn until the middle of 2016. And aside from dressage lessons Elizabeth has done all the training of Finn. "I don't know how I created this horse!" she said. She does it with the help of Sean and his three kids, Natalee 15, Marissa 13, and Logan, 8. Natalee is her "sidekick" at shows if Sean can't make it.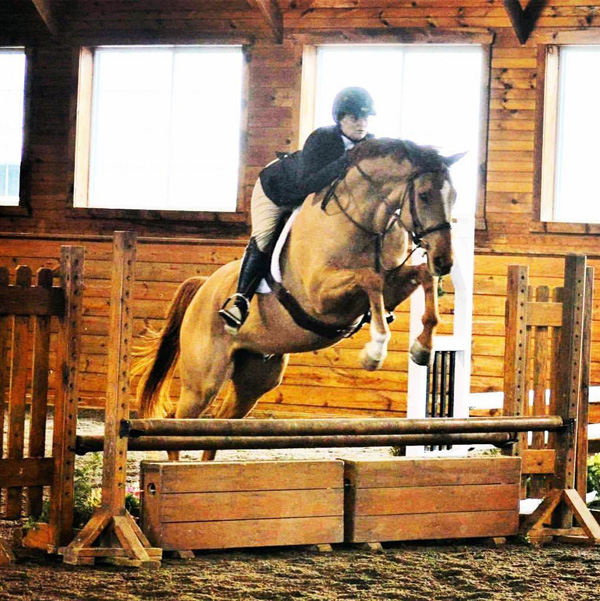 Elizabeth and Finn at their last show in 2016, where they moved up to 2'6″. Photo courtesy of Elizabeth Grubbs
"I also am the only female in my department and the first female to pass the physical/written requirements to work for Warren County Fire Rescue," Elizabeth said. With Elizabeth's current schedule, Sean often steps up to help care for Finn. And since Elizabeth has the horse, Sean got to buy drums—two giant sets of them, she said. "It looks like Tommy Lee Jones lives in my basement."
Things came full circle when Elizabeth's old trainer, K.C. Meadows, met Finn, telling Elizabeth, "This horse is just like Henry," the horse that had gotten Elizabeth riding again in college.
And even though Finn lost a shoe and couldn't be ridden for days, Elizabeth was able to do her dream wedding dress photo shoot with him. And Elizabeth is realizing that her bumpy road in the past has helped her appreciate what she has now. "I wouldn't change a bit of it. A lot of it sucked, but it's what got me here today!" she said.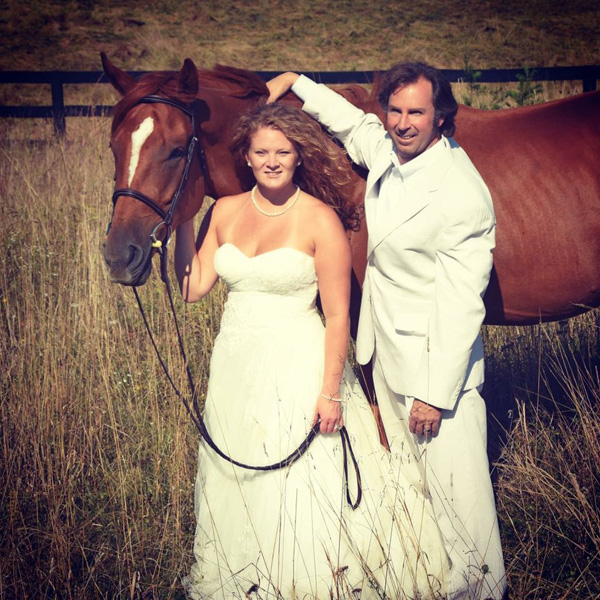 For Elizabeth and Sean's second wedding anniversary, Elizabeth was able to fufill her dream of wedding pictures with her horse. Photo courtesy of Elizabeth Grubbs