So the week that everyone was leaving for Burghley, I was feeling pretty sorry for myself. I was going through the motions on my farm, but not enjoying it.
As an incredibly competitive person, not even getting to show up and give it a go was just the worst.
But being me, I'm always thinking, brainstorming, and I found inspiration in my predicament. In the moments where I just wanted to be a heap on my couch, I decided to reach out to potential sponsors—one of the most challenging but exciting parts of my business.
If I wasn't going to be working in the barn, I would at least make myself useful in the business of what can usually be described as consistent and persistent rejection or total disregard. For every success, there are always many failures, i.e., I'm still in the market for a blanket, feed, and clothing sponsor.
I know, great project for someone already feeling a bit low!
Amidst my emailing and calling, it occurred to me that all my social media posts about AP on his stall rest and recovery were being wasted. Someone should sponsor his rehab!
So I contacted a mutual connection, Sally Rush of StrategicEQ, and got an introduction with Guardian Horse Bedding. My idea: sponsor AP's stall rest, and my first experience with a horse being stall bound for three months.
I had been using normal shavings and was stripping his stall daily. I needed a solution and was eager to share what I could find. Simple enough. But what happened next blew my mind.
I called the owners of Guardian Horse Bedding, Claire and Jon, on a Thursday. There wasn't even a second's hesitation—they wanted to get involved with AP and help me solve my bedding crisis. And then here's where it gets shocking.
Within 18 hours, Jon himself was at my door with a pallet of pine pellets.
We spent an hour chatting about my horses, my program, his horses, and the business. Then Jon gave me advice about which combination of bedding to use to make AP's home as comfortable and healthy as possible. We settled on 10 bags of the pellets and a few of the swift pick shavings to cut down on dust.
AP was officially living on a pillow top mattress and I was taking just over half a muck tub of waste out of his stall instead of wheelbarrow and a half.
Then it gets better. I was invited out to Jon and Claire's farm, the Guardian Bedding headquarters, and one of the factories to meet all the staff and see how everything worked. I learned of the additional products that have been born from the byproducts of creating horse bedding, in the spirit of recycling and responsibility. I met all of their lovely horses and saw firsthand how they put their product to use.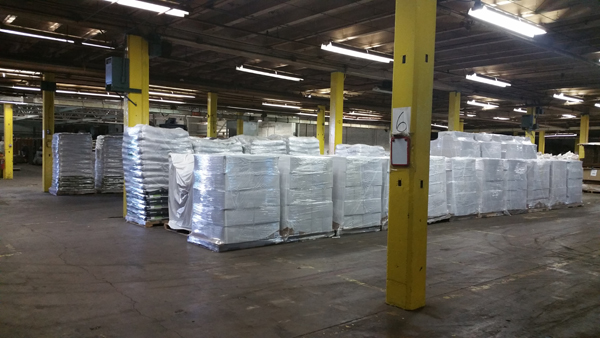 And most importantly, I was welcomed into the Guardian family with a generosity that has become the norm for how Jon and Claire work with the eventing community.
I guess my point, which is nothing new, is that it really does take a village. When I was at a low, Jon and Claire's support and the way they reached out to me really picked me up and meant the world to me. It was completely unexpected, totally undeserved, but the most wonderfully pleasant surprise.
All that and I haven't even gone into how their bedding has improved both my and AP's quality of life! You never know where kindness or motivation is going to come from, and I just want to thank Guardian Bedding for the much needed injection of that into my life!
Guardian really is a perfect addition to the amazing companies with which I already have partnerships, and I can't thank all of my sponsors enough for their ongoing support.
Leah Lang-Gluscic's living every young eventer's dream—competing at the upper levels with an off-the-track Thoroughbred horse of a lifetime who cost less than most saddles. But Lang-Gluscic didn't jump right into life as a professional eventer. After graduating from the Wharton School at the University of Pennsylvania with a degree in finance and accounting, she spent two years working at an investment banking firm. Even then she found time to ride, but in 2010, she decided to dive in and bought her facility in Freeport, Ill., and begin LLG Eventing.
Lang-Gluscic made waves in 2015 by entering her fairy-tale OTTB, AP Prime, in the Rolex Kentucky CCI****. She withdrew after the dressage, but returned to the Kentucky Horse Park again this spring and placed 33rd.
Read more about Leah and AP in the 2015 COTH article "One To Watch: Leah Lang-Gluscic Will Represent OTTBs With AP Prime At Rolex Kentucky." You can read all her COTH blogs here.