Well poop…
Those words pretty much sum up my personal competition ambitions at the moment. One moment, I had a fabulously fit horse coming back from a great first run at the Rolex Kentucky CCI****, and the next, not so much.
I've been out of touch for a while, so I will start back at the beginning.
As many of you know, AP came off of Rolex looking like a million bucks. He went in for a full lameness exam a week and a half after the big event, and was no worse for the wear. From the vet clinic, I called my coach Jon Holling, having no idea what to do next. His advice: "You have a Burghley horse, find a way to get to [the Burghley CCI**** in England in September]."
AP continued the rest of his five-week vacation, and when he again went back for one more check-up and was completely cleared for work yet again, I decided to start my fundraising and campaign to get overseas. My horse felt like a million bucks, the generosity towards my silent auction was beyond anything I could have ever expected, and I really felt like we were on an inevitable path towards another incredible goal.
For my final prep, I decided to make the trip out to The Event at Rebecca Farm (Mont.) on July 21-24. By the way, the rumors are true, this event is out of this world and an absolute must have on any eventing bucket list!
AP could not have run around the cross-country better—he made it look and feel easy in that special way that he does. I felt totally prepared and excited to have a crack at the toughest four-star in the world!
Then he was lame.
He had visible bruising on his left outside heel, so we all thought, after confirming that his branch from last year was normal with ultrasound, that it was just a superficial setback. However, I of course scheduled another appointment with my vet in Illinois and got him out there the next week.
By then AP looked nearly sound, but he definitely blocked to the foot. The decision was ultimately made to make the trek to Ohio State for an MRI, another new experience for me. After watching my best friend hang upside down and put on the table, I sat outside the MRI waiting. Waiting to be told I wasn't going to Burghley.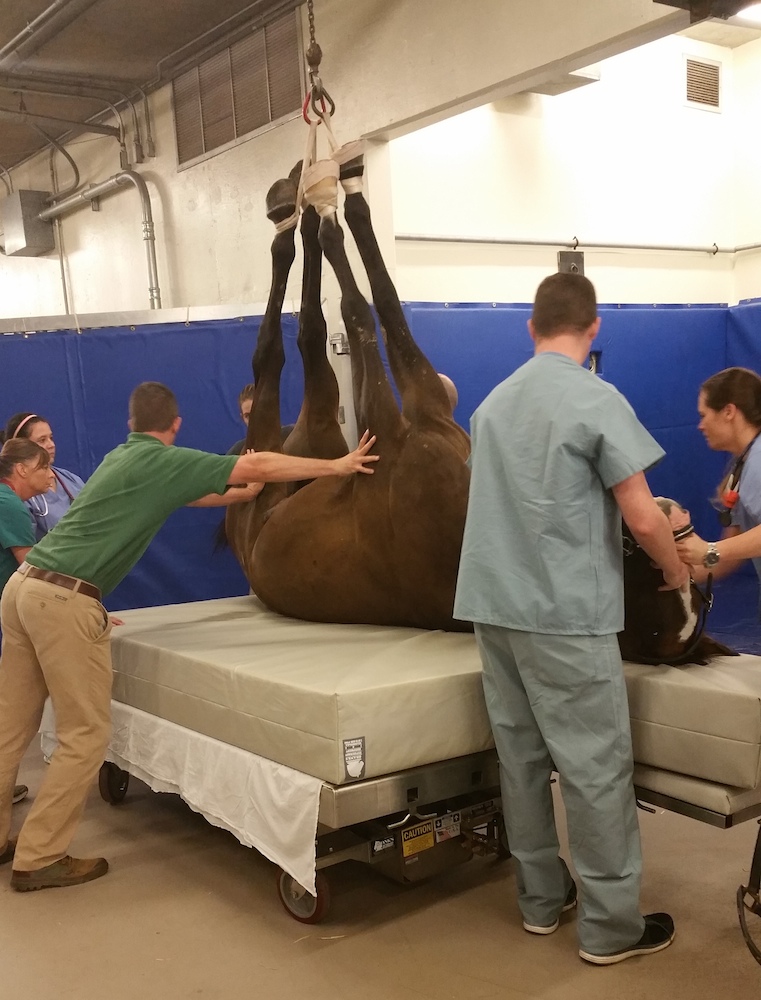 AP on his way to the MRI machine.
It turns out AP has an angry collateral ligament which will require three months of stall rest. The good news is, my horse is not very stoic, so as soon as anything bothers him in the least, he is very communicative about it. There is not a tear, but there is significant aggravation and inflammation where the ligament attaches to the coffin bone.
As I drove home from the vet, I cried. A lot. Not because of Burghley, I can easily deal with that and we will be back and ready next year and already have a great head start to our fundraising!
I cried for my horse that loves his field, loves his friends, loves running cross-country, and was as fit and ready as any elite athlete in the world. I cried for his inability to understand why I would be taking away everything he loves about being a horse, literally everything.
The first few days were really rough—AP was angry, frustrated, and downright miserable. His cocktail has now kicked in and he's doing much better. He will go in for stem cell treatment and his veterinary team is confident that he will come back better than ever, in huge part to him being such a big baby and telling us the second anything was wrong.
He will be on track for Rolex next year and then an overseas adventure in the fall! So where does this leave me for now?
The young horses are keeping me busy, though I do have an opening for an upper level horse if anyone has something in need of a tune-up or just some miles. It would be nice to get to some higher profile events while AP is on the mend.
I also have my silent auction up until Aug. 19. While the proceeds will not go to Burghley this year, all the proceeds will go into a separate bank account to be used for overseas competition next year. The overflow of generosity from everyone who donated to my cause meant so much to me. There are some incredible items, so please go check them out!
I know it's different with the goal being so much further away now, but these funds will be used to get me and AP overseas! As always, thank you for following along with our journey, through the ups as well as the not so much fun downs.
Link to Leah's online silent auction.
Leah Lang-Gluscic's living every young eventer's dream—competing at the upper levels with an off-the-track Thoroughbred horse of a lifetime who cost less than most saddles. But Lang-Gluscic didn't jump right into life as a professional eventer. After graduating from the Wharton School at the University of Pennsylvania with a degree in finance and accounting, she spent two years working at an investment banking firm. Even then she found time to ride, but in 2010, she decided to dive in and bought her facility in Freeport, Ill., and begin LLG Eventing.
Lang-Gluscic made waves in 2015 by entering her fairytale OTTB, AP Prime, in the Rolex Kentucky CCI****. She withdrew after the dressage, but returned to the Kentucky Horse Park again this spring and placed 33rd.
Read more about Leah and AP in the 2015 COTH article "One To Watch: Leah Lang-Gluscic Will Represent OTTBs With AP Prime At Rolex Kentucky." You can read all her COTH blogs here.