Wellington, Fla. – Feb. 5
While most of the riders at the $75,000 Asheville Regional Airport Eventing Showcase in Wellington (Fla.) are competing their mounts in their first event of the year, Allison Springer's top CCI 4**** mount Arthur has been away longer than most.
The 17-year-old Irish Sport Horse (Brandenburg's Windstar – Kelly), a veteran of Rolex Kentucky CCI**** and Land Rover Burghley CCI**** (England), sustained a minor injury and was withdrawn from Rolex in 2015. He has not shown since the inaugural Eventing Showcase last February, when they finished in the top 15.
Returning from the extended layoff, the gelding, who has competed at the CCI*** level and above since 2007, seems poised to improve off that performance after turning in a dressage test that put his rider and him at the top of the standings Friday afternoon at the Palm Beach International Equestrian Center's Stadium. Heading into Saturday's show jumping and cross country phases, Springer and Arthur boast a penalty score of 29.1.
"He feels great," said Springer, who also brought the younger Cascani (36.8) to Wellington to compete in his first event at the advanced level. "He's 17 this year, and he's so happy to be out and doing stuff again. He's really strong and well.
"This for me is one of my big preps for Rolex this year," she added. "He's doing this and he'll have an easy February to get fit and then probably run at The Fork (N.C.) or something, but this was the perfect thing to get him in the atmosphere and have the noise and all. I was hoping for a bigger lead in the dressage, but he's been jumping well, and hopefully I can stay focused and give him a good ride [Saturday]."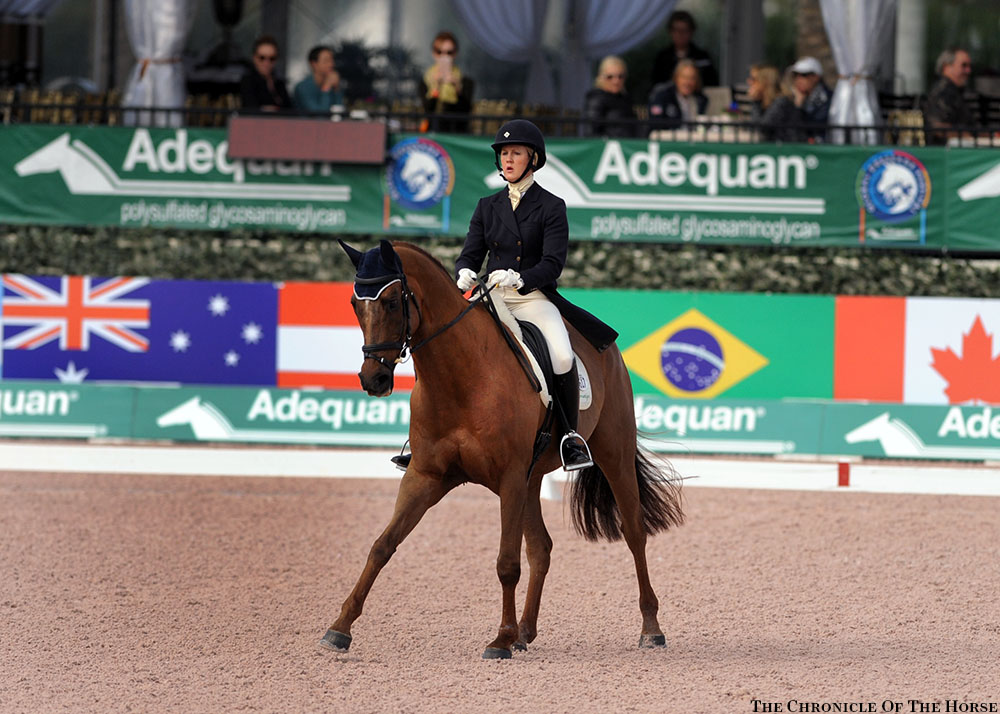 Allison Springer and Arthur lead the $75,000 Asheville Regional Airport Wellington Eventing Showcase after the dressage phase.
The veterans shined in dressage, as Buck Davidson rode his 16-year-old partner Ballynoe Castle RM, affectionately known as "Reggie," to a 30.1 penalty score, putting him into second place.
"He's just a professional," Davidson said. "I'm a little disappointed in myself that I missed one [lead] change, but he was perfect as usual. On to the next day."
"It's kind of fun to see Reggie and Arthur [both doing well]," Springer added. "They started out together. It's been so many years that they've been kicking butt in this. On my first trip to Europe, Buck had to drive the lorry through a muddy quarry, and they're both still alive! Those are two top horses."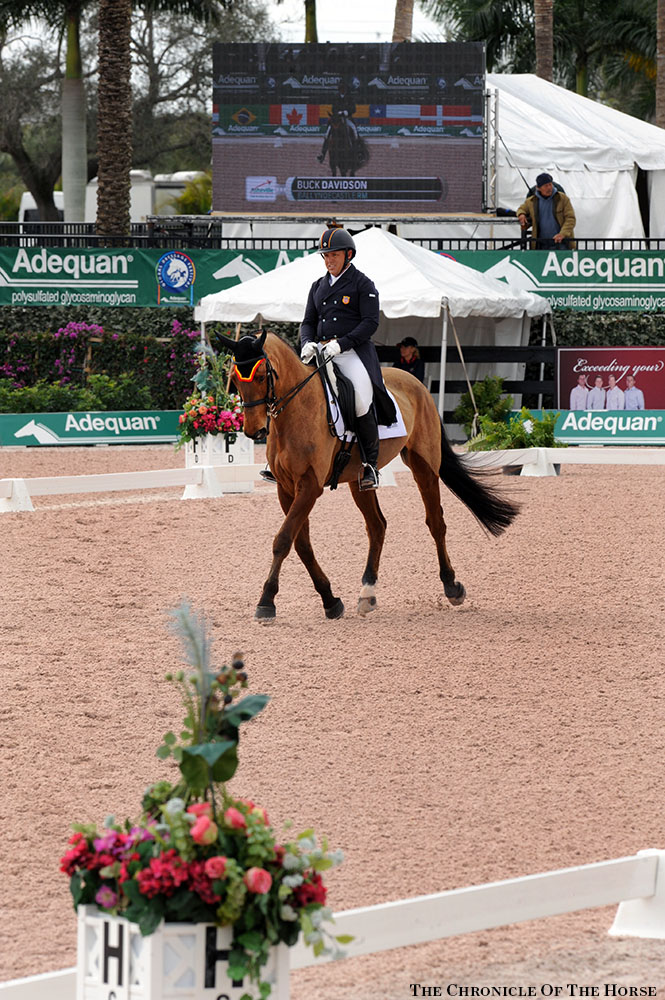 Buck Davidson and Ballynoe Castle RM
The reigning champion Boyd Martin, who captured the event last year with Trading Aces, sits in third after dressage with Blackfoot Mystery (30.6), a horse he acquired last July from Kelly Prather. In their most recent outing last October, the duo finished sixth in the CCI3*** at the Fair Hill International Three-Day Event (Md.). Martin also rode Welcome Shadow Friday to a 35.9 penalty score.
"I was really happy with my two horses today," he said. "I brought a green one, Welcome Shadow, that did quite well, and then my new horse Blackfoot Mystery came in and had a great test. We had a couple little mistakes, but I think he's all class, and I'm just looking forward to building a partnership with him and aiming him up to Rolex at the end of the spring."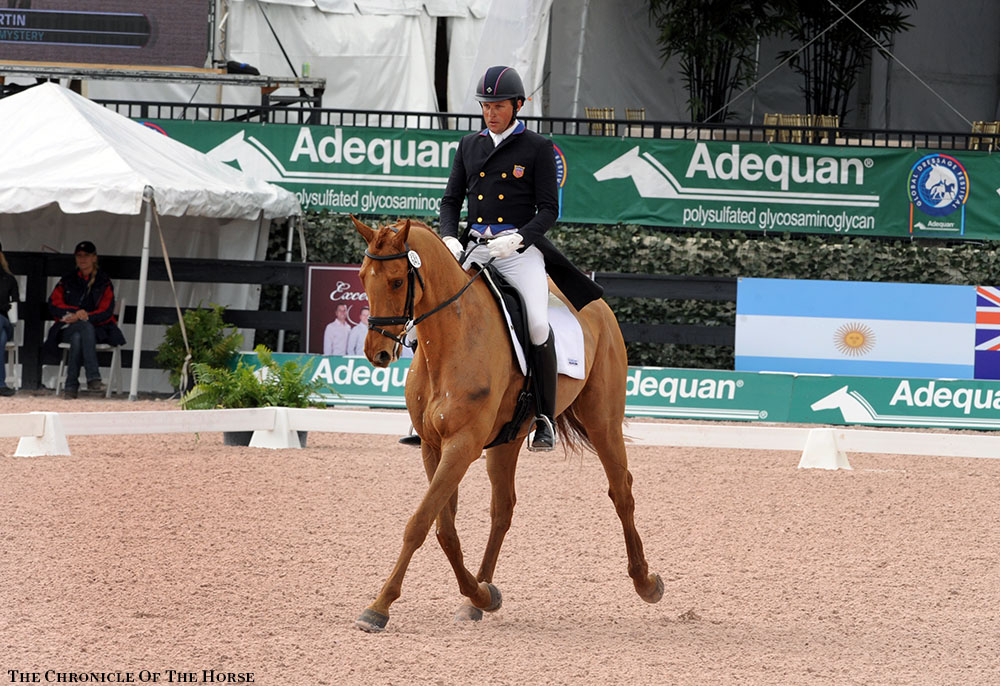 Boyd Martin and Blackfoot Mystery
Competition resumes Saturday with show jumping and cross country; show jumping begins at 10:30 a.m., and the final cross country round will start at 1:00 p.m. Similarly to last year, Mark Phillips served as the course designer, but the riders noted the level of difficultly was raised.
"The cross-country is not that big, but I think [Phillips] made it a bit trickier than last year," Martin said. "There's a ditch head to a blind five strides to a corner, and I think that's probably the toughest fence on the course. There are some really experienced horses that will do it easy, and there are some greener ones, but Phillips created a longer option for that. I think the cross country will be a little more decisive [in terms of the final standings].
"I think there's a higher quality field this year," he added. "There are a lot more of the top horses here."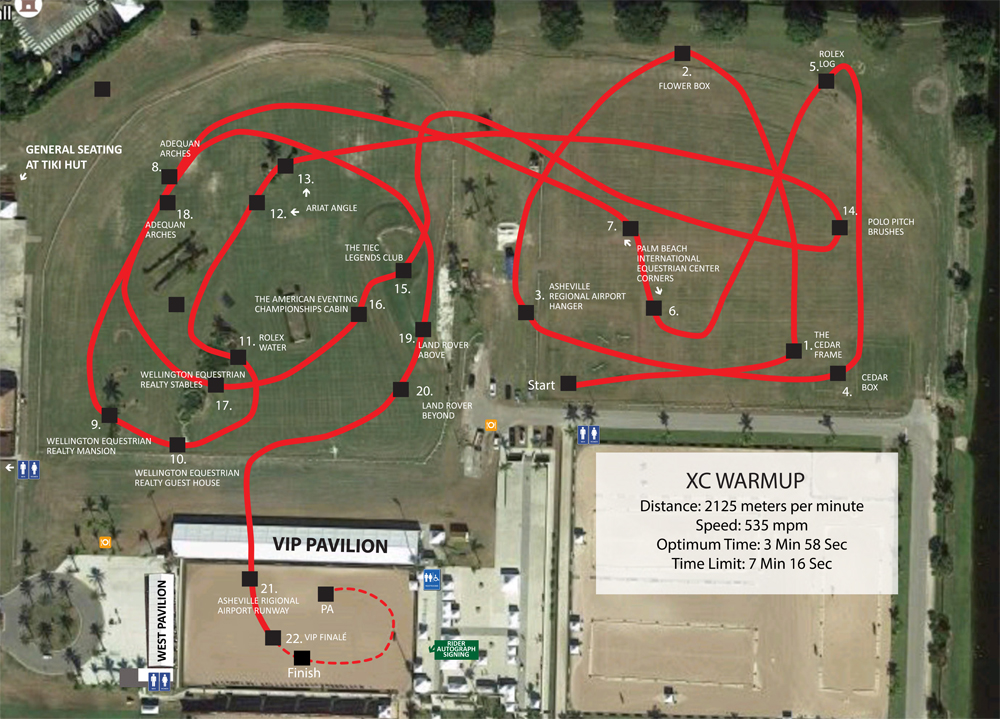 The Cross Country Course Map
The cross country course also includes a new element in the form a run through the VIP tent to a drop jump. Competitors will ride their horses from the cross country field through the tent, coming within feet of spectators on either side, and jump into the sand arena where they rode their dressage tests.
"This is good practice for my horse," Springer said. "He's a bit of a spook, but he's pretty good with the technical stuff. I'll probably be scrubbing into the tent, I'd imagine, but we'll find out.
"I've worked really hard on my show jumping. It's not Arthur's strongest phase, but he's fully capable, and he jumped well here last year."
"It's an awesome cross country course," Davidson said. "It's beautifully laid out. I wish the fairways at my golf course were as this ground here. We're very appreciative of that and grateful that all the horses are able to have a good, quick run. It's not very long, the fences are well presented, the ground is perfect, and I think you're going to see a great competition tomorrow."
You can find all the information you need on the Wellington Eventing Showcase, including links to live streaming, here.