Good parents tell their offspring they can be anything they want when they grow up. Braider Bridget Kennedy must be a great parent to Rory the Chihuahua because her little fur child is doing great things for all of Chihuahua-kind.
Rory didn't want to be just another fluffy Chihuahua brick in the wall, getting carried around in purses and yapping endlessly at doorbells. No, Rory had visions of athletic greatness.
"I've always had Labs, and I was at a dock diving event where they had some agility equipment you could try your dog on," Kennedy said. "They talked me into doing it with Rory, and when he went in the ring I was like, 'Oh my God, this dog wants to do this.' He just has that personality to compete."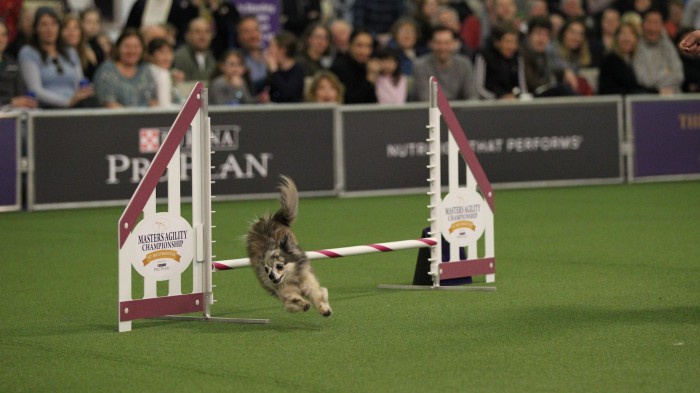 The foot-long canine flew over fences like a fluffy 5-pound Superman; he clambered up and down the ramp nearly 30 Chihuahua stories tall, and he charged through the dark Chihuahua-eating tunnel towards the shining light of victory on the other side. He not only wanted to be an agility Chihuahua, he wanted to be the greatest agility Chihuahua of all Chihuahua-time.
Kennedy bought some agility equipment and started bringing it to horse shows so she and Rory could practice when she's not busy braiding. Kennedy spends the winter braiding in Wellington, Florida, and works in Pipersville, Pennsylvania, the rest of the year.
Agility competitions run similarly to the pony hunter division, of all things: Pups are measured at their withers to divide into divisions, and in pony terms Rory is like having an 11-hand small.
"He's usually the shortest dog in his division," Kennedy said.
But Rory makes up for his small stature with a giant Chihuahua heart and stride. All dogs run up the same ramps and teeter-totters, but the smaller dogs get smaller fences. Rory's division jumps are 8″, which is basically grand prix Chihuahua height.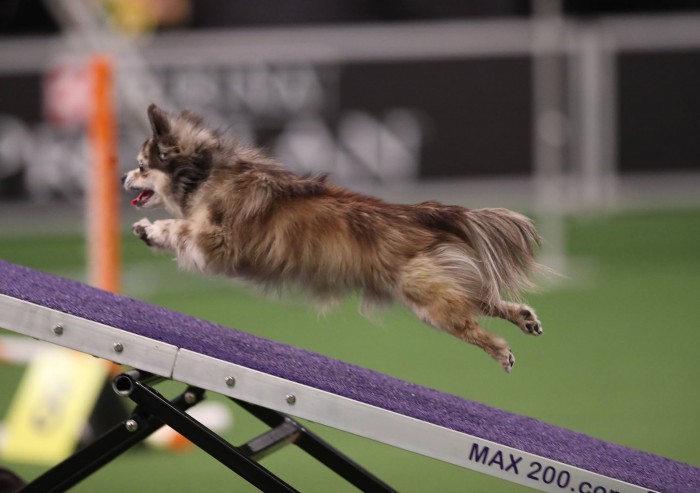 This year marks Rory's second competing at the prestigious Westminster Kennel Club Masters Agility Championship in New York City. Kennedy and Rory flew straight to the Big Apple from Wellington to go for the gold on Feb. 10.
"Last year we made one mistake and didn't make finals," Kennedy said. "This year he was perfect all three runs and made the finals and ranked in fourth place out of 62 dogs."
Rory benefits from Kennedy's association with some of the best show horses in the country. He gets all the same therapies the equines get—a tiny Back On Track blanket, massages and chiropractic work, cold laser therapy, supplements, the whole nine yards.
"I think traveling and going to all the horse shows with him has actually been so good for the agility," Kennedy said. "I can take him to any dog competition, and he doesn't flinch at a thing—like any chaos with the crowds cheering. He thinks that's awesome. A couple of dogs shut down in that environment, but not Rory."
Kennedy has even started training other peoples' dogs for competitions. You can look for her and Rory at horse shows, agility competitions and probably someday the world's cutest motivational poster on agility school walls across America.
This article appears in the March 12 Spring Horse Care Issue of The Chronicle of the Horse. You can subscribe and get online access to a digital version and then enjoy a year of The Chronicle of the Horse and our lifestyle publication, Untacked. Or you can purchase a single issue or subscribe on a mobile device through our app The Chronicle of the Horse LLC.
If you're just following COTH online, you're missing so much great unique content. Each print issue of the Chronicle is full of in-depth competition news, fascinating features, probing looks at issues within the sports of hunter/jumper, eventing and dressage, and stunning photography.
What are you missing if you don't subscribe?