When I was first asked by my editors if I wanted to cover the Olympic Games in Rio de Janeiro, I'll admit I asked for 24 hours to think about it.
Most people would jump at the chance to go to an Olympics, but like most people, the things I'd heard through the mainstream media worried me—Zika, dirty water and crime.
But once I thought about it, I realized I'd better not pass up the opportunity. Besides, my co-worker Mollie Bailey has lived in the city, knows the language and has experienced several international championships, so that eased my mind a little.
As we got closer to our departure I began to feel a little more nervous as the media started to ramp up the stories about Rio's crime and unpreparedness, terrorism threats and the spread of Zika.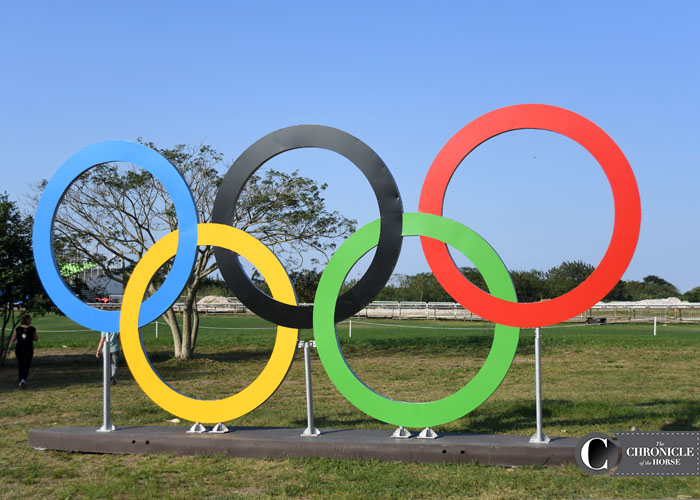 Photo by Lindsay Berreth.
On the day of my flight, I was feeling even more nervous, despite being an experienced international traveler. Would there be signs in the airport in English? Would my huge Pelican case full of camera gear be stolen right off the baggage claim? Would someone brush against me and steal my phone or purse?
Luckily Mollie went ahead a few days before me and was texting and sending me email updates about exactly what I should expect.
The airline had lost her luggage (more on that later), but she seemed to be having a great time crashing with our photographer friend Shannon Brinkman, who'd rented an apartment in Barra.
So, I anxiously stepped off the plane, followed my fellow travelers down a long corridor, and around the last bend, we were greeted by several people in Olympic gear. I went through the customs line very quickly, then made my way to get my luggage, which was there!
I grabbed a cart, was ushered by more friendly volunteers to the exit, and felt like a celebrity walking the red carpet as I walked out of the airport surrounded by people holding signs for their friends and customers.
The bus to Deodoro Village arrived almost immediately, and I hopped on with two other people and was off in about an hour from landing.
I've never traveled to South America, but I knew about the poverty surrounding Rio so I wasn't totally surprised by the landscape—favelas, dilapidated buildings, graffiti, dirt and trash, flanked by the beautiful mountains in the background, higher than any I've seen in the U.S.
There were no Walmarts, chain restaurants or open fields alongside the highway, just the urban sprawl of Rio.
As the bus pulled in to Deodoro, which is a military base, I saw several colorful buildings decorated with tanks, airplanes and statues, and armed men at every corner.
Check in was in a temporary tent that was attached to a small convenience store. It was very easy, and the staff were very helpful. I was escorted to my room and given help with my bags.
When I opened the door to our home away from home for the next two and a half weeks I was a little taken aback. A double bed sat inside a tiny dorm room with a small bathroom attached. With barely enough room to turn around with my luggage, I turned around and asked a staff member if there were any bigger rooms because we'd requested a room with twin beds.
Nope. This was it. But they were able to quickly change the bed situation so Mollie and I won't have to literally sleep on top of each other! Now we're about three feet away.
The good news is our room is part of a small apartment that has two other bedrooms (we've met one of our roommates, a field hockey photographer from Canada), a lounge area with a balcony and couches and a kitchen so we can spread out a little.
The cross-country has a few hills. Photo by Lindsay Berreth.
The kitchen only has a microwave and fridge, which might come in handy if it comes down to eating the Ramen they have for sale at the convenience store, but we're not to that point yet! We're hoping to find a grocery store and buy some healthier food than what's available in the cafeteria on site, but for the last three nights we've only been able to make it that far. If we want restaurants or grocery stores we'll have to find a taxi and make our way back towards Rio.
We've promised ourselves we won't eat at the cafeteria every night!
I met up with Mollie at the equestrian venue on Thursday after dealing with our accommodations. We hit the ground running and went on a stable tour where we were able to play fan girls and get lots of photos of horse and human stars. It's funny because I see our U.S. eventers on a monthly basis and have gotten to know some of them well over the years, but in this setting, Mollie and I became like paparazzi, shouting, "Boyd, Boyd! Over here!" or, "Go Glen!" as they walked by.
Our timing was well enough that we saw the U.S. eventers coming back from a flat school in the main arena. It was good to see everyone settling in, smiling and happy.
The show jumpers are trickling in, so within the next few days, every Olympic horse will be on site. Where else can you see the U.S. eventers, then walk around the corner and see Valegro playing with his groom Alan Davies' and be passed by Michael Jung on his way to walk his cross-country course?
At the entrance to the stables and into the venue itself, everyone, including the horses, have to walk over a squishy disinfectant pad each time in an effort to keep things sanitary.
We went on to a media course walk with the course designer Pierre Michelet, who explained that the track is twisty, so time will be influential. The word in the stables from riders is that it's a lot bigger than they expected, so I don't think this will be a dressage show!
The venue is first class, as many riders have already reported, and our media tent is right by the main arena.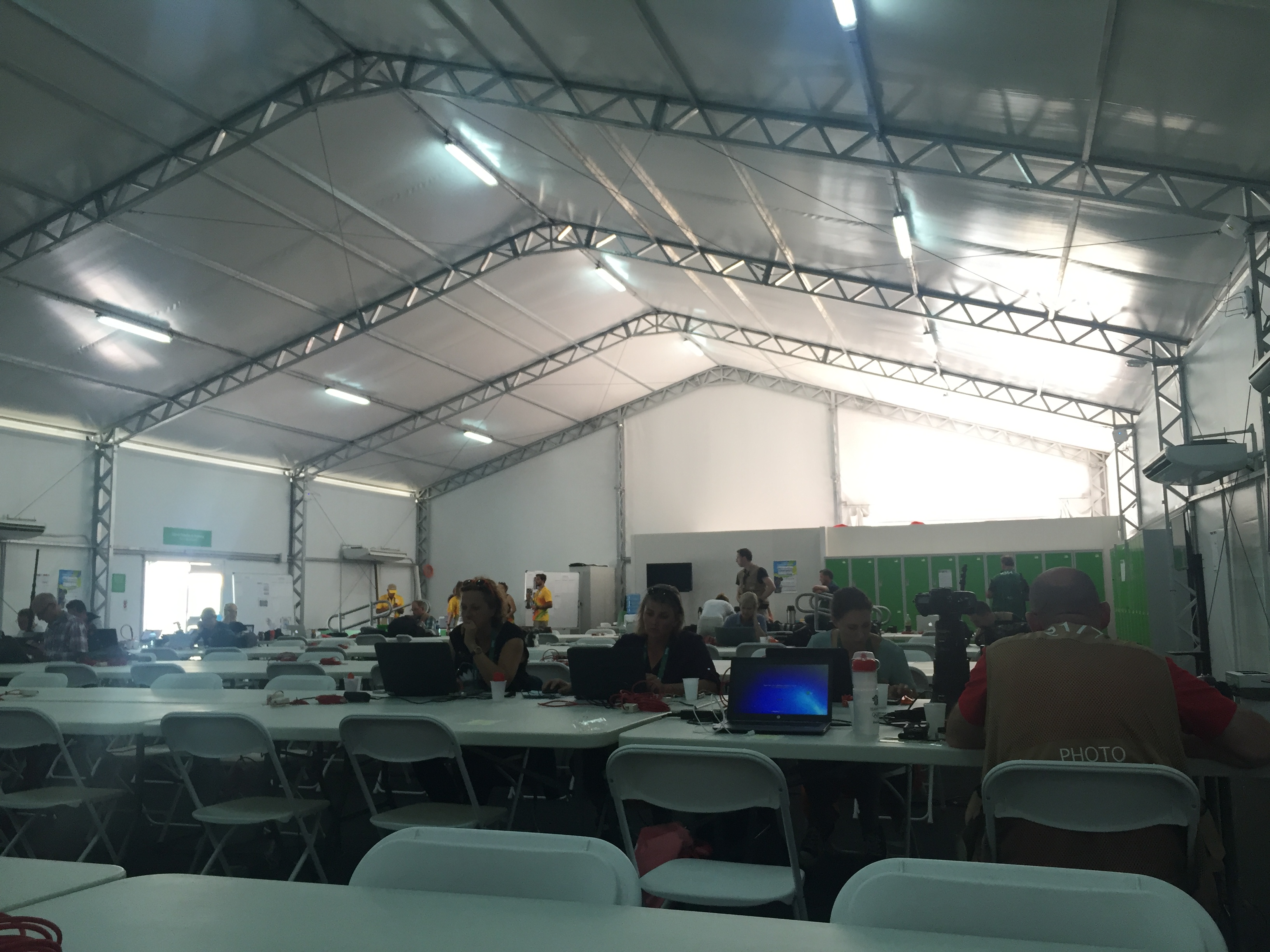 The media center. Photo by Lindsay Berreth.
The photo staff are very helpful, and we have almost full run of the place as far as shooting locations. Unfortunately after day 1, it seems the best locations are facing the sides of the arena with no spectators in the stands, but I promise, despite my photos, there were people! It was a little sparse for eventing dressage, but it seems like a good mix of eventing fans and Brazilians, who got a bit rowdy when their first rider, Marcio Appel came in the ring.
They were cheering and shouting for him during the test, which didn't help his horse, but I can understand. They are true sports fans and so proud to have the Olympics in their country.
As we were standing outside waiting for our bus on Thursday, the street was filling up with locals hoping to catch a glimpse of the torch on its way through.
A young girl went up to Shannon, who was standing nearby, and handed her a note in English that read, "Welcome to Brazil" with a heart.
How cool is that?
The rest of our Thursday involved taking a bus to the Main Press Center to get my photo vest, which took about a minute, getting some food from their more expansive cafeteria, then catching a bus to Shannon's apartment to pick up Mollie's rogue luggage which had finally arrived, then back on a bus to the MPC, then on another bus back to Deodoro.
In general the transportation has been very easy, with buses coming on time every 20-40 minutes. We were getting to the end of that period waiting to go back to the MPC when we started discussing taxis straight back to Deodoro instead.
I'm really glad we didn't do that because after we finally made it back to the MPC and on another bus to Deodoro we met some friendly field hockey commentators who told us they'd tried to get a cab to Deodoro but the driver couldn't find the place (apparently there is no address) and when he did was unable to get very close. Thanks to our field hockey friends, who Mollie helped learn to pronounce several Portuguese names on our bus ride back, we learned that only one cab company is allowed on site. Good to know!
It is kind of cool to be able to interact with journalists from other sports. At the Pan Ams, we never saw any other sports, and at the World Games, it's only equestrian journalists, so we've been chatting up several people, including our field hockey friends, who are from Ireland and New Zealand and were fascinated by Donald Trump!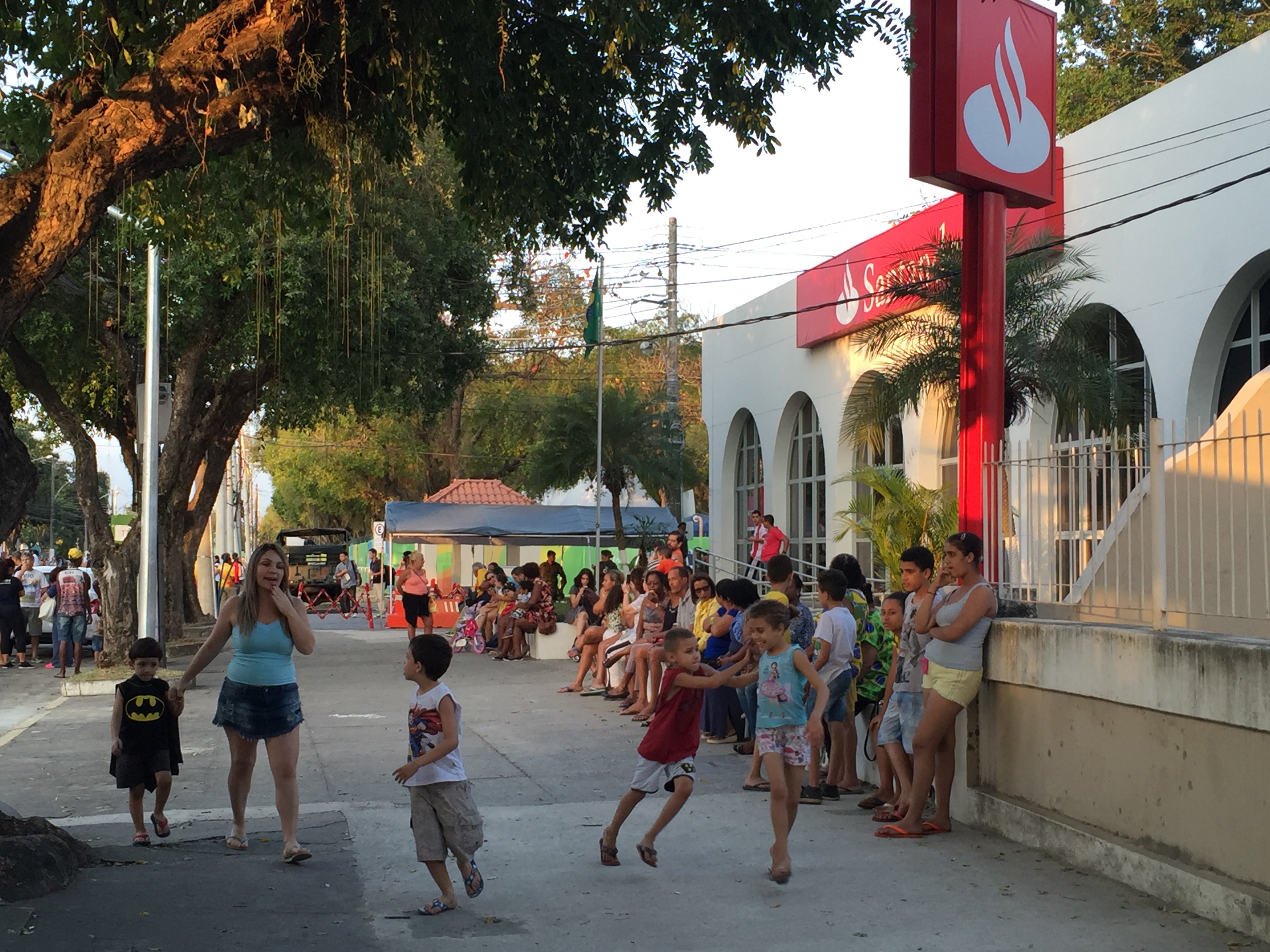 The local neighborhood came out to watch the torch pass by. Photo by Lindsay Berreth.
We arrived to the first day of competition full of energy and excitement and were promptly greeted by a broken metal detector. With a bus full of journalists needing to get in and get set up, it wasn't the best way to start a morning, so Mollie did some Portuguese sweet talking and found her way in with a smaller backpack, but I was stuck in line for another 15 minutes until they let us go through another line. Apparently the second scanner broke right after I went through…
All was going well until the lunch break when those in the media center heard a loud noise. I jumped, but thought someone just dropped a camera or something. I was gathering my things to head back out to shoot and thought nothing of it until I was told a stray bullet had pierced the tent!
We've felt very safe since we've been here, with armed military and police with their fingers near the trigger on every corner, but that was a little alarming. The official story is that there is none, but a lot of people believe it was a stray bullet from a military training exercise. We may never know, but we would really like to!
I'll check back in a few days with, I'm sure, more stories. We're trying to keep a sense of humor because it's still early days, but as with every international championship, there's always something!