Gladstone, N.J.—May 18

As Jane Cleveland watched Monique in a video from a foal auction in the Netherlands, she was struck by the mare's stunning movement, but more important was the mare's attitude.
"She'd trot away from her mom like, 'I don't need you!' and she's still like that," said Cleveland.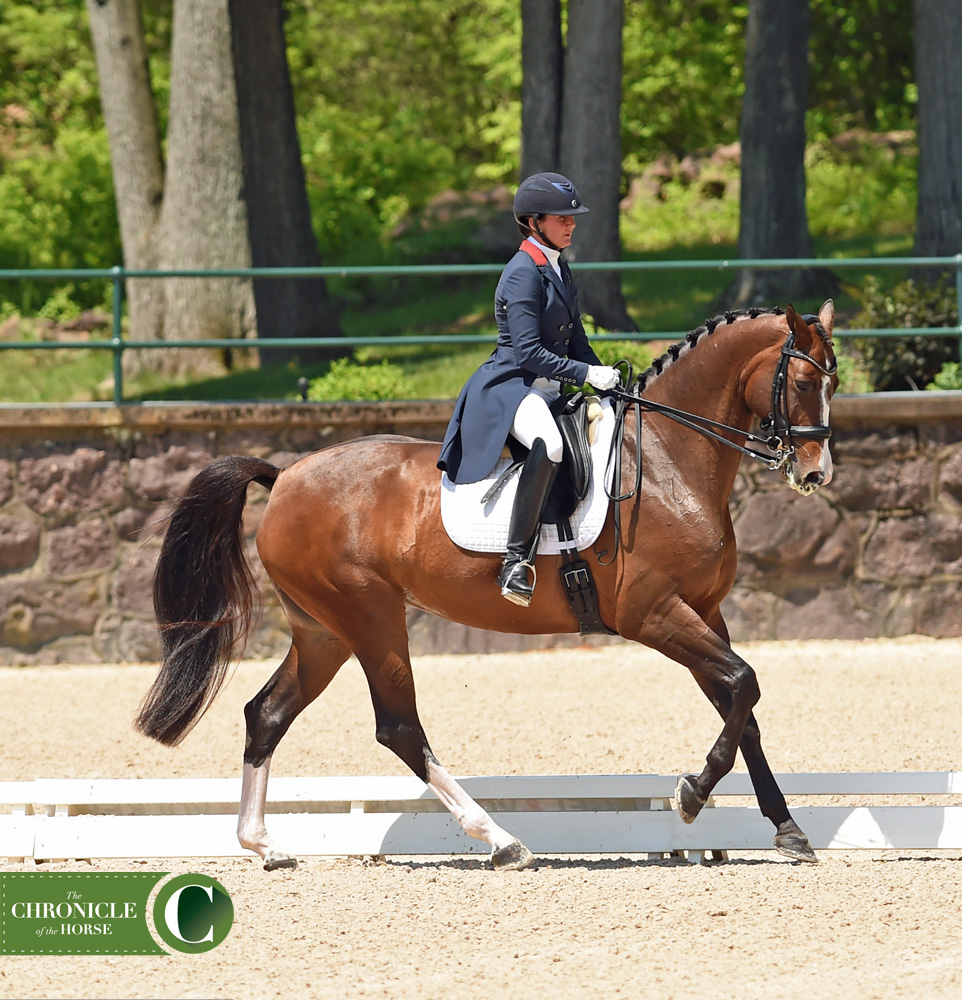 The now 8-year-old Danish Warmblood arrived in the United States shortly after she was weaned and grew up in Tennessee.
"I've been in her life since she came from her mother to me, and I've done all the work with her all along the way," said Cleveland. "It's been incredibly rewarding. We have a good relationship because of that. We know each other very well."
That seven-year relationship was influential at The Dutta Corp. U.S. Dressage Festival of Champions with a top score of 70.78 percent ahead of Olympian Adrienne Lyle on Harmony's Duval. Jennifer Baumert slotted into third with the 12-year-old Hanoverian Handsome on a 70.15 percent.
"I had a great test. It was great fun. Monique felt as good as she ever does," Cleveland said.
This was the first time Harmony's Duval has shown outside of Florida, so Lyle was thrilled with the 9-year-old Dutch Warmblood's 70.60 percent.
"I couldn't ask anything more of him today," she said. "I think that was the most honest he's felt in the ring. He's one we've done everything with. We found him as an unbroken 5-year-old in the field in Colorado, so it's extra special that we've gotten to bring him now to this venue."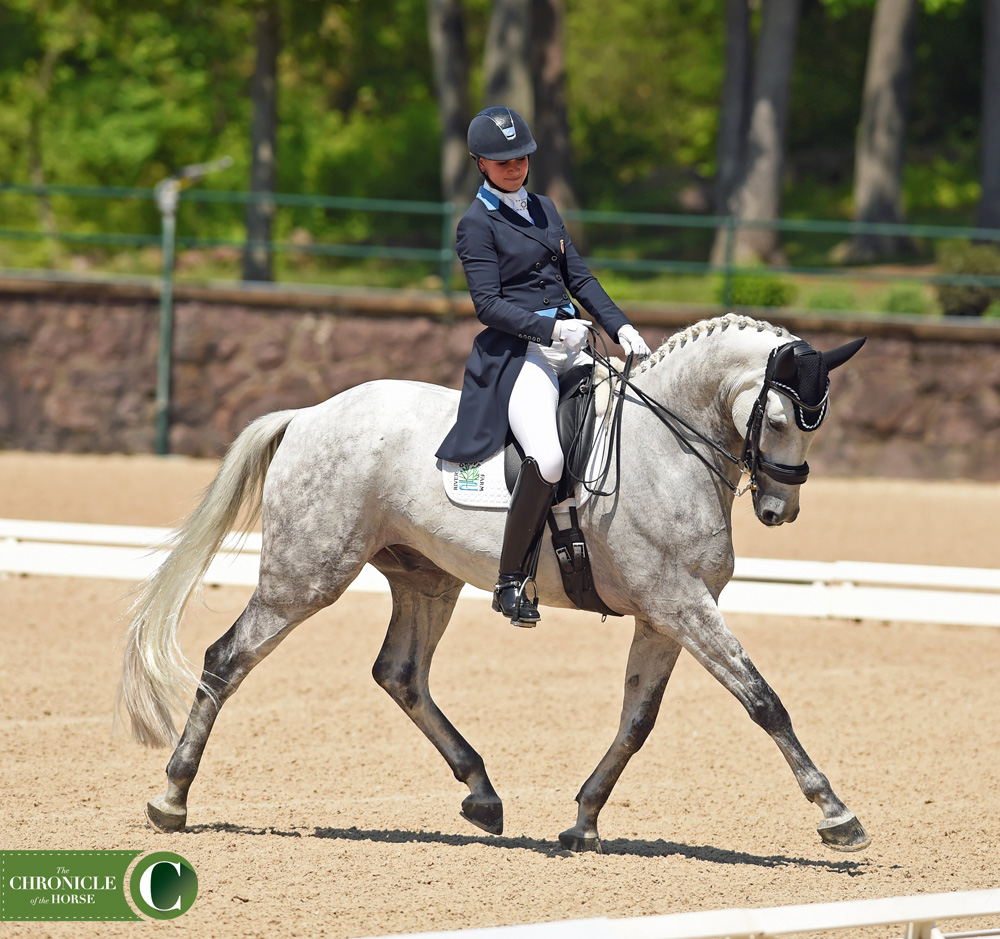 Lyle also sits fifth with Horizon after a costly mistake following the left pirouette when the mare swapped leads.
"I'm really happy with both my horses, and it's a close horse race still," said Lyle, Ketchum, Idaho. "These top horses are all incredible horses and great riders, and the scores are all close, so it's going to be a fun weekend."
With several horses in the running for a national championship, Lyle had another reason to celebrate. She initially didn't think she'd get to attend after she was temporarily suspended by the FEI when her small tour mount Horizon tested positive for ractopamine. When it was determined to be the result of feed supplement contamination, Lyle was cleared to compete on May 5.
"Obviously, I'm thrilled for so many reasons to be here," she said. "It's a big, huge relief. It's really exciting for me."
The McDonald Clan Sticks Together
Though Debbie McDonald has turned in her riding boots for a coaching hat, she was the big winner today in the Grand Prix. The top three finishers, Kasey Perry-Glass, Lyle and Olivia LaGoy-Weltz all train under her tutelage.
"We all try to support each other, and it's been wonderful," said Lyle, who rode Salvino to a 70.60 percent for second. "We obviously have a lot in common that we all train with Debbie, so it's helpful if 'Mama Bear' is out of town we can be eyes on the ground for each other."
Perry-Glass, in particular, is grateful for that relationship because she's been relying on Lyle for assistance in the weeks leading up to the Festival of Champions. That paid off with a 73.70 percent with her Olympic mount Goerklintgaards Dublet, a 14-year-old Danish Warmblood gelding.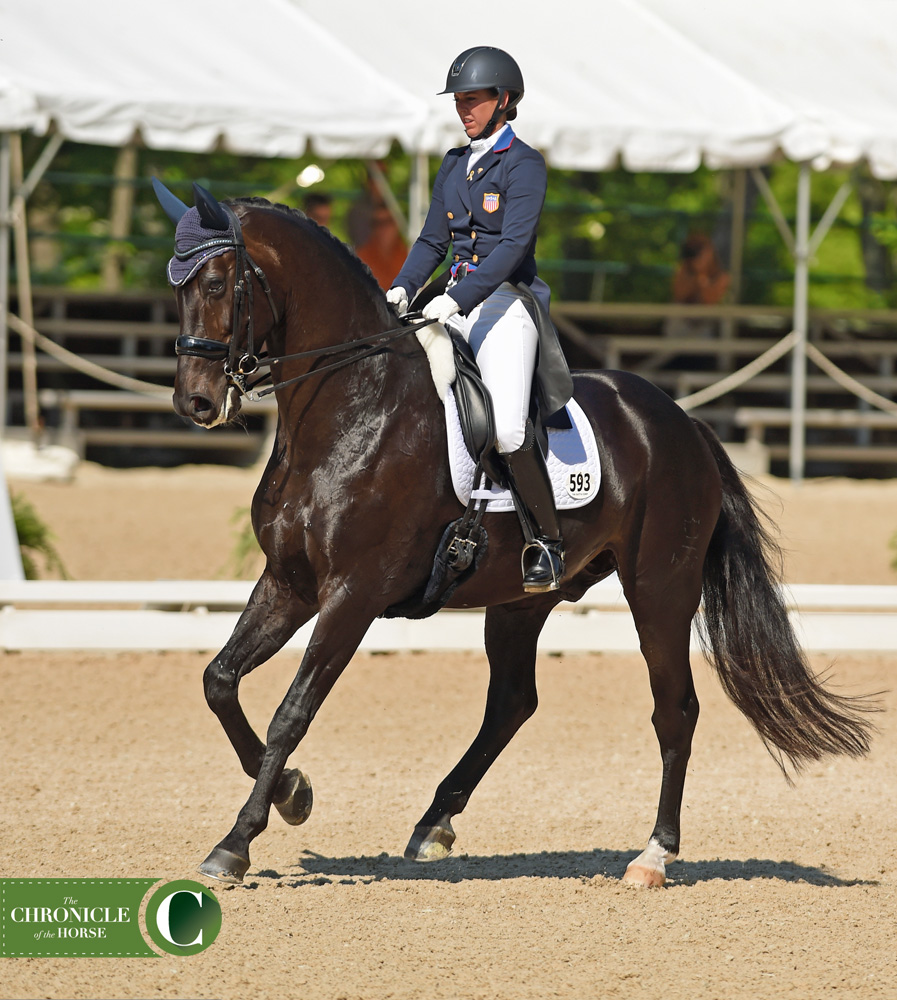 "I loved my ride," said Perry-Glass. "We're working on the small things with him and fine tuning. I thought that he was focused, and I worked a lot with Adrienne this past two weeks. It's just been fun to combine her and Debbie together and see what we can get from him."
This marks Dublet's first competition since he finished seventh in the FEI World Cup Dressage Final (Neb.), and Perry-Glass, who trains out of Wellington, Fla., said he came out of that show feeling confident.
"He feels better," she said. "I was worried about World Cup because it was an indoor event, and he'd never been in an indoor. I honestly feel after that he was like, 'I know what I'm doing!' It took a lot of pressure off of us, but you always want to do good, and you always want to improve, so I think he's just getting used to it.
"We're trying now to amp him up and get a little more expression out of him because we've got the softness and suppleness, and it's like, 'OK, we know there's more in there for you,' " she finished.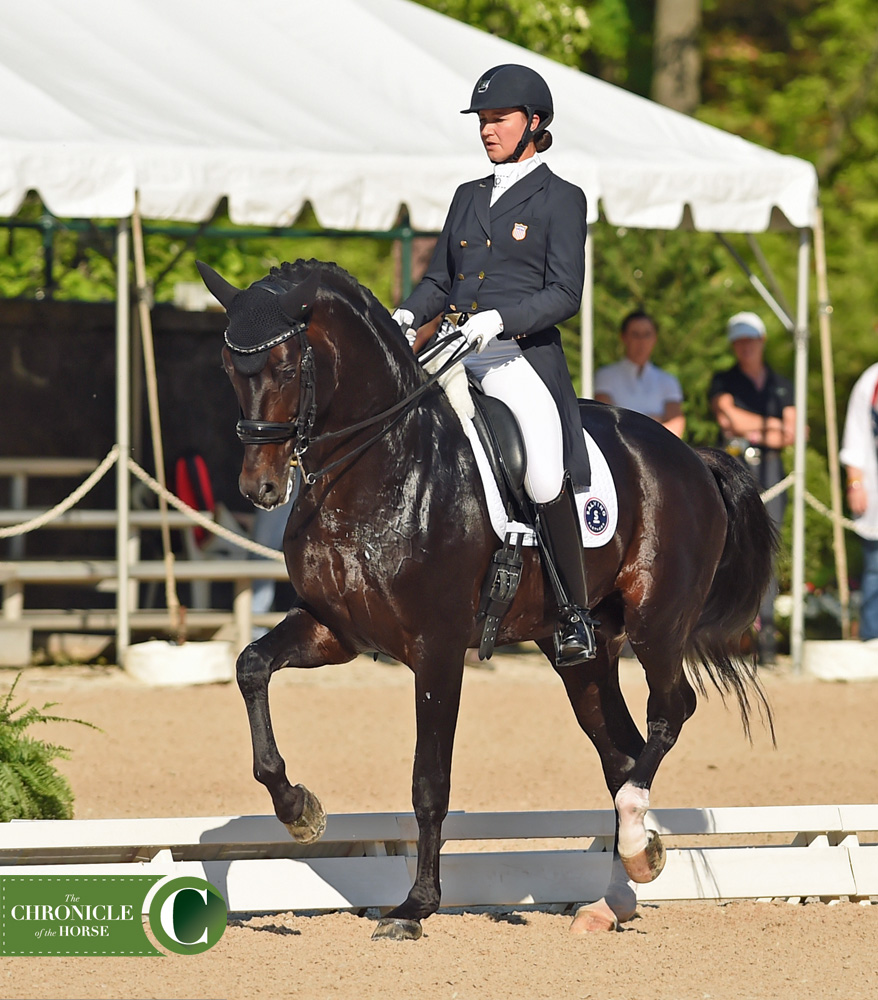 At 10 years old, Salvino is still new to big atmosphere shows, and Lyle was thrilled with his performance.
"So far, he's been putting in clean tests, which is great," she said. "He seems reliable. He's always gaining strength, and I can still get more brilliance out of him. It was hot today, but he still put in a good effort today, so I was really happy with this place."
LaGoy-Weltz of Haymarket, Va., rounded out the top three with her own Lonoir, a 13-year-old Danish Warmblood, on a 70.40 percent.
"I was really happy with Lonoir today," she said. "He's kind of becoming a little bit of an old hat at the test, and he's pretty reliable, and like Adrienne said it's pretty hot out there. So now we just want to start heating him up, which is funny because for the past year we were working on, 'Oh easy boy, quiet.' Now he's quiet, and we're like we've got to find the fire again and put it back in there. He just kind of went through it like no problem, so tomorrow we'll ask for a bit more expression."
See full results here.
To see all of the Chronicle's coverage from the Festival of Champions, click here.
Save