The Court of Arbitration for Sport ruled in favor of Olympic dressage rider Adrienne Lyle and Grand Prix rider Kaitlin Blythe by granting their urgent request to issue a stay of the Fédération Equestre Internationale's two-month provisional suspensions on their mounts Horizon and Don Principe.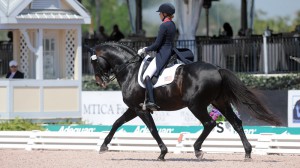 The horses and riders were provisionally suspended on April 5 after Horizon and Don Principe tested positive for ractopamine—a beta agonist commonly used in swine feed that increases protein synthesis—at the Adequan Global Dressage Festival (Fla.) on Feb. 8-12.
Lyle and Blythe had their suspensions lifted on May 5, after they were able to prove the positive drug tests were a result of feed supplement contamination. Both riders were giving their horses Progressive Nutrition® Soothing Pink™, a supplement used to prevent gastric upset. Cargill, the company that produces Soothing Pink, determined the supplement contained an ingredient that included trace amounts of ractopamine. Soothing Pink has been withdrawn from the market.
But the FEI refused to lift the horses' two-month provisional suspensions, so Lyle, Blythe and the horses' owners, Betsy Juliano and Maryanna Haymon, challenged the decision before the CAS.
Katy Hogg, a communications officer for the CAS, confirmed that the CAS had made a temporary decision to lift the provisional suspension due to the urgency of the request—Horizon, a 10-year-old Oldenburg owned by Juliano, and Don Principe, an 18-year-old Hanoverian owned by Haymon, are qualified to  compete at The Dutta Corp. U.S. Dressage Festival of Champions in Gladstone, N.J., held May 18-21, but the deadline for entry was looming, and they couldn't enter suspended horses.
"This is a temporary decision, which is made pending the resolution of the arbitration procedure," said Hogg. "These interim decisions are not published by our tribunal but the final decision will be. Given the urgency, no hearing took place, but the parties concerned were able to express their position in writing."
Now that the CAS has lifted the suspensions, both riders intend to ride their mounts at Gladstone.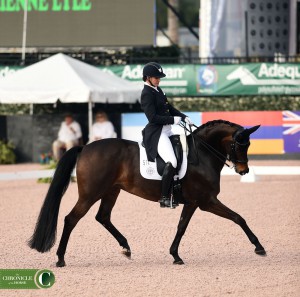 "We are extremely pleased and excitedly looking forward to joining the other qualified riders and horses at this wonderful event," said a joint statement put out by Blythe, Lyle, Haymon and Juliano.
"We wish to express our deep gratitude to the United States Equestrian Federation and its leadership," the statement continued. "They have provided us the sort of commitment and support that shows that they truly stand for the membership. We know how deeply the USEF is committed to keeping our sport clean and free of drugs, and we applaud that effort. In supporting us here, the USEF showed that strict enforcement of anti-doping rules need not be inconsistent with basic principles of fairness.
"We also want to thank the people at Cargill for their efforts and support," they continued. "To their credit, they have worked very closely with us to find out how our horses tested positive for a banned substance—even though they knew this might result in a finding that one of their Progressive Nutrition products was the source. They devoted their resources to helping us find answers swiftly, and we are grateful to them."
Save