If you were watching the live stream of the National Horse Show 3'3″ National Equitation Championship from the CP National Horse Show (Ky.) on Oct. 29, you might have seen me ride. My round definitely didn't go as planned, but it didn't matter.
My name is Maggie Mae Fraley, I am 17 and I'm from White Haven, Pa. I started riding when I was 6 years old, against the will of my parents. They thought it was just a phase.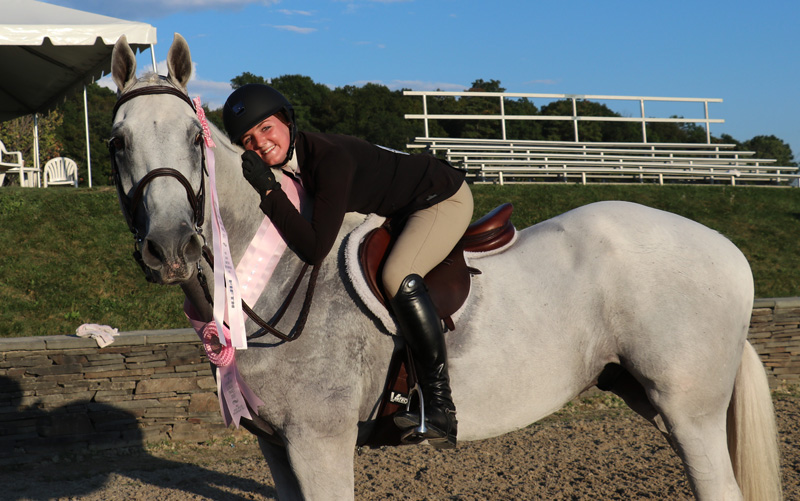 At first my mom would take my sister and I to a weekly lesson.That soon became three rides a week and next came the addition of local shows almost every weekend. Little did my father know, that shows were not free.
After a while, we drug him to a show so he could see where his kids are always running off to. After seeing me ride for the first time he said to my mom, "Wow she is actually really good at this, you know." After seeing just how serious we were about riding, and that we were not all that bad, he poured his life into it just as much as I did. My father knew this was more than a phase, but a passion.
It was not exactly a sport we financially fit into, but my parents could see that I loved it. So, as usual they worked extremely hard so that my sister and I could pursue this prestigious sport. Luckily, other people allowed me to practice on and show their green horses. As a result, I didn't have to pay as much as the average "horse girl," but it still wasn't cheap. My mom would braid the horses and my dad would haul them to save money—once again, a family ordeal.
From the ages of 8 to 16, I continued to show persistently. I was riding in our local pony division and participated in 4-H every year. My parents never faltered through all the years of showing. They always supported me even when I set my goals far beyond my reach at the time. As the years went by and I got older things were going smoothly, I had a cute green pony I free-leased and we were finally doing well at shows. My riding was starting to fall into place.
Once the summer of 2016 came around, it all changed drastically. My dad, the strongest and healthiest person I knew, lay unresponsive in bed. I knew it was time to listen to dad's voice in my head, "Toughen up Maggs," CPR certified, I attempted to resuscitate him. My mom frantically called an ambulance, while my aunt, a nurse, rushed to our house and took over CPR.
By the time he arrived at the hospital, they had shocked my father's heart eight times. We learned he suffered from cardiomyopathy and had gone into cardiac arrest. We spent days in the hospital while doctors tried everything to save him. Eventually my mom, sister, and I were called into a room; I will never forget those ugly tan walls. The doctors came in and told us to go say goodbye to our dad.
With every ounce of strength I had, I towed my exhausted body to his room in the ICU. I cleared my throat, held his hand, and sang old country songs we loved. I sang "Where the Green Grass Grows" and said I love you as I kissed his head goodbye. I collapsed screaming and thrashed myself onto the floor. I didn't understand how this could be happening. I was at my all-time low.
Without him here I felt overfaced. The leader of our little family was torn away and so was my riding. How could I keep riding without the person who made it all possible? Who would drive the trailer, who would support me, who would tell me I could fit into this sport? How will I pull this off? Riding is my life and I knew dad would be disappointed if I gave up what's most important to me. I would be disappointed in me. Giving up was never in his vocabulary and it was not about to be in mine. So I continued to ride, every day, hours a day not knowing what my future would hold in the sport, despite my big riding goals.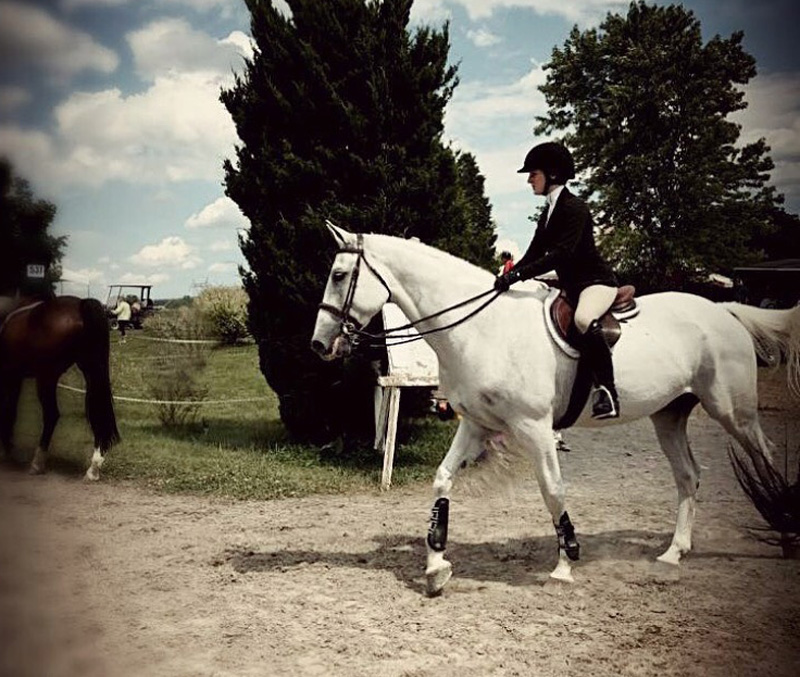 Months later, I rode at my first Interscholastic Equestrian Association horse show at the Grier School (Pa.). It's an all-girls boarding school with a riding team and endless opportunities in the horse world. I had an extremely successful show and won every class.
We went to a few more shows there and I got to know everyone a little better. They all wanted me to come ride and go to school with them. I felt like that opportunity would never arise, so I took it as a compliment and went home.
Later that week, the Grier School coach and I exchanged emails, and one thing led to another. She had asked me to fill out a form to set up a meeting to come see the campus. I was confused but flattered at the same time. A few months after we went to see the school, we received a letter in the mail from admissions. Inside was a scholarship letter offering a vast majority of my tuition to officially ride and study there for my final year of high school. Of course I accepted!
Over the past few months, I have been blessed with a horse named Magic. The Grier School owns him and I have the opportunity to ride him while I am here. My dreams of riding in the big eq are beginning to come true.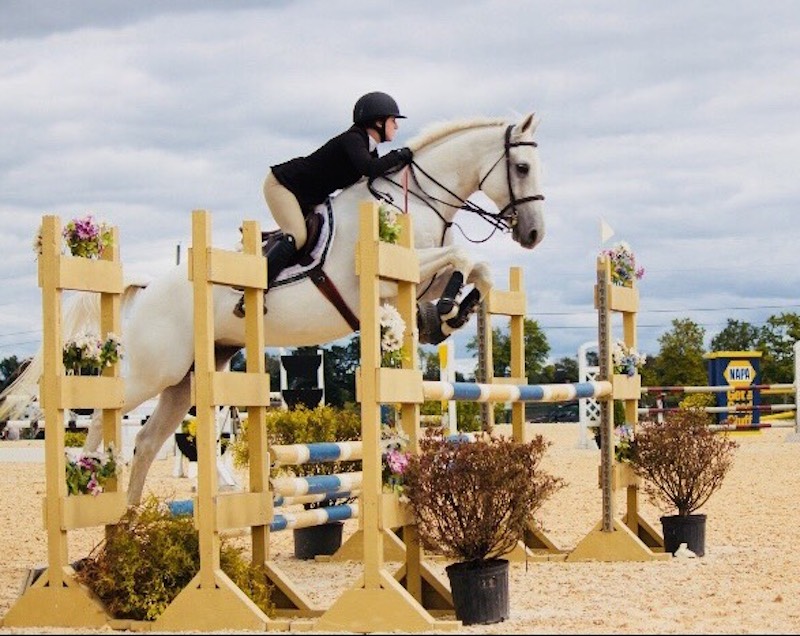 As a child, I would go with my family to the Pennsylvania National Horse Show, only to dream of riding in the USEF Medal Finals. I would watch the ASPCA Maclay Final on my computer each year and imagine it was me.
In the short time that Magic and I have been a team, I have been able to move up to the 3'6″ and start to qualify for both of these finals for 2018. This year, to ease into things, I showed him in 3' equitation classes and qualified for medal finals in them, including the MHSA Gittings Horsemanship Medal final at the Washington International Horse Show (D.C.) and the NHS 3'3″ Equitation Championship. My little-kid dreams of riding in one of the indoor finals have unfolded before me and I couldn't be more grateful. I am beyond excited for my experiences.
My experience at the NHS Equitation Championship was one of the best and most significant shows of my entire life. When I first pulled into the Kentucky Horse Park I was in awe of the rolling fields, endless rings and stables. I then ventured to the Alltech Arena to see where I would be showing.
When I saw the ring I immediately realized how lucky I was to finally be here. I waited my whole life just to step foot in a place like this. I couldn't believe I would be riding in the show I have watched on my computer so many times.
I had great rides over the weekend; Magic and I were more than prepared. My warm-up round met all my expectations and I couldn't wait to go in for my real trip. When the time came, Magic and I were schooled and ready. I walked into the ring with more confidence than ever. Surprisingly I didn't feel any pressure—I already won in my eyes. I trotted a few steps, returned to the walk, took a deep breath, and listened to them announce my name. I embraced the moment, then started my course.
The first six jumps were the best of my life and according to the commentators I was "off to a very strong start." But as I rounded the next corner, I could feel my saddle slipping rapidly. For the first time ever I had to pull up and get off due to a tack malfunction. My girth was tight and I used all my normal tack—it was a fluke accident. In shock, I fixed my saddle, put up my irons, and left the ring. When I came out I held in my emotions and took another breath.
At this moment I grew as a rider and as an athlete. I typically would be angry over something like this but ever since moving up and riding in bigger shows I realized that it is not always about how you do at a specific show. It's actually about how that show prepares and shapes you for your ultimate goal. During the National Horse Show I learned that in the sport of riding we can not control all aspects. Sometimes we have to roll with the punches and take away the positives from each experience.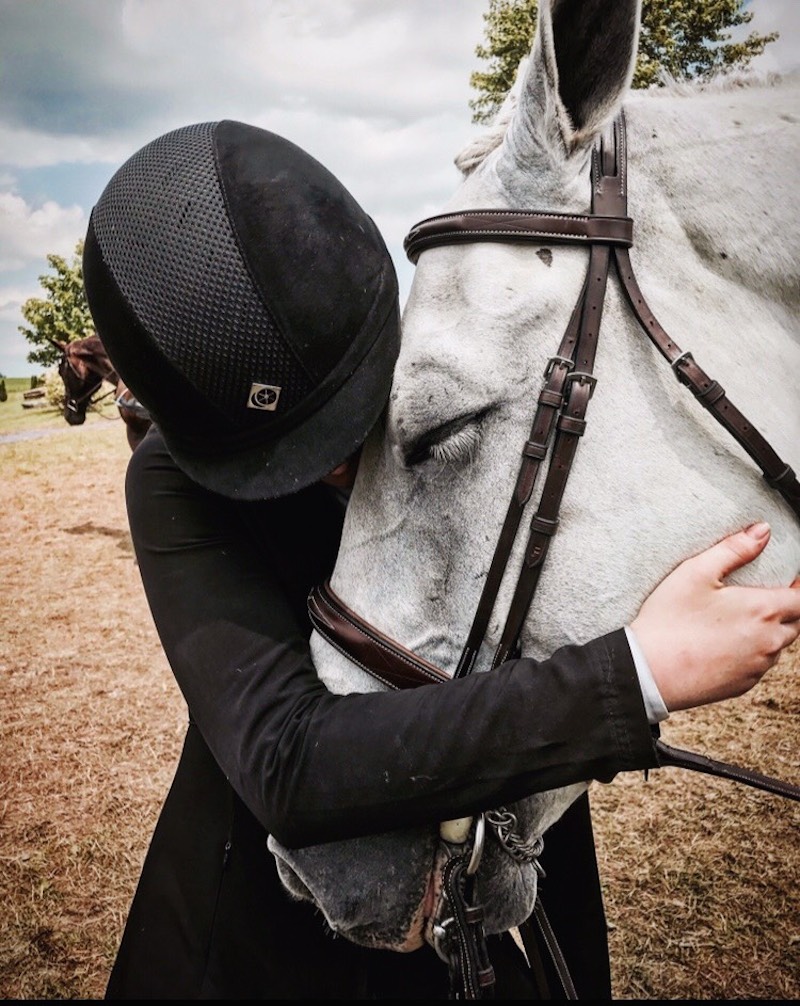 Of course, I always go in with the drive to have a solid round, get a ribbon, or even win. However, this time, that is not what it was about. For me, this was a tough pill to swallow but I did and I was still so excited to have had the opportunity of riding in the first NHS 3'3″ Equitation Championship.
With all of this being said, now that we have jumped into the big eq head first and broken the ice, I am already working toward my next dream of riding in the 3'6″ equitation finals next year, including the ASPCA Maclay Final back in Kentucky. The feeling I had while riding here is something I can't wait to have again.
I hope to let my passion and love for riding shine through to the judges and that one little kid who dreams it will one day be them. Over the past year many unimaginable things have happened, good and bad. Through all the ups and downs I learned to follow my dreams and make my goals into my reality for the rest of my life.
IMPORTANT LINKS:  All the COTH CP National Horse Show coverage  | What You Need To Know  |  live results/order of go  | live streaming  | show website