Sometimes it looks like qualifying for the equitation finals includes a "must ride a big, bay warmblood in a Pelham" dress code. As the 229 rides of the Pessoa/USEF Medal Finals walked in through the in-gate there was bay warmblood after bay warmblood, with a few grays and chestnuts sprinkled in.
And then West End walked in. He got the color right—bay. But he's definitely no warmblood. The equitation horse dress code definitely doesn't include "lip tattoo," but that's what this off-the-track Thoroughbred wore. That, and a D-ring snaffle.
West End and Aelin Hill might not have gotten a ribbon. They didn't get called back for Round 2. But Hill, 16, had a ton of fun at her first Medal Finals. "I was so nervous I couldn't breathe! Everybody said I was pale white. But he was perfect, as always," Hill said.
It wasn't just Hill's first Medal finals. This is her first year showing in the 3'6" equitation—she showed in just three Medal classes this year. "She qualified and we talked about leasing another equitation horse, but she's comfortable with him," said trainer Vanessa Berger, who owns West End. "I know his heart and I knew he would try for her, and he did. We just wanted to get her as much experience as possible and she ended up qualifying, so we went for it."
"I just get along with him so well. He'll do anything for me," Hill said of the 11-year-old gelding. She also shows West End in the large junior hunter division, and has gotten ribbons in some USHJA National Hunter Derbies on him. Berger also shows him in the 3'3" performance division.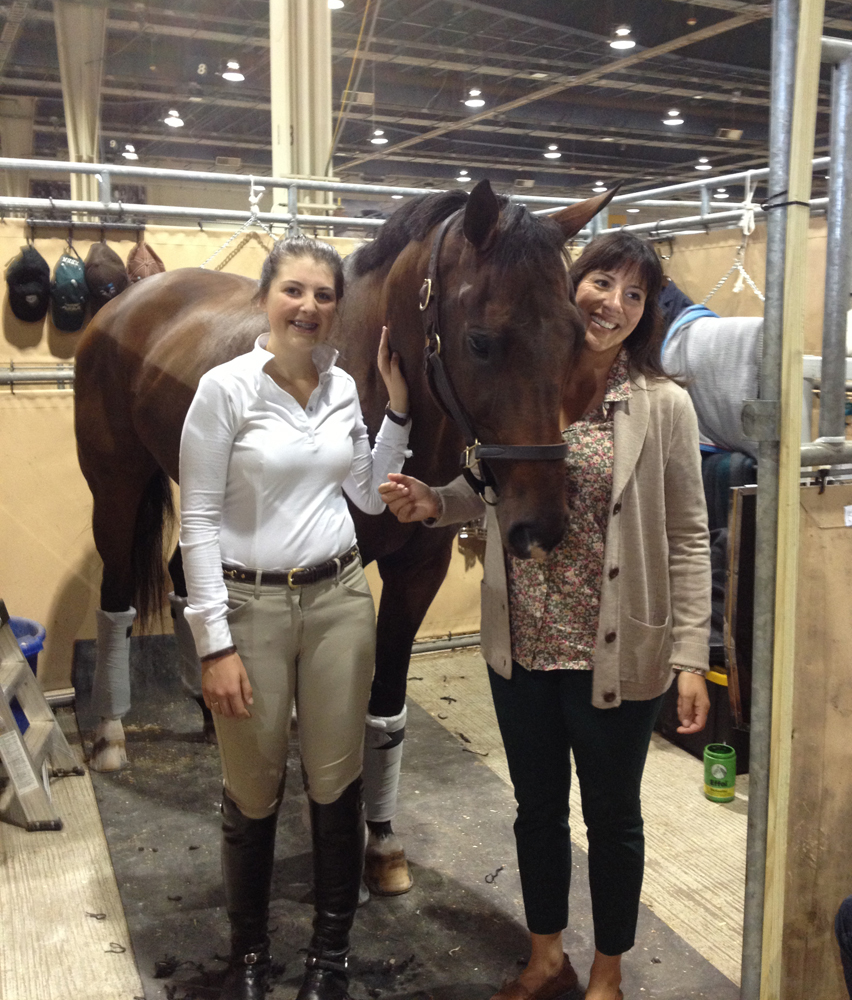 Aelin Hill (left) and Vanessa Berger appreciate
West End's generosity and talent.
Photo by Mollie Bailey
Hill showed "Willard" in the children's division and the 3' equitation last year and in 2011, Emma Unterberger leased him and showed him at 3'.
Berger bought Willard (Wagon Limit—Emily's Treat, State Dinner) in 2005 when he was just 3 and fresh off the track (his Jockey Club name is Moonshineofthrills).
"It's when I first started my business. I made payments on a $3,000 price for him. I didn't even do a pre-purchase. It took about six months to pay him off but it's been the best investment I've made," Berger said. "With my family's financial background, I always had Thoroughbreds and I always have a few in the barn that I'm working with. I love them. They're very smart and if they like what they're doing, they can be easier than the warmbloods."
Berger liked the looks of Willard's conformation when she first saw him. "Obviously he was fit and ready to race, but he had a softness in his eye that made me think he could do this," she said. "He's not flighty or spooky at all. He's the type that walks up to a garbage can and sticks his head into it, not like the ones who shy at it."
After a few years showing in the baby green and pre-green divisions, Willard showed in the first year greens with Maria Rasmussen riding in 2009. In fact, he qualified for and showed at the Pennsylvania National in the first years, placing fourth in the under saddle. "A lot of people think he's a warmblood because he moves so big and scopey," Berger said. Willard also showed in a few USHJA International Hunter Derbies.
Willard doesn't live like a coddled show horse; he gets 12 hours a day. Berger's one concession to him is that he has a miniature horse of his own, T.J. "He does not like other horses. He has to be turned out with his mini. He's very quirky; if he sees another horse get turned out with his mini, he goes a little crazy, bucking in the stall," Berger said.
Hill, of Mequon, Wisc., started riding in a local 4-H club and then showed locally before signing on to train with Berger in late 2011. She's participated in the U.S. Hunter Jumper Association's Emerging Athletes program for two years. "You have to learn everything you can about the horses," she said. "Vanessa had taught me a lot about different types of hay and how to take care of horses, but I learned so much from Anne Thornbury at EAP."
Because Hill lives an hour and a half from Berger's Happenstance Farm in Zion, Ill., she spends a lot of time there. And she spends a lot of it working in the barn. "There are times I'll have to go down to the barn at night and get her. She'll be dusting or cleaning stalls in the middle of the night," Berger said.
"I love it; it keeps me calm," said Hill. "I fell in love with working with the horses, not just riding them. So I've always loved to groom them and do night check."
And she shares Berger's affection for Willard, even though she'll move on to another mount next year. Berger plans to find another young rider to lease Willard; he's definitely not for sale.
"I just fell in love with him. Everyone in the barn calls him my husband. He's my golden child; he can do no wrong. He has a home for life—he's not going anywhere," Berger said.
"I love the Thoroughbreds. I think they're under-rated and our country is full of good ones, whether it's a good one for the 2'6" or a good one for the 4'. I think as an industry we're caught up in the 'spending a lot on horses' mindset, when if you take a little bit of time with a Thoroughbred, you can get somewhere. He did the derbies at 8 years old and he cost a fraction of the horses he was competing against," Berger continued.
"For me, it means more to bring them along and do it like that. Ones like him are really special."
See all the stories from the Chronicle's coverage of the Pessoa/USEF Medal Finals.
Read comprehensive coverage of the Pennsylvania National Junior Weekend in the Oct. 28 issue of The Chronicle of the Horse.