Irishman Greg Broderick was just chosen by Horse Sport Ireland Jumping Team Manager Robert Splaine to be the individual show jumping representative of Ireland at the 2016 Rio de Janeiro Olympic Games.
Broderick, 30, will ride MHS Going Global, a horse he's ridden since the gelding was 5.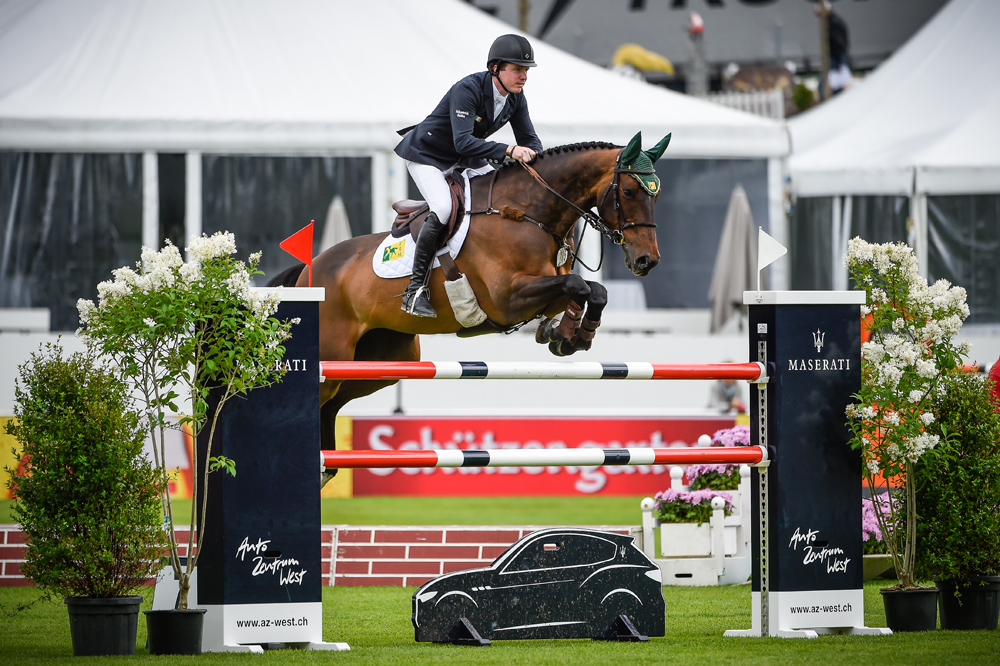 Gregory Broderick and MHS Going Global jumping at St. Gallen. Photo by Katja Stuppia.
Broderick is part of a family breeding, training and sales operation in County Tipperary (Ireland), Ballypatrick Stables. He's earned multiple national titles in Ireland, and in 2014, he accomplished the feat of winning all three sections of the Horse Sport Ireland Young Horse classes—the 4-, 5- and 6-year-old divisions—at the prestigious Dublin Horse Show.
In 2015, he made his team championship debut as he and MHS Going Global helped Ireland place seventh in the FEI European Championships (Germany). They also jumped for Ireland at the Furusiyya FEI Nations Cup Final (Spain).
MHS Going Global is a 10-year-old Irish Sport Horse gelding bred in Ireland by Ita Brennan (Quidan Junior I—Gowran Lady, Cavalier Royale). Most recently, he and Broderick jumped two clean rounds to help the Irish win the Furusiyya FEI Nations Cup at St. Gallen (Switzerland) on June 3, and then they placed fourth in the Longines Grand Prix of Schweiz with two clean rounds.
Broderick's nomination to represent Ireland came on the heels of his fantastic showing at St. Gallen—he shared the announcement on his Facebook page under the heading "Dreams do come true."
The Chronicle called to chat with Broderick after the news broke.
COTH: How are you feeling after hearing the announcement?
Broderick: Our chef d'equipe called me [Tuesday] morning at half past 9, and I was obviously very, very excited. I have to say that I did feel for Bertram [Allen, currently the top-ranked Irish rider in the Longines FEI World Rankings]; he's a very good friend of mine.
I was hoping St. Gallen would go the right way for him because he won the spot for the Olympics, but obviously my horse jumped so good in St. Gallen—double clear in the Nations Cup, double clear in the grand prix—the jumping really went my direction.
I just want to go and do the best job I can for Ireland.
Are you concerned about backlash from the decision and people saying it should have gone to Bertram?
Well I would be very pro-Bertram; I would agree with anyone who said Bertram could go to Rio and do a good job, as could Cian [O'Connor] and as could Denis [Lynch]. I think the four of us that have ridden at the European Championships last year could go and do a great job, and by all means Bertram Allen is a class act.
It wasn't my intention to take the spot from him, and I'm sure there's going to be some backlash. There's nothing I can do about that—I just have to concentrate on myself and the horse.
Tell us a little bit about your relationship with this horse.
Well I've had him from the breeder since he was a 5-year-old. When [MHS Going Global] was a 3-year-old, I tried to buy him off the breeder, from Tom [and Ita] Brennan of Mill House Stud, that's where the prefix comes from. I saw the horse in the stud when he was a 3-year-old and really liked him and tried to buy him, but he didn't want to sell him until he was under saddle.
So he sent the horse to me to ride when he was 5, and I really liked him; that's when he said he was ready to sell the horse. Eventually the owner, Lee Kruger from Canada, came in and bought the horse and left him with me to ride.
I produced him from the 1.10-meter classes to the five-star grand prix classes.
Did you always think he'd turn out to be such a special horse for you?
He was a very difficult horse when he was younger, and he had a very strong character. He could buck a lot, but he always jumped fantastically well.
So in the beginning I always knew he had something special, but obviously there were a lot of bridges to cross. It's a very good horse; he's turned into a superstar.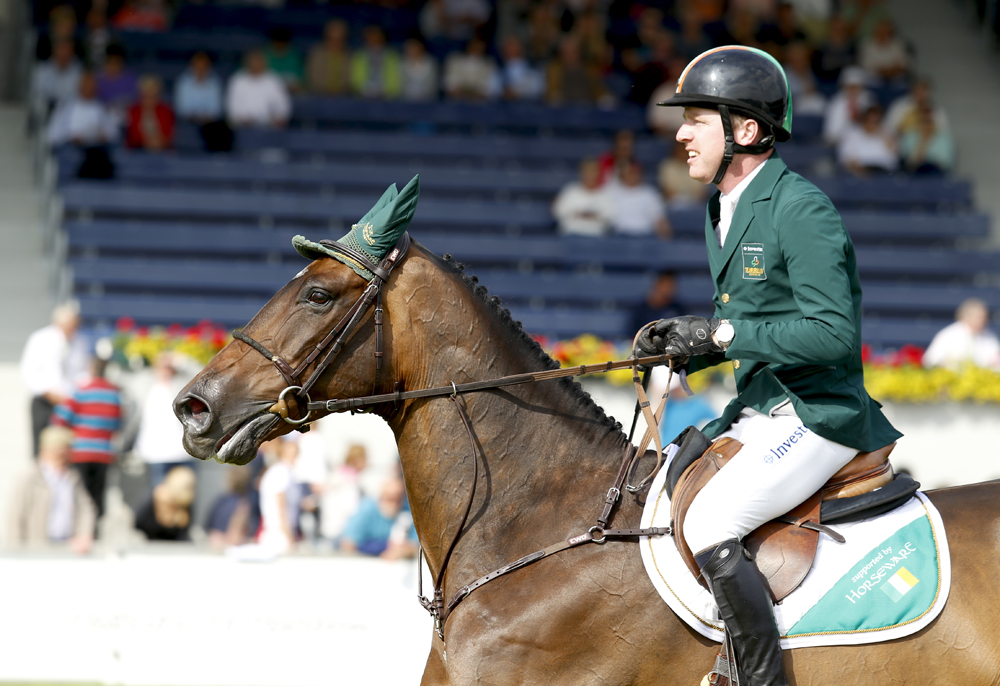 Gregory Broderick and MHS Going Global. Photo by Tiffany van Halle.
What's the plan for you and Global between now and Rio?
Basically I just got the news, so I have to sit down with [Irish Jumping Team Manager Robert Splaine] and make a proper plan for between now and the Olympics. At this minute I don't have an exact plan because like I said it was all up in the air.
I'll talk to Robert and the owners and come up with a plan that fits the horse to be in the best shape possible [for the Games].
Was Global bought with the idea of developing and selling him at some point?
Lee [Kruger] bought the horse as a 5-year-old—she really liked him, and she bought him with the intention of leaving him with me to produce into a grand prix horse.
We've had an unbelievable amount of interest in him. Last year the horse was phenomenal; he jumped a lot of double clears, and there was a huge amount of interest in the horse especially before the [ownership deadline for the] Olympic Games.
But Lee kept the horse, which I'm very, very thankful for, because I think 90 percent of owners would have sold the horse for the money that was being spoken about. Without an owner like her I certainly wouldn't be riding in the Olympics.