Day 3 of the Eric Smiley clinic at Inavale Farm (Ore.) was like night and day for Billy and me. He was such a good boy! The sunshine came out and we got to jump all sorts of fun and challenging lines and the best part was Billy and I were participating as a team!
Eric had us all move around the arena and look and think about how to get to each fence. He wanted us to make note of the different turns you could make for each fence in the arena. As I looked, there were several different ways to jump each fence with varying degrees of difficulty.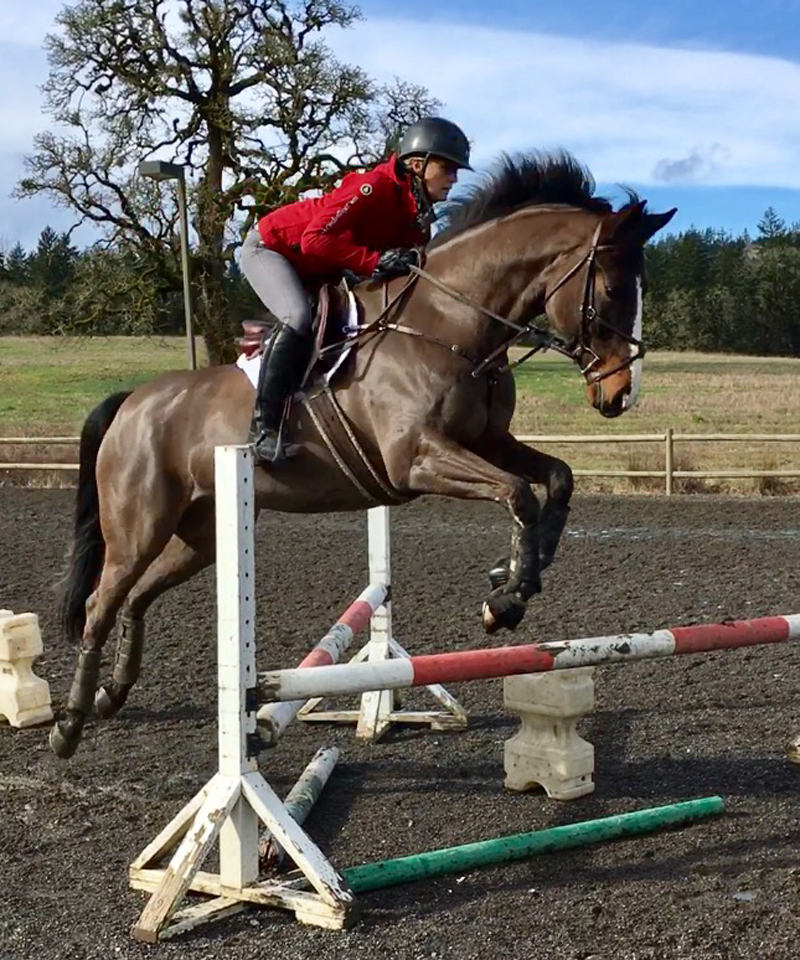 We warmed up with an exercise that required us to turn our horse's head and neck but keep their body on the circle. Then at the trot we aimed at the standard of a 4′ vertical (knowing the horse would not jump it but want to move sideways) to help teach the horses to move easily off the leg.
I thought this was very clever because of course the horses were inclined to move away from the solid wooden standard as well as the giant vertical. Then we did the same thing to a small vertical and when the timing was right we closed our outside leg on to ride the horse over the fence on the correct line that followed where we had the horse looking.
I found that exercise useful and fun! It required the focus and precision that I had found difficult to get from Billy the day before. That theme stuck with us for the rest of the session.
We continued with several rollback turns, a bounce, and a corner that focused our horses on looking ahead and our outside leg closing to dictate the correct line. I felt like Billy and I did well with that. It helped his take-off point become more regular because he started to "buy into" letting me ride him at my pace on the line I chose.
One of the most unpredictable exercises Eric had us do was a line of three jumps, vertical, vertical, corner. It reminded me of that old 1985 horse movie, "Sylvester," when the old British coach was walking the cross-country course with a group of riders and in a very formal and over the top way said, "Vertical…Vertical…Corner…" Haha! Anyways, I digress.
Nobody would have expected Eric to ask us to jump that line because the two verticals were both on a rather extreme angle and roughly one stride apart. Then the corner was three strides away on a bending line. It was crazy and yet totally doable. All you had to do was, "Ride the line!"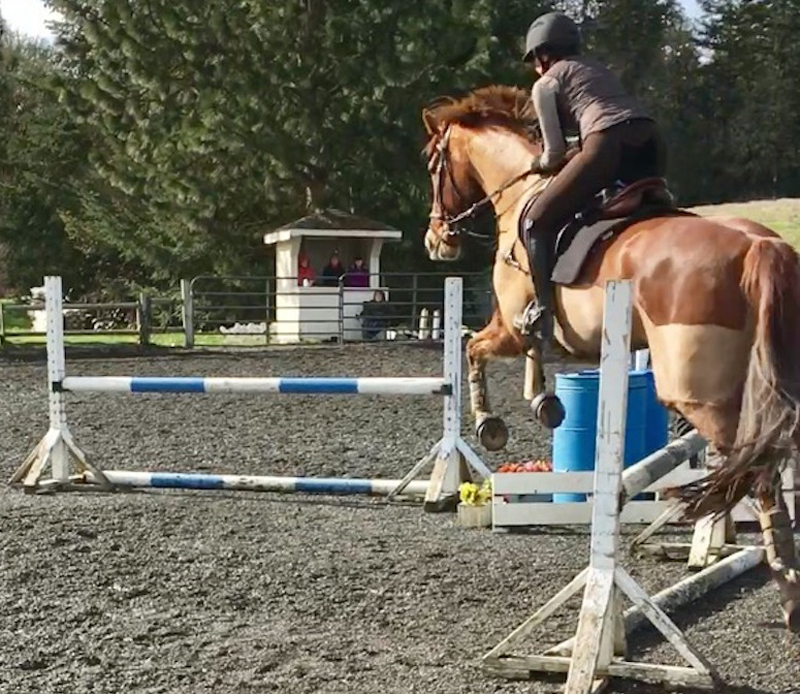 Eric had been having everybody ride all three of the jumps separately throughout the session so the horses were familiar with each fence. When asked to put them all together it challenged everyone to play the game. That's the coolest part—Eric's positive teaching gives all of the riders the confidence, skills and ability to get the job done and ride the line. Such creativity and always a great experience!
One of my favorite sessions to audit was the morning beginner novice group with Kaylee, Kady, and Jenna. Kaylee was riding the only pony in the group and she was having trouble getting her pony, Callie, to bounce the bounce rather than put in a microscopic one stride. Eric made a bet with Kaylee over a Mars Bar that she could do it.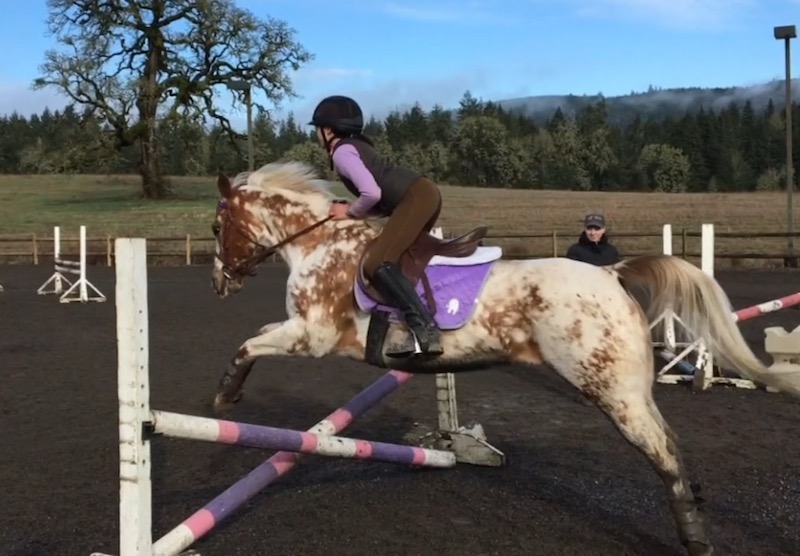 After several good efforts she was unable to do it. Then Eric had all the auditors change, "Bounce! Bounce! Bounce!" Kaylee and Callie gave it one last gallant effort and made it! Everyone cheered and clapped. It was such a sweet moment and Kaylee's mom got it on video!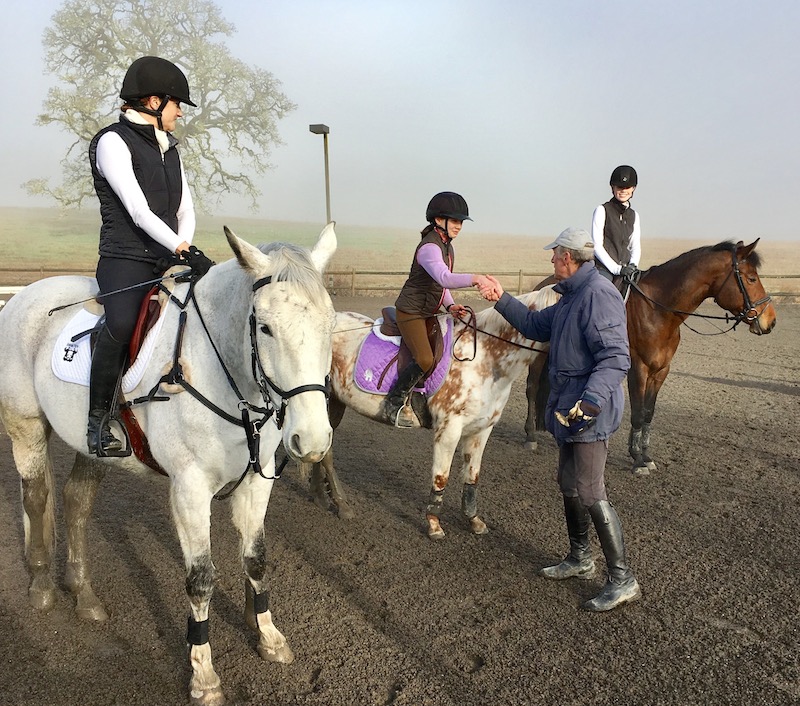 I think one of the biggest things I've realized while riding in clinics with Eric is that I can trust him. His explanations are so technically correct but so clearly stated. There is no way to really argue with Eric's explanations because they are based on fact and his vast experience riding horses in all kinds of settings. He is consistent in his explanations by creating a definition of the terms he's using. For example, "straightness" according to Eric Smiley is: "Hindquarter follow forehand follow head and neck on any line you (being the rider) choose to ride."
It doesn't matter if this line is a straight line, a bending line or a complete circle, if ridden with the correct pace on the proper line the horse will jump well. He says it is the horses responsibility to jump the fence, they have to make that decision to jump it. The rider is responsible for the pace and the line—if those are good, then the jump decision becomes easier. Then, the right decision is quicker and more consistent.
The last day I had a private dressage lesson inside. It was a great success and it helped me reinforce a lot of the training I've been doing with Billy over the winter. Eric explained to me that Billy needed to offer more of himself to me and let me access him to produce not just good but great work. I love that he pushes me to be better because I know Billy has so much to offer and with Eric's help I can tap into it more each clinic.
We warmed up with immediate focus and were able to fine-tune some little details with our shoulder-fore, counter-canter, and transitions.
We plan on having Eric back at Inavale in the fall to teach a three-day clinic including cross-country jumping on Inavale's lovely course that has six different levels of jumps to school. Inavale has the only recognized horse trial in the state of Oregon every June. Thanks to the owners, Luigi and Caroline Meneghelli, for allowing Inavale Farm to host the clinic and to Michele Flanders and Kaylen Wood for the excellent scheduling and management of the clinic.
Kelsey Horn is a professional eventing trainer who works out of Inavale Farm in Philomath, Ore. She grew up riding Morgans but switched to eventing in her teens. In November 2016, she made headlines when George H. Morris picked out her photo in the Chronicle for an encouraging critique—you can read that in "Spotted By George Morris: The Rare Perfect Position."