A recent week was a whirlwind of riding and lessons with the one and only Irish four-time Olympic eventer and clinician, Eric Smiley. Once again, Eric joined us for a weekday clinic at Inavale Farm in Philomath, Ore.
Since the soggy cold weather made cross-country jumping impossible, this clinic was focused on flatwork and jumping.
The first day was an opportunity for extra lessons with Eric and many of the riders took advantage of that to get more instruction time. Participants included 10 of my students as well as seven other haul-in students. I rode one of my horses, Sir William, known around the barn as Billy.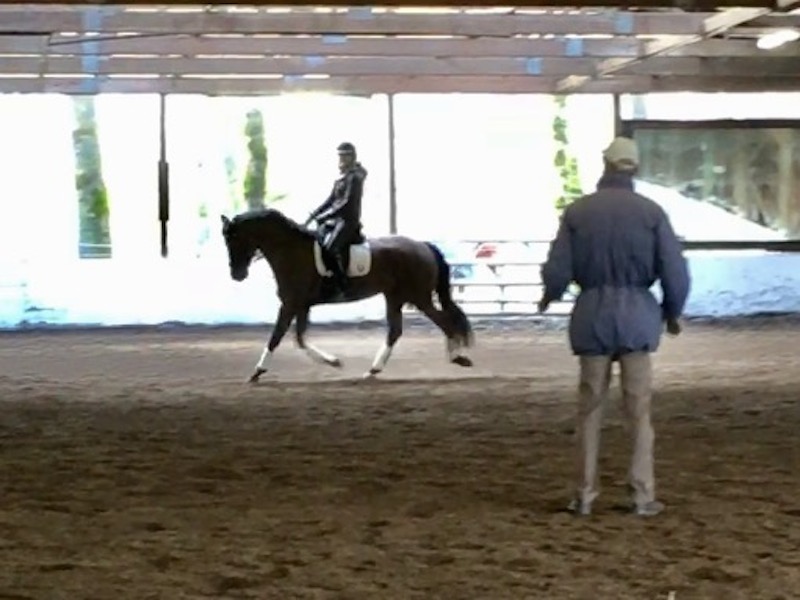 Billy is a coming 6-year-old Oldenburg/Thoroughbred gelding who I've owned since he was an unbroken 2-year-old. He is such an athletic horse but still so immature. He is currently ­­­­competing at second level dressage but is gradually learning to be an eventer. I've ridden Billy in four other clinics with Eric and I am happy to say I think this was his best performance.
Well… not at the beginning.
My private lesson on the first day with Eric was indoors because of the rainy weather. Billy was not warming up well. I've ridden with Eric two to four times a year for the past four years on other horses like Tomlong Ratatouille, owned by Pinnacle Syndicate LLC, and Swingtown, the 5-year-old mare who won the USEA Young Event Horse West Coast Championships in 2016. Needless to say I am familiar with his definition of warm-up.
For those of you who don't know, Eric believes warm-up should be about the mind accepting and understanding the rider's aids. Walk, trot, canter, and whoa are important, but Eric says warm-up is listening and tuning in mentally. Well, Billy was mental, but not tuned-in.
Eric, being the master that he is, got Billy and me working well with each other within the first five minutes. We worked on straightness around the school and then got into working on different canters. Eric had us do a simple yet fun exercise which started in a working canter.
Eric would count down from five in a low whisper and at, "Go!" I'd send Billy off in a BIG canter and then he'd count again and I'd immediately bring him back to an active collected canter. It was fun and seemed to work really well to access Billy's mind and body—mine too! We finished feeling we had accomplished something and looking forward to jumping the next day.
The second day of the clinic, Billy was wild again. I had trouble getting on at the mounting block and during our warm-up we had several huge explosions that had the auditors' eyes opening wider and wider.
I was trying so hard to get Billy to relax and settle but he was set on showing off for all the wrong reasons. Throughout the session Eric was great at downplaying the crazy things Billy was doing and helped me focus on riding instead of picking a battle. I found that extremely helpful because although I knew intellectually that I needed to press on, it's hard not to back off or get distracted when your horse is trading off between broncing and airs above ground.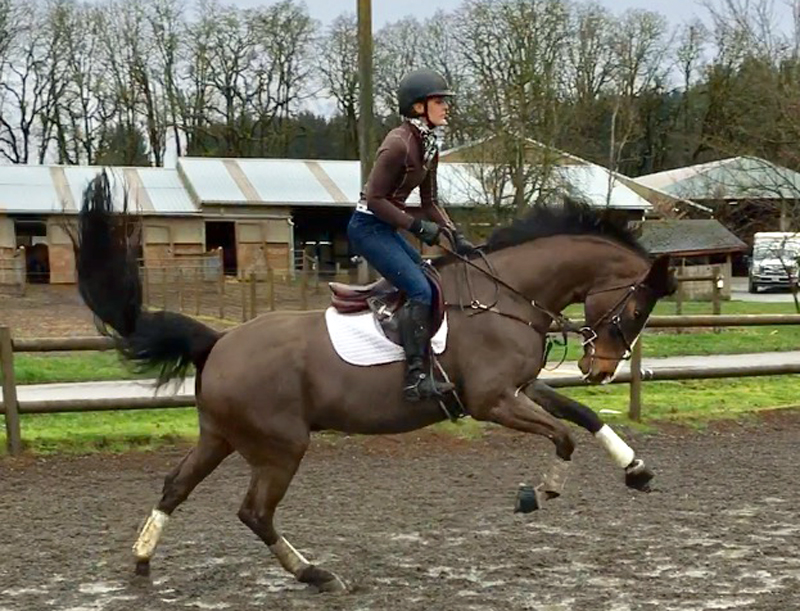 Eric kept reminding me that I needed to just get on with it and tell the brute (he calls Billy a brute) to get on with the job. It's a vague statement but I've ridden enough hot horses to know what he meant. You can't focus on every little issue and take your horse's behavior personally. You just have to continue on and eventually the mind will follow.
I really appreciated Eric's wisdom because it was useful reinforcement to get through the ugly and move on to actual work. At one point while I was trying to convince myself that my horse was not irritating me because he had just jumped the corner beautifully and then proceeded to leap feet into the air upon landing, I heard Eric call out, "Kelsey, riding a horse like that just brightens your day!!" That made me smile.
Once we started cantering through two narrow poles and jumping a small fence off of a turn (one of Eric's favorite exercises) Billy had more to think about and only managed to leap and buck for a half a circle after the jump instead of a whole circle.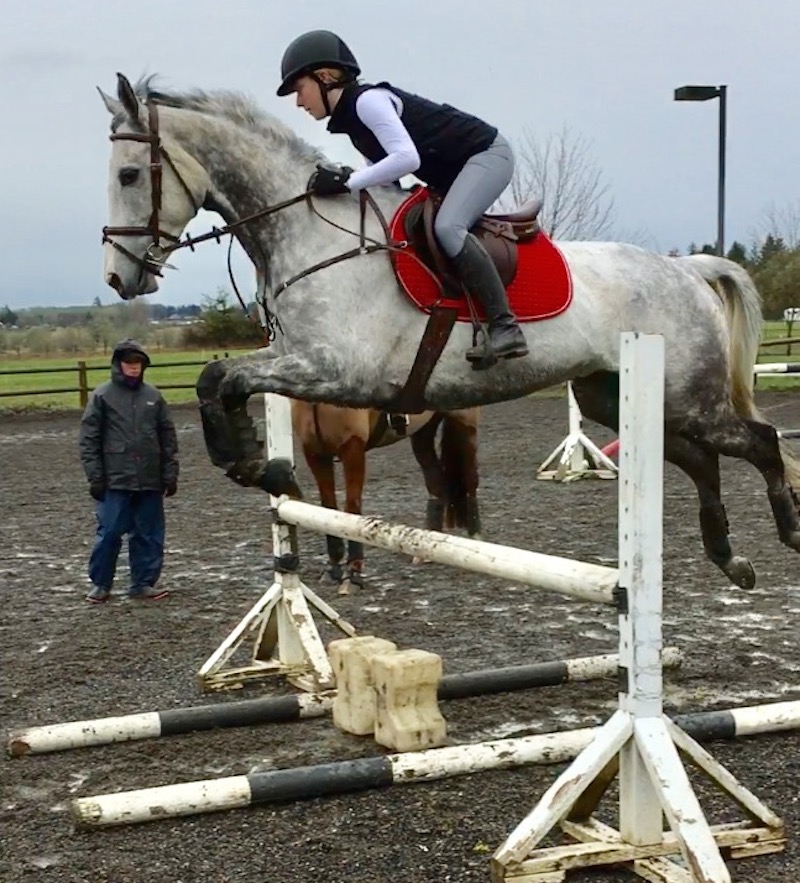 One of the most useful things I ever learned way back during my first clinic with Eric was how to manage your pace and line. I learned that if you can (can being the key word) cultivate a quality canter and maintain it through re-balancing then all you have to do in order to jump well is ride "The Line." Sounds so easy but not always the case.
The exercise we rode that day was a series of bending lines linking together a vertical in the middle with other verticals spread out around the arena. It was a very symmetrical course, but there were so many options you could ride a different set of jumps each time while continuing to challenge your ability to ride the right pace on the correct line.
Kelsey Horn is a professional eventing trainer who works out of Inavale Farm in Philomath, Ore. She grew up riding Morgans but switched to eventing in her teens. In November 2016, she made headlines when George H. Morris picked out her photo in the Chronicle for an encouraging critique—you can read that in "Spotted By George Morris: The Rare Perfect Position."