As I sat in my pink T-shirt, I looked around and saw the stands at the Winter Equestrian Festival filled with blue and pink. It was my first time watching a Saturday Night Lights class. It was 2012, the Battle of the Sexes was about to begin, and everyone was hyped-up, supporting their team. I remember taking pictures of the girls walking the course and wanting to be just like them. I cheered at the top of my lungs when riders I knew were on course; the atmosphere was electric.
This past weekend, I had the opportunity to participate in this year's Battle of the Sexes with my horse Splendor.
The week started with a schooling class along with some definite rider error. I was nervous because that was not the way I wanted to start out my weekend with Splendor. Confidence is such a huge part of this sport, and it can really sway what you do when you're on course.
After a good night's sleep, Splendor and I went in for another schooling class, and I got my head back in the game, finally riding without being afraid to make a mistake. We ended up second in the low junior speed out of a competitive crowd. I was ready for the exciting night under the lights.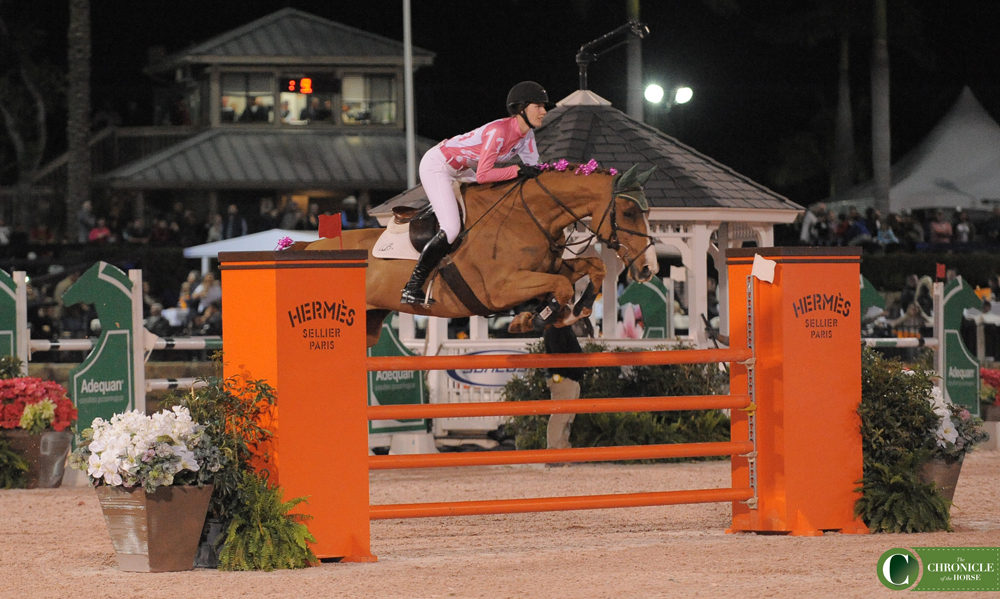 Splendor was absolutely perfect for me in the Battle of the Sexes. He went so fast and was really feeling his oats in the first round, but by the end I was able to place him right where I wanted him. I took a couple of chances—some paid off and others not so much. Overall, I think that Splendor and I held our own in the competition.
When I am on course, I hear things around me going on, but I don't pay attention to them. I have to tune it out while I'm riding. However, on Saturday night, I couldn't block out the crowd and announcer; it was so cool to hear them cheering Splendor on and really getting into it. As the night went on, they got louder and louder with each rider and round. Personally, I was jumping up and down in the riders' area as I yelled for my teammates to go faster and faster! Even when I was in the ring at the same time as my teammates in the second phase, I was cheering off the back of Splendor in the middle of the International Arena.
In between rounds, as I was in the bathroom washing my hands, a little girl opened the door and just stopped and stared. I looked at her and smiled, and she asked me if I was competing (I had the team polo on). I told her I was, and she smiled some more and wished me good luck! I could tell that she was very excited with our little encounter.
The whole experience was really fulfilling, not because of the attention I was getting but because I knew that I was in her shoes just a couple of years ago when I was taking pictures of the girls' team. It's cool to see how much I've changed and grown in a matter of a couple years.
What a fun experience. I am so grateful to compete in a class that I've been watching for years and that has such a great crowd. Although the boys won this year, it was so thrilling to be able to go head-to-head as well as meet some truly amazing riders. It is a night of pure speed and strategy, but the learning curve is huge!
---
Caelinn Leahy is a teenager who foxhunts and show jumps. She earned her first grand prix win at age 15 on July 22 aboard Splendor, who also hunted all winter. You can read more about Caelinn in "Winner Of The Week: Caelinn Leahy Won The $50,000 HITS Balmoral Grand Prix On Her Foxhunter."  Read all of Caelinn's COTH blogs.