"There's just nothing like a Thoroughbred. They're so light on their feet and smart," said grand prix rider and three-time Olympian Anne Kursinski.
She should know—one of her most famous horses, Eros, was an Australian off-the-track Thoroughbred. They jumped to team silver at the 1996 Atlanta Olympic Games together.
Now Kursinksi, of Frenchtown, N.J., has another Thoroughbred to take to the ring. He's a bit different though; Only One is winning in the hunters with both Kursinski and her partner, Carol Hoffman. Only One not only earned ribbons in the 3'3" performance hunters with Kursinski and the 3'3" amateur-owner hunters with Hoffman during the 2013 FTI Winter Equestrian Festival (Fla.), but he also won the first year green handy hunter class at Upperville (Va.) and was first year green champion at the New York Horse and Pony show.
"I love the horse and I think he can do some of the derbies. He's a blast to ride. I love the Thoroughbreds," said Kursinski. "They're just so light and smart and brave. There's just a difference about them. I love warmbloods too and I've had some great warmbloods, though I like them a little hotter and with more blood. But riding Eros, I just had to sit quietly and point. I never had to push or pull. It was clucking and whoaing. Growin up at Flintridge with Jimmy Williams, we always had horses from the Santa Anita and Hollywood Park racetracks. I grew up on Thoroughbreds."
Kursinski laughed when she recalled that at one show this summer, "a young professional came up to me and said 'Is that a Thoroughbred?!' like Only One was an endangered species."
It was pure chance that Kursinski happened upon Only One, who she owns with Hoffman under their Market Street farm name. In December of 2011, someone brought the gray gelding to her as an equitation sales prospect. "He'd done some low-level eventing and a little bit of maybe the jumpers or the adult equitation," Kursinski said. "He was skinny, he didn't have any lead changes and he kind of looked like a polo pony. He was also little hot. I didn't think he'd be an equitation horse. But I was kind of fascinated by him," she said. "He's a tall, leggy type. He's a beautiful type Thoroughbred, a little bit more of an old-fashioned type. She let me ride him a few times, and I decided to buy him myself.
"Honestly, I was hoping he was another Eros, because he had that same light feeling to his ride. He overjumped the fences and was so light off the ground," she said. Kursinski started Only One, whose Jockey Club name is Notashadowofadoubt (Flame Thrower—Reely Risky, Reel On Reel), in the schooling jumpers at the 2012 FTI WEF. "He was OK, but he was quick and needed more flatwork and to get stronger. But he was really fun to ride," she said. on the track, Only One had three wins out of 14 starts.
Only One, now 9, learned quickly, and by the summer he was jumping in the 1.20-meter classes. "But then I kind of felt like he didn't really want to jump bigger jumps. I listened, and decided he probably wouldn't be a grand prix horse," Kursinski said.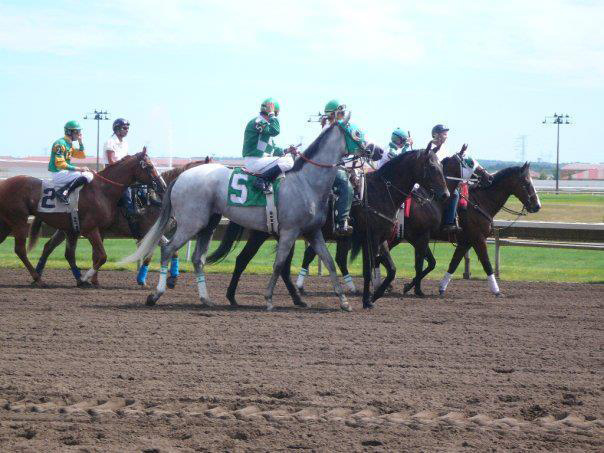 Only One during his racing days.
Photo by Natalie Johnson
She entered him in the Adequan Hunter division at the HITS Saugerties (N.Y.) summer shows. Only One picked up a championship and a reserve his first two times out. "He's really quite a good mover and some of his jumps would be really quite pretty. He does have a beautiful canter, too. He's trained very well now and he's brave and fun," Kursinski said. "I was just having a lot of fun with him. There's nothing like a Thoroughbred to me. I enjoy riding them so much."
Kursinksi grew up riding Throroughbreds in California under Jimmy Williams; many of her first horses came off the Hollywood Park or Santa Anita tracks. "I think it's neat to see all the Thoroughbred classes and see them coming back into all the rings," she said. "As a teacher and a rider, I think the more sensitive horses are so valuable. Many teachers don't like them because they don't put up with mistakes. The rider has to be more sensitive and educated. But I do think the lighter, more sensitive horses do make a more sensitive rider."