Pau, France—Oct. 27
William Fox-Pitt pulled off a win at Les Etoiles de Pau CCI**** today, but it turned out to be much more of a nail-biter than many had expected for the man who'd come into show jumping in first, second and third place.
In contrast to yesterday, when it seemed Fox-Pitt could do no wrong, the Brit managed nary a clear round today, pulling a rail apiece aboard Seacookie and Cool Mountain and a dismal five with Neuf de Coeurs.
But after those closest to him on the leaderboard gave him some breathing room with rails of their own, Fox-Pitt and the veteran Seacookie had the rail in hand that they needed, winning on a score of 45.5.
"It's always nerve-racking coming into the show jumping when you're in the lead, but having a fence in hand helps," Fox-Pitt said. "Seacookie jumped clear when he won Blenheim [CCI*** (England)] last year and when he was second at Kentucky [CCI****] in April. When he had a rail down this time, things did get a bit tense again, but he went on jumping well, and it was my lucky day, I guess.
"I've had this wretched back problem all weekend and really didn't think I'd be able to ride, but my physio has done a brilliant job," added the 43-year-old rider who's now won 51 CCI competitions, including 12 four-stars. "This weekend has exceeded all my expectations."
Just a half-point behind the winners was the four-star first-time team of Maxime Livio and the Anglo-Arabian Cathar de Gamel for France. They pulled off a brilliant double-clear round that got the home crowd leaping out of their seats.
"My idea is to go into a competition feeling I can do it, or there's not much point being there, but to be second is fantastic," said Livio, 26, who also competes in grand prix show jumping. "My dressage wasn't 100 percent; you can always make it better. Across country, my horse was quite tired at a few points, and I had to calm down, so I hope to see those few seconds [over the optimum time] disappear in the future."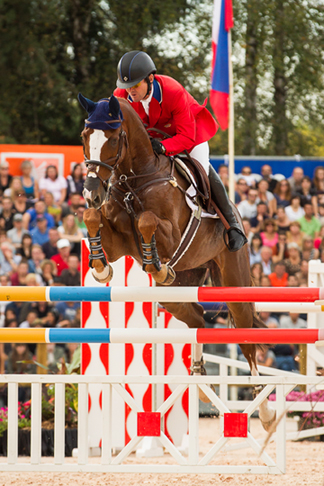 Phillip Dutton and Mr. Medicott jumped to fourth place in
the Pau CCI**** with a two-rail round. Photo by Libby
Law/USEF.
Fox-Pitt also ended up third with Cool Mountain (46.2).
Phillip Dutton pulled a costly two rails with Mr. Medicott to end up fourth; a clear would have secured the win. But an 8-fault score was pretty well par for the course over today's testing track by course designer Bernard Basque. Only seven pairs managed a double-clear round out of the 50 who advanced to the final leg of competition.
"He jumped well; I feel bad that I had two fences down," said Dutton. "He's a horse that can definitely jump a clear round, but it was a very difficult track. Not to make excuses, but I followed the Frenchman into the arena, and the crowd went ballistic, and [Mr. Medicott] was a handful after that. If I were to do it over again, I would have taken a little more time. [But] looking back on the weekend on the whole, I'm quite pleased. Coming here, if I knew I would be fourth, I would have been very excited."
Clark Montgomery and Lynn Symansky also fell prey to the two-rail curse with Universe and Donner, respectively. But they both made it to the prize-giving, Montgomery ending up 10th and Symansky 13th.
Marilyn Little nicked four rails with RF Demeter to finish 18th. Michael Pollard and Mensa G took down two and completed in 43rd place.
For the Canadian side, Hawley Bennett-Awad managed just one down aboard Gin & Juice to end her weekend in 16th place. Shandiss Wewiora lowed three poles and notched 3 time faults aboard Rockfield Grant Juan (44th).
For final results from Les Etoiles de Pau, click here.
Catch up on Lynn Symansky's Pau blog here.
Follow the 2013 Land Rover U.S. Eventing Team.