Our columnist sees a gaping hole of missed opportunities when it comes to forging relationships with young fans.
This is the most exciting time of the year if you're an eventing fan, owner, rider or groom. The big events are right around the corner. I'm very fortunate to have rides in four three-day events in the next five weeks, and I'm especially excited about having a chance to ride at the Mitsubishi Motors Badminton CCI**** in England the weekend before Rolex Kentucky.
Badminton is probably the most famous event in the world, and it's a dream of a lifetime to be able to ride there. But even though I haven't ridden at every event in the world, I know that the best four-star in the world is our very own. Kentucky has the best facilities, the best organization team and above all, the best fans. North American eventing fans come to Lexington, Ky.,—the American mecca of eventing—every April, without fail. The only problem is that these people, just like all of us, are getting older. Lately I've been wondering: How do we keep bringing in the younger crowd?
It's so exciting to have Rolex broadcast live on NBC on Sunday. This is always a huge thing for our sport—we'll reach households that have never seen or heard of eventing. We have a good product, and hopefully people will want to come out and see the "real thing" after watching it on TV.
Kentucky organizers are also thinking in the right direction by bringing in reining this year. The more we can cross-watch other disciplines, the better it is for our sport. I think the organizers are doing their part. But I would love to see the fans and the riders have more interaction.
Thinking Outside The Box
We can learn from other successful sports. The most important thing is that the crowd gets to know the athletes. The stories of the horses and riders are very important, but facetime is more important.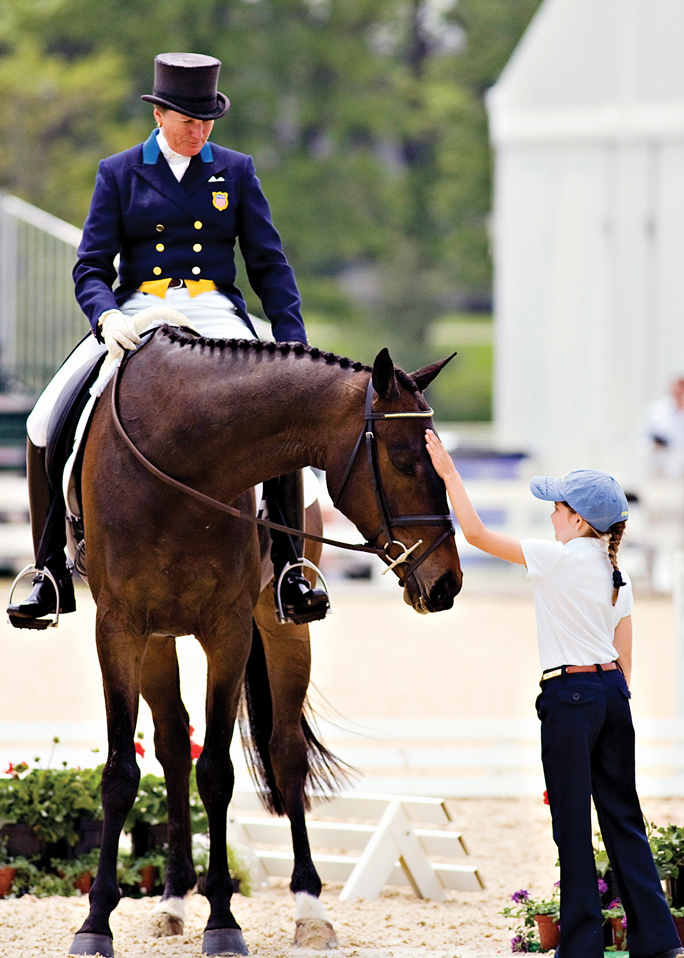 For instance, I'd love to see stable tours if that were possible. Fédération Équestre Internationale rules are pretty tight in terms of who's allowed in the barns, but I think kids would love to be able to go and pat their favorite horse, talk to his groom and find out what he's like in the stall. It'd be great if there was a dedicated area out in the park where horses could graze, and fans could come and see them.
We could even have a time schedule for each horse to be in a specific area at a certain time, and then people could really start to follow their horse on and off the field of play. The horses are big stars, and the youth of this country really want to get to know them personally.
In mainstream sports, this personal connection to the whole team is much more common. Almost any NASCAR fan would know who Dale Earnhardt Jr.'s crew chief is, but I'm not sure the eventing fan base could name Phillip Dutton's crew chief. Just like racing, this is very much a team sport. Even though it's the driver's (rider's) name on the leaderboard, the crew chief (head groom) is as important as the rider. If the car (horse) isn't happy and healthy, it doesn't matter how good the driver/rider is.
With that in mind, maybe the grooms could have a competition in the trade fair in the evening and team up with a Pony Clubber and do some sort of challenge. This could be very fun to watch and informative to the crowd, particularly the younger ones. And the truth is that the grooms are every bit as competitive as the owners and riders!
It might even be entertaining for our younger fans to get a tour of the trailers. I'm sure they'd love to see how and where their favorite equine athlete travels. There are a lot of questions that could be answered by seeing how the horses travel, what they eat, how big their stalls are, etc. When I go to a sporting event, I'm almost as interested in the behind-the-scenes view as I am in who wins and who loses.
Hoop It Up…Or Something Like That
We riders also have to do a better job of hanging out with the kids. At Kentucky, many of us stay in the campground. The best thing I ever did there was to play some basketball with a bunch of young guys who'd been dragged to the event with their parents.
I was out shooting baskets with my farrier, and a 12-year-old boy came up and asked us if we wanted to play. He and his friends had no idea that I was riding in the event—they just needed a couple more people to have a game. And I'd been wanting to play but was too shy to ask these kids. Thankfully they asked me! When they found out who I was, they gave me lots of room, as no one wanted to be the one to injure me.
Not only did we have a great time, but we also made some friends and recruited a few fans. And a few days later when I came out of the ring with My Boy Bobby, there were my teammates and members of the opposing team with basketballs for me to sign. They said they ended up loving the event and wanted to come every year.
These kinds of get-togethers would be a great thing for riders to do; the truth is I enjoyed it more than the kids even did. And even if autographs and basketball aren't a particular rider's thing, he or she can still make more effort to do personal course walks or blow off some steam by playing tennis, soccer, cards or anything with these kids to make a personal connection. The way to get the young fans in the gates is to let them in on every part of what it takes to get to actually canter down centerline at Rolex.
I think in these economic times we need to give more for the price of a ticket. Everyone will reap the rewards of doing a little extra. If we can be more fan-friendly and show that we're as "normal" as the people who come watch us, our sport will continue to grow.
I hope to see everyone in Kentucky, and I hope everyone comes up to say, "Hi." Bring your basketballs.
---
Buck Davidson is an event rider based in Riegelsville, Pa., and Ocala, Fla. The son of eventing legend Bruce Davidson Sr., Buck has carried on the family name with major achievements beginning during his young rider career. He was the Chronicle's 2009 Eventing Horseman of the Year and a member of the Land Rover U.S. Eventing Team at the 2010 Alltech FEI World Equestrian Games. He began contributing to Between Rounds in 2010.