Alarm goes off at 6:15 this morning. Yuck it's Friday. Dressage. Armageddon.
Hauled ourselves into a taxi as nobody seemed to know where the car keys were located, and this was just the start we needed. Sara spends years preparing this horse for his first four-star, and I can't even manage to find the car keys. Wonderful.
Cab driver stepped on the gas and had us outside the stable area in no time.
So, as I walked through security towards Manny's stall feeling as sick as a small hospital (maybe I had one too many Guinnesses last night), it happened. I was suddenly in Meerkat Manor.
Riders were looking more possessed than ever before. Sarah Cousins and Buck looked normal, but the rest—forget it. I was waiting for a padded bus to come and collect them, but it never showed up.
Clark Montgomery, who is normally the most laid back, heels dragging as he walks, eyes half shut kind of guy, looked wound up. Usually it takes Clark 17 seconds to get two simple words out "Goooood Moorrrnnniiinnggg."
Not today—he couldn't sputter it out fast enough. I like Clark; he is a very good rider and a nice guy, but he is from Texas….. and a Dallas Cowboy fan…. really …enough said. Rumor has it that it was Jerry Jones who sponsored those white "Montgomery" NFL jackets that are being paraded around the show.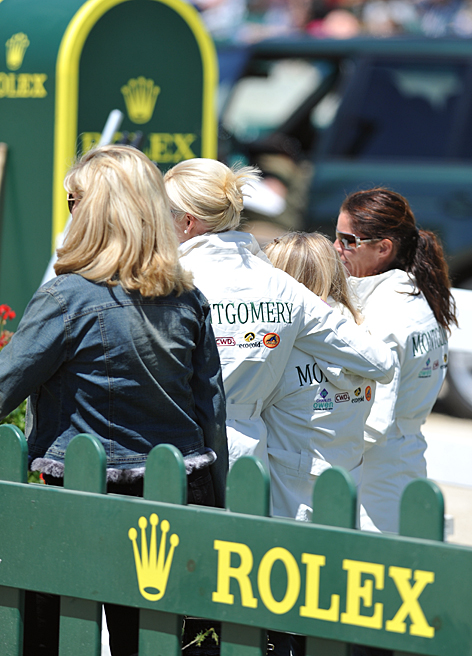 The main arena looked beautiful today for dressage, certainly an intimidating walk down the ramp with the huge crowds. The level of intensity was through the roof, and you could hear a pin drop as riders did their tests.
But for me this is where it starts. I can't wait for the first horse to leave the start box in the morning. Who would've ever thought that Brian would be excited to watch eventing?
So let's roll. Can't wait to see all those happy smiling faces in the barn area tomorrow morning. YEAH RIGHT!
Brian Murphy is heading into his first Rolex Kentucky as the groom/show jumping coach/boyfriend of Sara Kozumplik. He's generously agreed to blog about the experience, and Sara promised not to read a word he wrote until after the event is over.