April 3—Norwood, N.C.
Jennie Brannigan found herself in a familiar position with Nina Gardner's Cambalda this afternoon as she jumped another stylish double-clear in the CIC*** at The Fork to slip into the lead headed into cross-country.
Brannigan and "Ping" rarely have rails in competition and they have an impressive track record at The Fork, winning in 2011, placing second in 2013 and third last year.
But it wasn't all easy as Brannigan admits she has to work hard in the show jumping because Ping likes to go naturally behind her leg. He often cross canters, making her nervous, but rarely touches rails, so when he knocked the last rail on Chris Barnard's show jumping course hard enough that Brannigan looked back, she shook her head in disbelief as she realized she'd taken over the lead.
"It's funny because he's so behind the leg," she said. "I was laughing, 'You do two-time changes, why can't you do a flying lead change in show jumping?' But he's been the same way for years and I don't think he'll be learning it. He wants to jump clean, which is great. I was watching it with David [O'Connor] a bit and wasn't sure about the time."
Brannigan's been getting help from former eventer-turned-show jumper Scott Keach in Ocala, Fla., for the last few winters and she said it shows.
"He does an eye training thing that helps people be more accurate," she explained. "It's literally counting and cantering poles on the ground and resetting your eye, making sure you're smooth. I've always been a little inaccurate on Ping for sure. I remember winning this event and missing in the show jumping. I knew I had to be better than that. It's helped me on all my horses."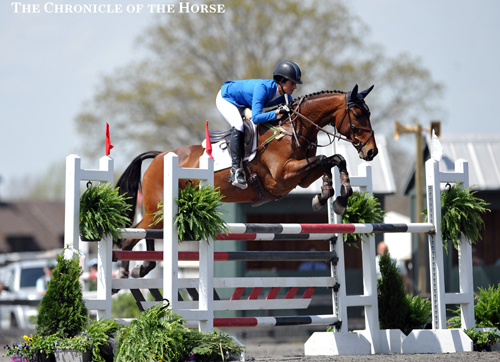 Jennie Brannigan and Cambalda jumped a double-clear to take the lead in the CIC***. Photo by Lindsay Berreth.
The time proved tight to get in the three-star and advanced divisions and was the undoing for three-star dressage leaders Liz Halliday-Sharp and Fernhill By Night, who added one rail to their score to drop to third. In all, there were 12 clear jumping rounds of 43 to jump, but only six of those managed to be inside the time.
Buck Davidson and Ballynoecastle RM jumped a double-clear to move into second place.
"'Blackie' jumped great—the rail was really my fault," Halliday-Sharp admitted. "I made a bad decision and rode badly. I was going for the time and he's a big, rangy horse with a huge stride and I always struggle with distances with him. I know him well enough when I jumped over the vertical at the third to last and just didn't do anything and let him bowl on and realized I'd get there in five and a half. I waited too late and was too deep. But he jumped the rest great."
Brannigan, Halliday-Sharp and Davidson are all aiming for the Rolex Kentucky CCI**** with their horses. Brannigan plans to go for time as a fitness run for Ping and Davidson said he'll do the same. Halliday-Sharp is hoping for a solid round after a few blips in Blackie's last two three-stars.
"I ran him slower at Red Hills [Fla.], but [tomorrow], I need to jump the jumps," said Brannigan. "The general consensus of the barn is that everyone's worried about the water [at 15abc, a drop in to a corner in the water to an arrowhead]. They put an option in for the B element. But I love this place and I'll try to get some sleep tonight and not be too stressed. The ground here is always great and we had some rain last night so I'll go out and try to give him a good, solid run before Kentucky."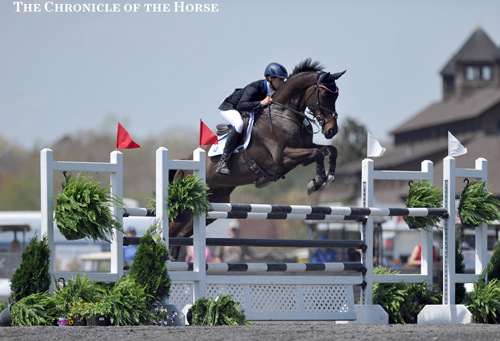 Three-star dressage leaders Liz Halliday-Sharp and Fernhill By Night dropped one rail to fall to third place. Photo by Lindsay Berreth.
As for Davidson, he was thrilled with "Reggie" and is hoping for a good run over Tremaine Cooper's cross-country course tomorrow.
"He'll go. He's not a horse that goes well going slow," he said. "I've found over the years that he goes better if I start off quietly at the beginning of the year. If I give him a hard go at [the Cloud 11-Gavilan North Carolina International CIC*** [N.C.]) and here, that's set him up well. It's not about winning or losing, it's about getting him fit and having him competition ready. At this point in his career, I feel like I own him that—that he's 100 percent fit and that if I miss a day doing a flying change, that's fine, but I can't miss a day of fitness and whatever he needs to be successful."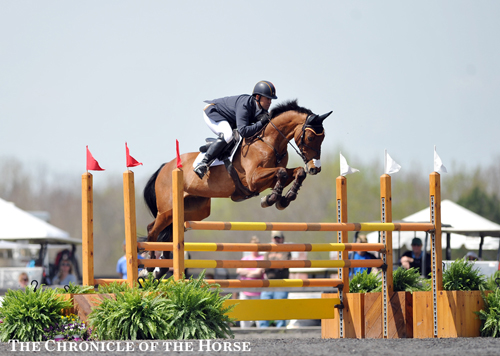 Buck Davidson and Ballynoecastle RM moved up to third in the CIC*** with a double clear. Photo by Lindsay Berreth.
A New Partnership
The top ten in the CIC** shuffled quite a bit as rails fell in the show jumping. Dressage leaders Jessica Phoenix and Pavarotti had two down to drop to seventh, leaving room at the top for Sinead Halpin and Topgun to move into the lead with a clear round, up from fifth after dressage.
"Gunnar", a 9-year-old Dutch Warmblood gelding (Bushkill Gunnar—Wait For The Will), was originally ridden by Halpin's student, Nicole Carolan, who stills owns him.
When she went off to college, she let Halpin have the ride last fall.
"He's a character. But he's actually a really, really talented horse," said Halpin. "He's a super jumper. He's just been a little quirky, like last year he was super strong and the more bit we tried to put on him the stronger he got so we ended up going back to a thin Myler snaffle and that got him a little bit more organized. Then he got a little bit naughty, like he got a little bit herd-bound and so then we had to deal with that. But he is a really, really nice jumper, really brave cross-country; it's never about the jumps."
Things have come together for the pair this spring now that Halpin's found the right bitting combination and figured out Gunnar needs a short warmup for dressage.
"It's funny because he's out of an Irish pony mother and a Dutch father. It totally makes sense – he's quirky like a pony. But he's really cool. I'm enjoying him a lot."
As for cross-country, Halpin's looking towards the CCI** at Bromont (Quebec), so she just wants a confident run.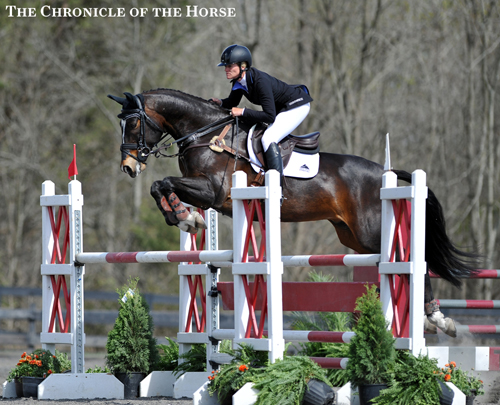 Sinead Halpin and Topgun lead the CIC**. Photo by Lindsay Berreth.
"Jump all the jumps. I mean, I'll certainly go as fast as he feels comfortable," she said. "Honestly, he's really brave and most of the time when I try and over-organize him he gets a little bit naughty. I did run him fairly quick; he had like six time penalties or something at Carolina. So I think I'll run him here. The plan is to go to Bromont so I want him to get as much experience going fast and handling things like that. He's been getting softer and softer in the bridle so as long as I don't have to fight him too much then we'll try to do it."
Click here for a full gallery of photos from today's show jumping.
Full results are available here.
Cross-country gets underway tomorrow at 8:30 a.m. for the CIC*, followed by the CIC*** at 10 a.m., the advanced and the CIC** at 3 p.m.