Gijon, Spain—Aug. 2
Team USA sensationally won their second Furusiyya FEI Nations Cup™ qualifier in 24 hours when adding the honors at Gijon, Spain to the other U.S. team's victory at Hickstead in Great Britain.
"We all watched Hickstead yesterday and we were really proud of them, so we wanted to compete with them here today and show them we could do it too!" said American anchor Georgina Bloomberg after producing one of just two double-clear performances in a competition filled with excitement.
Bloomberg is not included in the 10-strong U.S. long list for the forthcoming Alltech FEI World Equestrian Games™ 2014 in Normandy, but she has no regrets. The arrival of her baby son Jasper, now 7 months old, has reset her parameters in every way.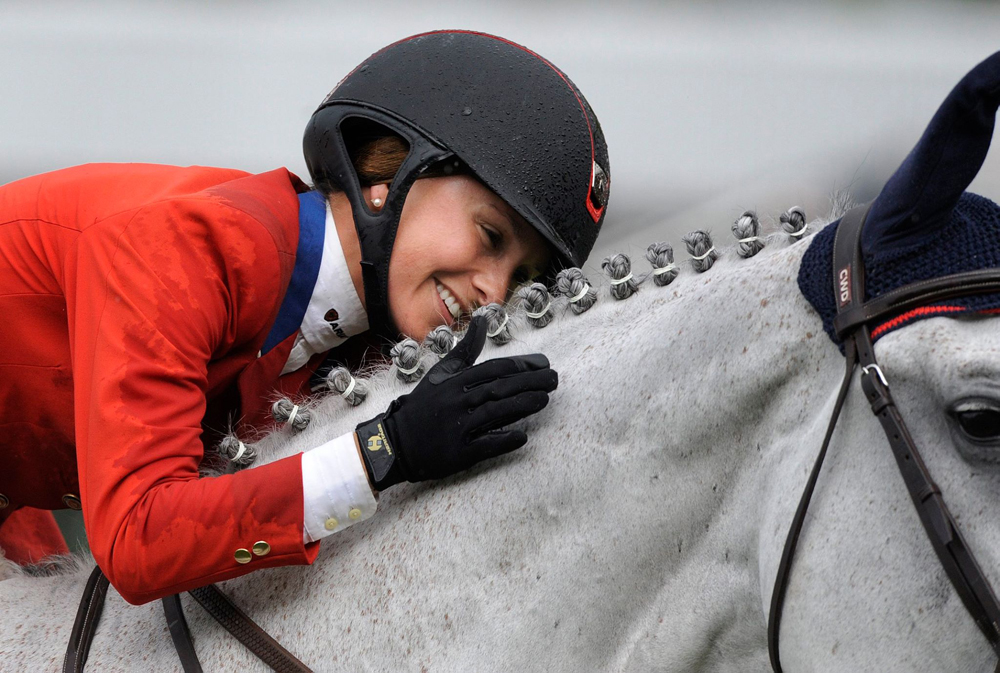 Georgina Bloomberg gave Juvina a big pat after their second clear round for the U.S. team in the
Furusiyya FEI Nations Cup at Gijon, Spain. Photo by Herve Bonnaud/FEI
Bloomberg said the course "wasn't huge but it was careful. The second-last was a big tall vertical liverpool, you could ride it on a loose five or steady six strides and a lot of riders had problems there. The triple combination rode well but you really needed to move around the other jumps to get to it so if the approach wasn't good some riders got into trouble" she explained.
And talking about her fabulous mare, Juvina, she said, "You can go in and jump the big jumps with her and she can do it with her eyes closed! I've never felt the power and scope that she gives me!" said the rider whose career has been dogged by a back injury that required surgery and has kept her out of the limelight over the last three years. "I haven't been able to compete consistently but all that's changed and I can now!" said Bloomberg.
Read the Chronicle's recent interview with Bloomberg, "Ringside Chat With Georgina Bloomberg: Back In Action."
Naturally Delighted
American Chef d'Equipe, Diann Langer, was naturally delighted with the result. She said, "I think the climate this year has been excellent and I would love to thank the Organizing Committee for the invitation, for having us over and the course designer for putting together this beautiful course, particularly his attention to detail."
Joining Bloomberg on the team was Ashlee Bond, who turned in rounds of 4 and 0 aboard Chela S, Quentin Judge, who rode HH Copin van Broy to a score of 4 in each round, and Catherine Pasmore, who was clean in Round 1 on Bonanza von Paemel and had 4 in Round 2.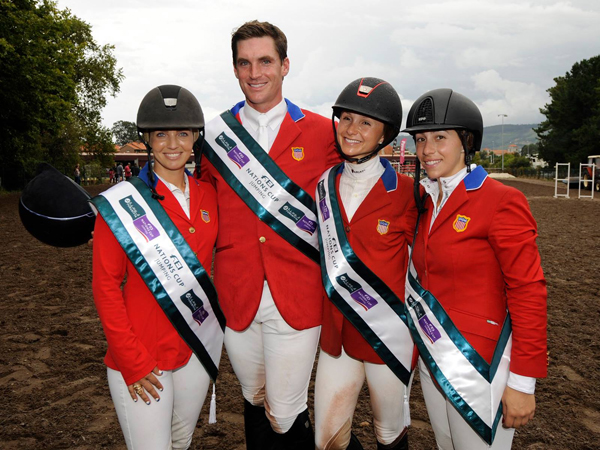 The U.S. team of (from left) Ashlee Bond, Quentin Judge, Georgina Bloomberg and Catherine Pasmore.
Photo by Herve Bonnaud/FEI
She said the U.S. Equestrian Federation is very committed to developing young teams for the future. "They have sent out a lot of teams this year. Along with that, we are developing a lot of programs for young riders—I will have another young team in Bratislava next week. We really believe the more events they can compete in, the better they will get.
"We want our young riders—usually those that are 21 or under—to go to three-star competitions in order to start preparing for the future. Sometimes we will put a senior rider with them to try and anchor it. Our five-star events are all about having our already developed teams out to get more exposure together. You cannot excel in the Nations Cup without competing in it. The two-round formats are very different to what these riders are used to when competing back in the States," Langer pointed out.
Ashlee Bond is one of the many U.S. riders who have benefited from the policy. "I think that when you compete on Nations Cups it's all about how your team comes together—we fought for it and wanted it really badly, especially after the success our brothers and sisters enjoyed yesterday in Hickstead! We wanted to repeat that here in Gijon. We wanted it the most!" Bond said.
Read all about the U.S. team's other win at the Hickstead Furusiyya FEI Nations Cup, including Beezie Madden's return to top competition after an injury, just in time for the Alltech FEI World Equestrian Games.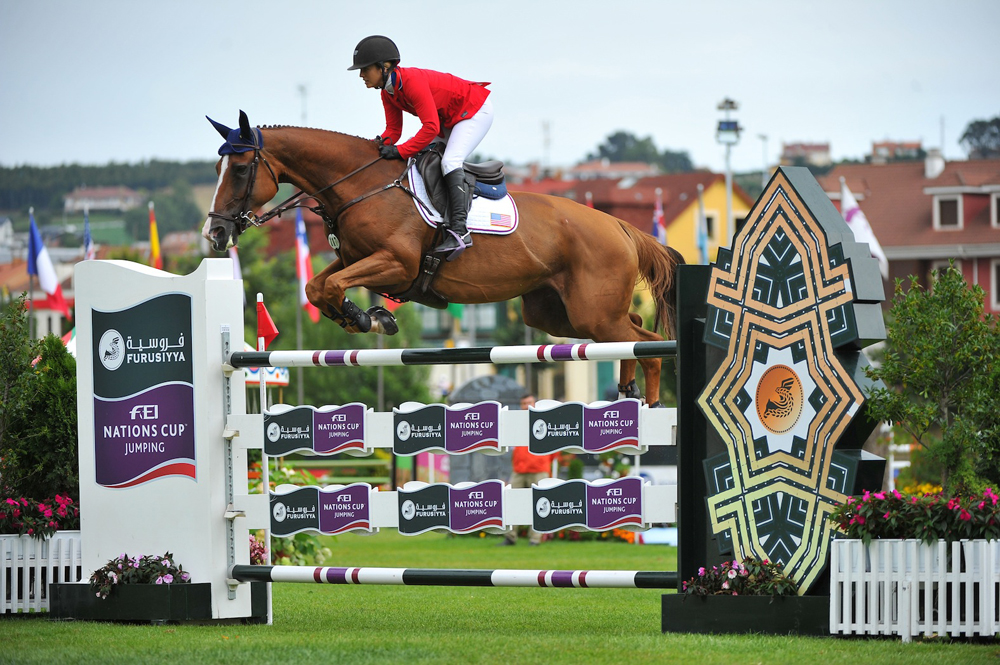 Ashlee Bond and Chela S's clean second round helped the U.S. team claim victory.
Photo by Herve Bonnaud/FEI
Intriguing Contest
There were 11 teams in action at the Spanish venue and once again the American victory was clear as their 8-fault final score left them well ahead of Switzerland in second with 13 while the British were close behind in third with 15 faults at the end of the day. The host nation posed a threat to the eventual winners at the halfway stage but had to settle for fourth place in the final analysis while Belgium slotted in between Italy and Norway in sixth place.
Only eight teams qualified for the second round, and despite doing so the French withdrew after picking up an unlikely 20 faults first time out. It was an uneasy French outing that may leave Chef d'Equipe, Philippe Guerdat, scratching his head a little in the lead-up to his final selection for the forthcoming Alltech FEI World Equestrian Games™ 2014 in Normandy (FRA).
The fences at Gijon are locally made and unusual in design, and that combined with a testing track from Spanish course designer Avelino Rodriguez-Miravalles created an intriguing contest.
The 4-metre-wide open water at fence four played its part in both rounds as did the narrow white plank at the top of the 1.60-meter vertical at Fence 6, while the triple combination at Fence 9 proved very influential indeed.
It wasn't just the effort of clearing the 1.55-meter vertical first element, the 1.50-meter/1.60-meter middle oxer and the 1.50-meter/1.60-meter final oxer. The route to the fence involved negotiating other obstacles in the arena and riders often by-passed the ideal approach line and then had to cope with a lack of organization—and sometimes impulsion—at the first element, which led to problems from there on.
Few could have expected that the reigning FEI European individual champions, Roger Yves Bost and the brilliant mare Castle Forbes Myrtille Paulois, would run into so much trouble here. But the Frenchman seemed to be fighting for control from the outset when he put a knot in his reins, and having struggled through the triple combination, leaving the second two elements on the floor, he found himself completely adrift riding down to the penultimate liverpool and pulled the mare out. This fence was the real bogey of the day, with a wide and deep ditch backing a lot of horses off, and constantly spoiling potentially clear performances.
Bost's 18-fault first effort followed a lovely clear from team pathfinder Penelope Leprevost and Flora de Mariposa, but the French were really out of sorts with a surprising 16 faults from Amyeric de Ponnat and Armitages Boy. Simon Delestre and Qlassic Bois Margot picked up just four at the last element of the treble, but the team decided to call it a day despite still making the cut into the second round.
Sitting On The Sidelines
A first-round total of 23 for Germany and Qatar and 24 for Argentina saw these three nations sitting on the sidelines as Round 2 began, while with the experience gained first time out, most of the other horse-and-rider partnerships coped much better at their second attempt.
There were a few exceptions however. One of the most impressive first rounds had come from Italy's Giulia Martinengo Marquet and the fabulous Fixdesign Funke van'T Heike who soared across their fences. But that approach to the treble came up all wrong in Round 2, and with the 9-year-old Belgian-bred drifting hard left they caught the upright at the middle oxer and then landed into the middle of the final oxer, with Martinengo hitting the turf for elimination.
Oddly, the other second-round elimination occurred when Norway's Morten Djupvik, who doubled-up as Chef d'Equipe and rider for the day, ground to a halt with Valley Stream B at the third element of the triple combination. Both of the teams fighting for those all-important qualifying points for the final had only three countable scores when the second round drew to a close.
But all this time the Americans were cruising. Ashlee Bond on Chela LS and Quentin Judge on HH Copin van de Broy each faulted once the first time out but the U.S. side carried only one of those errors into Round 2 when Catherine Pasmore produced the calmest of classic clears with Bonanza van Paemel and Georgina Bloomberg rounded it up with a copybook run from her grey mare, Juvina.
The Spanish were chasing them with just 8 faults on the board following clears from opener Pilar Cordon (Nuage Bleu) and anchor Sergio Moya (Action Breaker) while Eduardo Alvarez Axnar's (Fidux) 13 could be discounted by the eight collected by Manuel Anon (Rackel Chavannaise). Switzerland and Italy were close behind on nine faults apiece as round two got underway while the British carried 13, Belgium carried 17 and Norway brought up the rear with 22.
Still Looked Promising
Mistakes at the triple-bar at 10 and the bogey derby-style liverpool at 11 put 8 on the board for Spain's Cordon second time out, but things still looked promising when Anon followed with a foot-perfect run, and when Aznar fell victim to the top plank at Fence 6, there was still a chance the home side could threaten the American leaders.
By now Bond had gone clear, but both Pasmore and Judge lowered the penultimate liverpool. If Moya could return a 0 for Spain, then their 12-fault total would put the pressure on American anchor, Bloomberg, who would have to keep a clean sheet. But there was a gasp from the crowd when the Spaniard's experienced 14-year-old made a splash in the water on an otherwise perfect tour of the track. The game was already up because that brought the Spanish total to 16 and America's 12 faults to date had already clinched it.
The Swiss meanwhile had added only four from Niklaus Rutschi (Windsor XV) to their tally when Claudia Gisler (Cordel) and Marie Etter-Pellegrin (Admirable) were foot-perfect and that moved them into runner-up spot on a total of 13, ahead of Britain's Holly Billot (Dougie Douglas), Yasmin Pinchen (Ashkari), Robert Bevis (Pebbles) and Laura Renwick (Bintang ll) on a finishing score of 15.
So it was just a tidy-up operation as America's Bloomberg rode into the ring, last to go. And she did it in style, with her classy mare returning a wonderful clear to improve the U.S. finishing total to just 8 faults.
This weekends' back-to-back U.S. success is a reminder, if needed, of just how strong the U.S. challenge is right now, just three weeks away from the World Championships.
Result:
1. USA 8 faults: Chela LS (Ashlee Bond) 4/0, Bonanza van Paemel (Catherine Pasmore) 0/4, HH Copin van de Broy (Quentin Judge) 4/4, Juvina (Georgina Bloomberg) 0/0.
2. Switzerland 13 faults: Capuera ll (Nadja Peter-Steiner) 5/8, Cordel (Claudia Gisler) 4/0, Windsor XV (Niklaus Rutschi) 0/4, Admirable (Marie Etter-Pellegrin) 8/0.
3. Great Britain 15 faults: Dougie Douglas (Holly Gillot) 1/1, Ashkari (Yasmin Pinchen) 8/1, Pebbles IV (Robert Bevis) 9/0, Bintang ll (Laura Renwick) 4/Ret.
4. Spain 16 faults: Nuage Bleu (Pilar Lucrecia Cordon) 0/8, Rackel Chavannaise (Manuel Anon) 8/0, Fidux (Eduardo Alvarez Aznar) 13/4, Action Breaker (Sergio Alvarez Moya) 0/4.
5. Italy 18 faults: Bonzai van de Warande (Juan Carlos Garcia) 0/0, Loro Piana Acamar (Massimiliano Ferrario) 9/5, Fixdesign Funke van'T Heike (Giulia Martinengo Marquet) 0/Elim, For Passion (Daniele Augusto da Rios) 9/4.
6. Belgium 27 faults: STB Fleuri van de Koekelberg (Dirk Demeersman) 4/5, Breemeersen Adorado (Donaat Brondeel) 8/5, Whitney van de Dwerse Hagen (Patrick Spits) 16/16, Loro Piana Once de Kreisker (Philippe Le Jeune) 5/0.
7. Norway 34 faults: CC Top (Ole Kristoffer Meland) 9/12, Valley Stream B (Morten Djupvik) 4/Elim, Dimaro vd Looise Heide (Dag Ove Kingsroed) 9/0, Edesa S Banjan (Geir Gulliksen) 9/0.
8. France 20 faults IN FIRST ROUND: Flora de Mariposa (Penelope Leprevost) 0, Castle Forbes Myrtille Paulois (Roger Yves Bost) 18, Armitages Boy (Aymeric de Ponnat) 16, Qlassic Bois Margot (Simon Delestre) 4.